Scientists are trying revive woolly mammoth DNA to fight climate change
Scientists are investigating whether it's possible to give modern elephants an ancient boost by reviving woolly mammoth DNA—all to curb climate change.
17 May, 2018
---
Scientists are investigating whether it's possible to give modern elephants an ancient boost by reviving woolly mammoth DNA—all to curb climate change.
The ideal outcome for the scientists would be to genetically engineer elephants that are very similar to Asian elephants of today, but with the added ability to withstand colder temperatures, like the woolly mammoths that died out some 4,000 years ago. Doing so would give the endangered elephants, of which there are an estimated 35,000 to 40,000 on the planet, a greater chance of survival.
It could also help mitigate the effects of climate change. That's because there's a huge amount of carbon—1,400 gigatons—trapped in the permafrost located in the northern regions of the planet, and rising temperatures could melt the permafrost, resulting in the rapid release of carbon into the atmosphere.
Perhaps surprisingly, woolly mammoths were quite good at keeping the ground cool.
"The elephants that lived in the past — and elephants possibly in the future — knocked down trees and allowed the cold air to hit the ground and keep the cold in the winter, and they helped the grass grow and reflect the sunlight in the summer," George Church, a Harvard and MIT geneticist who is heading the Harvard Woolly Mammoth Revival team, told Live Science at the 2018 Liberty Science Center Genius Gala. "Those two [factors] combined could result in a huge cooling of the soil and a rich ecosystem."
Without woolly mammoths, trees grow tall and a fluffy blanket of snow actually warms the permafrost.
"Fluffy snow is like a down blanket keeping the warm summer soil away from the -40 degree winter winds," Church told Live Science.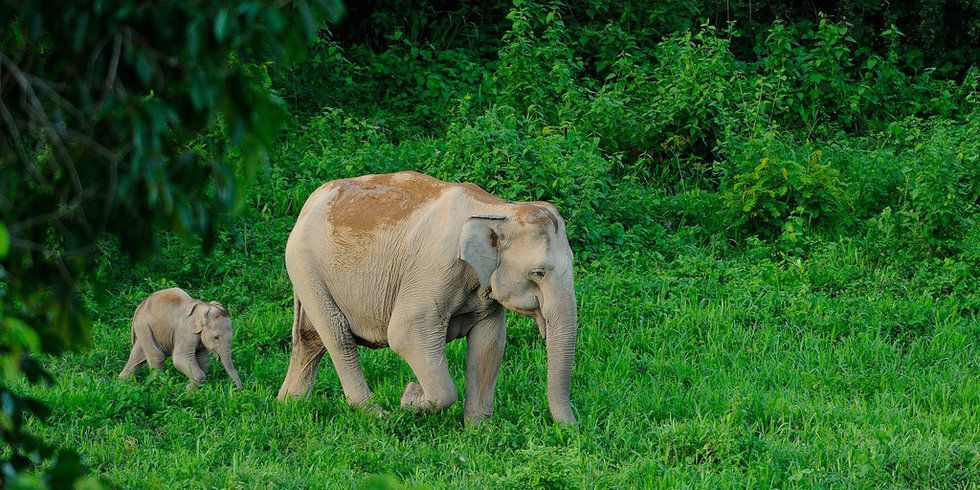 Asian elephants. Image: tontantravel
Today's Asian elephants wouldn't be able to survive in the "mammoth steppe," a massive swath of cold, dry land that stretched across northern parts of globe where mammoths used to roam. But if scientists can successfully use gene-editing systems like CRISPR to introduce woolly mammoth genes to elephants, that might change.
"It could just be 44 genes [that] might be sufficient to make them adapted again to the cold," Church told Live Science.
Due to ethical concerns, scientists would need to develop the elephant-mammoth hybrid in the lab instead of implanting embryos in live elephants. It would be a long and gradual process. First, scientists would need to develop hybrid cells, then specialized tissues, and, if successful, they'd eventually attempt to grow a modified elephant in an artificial womb.
In the meantime, the world's permafrost will continue to melt at a relatively rapid pace. An annual report released by the National Oceanic and Atmospheric Administration in December 2017 showed that northern regions of the planet are warming twice as fast as the rest of the world.
"What happens in the Arctic doesn't stay in the Arctic; it affects the rest of the planet," said acting NOAA chief Timothy Gallaudet. "The Arctic has huge influence on the world at large."
To reach a breakthrough solution to any problem, it's necessary to first understand the underlying causes.
Videos
Companies often jump right into workshopping solutions to a problem before they truly understand the underlying source and "pain points" of the issue.
Deliberate Innovation CEO, Dan Seewald, advises companies to visualize and map out those unmet needs in order to discover a new path to a fresh solution. Only then should you move onto brainstorming and ideation techniques.
These important steps allow for more meaningful experimentation, as well as greater opportunity for learning and breakthroughs.
Atheism doesn't offer much beyond non-belief, can Secular Humanism fill the gaps?
Culture & Religion
Atheism is increasingly popular, but the lack of an organized community around it can be problematic.
The decline in social capital once offered by religion can cause severe problems.
Secular Humanism can offer both community and meaning, but it has also attracted controversy.
What makes a life worth living as you grow older?
Culture & Religion
Dr. Ezekiel Emanuel revisits his essay on wanting to die at 75 years old.
The doctor believes that an old life filled with disability and lessened activity isn't worth living.
Activists believe his argument stinks of ageism, while advances in biohacking could render his point moot.