The ingredient that makes this meatless burger bleed is safe to eat, FDA rules
The announcement is a major victory for Impossible Foods, the San Francisco-based startup that makes Silicon Valley's favorite veggie burger.
25 July, 2018
---
The key ingredient that enables the popular plant-based Impossible Burger to brown and bleed like real meat has been ruled safe to eat by the FDA.
It's a major victory for Impossible Foods, the San Francisco-based startup that makes the burger. Impossible Foods, which touts the production process behind its vegetarian foods as more environmentally friendly those of meat products, has become wildly popular in recent years after scoring funding from Bill Gates and signing deals with restaurants worldwide. 
But in 2017, the startup hit a setback after the FDA decided that there wasn't sufficient evidence to place soy leghemoglobin, the veggie burger's main ingredient, under the official category of "generally recognized as safe," or GRAS.
"Soy leghemoglobin is a protein that carries "heme," an iron-containing molecule that occurs naturally in every animal and plant," reads a press release about the announcement. "Heme is the "magic ingredient" that enables the Impossible Burger to satisfy meat lovers' cravings."
The FDA wasn't initially convinced that heme was safe for humans to eat, despite no evidence showing it's dangerous.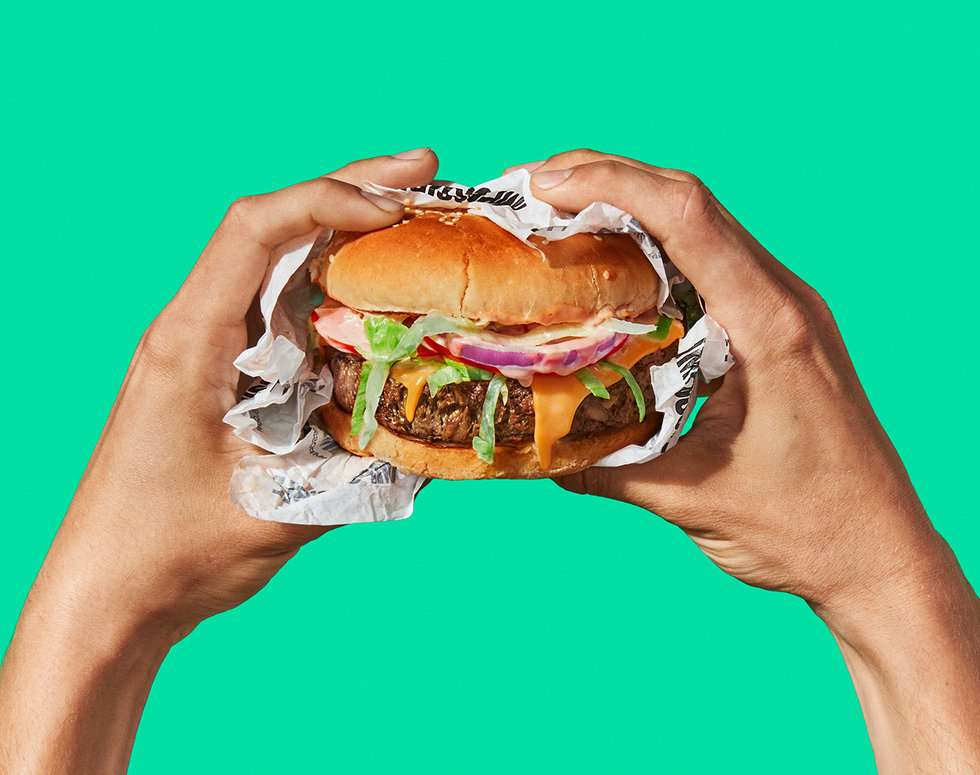 Impossible Foods
"Heme has been consumed by humans and other animals for a long time with no issues," Robert Kranz, a professor of biology at Washington State University in St. Louis who's studied heme, told Business Insider.
The 2017 denial came after Impossible Foods had voluntarily submitted to the agency its own data, including expert opinions and results of experiments conducted on mice, in an effort to win the GRAS status. Doing so wasn't necessary, but it would have been a bonus for the company, which has faced skeptics concerned about the safety of hemoglobin, as well as less reasonable fears about GMOs, since day one.
Shortly after being denied, the startup put together a new 1,063-page application for the FDA. On Monday, the agency essentially announced that the new application contained sufficient evidence showing that soy leghemoglobin is safe for humans to consume.
"We have no questions at this time regarding Impossible Foods' conclusion that soy leghemoglobin preparation is GRAS under its intended conditions of use to optimize flavor in ground beef analogue products intended to be cooked," the FDA stated.
Impossible Foods was pleased by the reversal of the agency's original decision.
"Getting a no-questions letter goes above and beyond our strict compliance to all federal food-safety regulations," said Impossible Foods CEO and Founder Dr. Patrick O. Brown, also Professor Emeritus of Biochemistry at Stanford University. "We have prioritized safety and transparency from day one, and they will always be core elements of our company culture."
It's unlikely that there's anything on the planet that is worth the cost of shipping it back
popular
In the second season of National Geographic Channel's MARS (premiering tonight, 11/12/18,) privatized miners on the red planet clash with a colony of international scientists
Privatized mining on both Mars and the Moon is likely to occur in the next century
The cost of returning mined materials from Space to the Earth will probably be too high to create a self-sustaining industry, but the resources may have other uses at their origin points
Humans evolved to live in the cold through a number of environmental and genetic factors.
Image source: Wikimedia Commons
Surprising Science
According to some relatively new research, many of our early human cousins preceded Homo sapien migrations north by hundreds of thousands or even millions of years.
Cross-breeding with other ancient hominids gave some subsets of human population the genes to contend and thrive in colder and harsher climates.
Behavioral and dietary changes also helped humans adapt to cold climates.
A study started out trying to see the effect of sexist attacks on women authors, but it found something deeper.
Maxpixel
Surprising Science
It's well known that abusive comments online happen to women more than men
Such comments caused a "significant effect for the abusive comment on author credibility and intention to seek news from the author and outlet in the future"
Some news organizations already heavily moderate or even ban comments entirely; this should underscore that effort
Big think's weekly newsletter.
Get smarter faster from the comfort of your inbox.
See our newsletter privacy policy
here
Most Popular
Most Recent
Big think's weekly newsletter.
Get smarter faster from the comfort of your inbox.
See our newsletter privacy policy
here
© Copyright 2007-2018 & BIG THINK, BIG THINK EDGE,
SMARTER FASTER trademarks owned by The Big Think, Inc. All rights reserved.