Facebook investors are calling for Mark Zuckerberg to give up 'dictator'-like power
After widespread criticism of Facebook's handling of election meddling, fake news and the Cambridge Analytica scandal, investors are growing increasingly frustrated at the company's leadership.
26 June, 2018
---
After widespread criticism of Facebook's handling of election meddling, fake news and the Cambridge Analytica scandal, investors are growing increasingly frustrated at the company's leadership.
Now, some are openly calling for Zuckerberg to scale back his role in the company he created.
Business Insider recently interviewed six prominent independent Facebook investors who control a total of $3 billion in stock and "are trying to topple Mark Zuckerberg as chairman and tear up the company's governance structure."
One main point of contention is the way the company's stock system is set up. Facebook uses a dual-class stock structure in which each class is valued the same monetarily but weighted differently in voting power. Facebook's Class B stock has 10 times more voting power than the other.
Zuckerberg, who's chairman and CEO of Facebook, controls more than 75 percent of Facebook's Class B stock. This gives him nearly unchecked power over the company, enabling him to shoot down shareholder proposals, veto mergers, and vote directors on and off the board.
"We have concerns about the structure of the board that the company doesn't seem ready to address, which can lead to risks — reputational, regulatory, and otherwise," New York City's comptroller, Scott Stringer, who oversees about $895 million worth of Facebook shares through city pension funds, told Business Insider.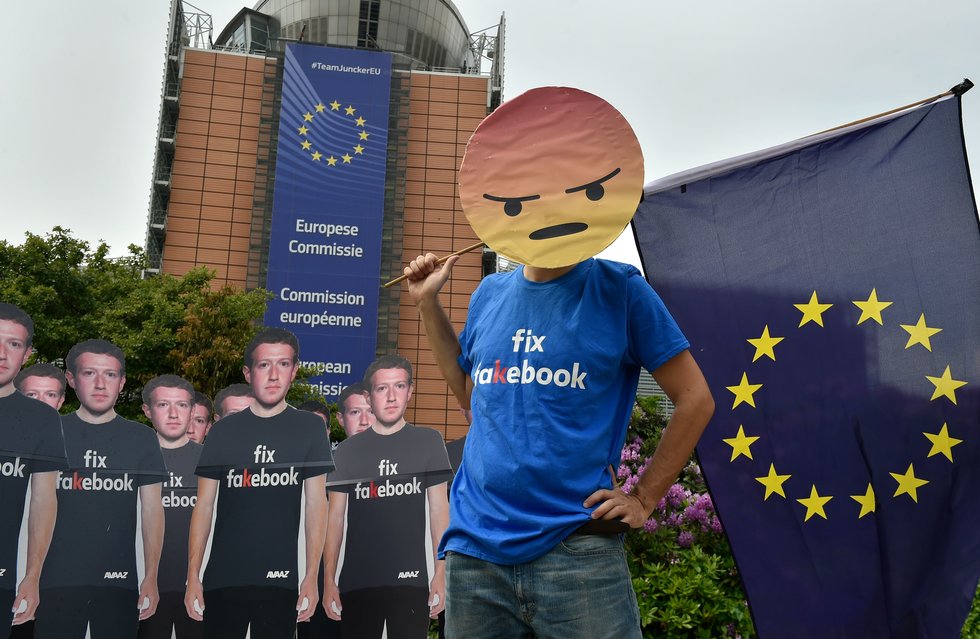 (Photo: JOHN THYS/AFP/Getty Images)
At Facebook's annual shareholders meeting in May, James McRitchie, a shareholder activist, said the company was at risk of becoming a "corporate dictatorship."
"Mr Zuckerberg, take a page from history," he said. "Emulate George Washington, not Vladimir Putin."
Another investor was forced to leave the room for shouting that "shareholder democracy is lacking at Facebook."
Independent investors have called for Zuckerberg to step down as chairman and for Facebook to dissolve its dual-class stock structure. Neither have happened.
"The idea that there should be an autocrat in charge of a gigantic public company, which has billions of dollars of shareholder money invested in it, is an anachronism," Patrick Doherty, the director of corporate governance at the office of the New York comptroller, told Business Insider. "It harks back to the 19th century when you had these robber barons who were autocrats and dictators."
It's unclear what the long-term consequences would be if Zuckerberg stepped down from one of his roles. Companies like Apple, Google, Oracle, Twitter, and Microsoft have all decided to separate the roles of CEO and chairman, as Jonas Kron, a senior vice president at Trillium Asset Management, told Business Insider.
A 2012 study from the Harvard Law School Forum on Corporate Governance and Financial Regulation found that companies typically spend more when one person acts as CEO and chairman. The study authors also noted that combining the roles results in an inherent conflict of interest and "appears to be indicative of the potential for other governance and management failures."
But that's not how Facebook sees it.
"We believe that our capital structure is in the best interests of our stockholders and that our current corporate governance structure is sound and effective," the company wrote in a statement, adding that removing Zuckerberg as chairman would cause "uncertainty, confusion, and inefficiency in board and management function."
Lumina Foundation is partnering with Big Think to unearth the next large-scale, rapid innovation in post-high school education. Enter the competition here!
Good science is sometimes trumped by the craving for a "big splash."
Videos
Scientists strive to earn credit from their peers, for grants from federal agencies, and so a lot of the decisions that they make are strategic in nature. They're encouraged to publish exciting new findings that demonstrate some new phenomenon that we have never seen before.
This professional pressure can affect their decision-making — to get acclaim they may actually make science worse. That is, a scientist might commit fraud if he thinks he can get away with it or a scientist might rush a result out of the door even though it hasn't been completely verified in order to beat the competition.
On top of the acclaim of their peers, scientists — with the increasing popularity of science journalism — are starting to be rewarded for doing things that the public is interested in. The good side of this is that the research is more likely to have a public impact, rather than be esoteric. The bad side? To make a "big splash" a scientist may push a study or article that doesn't exemplify good science.
Moans, groans, and gripes release stress hormones in the brain.
popular
Could you give up complaining for a whole month? That's the crux of this interesting piece by Jessica Hullinger over at Fast Company. Hullinger explores the reasons why humans are so predisposed to griping and why, despite these predispositions, we should all try to complain less. As for no complaining for a month, that was the goal for people enrolled in the Complaint Restraint project.
Participants sought to go the entirety of February without so much as a moan, groan, or bellyache.
Two space agencies plan missions to deflect an asteroid.
ESA's Hera mission above asteroid 65803 Didymos. Credit: ESA/ScienceOffice.org
Surprising Science
NASA and the European Space Agency (ESA) are working together on missions to a binary asteroid system.
The DART and Hera missions will attempt to deflect and study the asteroid Didymoon.
A planetary defense system is important in preventing large-scale catastrophes.
Big think's weekly newsletter.
Get smarter faster from the comfort of your inbox.
See our newsletter privacy policy
here
Most Popular
Most Recent
Big think's weekly newsletter.
Get smarter faster from the comfort of your inbox.
See our newsletter privacy policy
here
© Copyright 2007-2018 & BIG THINK, BIG THINK EDGE,
SMARTER FASTER trademarks owned by The Big Think, Inc. All rights reserved.