What Is More Divisive in America — Politics, Class, or Religion?
In 2017, conflict was stronger between red and blue than it was between black and white.
31 December, 2017
---
In 2017, conflict was stronger between red and blue than it was between black and white.
A new Pew Research Center survey shows that 86 percent of Americans said conflicts between Democrats and Republicans are strong or very strong. In comparison, just 65 percent of Americans said the same for race relations between black and whites, while 60 percent reported strong conflicts between the poor and rich.
The respondents didn't, however, report feeling nearly as strong of a conflict between rural and urban Americans – a dichotomy that some suggested played a role in the election of President Donald Trump – with only 37 percent saying there were strong or very strong conflicts between the groups.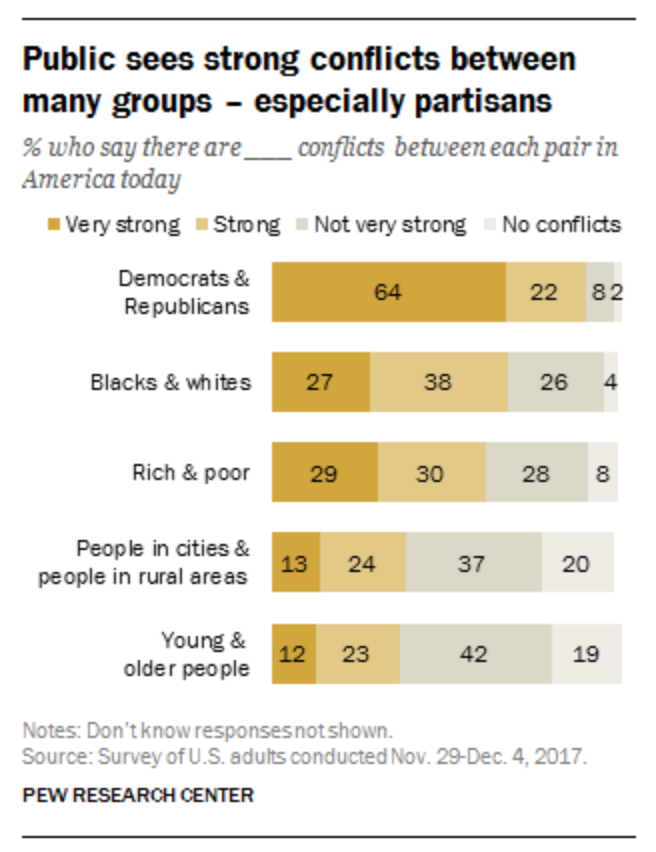 Both conservatives and liberals felt the discord: 90 percent of Democrats and 86 percent of Republicans reported a sense strong or very strong conflicts, representing a higher total rate than Pew Research Center recorded for 2016 or 2012. And the two parties appear to be more divided than ever when it comes to fundamental political issues. Pew Research Center reports that:
On 10 questions that the Center has asked in surveys since 1994 through summer 2017, the average gap between Democrats and Republicans has risen from 15 percentage points to 36 points. This gap is now much wider than the average gap on the same questions between people of different races, ages, educational backgrounds and other demographic factors.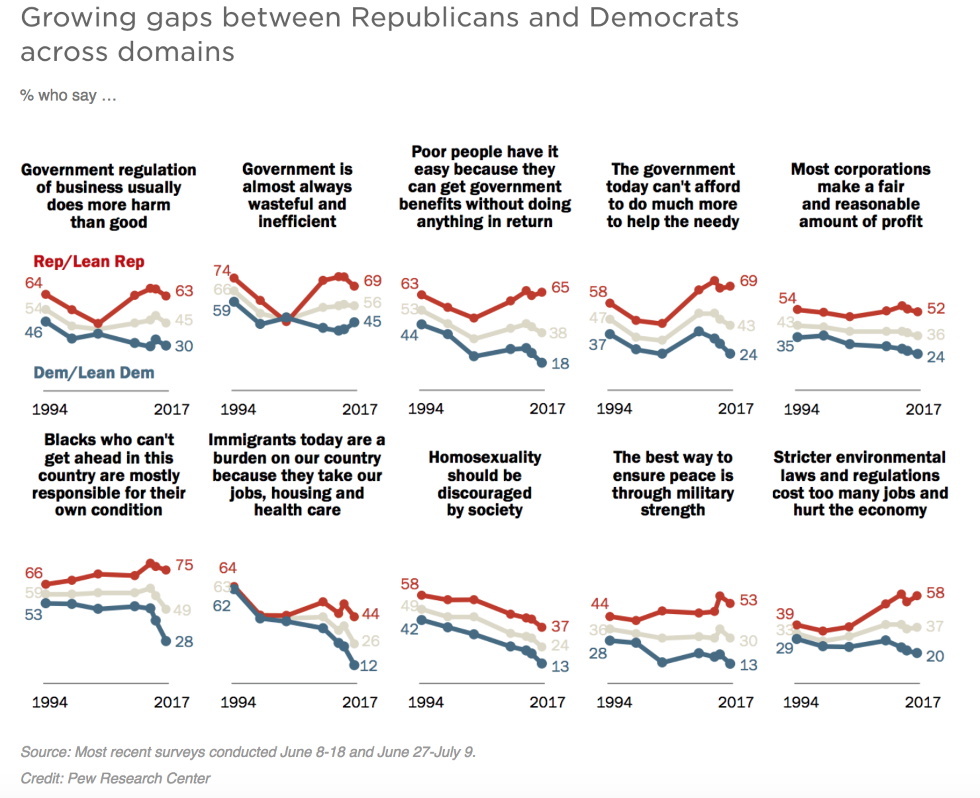 Interestingly, Democrats were more likely than Republicans to perceive the presence of strong conflict between every set of groups listed in the survey: rich and poor, white and black, rural and urban, and Democrat and Republican. Similarly, blacks were more likely than whites to perceive conflicts between every group measured.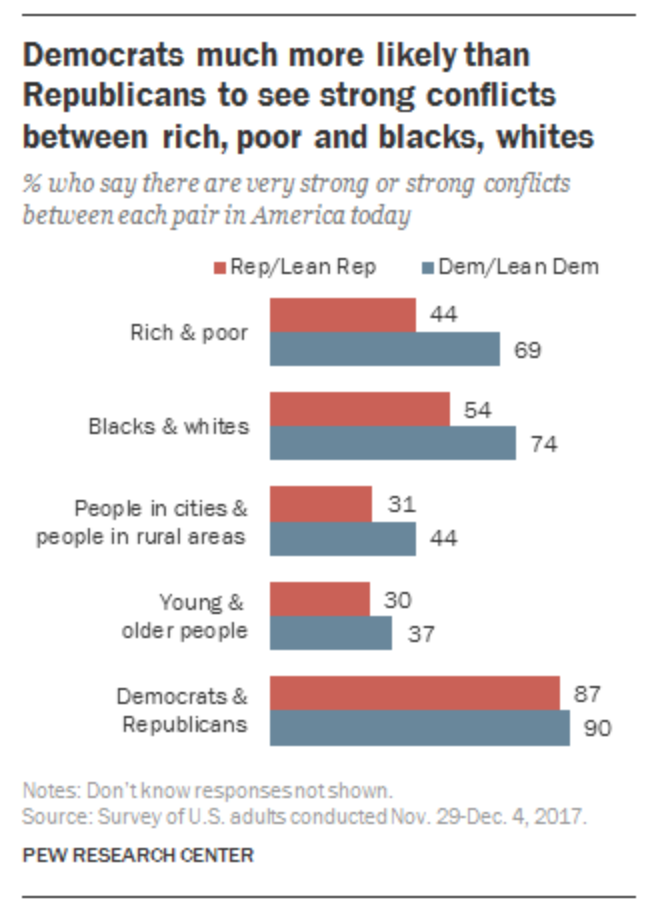 Making matters more complicated is the division and infighting within the two parties. In October 2017, the Pew Research Center published a report that describes the subgroups that have taken shape within each party in the wake of President Donald Trump's election. 
On the left:
Solid Liberals – "Largely white, financially comfortable and highly educated (most are college graduates and nearly a third have postgraduate degrees), Solid Liberals overwhelmingly express liberal attitudes on virtually every issue."
Opportunity Democrats "Agree with Solid Liberals on major issues. But Opportunity Democrats are less affluent, less politically engaged and less liberal – both in their attitudes on issues and in how they describe themselves politically."
Devout and Diverse "[this group] faces even tougher financial hardships than Disaffected Democrats. Devout and Diverse also are the most politically mixed typology group (about a quarter lean Republican), as well as the least politically engaged."
Disaffected Democrats "have very positive feelings toward the Democratic Party and its leading figures. Their disaffection stems from their cynicism about politics, government and the way things are going in the country. This financially stressed, majority-minority group supports activist government and the social safety net, but most say government is 'wasteful and inefficient.'"
And on the right:
Core Conservatives – are "in many ways the most traditional group of Republicans" and are "financially comfortable, male-dominated group overwhelmingly supports smaller government, lower corporate tax rates and believes in the fairness of the nation's economic system."
Country First Conservatives – represent a "much smaller segment of the GOP base, are older and less educated than other Republican-leaning typology groups. Unlike Core Conservatives, Country First Conservatives are unhappy with the nation's course, highly critical of immigrants and deeply wary of U.S. global involvement."
Market Skeptic Republicans – "support raising tax rates on corporations and large businesses. An overwhelming share (94%) say the economic system unfairly favors powerful interests, which places the view of Market Skeptic Republicans on this issue much closer to Solid Liberals (99% mostly unfair) than Core Conservatives (21%)."
New Era Enterprisers – "are fundamentally optimistic about the state of the nation and its future. They are more likely than any other typology group to say the next generation of Americans will have it better than people today. Younger and somewhat less overwhelmingly white than the other GOP-leaning groups, New Era Enterprisers are strongly pro-business and generally think that immigrants strengthen, rather than burden, the country."
Check out more about the subdivisions within each party in Pew Research Center's exhaustive report.
What can 3D printing do for medicine? The "sky is the limit," says Northwell Health researcher Dr. Todd Goldstein.
Northwell Health
Sponsored by Northwell Health
Medical professionals are currently using 3D printers to create prosthetics and patient-specific organ models that doctors can use to prepare for surgery.
Eventually, scientists hope to print patient-specific organs that can be transplanted safely into the human body.
Northwell Health, New York State's largest health care provider, is pioneering 3D printing in medicine in three key ways.
An ordained Lama in a Tibetan Buddhist lineage, Lama Rod grew up a queer, black male within the black Christian church in the American south. Navigating all of these intersecting, evolving identities has led him to a life's work based on compassion for self and others.
Think Again Podcasts
"What I'm interested in is deep, systematic change. What I understand now is that real change doesn't happen until change on the inside begins to happen."
"Masculinity is not inherently toxic. Patriarchy is toxic. We have to let that energy go so we can stop forcing other people to do emotional labor for us."
We were gaining three IQ points per decade for many, many years. Now, that's going backward. Could this explain some of our choices lately?
The Flynn effect appears to be in retrograde. (Credit: Shutterstock/Big Think)
popular
There's a new study out of Norway that indicates our—well, technically, their—IQs are shrinking, to the tune of about seven IQ points per generation.
Here's why generalists triumph over specialists in the new era of innovation.
Videos
Since the explosion of the knowledge economy in the 1990s, generalist inventors have been making larger and more important contributions than specialists.
One theory is that the rise of rapid communication technologies allowed the information created by specialists to be rapidly disseminated, meaning generalists can combine information across disciplines to invent something new.
Here, David Epstein explains how Nintendo's Game Boy was a case of "lateral thinking with withered technology." He also relays the findings of a fascinating study that found the common factor of success among comic book authors.
Big think's weekly newsletter.
Get smarter faster from the comfort of your inbox.
See our newsletter privacy policy
here
Most Popular
Most Recent
Big think's weekly newsletter.
Get smarter faster from the comfort of your inbox.
See our newsletter privacy policy
here
© Copyright 2007-2019 & BIG THINK, BIG THINK EDGE,
SMARTER FASTER trademarks owned by The Big Think, Inc. All rights reserved.