Economist causes controversy: 'Replace public libraries with Amazon bookstores'
A controversial article from Forbes argues that libraries, once an important public resource, are outdated, costly and should be replaced by Amazon book stores.
23 July, 2018
---
Libraries, once an important public resource, are outdated, costly and should be replaced by Amazon book stores. That's the controversial argument from economist Panos Mourdoukoutas published in a recent Forbes article.
"At the core, Amazon has provided something better than a local library without the tax fees," Mourdoukoutas, a professor of economics at LIU Post in New York, wrote. "This is why Amazon should replace local libraries. The move would save taxpayers money and enhance the stockholder value of Amazon all in one fell swoop."
Mourdoukoutas argued that libraries were once a comfortable place to read, but now readers can just take their books to Starbucks. He also wrote that technology has turned physical books into "collector's items, effectively eliminating the need for library borrowing services."
Unsurprisingly, librarians and public library supporters took him to task on Twitter.
My Los Angeles Public Library card allows me access to all you mentioned and more. Today we offered a genealogy workshop, indigenous writers conference, puppet show, tai chi class and travel craft in one location. My cost in taxes? 37 CENTS.

— Selena Terrazas (@terrazas_selena) July 22, 2018
Cost to individually buy the six books I have on hold this week: $70

Amount the Altadena Library Special Parcel Tax cost me this week: 75¢

Someone help me budget this, I'm not the chair of an economics department.

— Gwen C. Katz (@gwenckatz) July 21, 2018
Historically those with power overtly protected their position by keeping oppressed communities illiterate. This idea is a modern reincarnation. Libraries serve POC, the poor, etc. They are where people apply for citizenship, register to vote, access social programs. https://t.co/4BGS3yhorz

— Sofia Quintero (@sofiaquintero) July 22, 2018
Maybe @Forbes doesn't like that you can download their magazine free with your #SF library card. https://t.co/vqQk1BDMZE

— SF Public Library (@SFPublicLibrary) July 22, 2018
Public library funding
Most libraries are funded by local governments, typically through property taxes, and also from state and federal funds. The average taxpayer pays about $4.50 per month to fund local libraries, according to some estimates, though this figure varies by local tax rates.
In recent years, some libraries have had to seek funding from other sources, like philanthropy, renting out space for money, offering for-profit services like processing passport applications, and selling goods like USB drives and coffee.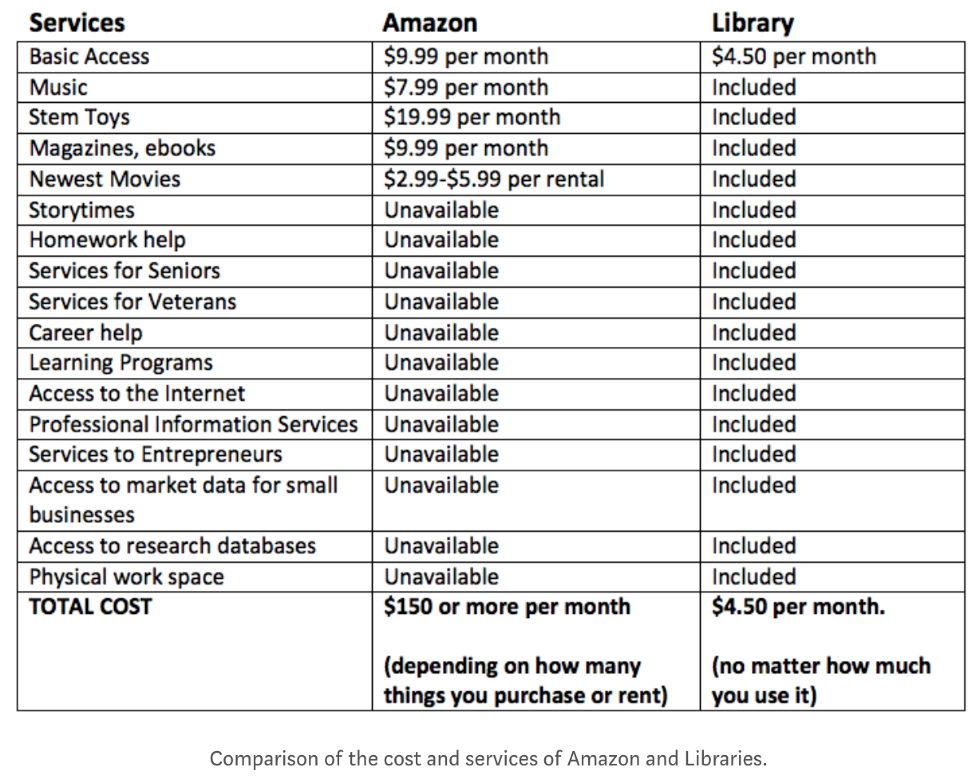 It's hard to measure the exact monetary benefits of public libraries, but estimates provide an idea. The St. Johns County Public Library System in Florida, for example, estimates that taxpayers receive about $10 for every $1 they spend on libraries. These benefits come in the form of free (or low-cost) access to:
Books and reference materials for private or professional study
Expensive market research databases
Computers and printers low-income residents can use to apply for jobs
Classes and workshops
Spaces for community meetings
Librarians, many of whom have specialized master's degrees
Jobs provided to the community
Amazon, a giant for-profit company that got its start as a bookseller, would have little incentive to provide these resources, many of which are intangible.
"Libraries are community spaces where children come in order to learn to read and get a head start on learning," reads a recent piece from EveryLibrary, a nonprofit organization that helps libraries secure funding. "They are places where adults can get the help they need to explore an increasingly complex digital and information driven work environment. Veterans returning from overseas can attend programs to help them gain access to critical services. Small business owners and entrepreneurs can access global market databases like Gale Business Insights and use ReferenceUSA and AtoZ Databases to find new leads. Children can play with stem toys to learn how to engage with the latest technologies and gain the skills they'll need in the workforce. They do all of this and whole lot more, for a lot less than Amazon or any other organization in the country."
That's a sharp increase from the 1960s when it took the same share of scientists an average of 35 years to drop out of academia.
Pixabay
Surprising Science
The study tracked the careers of more than 100,000 scientists over 50 years.
The results showed career lifespans are shrinking, and fewer scientists are getting credited as the lead author on scientific papers.
Scientists are still pursuing careers in the private sector, however there are key differences between research conducted in academia and industry.
China's rise has necessitated a global PR push. It includes influencing how the movies you watch depict China.
President Xi Jinping and Brad Pitt in World War Z. (Image: Big Think/Getty)
Politics & Current Affairs
China will soon overtake the U.S. as the world's largest market for films, and it is using that fact to influence how it is depicted by Hollywood.
While Chinese investors have been interested in buying shares of studios for a while, the real power lies in deciding which movies get into China at all.
The influence is often subtle, but may have already derailed a few careers in the name of politics.
The bold technique involves surgically implanting a so-called microneedle patch directly onto the heart.
Red human heart against a yellow background (Getty Images)
Surprising Science
Heart attacks leave scar tissue on the heart, which can reduce the organ's ability to pump blood throughout the body.
The microneedle patch aims to deliver therapeutic cells directly to the damaged tissue.
It hasn't been tested on humans yet, but the method has shown promising signs in research on animals.
Big think's weekly newsletter.
Get smarter faster from the comfort of your inbox.
See our newsletter privacy policy
here
Most Popular
Most Recent
Big think's weekly newsletter.
Get smarter faster from the comfort of your inbox.
See our newsletter privacy policy
here
© Copyright 2007-2018 & BIG THINK, BIG THINK EDGE,
SMARTER FASTER trademarks owned by The Big Think, Inc. All rights reserved.