Category 6 hurricanes? Future storms will be increasingly violent
A new computer model suggests that the 21st century will have more frequent hurricanes of staggering force.
12 September, 2018
A new computer model provides unprecedentedly detailed forecasts of tropical storms.
Projections show a major increase in hurricanes of Category 3 and above by the end of the 21st century.
One primary driver of the planet's increasingly extreme hurricanes is warming oceans.
---
The 21st century is not only projected to see more hurricanes, but also ones so extreme that scientists might need to create a new category to classify them.
A new computer model, created at the National Oceanic and Atmospheric Administration's (NOAA's) Geophysical Fluid Dynamics Laboratory, can provide unprecedentedly detailed forecasts of tropical storms in both past and future environments by simulating interactions between meteorological forces, like the atmosphere and oceans.
Recently, a team led by NOAA researcher Kieran Bhatia used the technology to glimpse the future and see how a warming climate might affect tropical storms across the globe. The sight was unsettling.
For 2016 to 2035, the projections showed an 11% increase in hurricanes of categories 3, 4, and 5, compared to the late 20th century. That increase jumped to 20% by the end of the 21st century.
Alarmingly, the intensity of some storms is projected to be off the charts.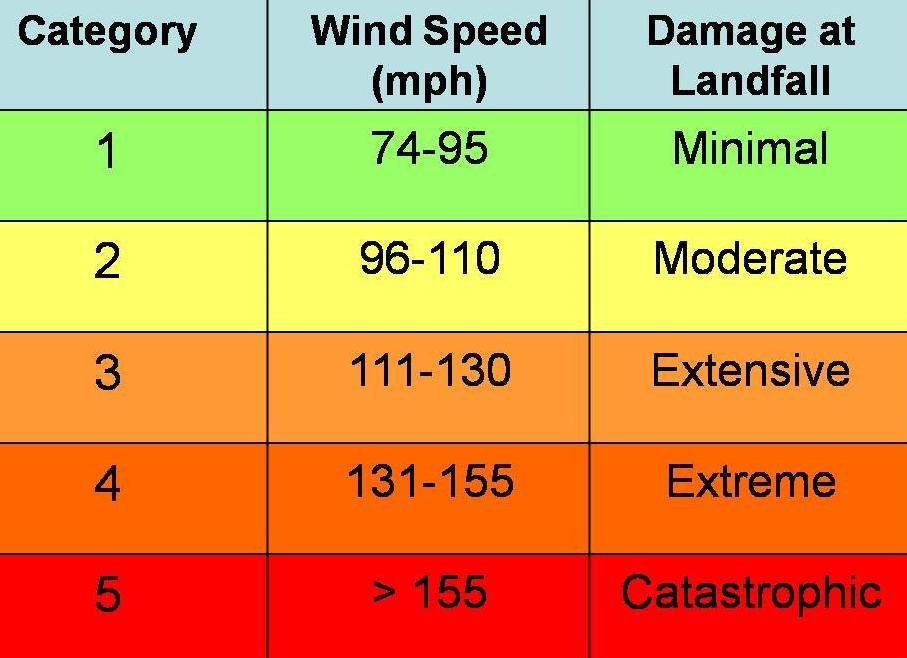 Scientists currently use the Saffir-Simpson scale to measure the intensity of tropical storms and tropical depressions (essentially, a mini-storm). A storm registers on the lowest end of the scale when its winds reach 74 miles per hour. The most severe category, 5, begins at 157 mph and is left open-ended.
The new projections forecast some storms with maximum sustained winds of more than 190 mph. Only 9 such storms were observed in the 20th century. But for 2016 to 2035, the projections produced 32 of these extreme storms and 72 for 2081 to 2100.
Some scientists argue that adding a new category to the Saffir-Simpson scale will help the public grasp the changes climate change is bringing to the planet.
"Scientifically, [six] would be a better description of the strength of 200-mph storms, and it would also better communicate the well-established finding now that climate change is making the strongest storms even stronger," said climatologist Michael Mann, director of the Earth System Science Center at Penn State University, at a conference earlier this year.
"Since the scale is now used as much in a scientific context as it is a damage assessment context, it makes sense to introduce a category six to describe the unprecedented strength 200-mph storms we've seen over the past few years both globally and here in the southern hemisphere."
One primary driver of the planet's increasingly extreme hurricanes is warming oceans.
Watch out, America! #HurricaneFlorence is so enormous, we could only capture her with a super wide-angle lens from the @Space_Station, 400 km directly above the eye. Get prepared on the East Coast, this is a no-kidding nightmare coming for you. #Horizons pic.twitter.com/ovZozsncfh
— Alexander Gerst (@Astro_Alex) September 12, 2018
"When the water in the oceans gets hotter, which is happening because of global warming, it's like fuel for a hurricane's engine that's spinning up, gaining strength," science reporter Rebecca Hersher told NPR's Up First podcast. "So you can think of it as a hot bath. The evaporating moisture feeds the storm. So here's the really bad news when it comes to that: The oceans are warmer now than they've ever been."
Hersher said the water feeding Hurricane Florence, which is a category 4 storm currently surging off the east coast of the U.S., is slightly warmer than normal.
Related Articles
These modern-day hermits can sometimes spend decades without ever leaving their apartments.
700,000 Japanese people are thought to be hikikomori, modern-day hermits who never leave their apartments (BEHROUZ MEHRI/AFP/Getty Images).
Mind & Brain
A hikikomori is a type of person in Japan who locks themselves away in their bedrooms, sometimes for years.
This is a relatively new phenomenon in Japan, likely due to rigid social customs and high expectations for academic and business success.
Many believe hikikomori to be a result of how Japan interprets and handles mental health issues.
How a cataclysm worse than what killed the dinosaurs destroyed 90 percent of all life on Earth.
Credit: Ron Miller
Surprising Science
While the demise of the dinosaurs gets more attention as far as mass extinctions go, an even more disastrous event called "the Great Dying" or the "End-Permian Extinction" happened on Earth prior to that. Now scientists discovered how this cataclysm, which took place about 250 million years ago, managed to kill off more than 90 percent of all life on the planet.
A new study discovers the "liking gap" — the difference between how we view others we're meeting for the first time, and the way we think they're seeing us.
New acquaintances probably like you more than you think. (Photo by Simone Joyner/Getty Images)
Surprising Science
We tend to be defensive socially. When we meet new people, we're often concerned with how we're coming off. Our anxiety causes us to be so concerned with the impression we're creating that we fail to notice that the same is true of the other person as well. A new study led by Erica J. Boothby, published on September 5 in Psychological Science, reveals how people tend to like us more in first encounters than we'd ever suspect.
Big think's weekly newsletter.
Get smarter faster from the comfort of your inbox.
See our newsletter privacy policy
here
Most Popular
Most Recent
Big think's weekly newsletter.
Get smarter faster from the comfort of your inbox.
See our newsletter privacy policy
here
© Copyright 2007-2018 & BIG THINK, BIG THINK EDGE,
SMARTER FASTER trademarks owned by The Big Think, Inc. All rights reserved.