Category 6 hurricanes? Future storms will be increasingly violent
A new computer model suggests that the 21st century will have more frequent hurricanes of staggering force.
12 September, 2018
A new computer model provides unprecedentedly detailed forecasts of tropical storms.
Projections show a major increase in hurricanes of Category 3 and above by the end of the 21st century.
One primary driver of the planet's increasingly extreme hurricanes is warming oceans.
---
The 21st century is not only projected to see more hurricanes, but also ones so extreme that scientists might need to create a new category to classify them.
A new computer model, created at the National Oceanic and Atmospheric Administration's (NOAA's) Geophysical Fluid Dynamics Laboratory, can provide unprecedentedly detailed forecasts of tropical storms in both past and future environments by simulating interactions between meteorological forces, like the atmosphere and oceans.
Recently, a team led by NOAA researcher Kieran Bhatia used the technology to glimpse the future and see how a warming climate might affect tropical storms across the globe. The sight was unsettling.
For 2016 to 2035, the projections showed an 11% increase in hurricanes of categories 3, 4, and 5, compared to the late 20th century. That increase jumped to 20% by the end of the 21st century.
Alarmingly, the intensity of some storms is projected to be off the charts.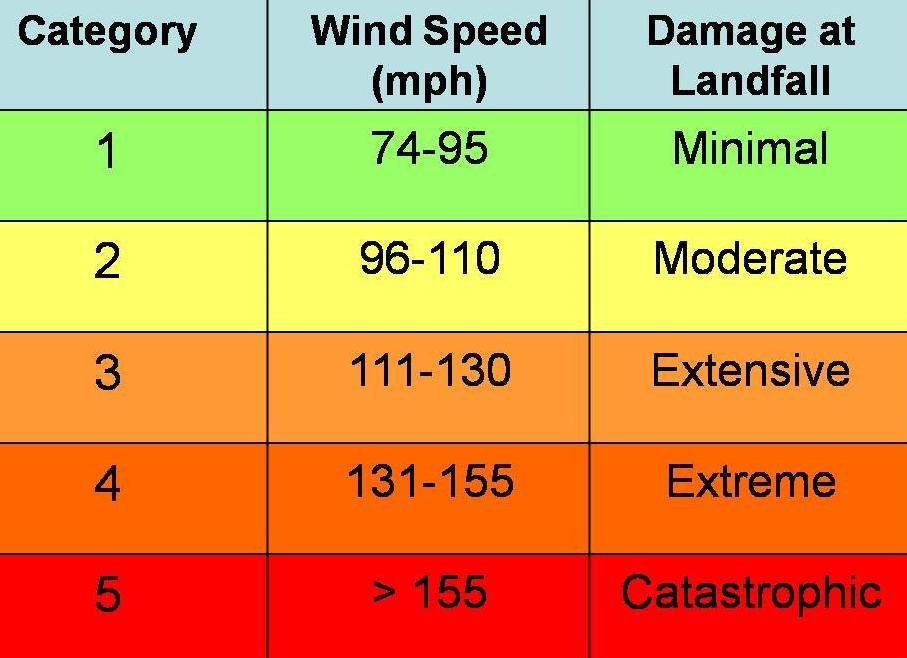 Scientists currently use the Saffir-Simpson scale to measure the intensity of tropical storms and tropical depressions (essentially, a mini-storm). A storm registers on the lowest end of the scale when its winds reach 74 miles per hour. The most severe category, 5, begins at 157 mph and is left open-ended.
The new projections forecast some storms with maximum sustained winds of more than 190 mph. Only 9 such storms were observed in the 20th century. But for 2016 to 2035, the projections produced 32 of these extreme storms and 72 for 2081 to 2100.
Some scientists argue that adding a new category to the Saffir-Simpson scale will help the public grasp the changes climate change is bringing to the planet.
"Scientifically, [six] would be a better description of the strength of 200-mph storms, and it would also better communicate the well-established finding now that climate change is making the strongest storms even stronger," said climatologist Michael Mann, director of the Earth System Science Center at Penn State University, at a conference earlier this year.
"Since the scale is now used as much in a scientific context as it is a damage assessment context, it makes sense to introduce a category six to describe the unprecedented strength 200-mph storms we've seen over the past few years both globally and here in the southern hemisphere."
One primary driver of the planet's increasingly extreme hurricanes is warming oceans.
Watch out, America! #HurricaneFlorence is so enormous, we could only capture her with a super wide-angle lens from the @Space_Station, 400 km directly above the eye. Get prepared on the East Coast, this is a no-kidding nightmare coming for you. #Horizons pic.twitter.com/ovZozsncfh
— Alexander Gerst (@Astro_Alex) September 12, 2018
"When the water in the oceans gets hotter, which is happening because of global warming, it's like fuel for a hurricane's engine that's spinning up, gaining strength," science reporter Rebecca Hersher told NPR's Up First podcast. "So you can think of it as a hot bath. The evaporating moisture feeds the storm. So here's the really bad news when it comes to that: The oceans are warmer now than they've ever been."
Hersher said the water feeding Hurricane Florence, which is a category 4 storm currently surging off the east coast of the U.S., is slightly warmer than normal.
Pfizer's partnerships strengthen their ability to deliver vaccines in developing countries.
Susan Silbermann, Global President of Pfizer Vaccines, looks on as a health care worker administers a vaccine in Rwanda. Photo: Courtesy of Pfizer.
Sponsored
Community healthcare workers face many challenges in their work, including often traveling far distances to see their clients
Pfizer is helping to drive the UN's sustainable development goals through partnerships.
Pfizer partnered with AMP and the World Health Organization to develop a training program for healthcare workers.
Orangutans join humans and bees in a very exclusive club
Surprising Science
Orangutan mothers wait to sound a danger alarm to avoid tipping off predators to their location
It took a couple of researchers crawling around the Sumatran jungle to discover the phenomenon
This ability may come from a common ancestor
Giving our solar system a "slap in the face."
Surprising Science
A stream of galactic debris is hurtling at us, pulling dark matter along with it
It's traveling so quickly it's been described as a hurricane of dark matter
Scientists are excited to set their particle detectors at the onslffaught
Journaling can help you materialize your ambitions.
Videos
Organizing your thoughts can help you plan and achieve goals that might otherwise seen unobtainable.
The Bullet Journal method, in particular, can reduce clutter in your life by helping you visualize your future.
One way to view your journal might be less of a narrative and more of a timeline of decisions.
Big think's weekly newsletter.
Get smarter faster from the comfort of your inbox.
See our newsletter privacy policy
here
Most Popular
Most Recent
Big think's weekly newsletter.
Get smarter faster from the comfort of your inbox.
See our newsletter privacy policy
here
© Copyright 2007-2018 & BIG THINK, BIG THINK EDGE,
SMARTER FASTER trademarks owned by The Big Think, Inc. All rights reserved.