Category 6 hurricanes? Future storms will be increasingly violent
A new computer model suggests that the 21st century will have more frequent hurricanes of staggering force.
12 September, 2018
A new computer model predicts that storms in the 21st century will become increasingly violent (National Oceanic and Atmospheric Administration).
A new computer model provides unprecedentedly detailed forecasts of tropical storms.
Projections show a major increase in hurricanes of Category 3 and above by the end of the 21st century.
One primary driver of the planet's increasingly extreme hurricanes is warming oceans.
---
The 21st century is not only projected to see more hurricanes, but also ones so extreme that scientists might need to create a new category to classify them.
A new computer model, created at the National Oceanic and Atmospheric Administration's (NOAA's) Geophysical Fluid Dynamics Laboratory, can provide unprecedentedly detailed forecasts of tropical storms in both past and future environments by simulating interactions between meteorological forces, like the atmosphere and oceans.
Recently, a team led by NOAA researcher Kieran Bhatia used the technology to glimpse the future and see how a warming climate might affect tropical storms across the globe. The sight was unsettling.
For 2016 to 2035, the projections showed an 11% increase in hurricanes of categories 3, 4, and 5, compared to the late 20th century. That increase jumped to 20% by the end of the 21st century.
Alarmingly, the intensity of some storms is projected to be off the charts.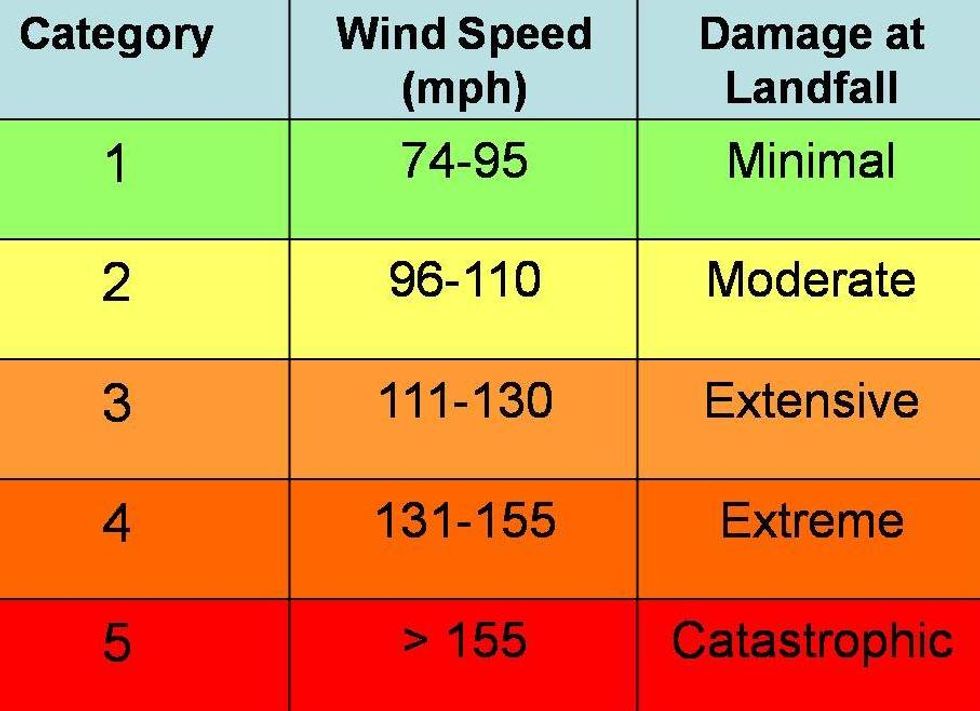 Scientists currently use the Saffir-Simpson scale to measure the intensity of tropical storms and tropical depressions (essentially, a mini-storm). A storm registers on the lowest end of the scale when its winds reach 74 miles per hour. The most severe category, 5, begins at 157 mph and is left open-ended.
The new projections forecast some storms with maximum sustained winds of more than 190 mph. Only 9 such storms were observed in the 20th century. But for 2016 to 2035, the projections produced 32 of these extreme storms and 72 for 2081 to 2100.
Some scientists argue that adding a new category to the Saffir-Simpson scale will help the public grasp the changes climate change is bringing to the planet.
"Scientifically, [six] would be a better description of the strength of 200-mph storms, and it would also better communicate the well-established finding now that climate change is making the strongest storms even stronger," said climatologist Michael Mann, director of the Earth System Science Center at Penn State University, at a conference earlier this year.
"Since the scale is now used as much in a scientific context as it is a damage assessment context, it makes sense to introduce a category six to describe the unprecedented strength 200-mph storms we've seen over the past few years both globally and here in the southern hemisphere."
One primary driver of the planet's increasingly extreme hurricanes is warming oceans.
Watch out, America! #HurricaneFlorence is so enormous, we could only capture her with a super wide-angle lens from the @Space_Station, 400 km directly above the eye. Get prepared on the East Coast, this is a no-kidding nightmare coming for you. #Horizons pic.twitter.com/ovZozsncfh
— Alexander Gerst (@Astro_Alex) September 12, 2018
To create wiser adults, add empathy to the school curriculum.
Sponsored by Charles Koch Foundation
Stories are at the heart of learning, writes Cleary Vaughan-Lee, Executive Director for the Global Oneness Project. They have always challenged us to think beyond ourselves, expanding our experience and revealing deep truths.
Vaughan-Lee explains 6 ways that storytelling can foster empathy and deliver powerful learning experiences.
Global Oneness Project is a free library of stories—containing short documentaries, photo essays, and essays—that each contain a companion lesson plan and learning activities for students so they can expand their experience of the world.
Philosophers like to present their works as if everything before it was wrong. Sometimes, they even say they have ended the need for more philosophy. So, what happens when somebody realizes they were mistaken?
The inequalities impact everything from education to health.
ANGELA WEISS/AFP via Getty Images
Politics & Current Affairs
America is experiencing some of its most widespread civil unrest in years following the death of George Floyd.
Astrophysicist Michelle Thaller talks ISS and why NICER is so important.
Videos
Being outside of Earth's atmosphere while also being able to look down on the planet is both a challenge and a unique benefit for astronauts conducting important and innovative experiments aboard the International Space Station.
NASA astrophysicist Michelle Thaller explains why one such project, known as NICER (Neutron star Interior Composition Explorer), is "one of the most amazing discoveries of the last year."
Researchers used x-ray light data from NICER to map the surface of neutrons (the spinning remnants of dead stars 10-50 times the mass of our sun). Thaller explains how this data can be used to create a clock more accurate than any on Earth, as well as a GPS device that can be used anywhere in the galaxy.
Mind & Brain
Just before I turned 60, I discovered that sharing my story by drawing could be an effective way to both alleviate my symptoms and combat that stigma.
Scroll down to load more…