Starts With A Bang —
Highlights from James Webb's first two months of science operations
The first set of James Webb's images blew us all away. In just 2 mere months, it's seen highlights that no one could have predicted.
Key Takeaways
From planets to nebulae to galaxies nearby all the way to the distant Universe, the James Webb Space Telescope (JWST) has shown us the Universe as we've never seen it before.
Although the first five images were all revolutionary, each in their own way, JWST has continued to explore the Universe, revealing features that were previously unknown and unseen.
As only a few of these images have been publicized, most people — even most astronomers — have never seen all of them. Enjoy exploring humanity's newest views of the Universe!
Historically, our grandest views of deep space came from Hubble.
As of July 2022, however, a superior space telescope has emerged.
The James Webb Space Telescope (JWST) takes us beyond what anything else has seen.
Nearby, Jupiter appears as never before.
Its bands, rings, aurorae, and moons appear alongside background galaxies.
JWST viewed exoplanets directly with infrared imaging.
Spectroscopically, transits detect absorbed light
and transmitted light: revealing molecular presences.
Star-forming nebulae display unprecedented details.
From new, young, blue stars,
to gaseous features,
JWST showcases what Hubble cannot.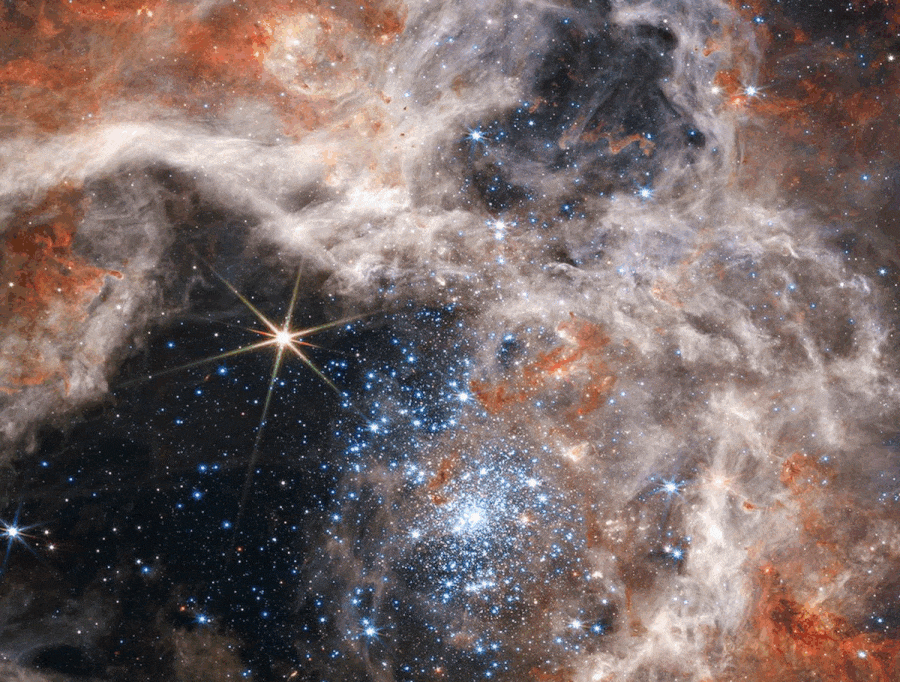 Meanwhile, JWST's initial alignment image grew spectacularly.
Now a 140+ megapixel view, it expansively reveals far-flung galaxies.
Just 1% of this view contains ~100 identifiable objects.
Massive, evolved, complex galactic shapes appear at all observed distances.
Additionally, disk galaxy candidates surprisingly appeared at extremely early times.
JWST also viewed the most distant star ever: Earendel.
But arguably its greatest images are of individual galaxies.
JWST's views reveal gas, dust, stars, and more.
Central black hole-containing cores shine in mid-infrared light.
Star-forming gas bridges appear between interacting galaxies.
From Hubble,
to JWST's near-infrared eyes,
to the eerie, unfamiliar mid-infrared views,
the Universe is coming into focus as never before under Webb's watchful eyes.
Mostly Mute Monday tells an astronomical story in images, visuals, and no more than 200 words. Talk less; smile more.