Big ideas.
Once a week.
Subscribe to our weekly newsletter.
What Nietzsche really meant: The Apollonian and Dionysian
One God stands for order, logic, and reason. The other stands for chaos, madness, and drunkenness. Nietzsche thinks you need both.
27 August, 2018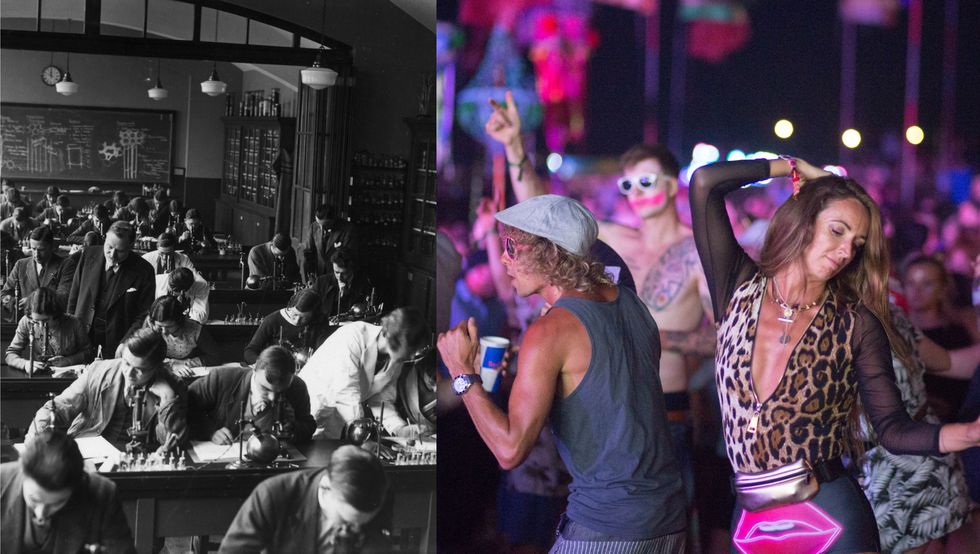 Order, reason, chaos, and madness is within all of us. Nietzsche thinks this is great. (J. A. Hampton/Topical Press Agency/Matt Cardy/Getty Images)
We all know the kind of person who likes to impose order on every situation. They want reason, logic, precise definitions, and despise chaos. Likewise, we all know people who throw order to the wind, follow every impulse they have, are drawn to chaos, and hate restraints on them.
---
While most of us would look at these kinds of people and see nothing more than personality differences, Friedrich Nietzsche saw an enduring dichotomy inside all of us which emerges from nature itself and can be applied to art, psychology, ethics, and politics.   
The Apollonian and Dionysian 
In his first book The Birth of Tragedy, Nietzsche examines art, particularly ancient Greek plays. While he didn't write the last word on the subject, he did use the book to introduce a concept which would continue to appear in his thinking long after he dismissed his earliest work as "badly written, ponderous, embarrassing, image-mad and image-confused."
The two forces of nature he introduces show up everywhere. While their most famous iteration was as pillars of Greek culture, they can also appear as drives within us and even as historical forces. He names the two halves of this dichotomy the Apollonian and the Dionysian, after two Greek Gods. 
Apollo, the God of the sun, truth, light, and logic, is the namesake for the first, ordered, half. This is the half that covers everything which is structured. Sculpture, an art which is pure form, is the most Apollonian art.
Rational thinking, which is based on logical structures, is also Apollonian. Since this drive tends to put things into their place, it also tends to individualize and distinctly separate people and ideas from one another.
Nietzsche thinks dreams are the most Apollonian state we can experience. He bases this on the idea that we understand what we see when dreaming isn't real, but merely an image. It has been suggested that he was a lucid dreamer to explain this strange notion. 
Dionysus, the God of wine, festivals, and madness lends his name to the later, frenzied, half. Music is the pure Dionysian artform since it doesn't appeal to our rational mind but rather to our emotions. The Dionysian doesn't categorize and tends to blur the boundaries between the self and nature.
The esoteric and mystic cults of the Greeks, many of which were dedicated to Dionysus, offer an alternative to the rationalism of the Apollonian and were noted for their "sexual licentiousness."
Drunkenness is suggested as the pure Dionysian state. He gives us a fantastic description of the Dionysian when he explains:
"Transform Beethoven's 'Hymn to Joy' into a painting; let your imagination conceive the multitudes bowing to the dust, awestruck- then you will approach the Dionysian."
Nietzsche suggests that folk music is especially Dionysian and that "it might also be historically demonstratable that every period rich in folk songs has been most violently stirred by Dionysian currents." This explains a lot about the 1960's.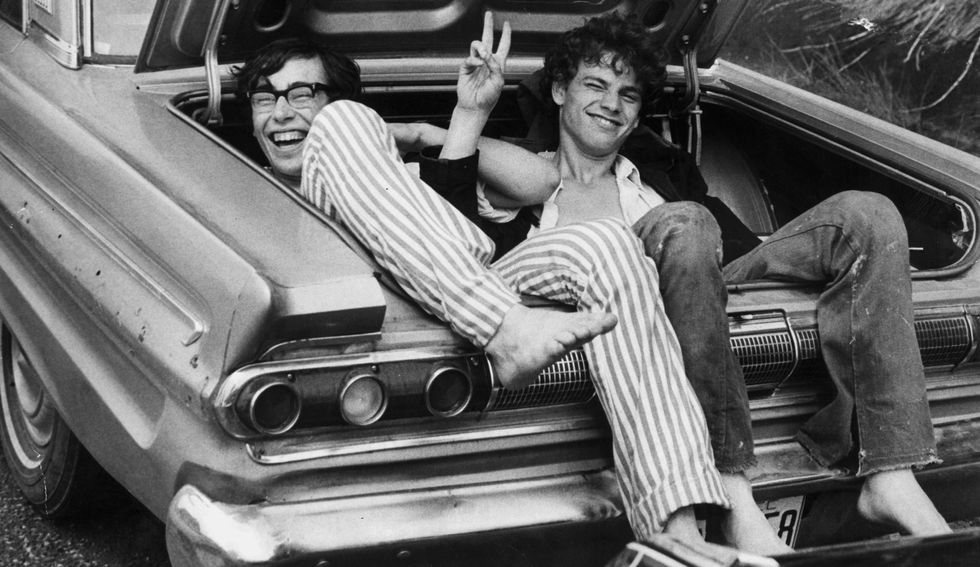 Two men ride home after the Woodstock Music Festival; three days of music, free love, and drugs that dissolve the boundaries between self and the cosmos. A more Dionysian event is hard to come by. (Photo by Three Lions/Getty Images)
How can these drives ever be combined?
Getting these two drives to work together is difficult, but not impossible. Nietzsche saw their fusion as ideal, as it allowed the tremendous frenzied energy of the Dionysian to be applied constructively inside an Apollonian framework. He thought the ancient Greeks, perhaps uniquely, were able to blend the two drives in their culture. 
In Greek tragedies like Oedipus Rex, dreadful concepts like death, fate, and unfairness were expressed in a beautiful and ordered way through plots and dialogue. The audience viewed these concepts in a Dionysian way since they were watching an unrelatable main character experience them as explained by the chorus.
The chorus' unity and detachment from the action helps the audience to separate from themselves and consider the ideas in the play in a depersonalized way. This allows the viewer to deal with unpleasant ideas in a way that is gentler than frank, Apollonian discussion.
The ability of Greece to fuse the two ideas didn't last forever though, eventually, the Greeks drifted towards the Apollonian again, to Nietzsche's disappointment.
He argues that the movement from plays which focused on great heroes towards subjects that the audience could relate to allowed audiences to judge the people on stage and restored their self-consciousness when watching plays. The audience, now individualized, could no longer get the same comfort from theatre as they could before.
Is the Apollonian bad? 
It's not bad at all, but Nietzsche knew that we need both. The loss of the Dionysian in drama and society is, therefore, a loss to our own ability to be complete people- let alone the effect it has on plays.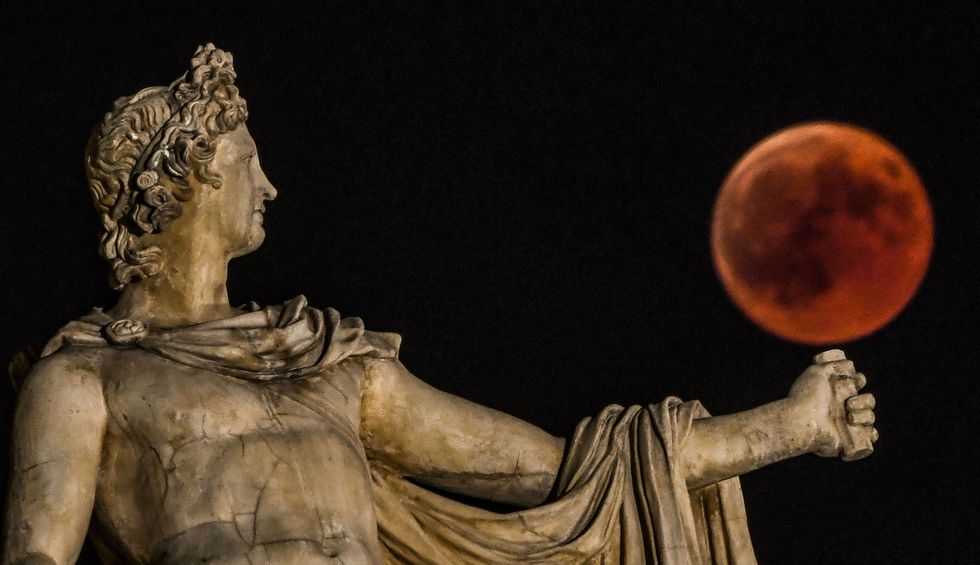 The Apollonian gives us reason, order, law, and harmony. These are often very good things. (ARIS MESSINIS/AFP/Getty Images)
How can I use this? 
Even if you're not a playwright or a classical scholar trying to make sense of Greek Civilization, these concepts can still be of use. We all have both an Apollonian and Dionysian side to us. While many thinkers have downplayed the Dionysian and sought to promote only the rational, structured parts of us, Nietzsche thinks this isn't just folly but detrimental. He mocks those who try and avoid the Dionysian, saying they :
"turn away from such phenomena as from "folk-diseases," with contempt or pity born of the consciousness of their own "healthy mindedness." But of course such poor wretches have no idea how corpselike and ghostly their so-called "Healthy-mindedness" looks when the glowing life of the Dionysian revelers roars past them." 
But this doesn't mean that you should utterly give into the drunkenness, madness, "sexual licentiousness," and boundless chaos of the Dionysian. Instead, it means that you should accept that part of you wants those things and strive to harness that energy towards a more constructive goal.
Does this have use elsewhere?
Ruth Benedict has used the dichotomy to describe different cultures in her anthropological work. Camille Paglia wrote a controversial book suggesting men and women embody the archetypes and that there is a biological cause of this. Freud, whose ideas covered similar ground as Nietzsche's, described the Id in Dionysian terms. 
While Nietzsche later dismissed his first book, the ideas he put forward in it are still of great interest. His understanding that we all have forces of reason, irrationality, structure, chaos, individualism, and cosmic unity within us all would later inform his psychological insights.  
While his theories on aesthetics might not have been the end all answer he was looking for, the Apollonian and Dionysian dichotomy remains a useful way to view art, psychology, and society. 
All this from a wad of gum?
Tom Björklund
Surprising Science
Researchers recently uncovered a piece of chewed-on birch pitch in an archaeological dig in Denmark.
Conducting a genetic analysis of the material left in the birch pitch offered a plethora of insights into the individual who last chewed it.
The gum-chewer has been dubbed Lola. She lived 5,700 years ago; and she had dark skin, dark hair, and blue eyes.
Five thousand and seven hundred years ago, "Lola" — a blue-eyed woman with dark skin and hair — was chewing on a piece of pitch derived from heating birch bark. Then, this women spit her chewing gum out into the mud on an island in Denmark that we call Syltholm today, where it was unearthed by archaeologists thousands of years later. A genetic analysis of the chewing gum has provided us with a wealth of information on this nearly six-thousand-year-old Violet Beauregarde.
This represents the first time that the human genome has been extracted from material such as this. "It is amazing to have gotten a complete ancient human genome from anything other than bone," said lead researcher Hannes Schroeder in a statement.
"What is more," he added, "we also retrieved DNA from oral microbes and several important human pathogens, which makes this a very valuable source of ancient DNA, especially for time periods where we have no human remains."
In the pitch, researchers identified the DNA of the Epstein-Barr virus, which infects about 90 percent of adults. They also found DNA belonging to hazelnuts and mallards, which were likely the most recent meal that Lola had eaten before spitting out her chewing gum.
Insights into ancient peoples
The birch pitch was found on the island of Lolland (the inspiration for Lola's name) at a site called Syltholm. "Syltholm is completely unique," said Theis Jensen, who worked on the study for his PhD. "Almost everything is sealed in mud, which means that the preservation of organic remains is absolutely phenomenal.
"It is the biggest Stone Age site in Denmark and the archaeological finds suggest that the people who occupied the site were heavily exploiting wild resources well into the Neolithic, which is the period when farming and domesticated animals were first introduced into southern Scandinavia."
Since Lola's genome doesn't show any of the markers associated with the agricultural populations that had begun to appear in this region around her time, she provides evidence for a growing idea that hunter-gatherers persisted alongside agricultural communities in northern Europe longer than previously thought.
Her genome supports additional theories on northern European peoples. For example, her dark skin bolsters the idea that northern populations only recently acquired their light-skinned adaptation to the low sunlight in the winter months. She was also lactose intolerant, which researchers believe was the norm for most humans prior to the agricultural revolution. Most mammals lose their tolerance for lactose once they've weaned off of their mother's milk, but once humans began keeping cows, goats, and other dairy animals, their tolerance for lactose persisted into adulthood. As a descendent of hunter-gatherers, Lola wouldn't have needed this adaptation.
A hardworking piece of gum
A photo of the birch pitch used as chewing gum.
Theis Jensen
These findings are encouraging for researchers focusing on ancient peoples from this part of the world. Before this study, ancient genomes were really only ever recovered from human remains, but now, scientists have another tool in their kit. Birch pitch is commonly found in archaeological sites, often with tooth imprints.
Ancient peoples used and chewed on birch pitch for a variety of reasons. It was commonly heated up to make it pliable, enabling it to be molded as an adhesive or hafting agent before it settled. Chewing the pitch may have kept it pliable as it cooled down. It also contains a natural antiseptic, and so chewing birch pitch may have been a folk medicine for dental issues. And, considering that we chew gum today for no other reason than to pass the time, it may be that ancient peoples chewed pitch for fun.
Whatever their reasons, chewed and discarded pieces of birch pitch offer us the mind-boggling option of learning what someone several thousands of years ago ate for lunch, or what the color of their hair was, their health, where their ancestors came from, and more. It's an unlikely treasure trove of information to be found in a mere piece of gum.
The Inglehart-Welzel World Cultural map replaces geographic accuracy with closeness in terms of values.
Credit
: World Values Survey, public domain.
Strange Maps
This map replaces geography with another type of closeness: cultural values.
Although the groups it depicts have familiar names, their shapes are not.
The map makes for strange bedfellows: Brazil next to South Africa and Belgium neighboring the U.S.
Some countries value self-expression more than others.Credit: Robyn Beck / AFP via Getty Images
Question: On what map is Lithuania a neighbor of China, Poland lies next to Brazil, and Morocco and Yemen touch?

Answer: The Inglehart-Welzel World Cultural Map. To be precise, the 2017 map. Because on the 2020 version, each of those pairs has drifted apart significantly.
These are not, strictly speaking, maps but rather scatterplot diagrams. Each dot represents a country, the position of which is based on how it ranks on two different values (discussed below). The dots are corralled together into geo-cultural groups:
Catholic Europe, which comprises countries as diverse and far apart as Hungary and Andorra■ Protestant Europe, taking in both Iceland and Germany
The Orthodox world, from Belarus all the way to Armenia
The three Baltic states
The English-speaking world, including both the U.S. and Northern Ireland
The huge African-Islamic world, ranging from Azerbaijan to South Africa
Latin America, which goes from Mexico to Argentina
South Asia, which comprises both India and Cyprus
The Confucian world, encompassing China and Japan.
The placement of the dots indicates cultural proximity or distance. Some countries from different groups can be more similar than other countries in the same group.
See the examples indicated above: cultural neighbors China and Lithuania belong to the Confucian and Baltic groups, respectively. Poland is part of Catholic Europe; its 2017 neighbor Brazil is in Latin America. Morocco and Yemen are closer culturally to Armenia, in the Orthodox group, than they are to Qatar, despite all belonging to the African-Islamic group.
The 2017 version of the map places Malta deep inside South America and lets Vietnam, Portugal, and Macedonia meet.Credit: World Values Survey, public domain.
Creating a culture map

So, what exactly are the criteria used for plotting these dots in the first place?
These maps are part of the World Values Survey, first conducted by political scientist Ronald Inglehart in the late 1990s. With his colleague Christian Welzel, he produced an update in 2005. The WVS has been revised several times since, most recently in 2020.
The WVS asserts that there are two fundamental dimensions to cross-cultural variation across the world. These are used as the axes to plot the various countries on the diagram.
The X-axis measures survival versus self-expression values.
Survival values focus on economic and physical security. There is not much room for trust and tolerance of "others." Self-expression values prioritize well-being, quality of life, and self-expression. There is more room for tolerating ethnic, religious, and sexual minorities.
The Y-axis measures traditional versus secular-rational values.
Traditional values include deference to religion and parental authority as well as traditional social and family values. Societies that score high on traditions typically also are highly nationalistic. In more secular-rational societies, science and bureaucracy replace faith as the basis for authority. Secular-rational values include high tolerance of things like divorce, abortion, euthanasia, and suicide.
As indicated by the significant changes on the 2020 map, the cultural values of nations are not static:
Countries that move up on the map are shifting from traditional to more secular-rational values.
Countries that move to the right on the map are shifting from survival values to self-expression values.
And, of course, vice versa in both cases.
According to the authors of the map, changes in cultural outlook can be the result of socioeconomic changes — increasing levels of wealth, for example. But the religious and cultural heritage of each country also plays a part.
The world's cultural landscape is dynamic — you could even say promiscuous, producing new bedfellows every few years.Credit: World Values Survey, public domain.
Some notable features of the 2020 map:

The Baltic group has been dissolved; Lithuania is now part of Catholic Europe, Estonia a lone Protestant island in a Catholic sea. More worryingly, Latvia seems to have dissolved completely.
In general, survival values are strongest in African-Islamic countries, self-expression values in Protestant Europe.
Traditional values are strongest in African-Islamic countries and Latin America, while secular values dominate in Confucian countries and Protestant Europe.
The United States is an atypical member of the English-speaking group, scoring much lower on both scales (that is to say, lower and more to the left). In other words, the U.S. is more into traditional and survival values than the group's other members.
Shifting attitudes don't just separate; they also unite. Belgium and the U.S. are now culture buddies, as are New Zealand and Iceland. Kazakhstan is virtually indistinguishable from Bosnia.
The Inglehart-Welzel map is not without its critics. It has been decried as Eurocentric, simplistic, and culturally essentialist (that is, the assumption that certain cultural characteristics are essential and fixed, and that some are superior to others). Which is, of course, a very self-expressive thing to say.
For more on these maps, on the WVS surveys, and on the methodology used, visit the World Values Survey.
Strange Maps #1098
Got a strange map? Let me know at strangemaps@gmail.com.

A study finds that baby mammals dream about the world they are about to experience to prepare their senses.
Michael C. Crair et al, Science, 2021.
Surprising Science
Researchers find that babies of mammals dream about the world they are entering.
The study focused on neonatal waves in mice before they first opened their eyes.
Scientists believe human babies also prime their visual motion detection before birth.
Imagine opening your eyes for the first time as a brand new baby. The world is so mysterious, full of obstacles and strange shapes. And yet it does not take babies all that long to get their bearings, to latch on to their parents, and to start interacting. How do they do this so quickly? A new study published in Science proposes that babies of mammals dream about the world they are about to enter before being born, developing important skills.
The team, led by professor Michael Crair, who specializes in neuroscience, ophthalmology, and visual science, wanted to understand why when mammals are born, they are already somewhat prepared to interact with the world.
"At eye opening, mammals are capable of pretty sophisticated behavior," said Craig, "But how do the circuits form that allow us to perceive motion and navigate the world? It turns out we are born capable of many of these behaviors, at least in rudimentary form."
Unusual retinal activity
The scientists observed waves of activity radiating from the retinas of newborn mice before their eyes first open. Imaging shows that soon after birth, this activity disappears. In its place matures a network of neural transmissions that carries visual stimuli to the brain, as explained by a Yale press release. Once it reaches the brain, the information is encoded for storage.
What's particularly unusual about this neonatal activity is that it demonstrates a pattern that would happen if the animal was moving forward somewhere. As the researchers write in the study, "Spontaneous waves of retinal activity flow in the same pattern as would be produced days later by actual movement through the environment."
Crair explained that this "dream-like activity" makes sense from an evolutionary standpoint, as it helps the mouse get ready for what will happen to it after it opens its eyes. It allows the animal to "respond immediately to environmental threats," Crair shared.
Retinal waves in a newborn mouse prepare it for vision www.youtube.com
What is creating the waves?

The scientists also probed what is responsible for creating the retinal waves that mimic the forward motion. They turned on and off the functionality of starburst amacrine cells — retinal cells that release neurotransmitters — and discovered that blocking them stopped the retinal waves from flowing, which hindered the mouse from developing the ability to react to visual motion upon birth. These cells are also important to an adult mouse, affecting how it reacts to environmental stimuli.
Graphic showing the origin and functionality of directional retinal waves.Michael C. Crair et al, Science, 2021.
What about human babies?

While the study focused on mice, human babies also seem to be able to identify objects and motion right after birth. This suggests the presence of a similar phenomenon in babies before they are born.
"These brain circuits are self-organized at birth and some of the early teaching is already done," Crair stated. "It's like dreaming about what you are going to see before you even open your eyes."
Surprising Science
The non-contact technique could someday be used to lift much heavier objects — maybe even humans.
Scroll down to load more…