Big ideas.
Once a week.
Subscribe to our weekly newsletter.
The most beautiful letter Richard Feynman ever wrote
Richard Feynman wrote a lot of things. Here, you can read his most touching letter.
30 July, 2018
Richard Feynman, one of the great minds of the 20th century. (Wikimedia Commons)
Richard Feynman was one of the most interesting people of the 20th century. A physicist who helped build the atom bomb, won the Nobel Prize, wrote several books, explored every fundamental force, was a beloved teacher, player of bongo drums, buster of pseudoscience, and public intellectual; there are few people with more awesome biographies.
---
If you don't know about him go read about him right now; if you haven't read his books go check one out at your local library after you read this.
But in our rush to admire his great achievements and the exciting public aspects of his life, we can easily overlook the other areas that are less flashy. These areas are often the ones that offer us the most substantial insights into who he was.
Feynman's first marriage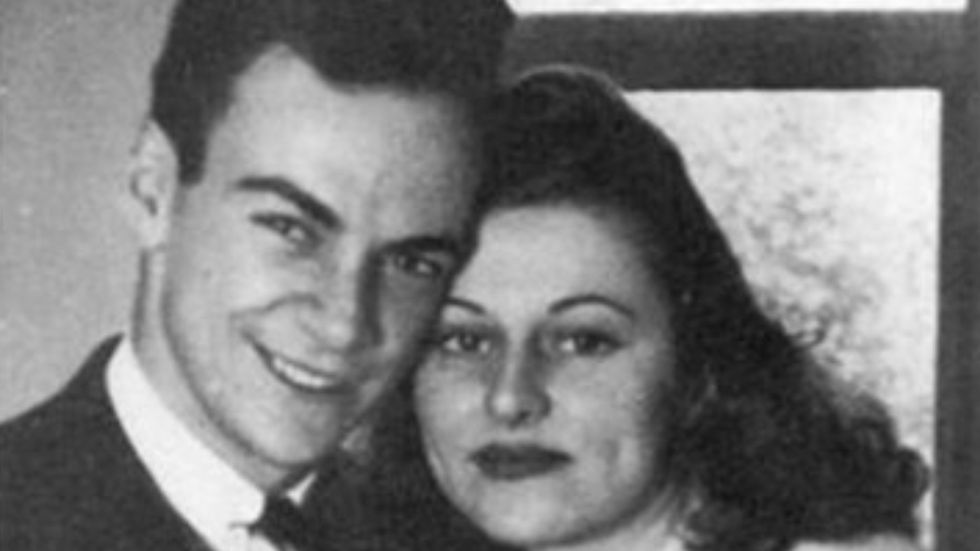 Richard and Arline Feynman. (Image via Open Culture)
Feynman married his high school sweetheart Arline in 1942, after her diagnosis with terminal tuberculosis. They had a happy, if existentially dreary, marriage for just under three years. On June 16th, 1945, Feynman was called away from Los Alamos where he was working on the Manhattan Project to be at his wife's side as she died.
A year and a half after her death, he wrote her a letter. Discovered only after Feynman's death in 1988, during James Gleick's research for the book Genius: The Life and Science of Richard Feynman, the letter gives us a tremendous insight into his personal life and thought process.
October 17, 1946
D'Arline,
I adore you, sweetheart.
I know how much you like to hear that — but I don't only write it because you like it — I write it because it makes me warm all over inside to write it to you.
It is such a terribly long time since I last wrote to you — almost two years but I know you'll excuse me because you understand how I am, stubborn and realistic; and I thought there was no sense to writing.
But now I know my darling wife that it is right to do what I have delayed in doing, and that I have done so much in the past. I want to tell you I love you. I want to love you. I always will love you.
I find it hard to understand in my mind what it means to love you after you are dead — but I still want to comfort and take care of you — and I want you to love me and care for me. I want to have problems to discuss with you — I want to do little projects with you. I never thought until just now that we can do that. What should we do. We started to learn to make clothes together — or learn Chinese — or getting a movie projector. Can't I do something now? No. I am alone without you and you were the "idea-woman" and general instigator of all our wild adventures.
When you were sick you worried because you could not give me something that you wanted to and thought I needed. You needn't have worried. Just as I told you then there was no real need because I loved you in so many ways so much. And now it is clearly even more true — you can give me nothing now yet I love you so that you stand in my way of loving anyone else — but I want you to stand there. You, dead, are so much better than anyone else alive.
I know you will assure me that I am foolish and that you want me to have full happiness and don't want to be in my way. I'll bet you are surprised that I don't even have a girlfriend (except you, sweetheart) after two years. But you can't help it, darling, nor can I — I don't understand it, for I have met many girls and very nice ones and I don't want to remain alone — but in two or three meetings they all seem ashes. You only are left to me. You are real.
My darling wife, I do adore you.
I love my wife. My wife is dead.
Rich.
PS Please excuse my not mailing this — but I don't know your new address.

For those of you who might get more out of it read aloud, here is Oscar Issac reading it. Notice how hard he is working to not cry at the end.
Why would he write this?
Given how hyper-rational Dr. Feynman was during his life, the fact that he wrote a letter to a dead person stands out as rather odd. A very obvious explanation comes to mind immediately.
Did he think there was an afterlife? That some incarnation of his late wife Arline could read it?
Feynman was an atheist since his youth and was so undisposed to mystical thinking that he even devised a rational explanation for why the clock in the hospital room where his wife died stopped at the exact time of her death, it stopped when it was handled to record the time.
He knew he was the only person who would read this letter.
Then why did he write it?
The letter reflects no belief that his wife still existed as anything but a memory but is instead a look into the grieving mind of a genius. This letter reminds us that Feynman wasn't made of stone, that he had been hurt, and that he was human.
If nothing else, this letter helps us understand that great scientists aren't machines. We tend to imagine the lone genius sitting in their ivory tower cranking out papers that change our understanding of the cosmos without thought to the details of life. We see here that this view is mistaken.
It also reminds us that its okay to be sad, its okay to grieve, its okay to do things that don't make sense in order to feel better. Feynman himself admits that he thought "there was no sense to writing" the letter before acknowledging that it is the right thing to do and explaining how it can help him process his emotions.
Feynman later remarried, divorced, and was married again—all of which took place in the shadow of his first, tragic marriage.
Richard Feynman was a great scientist. This letter helps us to remember that he was also a great man. He loved, lost, and mourned like the rest of us. In times of sorrow, it can remind us that we are not alone or worth any less for feeling this way. It also shows us that even after such a tragic loss we can go on to do great things and be happy again, as Feynman did.
You can read more letters from Feynman in the book Perfectly Reasonable Deviations from the Beaten Track.
Welcome to the world's newest motorsport: manned multicopter races that exceed speeds of 100 mph.
Credit: Airspeeder
Technology & Innovation
Airspeeder is a company that aims to put on high-speed races featuring electric flying vehicles.
The so-called Speeders are able to fly at speeds of up to 120 mph.
The motorsport aims to help advance the electric vertical take-off and landing (eVTOL) sector, which could usher in the age of air taxis.
Who needs steroids when you have the placebo effect?
Surprising Science
A study suggests that the effectiveness of sports drinks may depend in part on their color.
Runners who rinsed with a pink liquid ran better than those who consumed the same but colorless drink.
Improvement in their performance is likely due to a placebo effect.
The "placebo effect" is real. It's the name for a strange phenomenon that most notably occurs during clinical trials. People who are given an inactive substance, like a sugar pill, often experience the same therapeutic benefit as those who are given actual medicine. It's not their imagination — it really happens. (Even better, recent research suggests that therapeutic benefits occur even when the person knows that they were given a placebo.)

Now, a new study from the University of Westminster (UOW) Centre for Nutraceuticals in London and published in Frontiers in Nutrition suggests that the placebo effect may explain yet another phenomenon: Athletic performance.
The research showed that treadmill runners who rinsed their mouths with a pink liquid increased their performance over runners who swished with exactly the same liquid but without the coloring. Why pink? The color is generally linked to sweetness, and the researchers wondered if that association would subconsciously trick the runners into an expectation of more carbohydrates and thus energy.
Author Sanjoy Deb explains:
"The influence of color on athletic performance has received interest previously, from its effect on a sportsperson's kit to its impact on testosterone and muscular power. Similarly, the role of color in gastronomy has received widespread interest, with research published on how visual cues or color can affect subsequent flavor perception when eating and drinking."
Running for science
Credit: Ryan De Hamer / Unsplash
For the study, the researchers recruited ten healthy adults — six men, four women. All were regular exercisers, with an average age of 30. The participants were told that they would be testing the relative benefits of two commercial sports drinks after watching a brief video explaining the value of such beverages. Previous research found that mid-exercise rinsing with such drinks can reduce the perceived intensity of exercise.

The drinks consisted of 0.12 grams of sucralose dissolved in 500 mL of plain water — an artificially sweetened rinse low in calories. The liquids contained no other additives common to sports drinks such as caffeine. The pink version had non-caloric coloring added but was otherwise identical.
After a 12-minute warmup phase of jogging followed by running, the athletes ran at a difficult pace for 30 minutes, rinsing with their drinks as they ran. Following a brief cool-down, they were interviewed to capture their impressions of the exercise session. (Each runner tested both drinks.)
Think pink
The researchers found that when the volunteers used the pink rinse, they ran an average of 212 meters farther and 4.4 percent faster. They also enjoyed the exercise more.
Deb said, "The findings from our study combine the art of gastronomy with performance nutrition, as adding a pink colorant to an artificially sweetened solution not only enhanced the perception of sweetness, but also enhanced feelings of pleasure, self-selected running speed, and distance covered during a run."
The researchers also plan to dig deeper into the phenomenon by investigating the possibility that the pinkness of the beverage is somehow directly activating the brain's reward areas.
Like autism, ADHD lies on a spectrum, and some children should not be treated.
Photo: NDABCREATIVITY / Adobe Stock
Surprising Science
ADHD is an extremely contentious disorder in terms of diagnosis and treatment.
A research team examined 334 studies on ADHD published between 1979 and 2020.
The team concluded that ADHD is being overdiagnosed and overtreated in children with milder symptoms.
Attention deficit hyperactivity disorder (ADHD) has long been a controversial topic. While the term "mental restlessness" dates back to 1798, English pediatrician George Still described the disorder in front of the Royal College of Physicians of London in 1902. The condition is attributed to both nature and nurture, with a recent study suggesting the disorder is 75 percent genetic.
According to DSM-IV criteria, ADHD affects five to seven percent of children; but according to ICD-10, only between one and two percent are afflicted. Global estimates state that nearly 85 million people suffer from ADHD, which, like autism, exists on a spectrum.
Treatment is perhaps the most contentious issue. While a holistic approach includes counseling, lifestyle changes, and medication, due to insurance requirements and other factors, many children only receive the latter. And now a new systematic scoping review published in the journal JAMA Network Open that investigated 334 studies conducted between 1979 and 2020 found that ADHD is being both overdiagnosed and overtreated in children and adolescents.
ADHD: An epidemic of overdiagnosis
Researchers from the University of Sydney and the Institute for Evidence-Based Healthcare in Australia initially retrieved 12,267 relevant studies before using a set of criteria that whittled the list down to 334. Only five studies critically investigated the costs and benefits of treating milder cases of ADHD, prompting the team to focus on knowledge gaps in side effects.
The team writes that public scrutiny has increased along with the increase in diagnoses. The numbers are startling: between 1997 and 2016, the number of children reported to be suffering from ADHD doubled. While the symptoms of ADHD include fidgeting, inattention, and impulsivity, Dr. Stephen Hinshaw compared this disorder to depression, as neither condition has "unequivocal biological markers." He continues, "It's probably not a true epidemic of ADHD. It might be an epidemic of diagnosing it."
The Australian researchers write that ambiguous or mild symptoms might contribute to diagnostic inflation and the subsequent rise in the prevalence of ADHD. They compare this to cancer, a field that has established protocols for overdiagnosis. ADHD is still understudied in this regard.
Photo: fizkes / Adobe Stock
Overdiagnosis is harmful
This has contributed to an increase in potential harm, not just to children's health (such as the long-term pharmacological impact on developing brains) but to parents' finances. As of 2018, ADHD is a $16.4 billion global industry, with continued revenue growth predicted — ensured by future ADHD diagnoses.
The costs and benefits of ADHD treatment are mixed. The authors write:
"We found evidence of benefits for academic outcomes, injuries, hospital admissions, criminal behavior, and quality of life. In addition, harmful outcomes were evident for heart rate and cardiovascular events, growth and weight, risk for psychosis and tics, and stimulant misuse or poisoning."
For most of these studies, the benefits outweighed the risks in children suffering from more severe ADHD. But this is not true for children with milder symptoms.
Across the studies, the team noticed that four themes emerged. The first two were positive, and the second two were negative:
For some people, an ADHD diagnosis was shown to create a sense of empowerment because a biological explanation provided a sense of legitimacy.
Feelings of empowerment enabled help-seeking behavior.
For others, a biomedical explanation led to disempowerment because it served as an excuse and provided a way to shirk responsibility.
An ADHD diagnosis was linked to stigmatization and social isolation.
The unfortunate reality is that ADHD is a real condition that should be treated in some children. But for many, the harm of treatment outweighs the benefits.
--
Stay in touch with Derek on Twitter and Facebook. His most recent book is "Hero's Dose: The Case For Psychedelics in Ritual and Therapy."
Technology & Innovation
Since 1957, the world's space agencies have been polluting the space above us with countless pieces of junk, threatening our technological infrastructure and ability to venture deeper into space.
Scroll down to load more…