Seven thought experiments that will make you question everything
Philosophers love to use thought experiments, here are seven of the most useful for making you reflect on everything around you.
19 April, 2018
Thought experiments are among the most important tools in the intellectual toolbox. Widely used in many disciplines, thought experiments allow for complex situations to be explored, questions to be raised, and complex ideas to be placed in an understandable context. Here we have seven thought experiments in philosophy you might not have heard of. With explanations of what they mean and what questions they raise. 
---
The Veil of Ignorance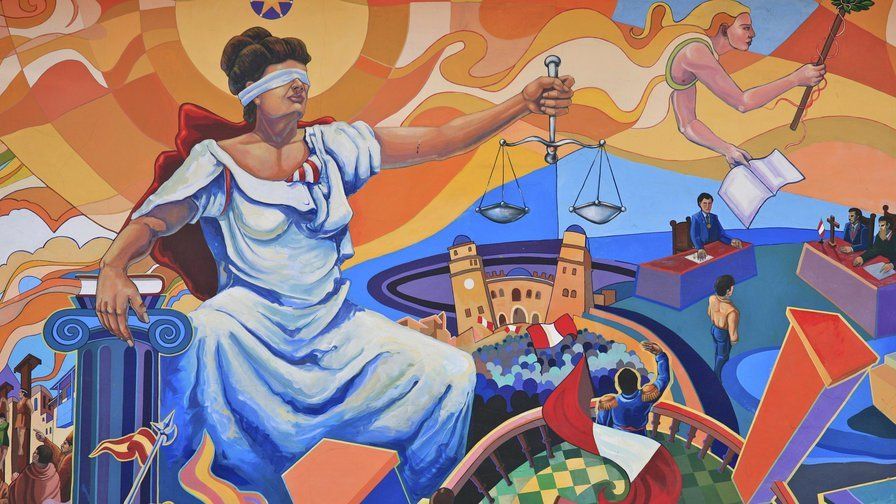 Justice is blind, should we be? (Mural of Lady Justice by Alex Proimos. (Wikimedia Commons))
This experiment was devised by John Rawls in 1971 to explore notions of justice in his book A Theory of Justice.
Suppose that you and a group of people had to decide on the principles that would establish a new society. However, none of you know anything about who you will be in that society. Elements such as your race, income level, sex, gender, religion, and personal preferences are all unknown to you. After you decide on those principles, you will then be turned out into the society you established.
Question: How would that society turn out? What does that mean for our society now?
Rawls argues that in this situation we can't know what our self-interest is so we cannot pursue it. Without that guidepost, he suggests that we would all try to create a fair society with equal rights and economic security for the poor both out of moral considerations and as a means to secure the best possible worst-case scenario for us when we step outside that veil. Others disagree, arguing that we would seek only to maximize our freedom or assure perfect equality
This raises questions for the current state of our society, as it suggests we allow self-interest to get in the way of progressing towards a just society. Rawls' ideas about the just society are fascinating and can be delved into here.
The Experience Machine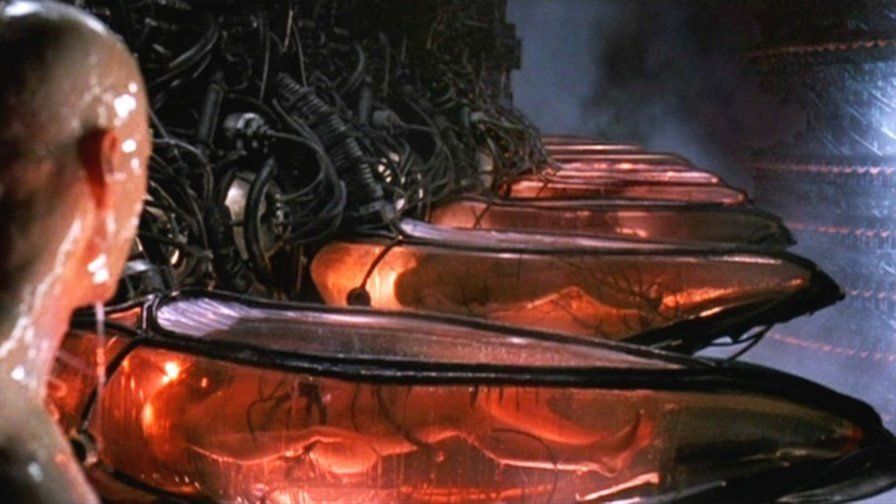 A scene from The Matrix, which revolves around simulated realities. 
Robert Nozick came up with this one which appears in his book Anarchy, State, and Utopia.
Imagine that super neuroscientists have created a machine that can simulate pleasurable experiences for the rest of your life. The simulation is ultra-realistic and indistinguishable from reality. There are no adverse side effects, and specific pleasurable experiences can even be programmed into the simulation. Regarding pleasure experienced, the machine offers more than is possible in several lifetimes. 

Question: Do we have any reason to not go in?

Nozick argues that if we have any reason to not get in then hedonistic utilitarianism, the idea that pleasure is the only good and that we ought to maximize it, is false. Many people value having real experiences or being a person who does things rather than dreams about doing them. No matter what the reason, if you don't go in you can't claim pleasure is the only good, and Nozick thinks most people won't go in. 
There are counter-arguments, however. Some hedonists argue that people really would go into the machine or that we have a status quo bias that leads us to treat the reality we are currently in as more important than other, better ones. In either case, the experiment does present us with a problem for those who argue we only want pleasure.
Mary's Room

An example of color, are you learning anything by seeing it you couldn't get out of a black and white book? 
Philosopher Frank Jackson proposed this thought experiment in 1982; it raises questions about the nature of knowledge.
Mary lives in a black and white room, reads black and white books, and uses screens that only display images in black and white to learn everything that has ever been discovered about color vision in physics and biology. One day, her computer screen breaks and displays the color red. For the first time, she sees color.

Question: Does she learn anything new?

If she does, then it shows that qualia, individual occurrences of subjective elements of experience, exist; as she had access to all possible information other than experience before she saw the color but still learned something new.
This has implications for what knowledge and mental states are. Because if she learns something new then mental states, like seeing color, can't be described entirely by physical facts. There would have to be more to it, something subjective and dependent on experience.
If she doesn't learn anything new, then we would have to apply the idea that knowing physical facts is identical to experiencing something everywhere. For example, we would have to say that knowing all about echolocation is similar to knowing what it is like to use it.
This experiment is unique of the ones on this list as the author later changed their mind and argued that Mary seeing read doesn't count as evidence that qualia exist. However, the problems posed by the experiment remain widely debated.
Buridan's Ass


A donkey who is much happier than the one in our experiment. (Wikimedia Commons)
Variations on this experiment date back to antiquity, this formulation was named after the philosopher Jean Buridan, whose views on determinism it ridicules.
Imagine a donkey placed precisely between two identical bales of hay. The donkey has no free will, and always acts in the most rational manner. However, as both bales are equidistant from the donkey and offer the same nourishment, neither choice is better than the other.
Question: How can it choose? Does it choose at all, or does it stand still until it starves?
If choices are made based on which action is the more rational one or on other environmental factors, the ass will starve to death trying to decide on which to eat- as both options are equally rational and indistinguishable from one another. If the ass does make a choice, then the facts of the matter couldn't be all that determined the outcome, so some element of random chance or free will may have been involved.
It poses a problem for deterministic theories as it does seem absurd to suppose that the ass would stand still forever. Determinists remain split on the problem that the ass poses. Spinoza famously dismissed it while others accept that the donkey would starve to death. Others argue that there is always some element of a choice that differentiates it from another one.
The life you can save
Peter Singer
This experiment was written by famed utilitarian thinker Peter Singer in 2009.
Imagine that you are walking down the street and notice a child drowning in a lake. You can swim and are close enough to save her if you act immediately. However, doing so ruins your expensive shoes. Do you still have an obligation to save the child?
Singer says yes, you have a responsibility to save the life of a dying child and price is no object. If you agree with him, it leads to his question. 

Question: If you are obligated to save the life of a child in need, is there a fundamental difference between saving a child in front of you and one on the other side of the world?
In The Life You Can Save, Singer argues that there is no moral difference between a child drowning in front of you and one starving in some far off land. The cost of the ruined shoes in the experiment is analogous to the cost of a donation, and if the value of the shoes is irrelevant than the price of charity is too. If you would save the nearby child, he reasons, you have to save the distant one too. He put his money where his mouth is, and started a program to help people donate to charities that do the most good.
There are counter-arguments of course. Most of them rely on the idea that a drowning child is in a different sort of situation than a child who is starving and that they require different solutions which impose different obligations. 
Swampman


The swamps of Louisiana, home to questions of identity? (Getty Images)
Written by Donald Davidson in 1987, this thought experiment raises questions about identity.
Suppose a man is out for a walk one day when a bolt of lightning disintegrates him. Simultaneously, a bolt of lightning strikes a marsh and causes a bunch of molecules to spontaneously rearrange into the same pattern that constituted that man a few moments ago. This "Swampman" has an exact copy of the brain, memories, patterns of behavior as he did. It goes about its day, works, interacts with the man's friends and is otherwise indistinguishable from him.  
Question: Is the Swampman the same person as the disintegrated fellow?

Davidson said no. He argues that while they are physically identical and nobody would ever notice the difference, they don't share a casual history and can't be the same. For example, while the Swampman would remember the friends of the disintegrated man, it never saw them before. Another person saw them and the Swampman just has his memories.
There are objections to the idea that the two characters in the story are different. Some argue that the identical minds of Swampman and the original person mean that they are the same person. Others, like philosopher Daniel Dennett, argue that the entire experiment is too far removed from reality to be meaningful. 
This raises problems for teleportation as seen on Star Trek and for those who want to download their brains into a computer. Both cases rely on one version of you being created and one disappearing, but is the second version of you still you? 
Thompson's violinist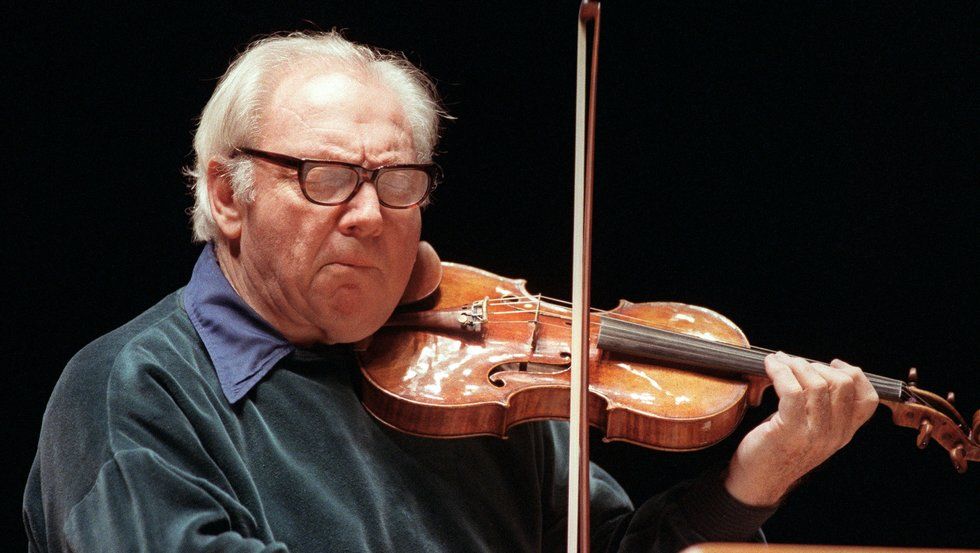 Famous violinist Isaac Stern. (Getty Images)
This one was written by Judith Thomson in her 1971 essay A Defense of Abortion. She writes:

"You wake up in the morning and find yourself back to back in bed with an unconscious violinist. A famous unconscious violinist. He has been found to have a fatal kidney ailment, and the Society of Music Lovers has canvassed all the available medical records and found that you alone have the right blood type to help. They have therefore kidnapped you, and last night the violinist's circulatory system was plugged into yours, so that your kidneys can be used to extract poisons from his blood as well as your own. If he is unplugged from you now, he will die; but in nine months he will have recovered from his ailment, and can safely be unplugged from you"
Question: Are you obligated to keep the musician alive, or do you cut him loose and let him die because you want to?
Thompson, who has several excellent thought experiments to her name, says no. Not because the violinist isn't a person with rights, but rather because he has no right to your body and the life-preserving functions that it provides. Thompson then expands her reasoning to argue that a fetus also lacks the rights to another person's body and can be evicted at any time.
Her argument is subtle, however. She doesn't say you have a right to kill him, only to stop him from using your body to stay alive. His resultant death is viewed as a separate, yet related, event that you have no obligation to prevent. 
--
What can 3D printing do for medicine? The "sky is the limit," says Northwell Health researcher Dr. Todd Goldstein.
Northwell Health
Sponsored by Northwell Health
Medical professionals are currently using 3D printers to create prosthetics and patient-specific organ models that doctors can use to prepare for surgery.
Eventually, scientists hope to print patient-specific organs that can be transplanted safely into the human body.
Northwell Health, New York State's largest health care provider, is pioneering 3D printing in medicine in three key ways.
Big Think Edge
Push Past Negative Self-Talk: Give Yourself the Proper Fuel to Attack the World, with David Goggins, Former NAVY SealIf you've ever spent 5 minutes trying to meditate, you know something most people don't realize: that our minds are filled, much of the time, with negative nonsense. Messaging from TV, from the news, from advertising, and from difficult daily interactions pulls us mentally in every direction, insisting that we focus on or worry about this or that. To start from a place of strength and stability, you need to quiet your mind and gain control. For former NAVY Seal David Goggins, this begins with recognizing all the negative self-messaging and committing to quieting the mind. It continues with replacing the negative thoughts with positive ones.
Is this proof of a dramatic shift?
Strange Maps
Map details dramatic shift from CNN to Fox News over 10-year period
Does it show the triumph of "fake news" — or, rather, its defeat?
A closer look at the map's legend allows for more complex analyses
Dramatic and misleading
Image: Reddit / SICResearch
The situation today: CNN pushed back to the edges of the country.
Over the course of no more than a decade, America has radically switched favorites when it comes to cable news networks. As this sequence of maps showing TMAs (Television Market Areas) suggests, CNN is out, Fox News is in.
The maps are certainly dramatic, but also a bit misleading. They nevertheless provide some insight into the state of journalism and the public's attitudes toward the press in the US.
Let's zoom in:
It's 2008, on the eve of the Obama Era. CNN (blue) dominates the cable news landscape across America. Fox News (red) is an upstart (°1996) with a few regional bastions in the South.
By 2010, Fox News has broken out of its southern heartland, colonizing markets in the Midwest and the Northwest — and even northern Maine and southern Alaska.
Two years later, Fox News has lost those two outliers, but has filled up in the middle: it now boasts two large, contiguous blocks in the southeast and northwest, almost touching.
In 2014, Fox News seems past its prime. The northwestern block has shrunk, the southeastern one has fragmented.
Energised by Trump's 2016 presidential campaign, Fox News is back with a vengeance. Not only have Maine and Alaska gone from entirely blue to entirely red, so has most of the rest of the U.S. Fox News has plugged the Nebraska Gap: it's no longer possible to walk from coast to coast across CNN territory.
By 2018, the fortunes from a decade earlier have almost reversed. Fox News rules the roost. CNN clings on to the Pacific Coast, New Mexico, Minnesota and parts of the Northeast — plus a smattering of metropolitan areas in the South and Midwest.
"Frightening map"
Image source: Reddit / SICResearch
This sequence of maps, showing America turning from blue to red, elicited strong reactions on the Reddit forum where it was published last week. For some, the takeover by Fox News illustrates the demise of all that's good and fair about news journalism. Among the comments?
"The end is near."
"The idiocracy grows."
"(It's) like a spreading disease."
"One of the more frightening maps I've seen."
For others, the maps are less about the rise of Fox News, and more about CNN's self-inflicted downward spiral:
"LOL that's what happens when you're fake news!"
"CNN went down the toilet on quality."
"A Minecraft YouTuber could beat CNN's numbers."
"CNN has become more like a high-school production of a news show."
Not a few find fault with both channels, even if not always to the same degree:
"That anybody considers either of those networks good news sources is troubling."
"Both leave you understanding less rather than more."
"This is what happens when you spout bullsh-- for two years straight. People find an alternative — even if it's just different bullsh--."
"CNN is sh-- but it's nowhere close to the outright bullsh-- and baseless propaganda Fox News spews."
"Old people learning to Google"
Image: Google Trends
CNN vs. Fox News search terms (200!-2018)
But what do the maps actually show? Created by SICResearch, they do show a huge evolution, but not of both cable news networks' audience size (i.e. Nielsen ratings). The dramatic shift is one in Google search trends. In other words, it shows how often people type in "CNN" or "Fox News" when surfing the web. And that does not necessarily reflect the relative popularity of both networks. As some commenters suggest:
"I can't remember the last time that I've searched for a news channel on Google. Is it really that difficult for people to type 'cnn.com'?"
"More than anything else, these maps show smart phone proliferation (among older people) more than anything else."
"This is a map of how old people and rural areas have learned to use Google in the last decade."
"This is basically a map of people who don't understand how the internet works, and it's no surprise that it leans conservative."
A visual image as strong as this map sequence looks designed to elicit a vehement response — and its lack of context offers viewers little new information to challenge their preconceptions. Like the news itself, cartography pretends to be objective, but always has an agenda of its own, even if just by the selection of its topics.
The trick is not to despair of maps (or news) but to get a good sense of the parameters that are in play. And, as is often the case (with both maps and news), what's left out is at least as significant as what's actually shown.
One important point: while Fox News is the sole major purveyor of news and opinion with a conservative/right-wing slant, CNN has more competition in the center/left part of the spectrum, notably from MSNBC.
Another: the average age of cable news viewers — whether they watch CNN or Fox News — is in the mid-60s. As a result of a shift in generational habits, TV viewing is down across the board. Younger people are more comfortable with a "cafeteria" approach to their news menu, selecting alternative and online sources for their information.
It should also be noted, however, that Fox News, according to Harvard's Nieman Lab, dominates Facebook when it comes to engagement among news outlets.
CNN, Fox and MSNBC
Image: Google Trends
CNN vs. Fox (without the 'News'; may include searches for actual foxes). See MSNBC (in yellow) for comparison
For the record, here are the Nielsen ratings for average daily viewer total for the three main cable news networks, for 2018 (compared to 2017):

Fox News: 1,425,000 (-5%)
MSNBC: 994,000 (+12%)
CNN: 706,000 (-9%)
And according to this recent overview, the top 50 of the most popular websites in the U.S. includes cnn.com in 28th place, and foxnews.com in... 27th place.
The top 5
, in descending order, consists of google.com, youtube.com, facebook.com, amazon.com and yahoo.com — the latter being the highest-placed website in the News and Media category.
Big Think Edge
Master Execution: How to Get from Point A to Point B in 7 Steps, with Rob Roy, Retired Navy SEALUsing the principles of SEAL training to forge better bosses, former Navy SEAL and founder of the Leadership Under Fire series Rob Roy, a self-described "Hammer", makes people's lives miserable in the hopes of teaching them how to be a tougher—and better—manager. "We offer something that you are not going to get from reading a book," says Roy. "Real leaders inspire, guide and give hope."Anybody can make a decision when everything is in their favor, but what happens in turbulent times? Roy teaches leaders, through intense experiences, that they can walk into any situation and come out ahead. In this lesson, he outlines seven SEAL-tested steps for executing any plan—even under extreme conditions or crisis situations.
Big think's weekly newsletter.
Get smarter faster from the comfort of your inbox.
See our newsletter privacy policy
here
Most Popular
Most Recent
Big think's weekly newsletter.
Get smarter faster from the comfort of your inbox.
See our newsletter privacy policy
here
© Copyright 2007-2019 & BIG THINK, BIG THINK EDGE,
SMARTER FASTER trademarks owned by The Big Think, Inc. All rights reserved.