Would You Enter the Perfect Matrix? Why One Philosopher Says You Wouldn't.
Everybody wants to be happy, right? Who wouldn't try to get as many pleasurable experiences as they could? Well, if this philosopher is right. You wouldn't.
10 January, 2017
---
What is the key to the good life? Is it something we all want?  Everybody wants to be happy, right? But what is happiness? How do we get it?
That question has puzzled people for ages. But one answer that comes up often is pleasure. Of course, what "pleasure" means is another debate itself. For some philosophers, this is the only true good in life, all other things are only part of the good life as they give pleasure to the individual. Such an belief is referred to as Hedonism, and is as ancient as ideas come, with a history going back to the earliest civilizations.
After all, when we do something we enjoy, or otherwise encounter something good, does it not bring us pleasure? Sure, there are other things we might say we like: religion, virtue, beauty, or something else. But hedonists say these things are only good because they bring us pleasure. The only true good, and the vital key to a good human life; they say.
Hedonism is both scorned and loved, some view it as a poor way to live, marked by vice and indulgence. Others see it as the honest way of looking at things. Some, like Epicurus, were hedonists who viewed temperance and moderation as the keys to pleasure. And then there are those who just love pleasure, and seek to maximize the pleasure they experience however they can.
But if you agree with Hedonism, think about this.

Suppose tomorrow you were told that a new machine had been built: the experience machine. This machine is capable of generating a virtual reality for you; one so real you could not tell the difference between reality and fantasy. The machine is fail-safe, and will never suffer an error or a mechanical failure.
The only setting is to "paradise", and you would experience endless pleasure if you enter. No real experience could possibly compete with the machine in terms pleasure gained. All you need to do is sign a form or two, and get plugged into the machine. They can even preset the machine to give certain experiences, or to include certain people if you wish.
Do you get in?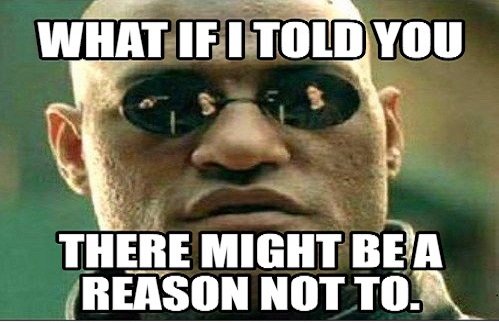 The author of the problem, American philosopher Robert Nozick, says you won't. Pointing out that most people value having experiences in reality, or that the person that gets in will only be thinking that they do anything, when in fact they are merely sitting down all the time. They instead desire to be a certain kind of person, which requires actually doing things.

Nozick claims that because we value something other than pleasure, evidenced by rational people deciding not to get into the machine, the idea that pleasure is the only good must be false.
Even if you suppose that we derive pleasure from the reality of something, remember: it can't compete with going into the machine. We must value it for its own sake rather than as a path to pleasure if we reject the machine. So much for Hedonism then, if we agree with Nozick.
However, some philosophers say we would, and should, get into the machine. The founder of Utilitarianism, Jeremy Bentham, believed firmly that there was only one good, pleasure, and one evil, which is pain. With his early version of utilitarianism, going into the machine becomes a no brainer. The math is clear. The fact that the experiences aren't real is no concern of his.
There are, of course, other ideas and experience to support and reject hedonistic ideas other than the machine. Aldous Huxley's Brave New World is often interpreted as a rejection of the Hedonistic Utopia, while Infinite Jest shows the absurdity of creating the perfect pleasure-causing film—people would do nothing but watch it to death.
In support of Hedonism, the first novel ever written, The Epic of Gilgamesh, has an argument for it, making this perhaps the oldest philosophy known. Some authors have even proposed moving civilization into a Matrioshka brain. If well built and placed, this would allow for a perfect world to be created in a computer simulation and run for trillions of years.
The idea of the experience machine makes us ask ourselves what we value. If we only value pleasure, then we should agree to go in. If don't want to get in, then we must value something else. Even the most devoted hedonists might pause to wonder if they value their pleasure being "real" before entering the machine. Those who suppose there are other valuable parts of a good life other than pleasure would have less trouble deciding.
So, ready to get in? Or would you rather suffer out here with us?

Pfizer's partnerships strengthen their ability to deliver vaccines in developing countries.
Susan Silbermann, Global President of Pfizer Vaccines, looks on as a health care worker administers a vaccine in Rwanda. Photo: Courtesy of Pfizer.
Sponsored
Community healthcare workers face many challenges in their work, including often traveling far distances to see their clients
Pfizer is helping to drive the UN's sustainable development goals through partnerships.
Pfizer partnered with AMP and the World Health Organization to develop a training program for healthcare workers.
The stories we tell define history. So who gets the mic in America?
Videos
History is written by lions. But it's also recorded by lambs.
In order to understand American history, we need to look at the events of the past as more prismatic than the narrative given to us in high school textbooks.
Including different voices can paint a more full and vibrant portrait of America. Which is why more walks of American life can and should be storytellers.

There is no doubt that the historical Jesus, the man who was executed by the Roman State in the first century CE, was a brown-skinned, Middle Eastern Jew.
Hans Zatzka (Public Domain)/The Conversation, CC BY-ND
popular
I grew up in a Christian home, where a photo of Jesus hung on my bedroom wall. I still have it. It is schmaltzy and rather tacky in that 1970s kind of way, but as a little girl I loved it. In this picture, Jesus looks kind and gentle, he gazes down at me lovingly. He is also light-haired, blue-eyed, and very white.
The controversy around the Torah codes gets a new life.
Michael Drosnin
Surprising Science
Mathematicians claim to see a predictive pattern in the ancient Torah texts.
The code is revealed by a method found with special computer software.
Some events described by reading the code took place after the code was written.
Big think's weekly newsletter.
Get smarter faster from the comfort of your inbox.
See our newsletter privacy policy
here
Most Popular
Most Recent
Big think's weekly newsletter.
Get smarter faster from the comfort of your inbox.
See our newsletter privacy policy
here
© Copyright 2007-2018 & BIG THINK, BIG THINK EDGE,
SMARTER FASTER trademarks owned by The Big Think, Inc. All rights reserved.