The surprisingly bitter controversy over American highway fonts
The Federal Highway Administration has rescinded its approval for the use of an alternative roadside typeface called Clearview, once again making the 70-year-old Highway Gothic typeface the single standard for directional signage.
11 March, 2016
If you haven't been following the American highway roadside sign beat these past few months, it's entirely possible you've missed what's shaped up to be quite the design controversy. Here are the basic facts:
---
The Federal Highway Administration has rescinded its approval for the use of an alternative roadside typeface called Clearview, ten years after granting provisional approval for its use. This means the 70-year-old Highway Gothic typeface most commonly seen on directional signage will remain the single standard from here on out.
Signs sporting the now-defunct typeface will remain standing for now, though when it comes time to replace them, the type will revert back to Highway Gothic.
It's a shocking end for Clearview, a typeface specifically designed to improve on Highway Gothic, and once lauded as "a beautiful example of design as a form of social activism."
So, what happened?
When it was approved in 2004, Clearview was backed by scientific research that suggested it offered superior readability, especially at night:
"In 1997, Penn State researchers subjected Clearview to a range of legibility tests. The results were unambiguously positive, showing that Clearview increased nighttime reading distance by as much as 16 percent. In 2001, a team led by Texas A&M transportation researcher Paul Carlson independently confirmed that Clearview improved the recognition distance of highway signs by as much as 12 percent, a difference of 74 feet over Highway Gothic." (Wired)

You can compare the two for yourself. Here's Clearview: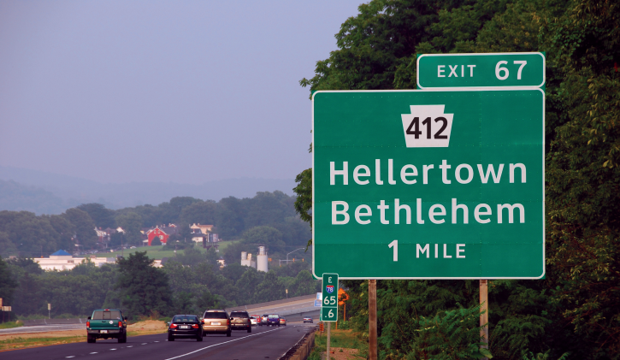 Image source: Meeker and Associates
And here's Highway Gothic: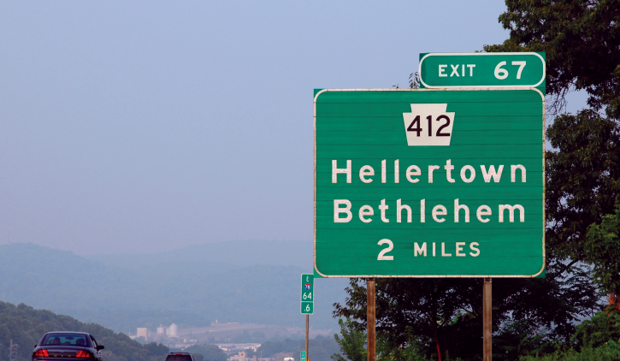 Image source: Meeker and Associates
You'll no doubt notice some subtle differences in the shape, spacing, and alignment of certain letters, especially the lowercase e. People who know a lot more than most about road sign font design stress that Clearview's minor tweaks improve readability. Just ask the guy who helped create it:
Helen Keller can tell you from the grave that Clearview looks better. — Clearview co-creator Donald Meeker, perhaps hyperbolically

But the scientific community over the past ten years hasn't been as kind to Clearview. Various research since 2004 suggests the improvements attributed to the new typeface may have been correlational rather than causal. New sign materials introduced in 2003 were found to be the main factor in improving readability at night. Additional research seemed to indicate that Clearview's readability benefits were lost on signs with varying color patterns, in particular dark type on a white background.
You might be able to say that the jury is out on whether Clearview is truly superior to Highway Gothic. Additional research would probably shine a keener light on the matter.
So why did the Highway Administration preemptively choose to put the kibosh on Clearview rather than wait to see if improvements could be made?
CityLab and Wired have each covered the story and arrive at a similar theory: money. From CityLab:
"Jurisdictions that adopt Clearview must purchase a standard license for type, a one-time charge of between $175 (for one font) and $795 (for the full 13-font typeface family) and up, depending on the number of workstations."

If you're of the opinion that there is no practical difference between Highway Gothic and Clearview, then the one you can use for free is the obvious choice. Whether or not that's the case -- well, it might not matter anymore.
**
Robert Montenegro is a writer and dramaturg who regularly contributes to Big Think and Crooked Scoreboard. He lives in Washington DC and is a graduate of Loyola Marymount University in Los Angeles.
Twitter: @Monteneggroll. Website: robertmontenegro.com.
Sharon Salzberg, world-renowned mindfulness leader, teaches meditation at Big Think Edge.
Image: Big Think
Big Think Edge
Try meditation for the first time with this guided lesson or, if you already practice, enjoy being guided by a world-renowned meditation expert.
Sharon Salzberg teaches mindfulness meditation for Big Think Edge.

Subscribe to Big Think Edge before we launch on March 30 to get 20% off monthly and annual memberships.
The 21st century is experiencing an Asianization of politics, business, and culture.
Videos
Our theories about the world, even about history or the geopolitics of the present, tend to be shaped by Anglo perspectives of the Western industrial democracies, particularly those in the United States and the United Kingdom.
The West, however, is not united. Canada, for instance, acts in many ways that are not in line with American or British policies, particularly in regard to populism. Even if it were united, though, it would not represent most of the world's population.
European ideas, such as parliamentary democracy and civil service, spread across the world in the 19th century. In the 20th century, American values such as entrepreneurialism went global. In the 21st century, however, what we're seeing now is an Asianization — an Asian confidence that they can determine their own political systems, their own models, and adapt to their own circumstances.
Research has shown that men today have less testosterone than they used to. What's happening?
Sex & Relationships
Several studies have confirmed that testosterone counts in men are lower than what they used to be just a few decades ago.
While most men still have perfectly healthy testosterone levels, its reduction puts men at risk for many negative health outcomes.
The cause of this drop in testosterone isn't entirely clear, but evidence suggests that it is a multifaceted result of modern, industrialized life.
Can sensitive coral reefs survive another human generation?
Videos
Coral reefs may not be able to survive another human decade because of the environmental stress we have placed on them, says author David Wallace-Wells. He posits that without meaningful changes to policies, the trend of them dying out, even in light of recent advances, will continue.
The World Wildlife Fund says that 60 percent of all vertebrate mammals have died since just 1970. On top of this, recent studies suggest that insect populations may have fallen by as much as 75 percent over the last few decades.
If it were not for our oceans, the planet would probably be already several degrees warmer than it is today due to the emissions we've expelled into the atmosphere.
Big think's weekly newsletter.
Get smarter faster from the comfort of your inbox.
See our newsletter privacy policy
here
Most Popular
Most Recent
Big think's weekly newsletter.
Get smarter faster from the comfort of your inbox.
See our newsletter privacy policy
here
© Copyright 2007-2018 & BIG THINK, BIG THINK EDGE,
SMARTER FASTER trademarks owned by The Big Think, Inc. All rights reserved.