Big ideas.
Once a week.
Subscribe to our weekly newsletter.
You Know These Studies are Good Since They've Been Reviewed…by a Dog
Predatory journals are so busy scamming scholars that seven big ones appointed a dog posing as a PhD to review submissions.
22 November, 2017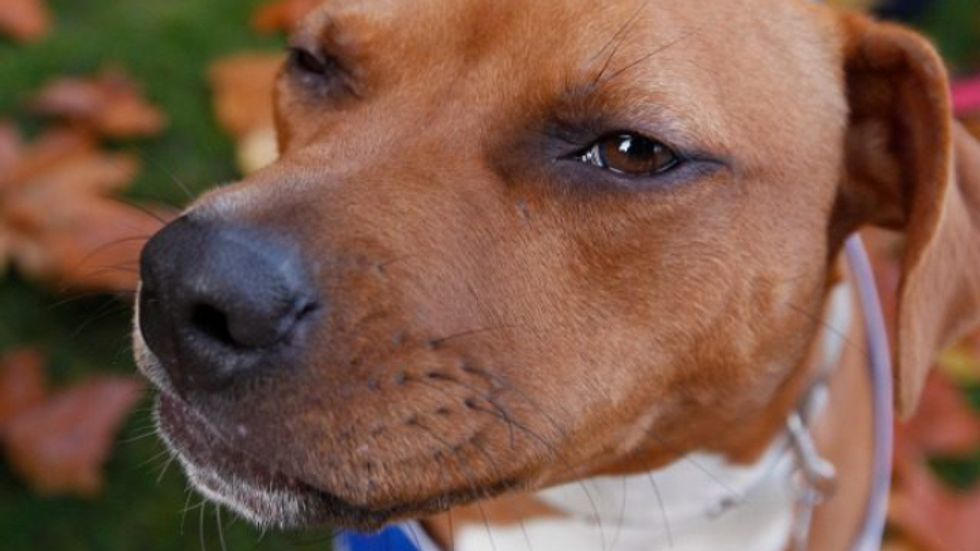 Dr. Olivia Dog (AP/ALASTAIR GRANT)
The Global Journal of Addiction and Rehabilitation Medicine sounds like a solid, peer-reviewed academic publication. It's not. It's one of many "predatory" journals, alongside the Journal of Finance and Economics — as opposed to the legitimate and almost identically named Journal of Economics and Finance — and the GSTF Journal of Engineering Technology, a nefarious knockoff of the respected Journal of Engineering Technology published by the American Society for Engineering Education. What distinguishes the Global Journal of Addiction and Rehabilitation Medicine, however, is one of its editors, Dr. Olivia Doll. She's a dog. A Staffordshire terrier from Perth, Australia. Her owner, Mike Daube submitted her "credentials" to the journal, about which Daube had doubts, and they, well, bit, appointing her to their editorial board. Six other journals did the same.
---
Daub was conducting an experiment to see if the journals were the fraudulent operations he suspect they were, ones that scarcely even looked at — much less peer-reviewed — research they were happy to publish for a fee. You'd think the "Dr." Doll's CV might've tipped them off, had they even bothered to look it over. Her research interests included "the benefits of abdominal massage for medium-sized canines." She was described as  a senior lecturer at Subiaco College of Veterinary Science — which doesn't exist — having formerly been an "associate" of the Shenton Park Institute for Canine Refuge Studies, a dog shelter that does.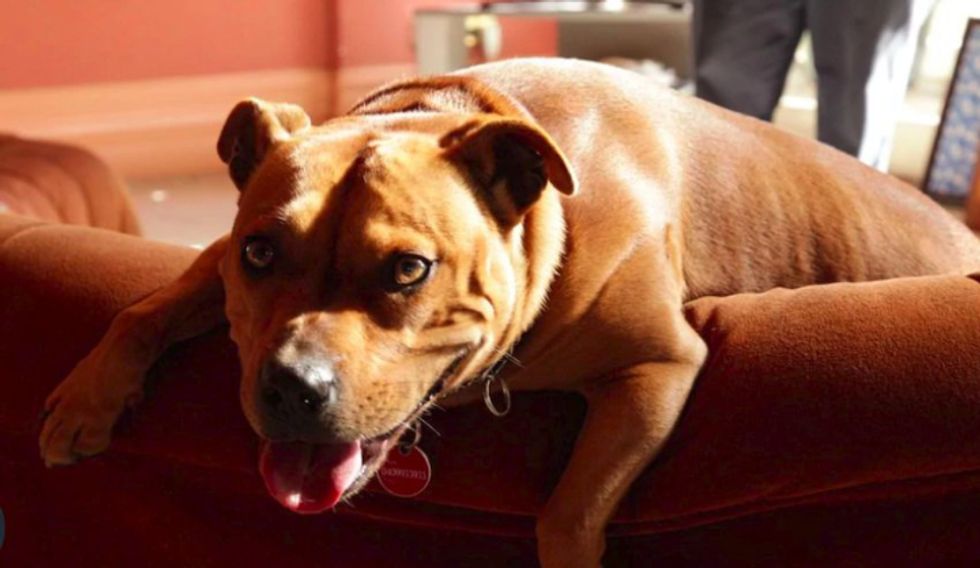 Predatory journals are a skeevy industry of entities posing as legitimate publishers of academic research, and a very good reason to verify the source of any new breakthrough you've read about. They've been around just about as long as there's been an open-access movement in scholarly journals.
Prior to open-access, articles accepted for publication by journals were available only to the journals' subscribers, typically libraries at universities. In these days of education cuts, that includes fewer and fewer institutions, and results in a wealth of research other scholars can't access. To remedy this, legit journals now offer an open-access option by which a scholar whose work is selected for publication and passes through peer review can pay a fee to make it freely available online for other scholars. The fees run upward of about $1,000, and many academics therefore can't afford open-access publication. Some government-funded research requires that reports are published open-access, with the fee built into a project's grant proposal.
Predatory journals with legitimate-sounding names appeared as a scam offering open-access publication to scholars. After all, not every paper is accepted by a real journal and approved for publication. But the lack of true peer review (woof!) and any standard at all beyond a willingness to pay means that publishing in a predatory journal is pretty much worthless.
Except that it may actually work for some things. Hirings do occur based on publications in these journals, and promotions are granted. Economics professor Derek Pyne tells the New York Times, "I can say that such publications do not seem to hurt promotion prospects." In an op-ed he wrote for the Ottawa Citizen, he noted that universities may even reimburse academics for publication fees, so your tax dollars may be paying for some of this nonsense. And articles in predatory journals gain unearned credibility by appearing in Google Scholar searches, right alongside peer-reviewed papers.
This scam requires little investment from the publishers, since they typically publish online only, and there's no actual review of the materials. Meanwhile, there's big money to be made from a steady stream of academics desperate to get their work out into the world or inflate their credentials for professional reasons. Pyne wrote in his op-ed that there were 420,000 papers published in predatory journals in 2014 alone. Some predatory journals will even, for a fee, pretend their scholars' research has been presented at make-believe conferences. 
Daub's prank was not the first time this kind of thing has happened. Last March, a group of researchers from University of Wrocław in Poland invented a fake academic named "Anna O. Szust," oszust being the Polish word for "fraud," and submitted her name and clearly loopy credentials as a reviewer for 360 journals listed in three well-known directories: Journal Citation Reports (JCR), Directory of Open Access Journals (DOAJ), and Beall's list. The results were published in Nature: 8 DOAJ journals and 40 journals from Beall's list accepted "Dr. Fraud" as a reviewer.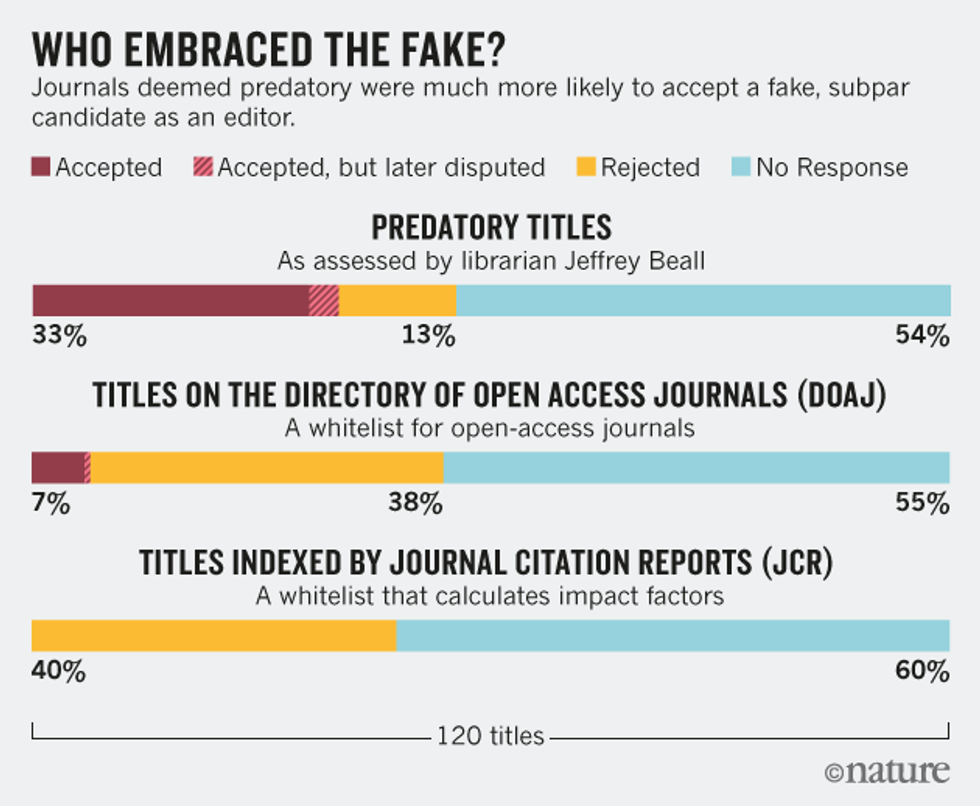 (NATURE)
Though predatory publishers promote their services via spammy emails to academics and graduate students "inviting" them to publish in their journals (for a fee), the truth is that the scam is so well-known at this point that they may not really be fooling their marks so much these days. There are so many of these faux journals now that fees for them can be cheaper than those charged by legitimate journals, and of course, there's no competition to publish based on the quality of the research or institutional pedigree. And, hey, an academic can't not publish and thrive.
It could be argued that such a journal's prey isn't just the scholar — it's also the rest of the world for whom the journal pastes a veneer of legitimacy onto research that may or may not deserve it. 
Certainly these journals are lowering the quality of discourse in a era when the importance of actual facts is already under attack. University of Colorado librarian Jeffrey Beall, who after all coined the term "predatory journals," has said of the whole thing, "This is polluting the scientific record with junk science, and demarcation has essentially failed. I believe this will worsen in time and the notion of what constitutes valid science and what isn't will become increasingly vague." He told the New Yorker recently, "The biggest victim is science itself."
Evolution proves to be just about as ingenious as Nikola Tesla
Surprising Science
For the first time, scientists developed 3D scans of shark intestines to learn how they digest what they eat.
The scans reveal an intestinal structure that looks awfully familiar — it looks like a Tesla valve.
The structure may allow sharks to better survive long breaks between feasts.
Considering how much sharks are feared by humans, it is a bit of a surprise that scientists don't know much about the predators. For example, until recently, sharks were thought to be solitary creatures searching the seas for food on their own. Now it appears that some sharks are quite social.
Another mystery is how these prehistoric swimming and eating machines digest food. Although scientists have made 2D sketches of captured sharks' digestive systems based on dissections, there is a limit to what can be learned in this way. Professor Adam Summers at University of Washington's Friday Harbor Labs says:
"Intestines are so complex, with so many overlapping layers, that dissection destroys the context and connectivity of the tissue. It would be like trying to understand what was reported in a newspaper by taking scissors to a rolled-up copy. The story just won't hang together."
Summers is co-author of a new study that has produced the first 3D scans of a shark's intestines, which turns out to have a strange, corkscrew structure. What's even more bizarre is that it resembles the amazing one-way valve designed by inventor Nikola Tesla in 1920. The research is published in the journal Proceedings of the Royal Society B.
What a 3D model reveals
Video: Pacific spiny dogfish intestine youtu.be
According to the study's lead author Samantha Leigh, "It's high time that some modern technology was used to look at these really amazing spiral intestines of sharks. We developed a new method to digitally scan these tissues and now can look at the soft tissues in such great detail without having to slice into them."

"CT scanning is one of the only ways to understand the shape of shark intestines in three dimensions," adds Summers. The researchers scanned the intestines of nearly three dozen different shark species.
It is believed that sharks go for extended periods — days or even weeks — between big meals. The scans reveal that food passes slowly through the intestine, affording sharks' digestive system the time to fully extract its nutrient value. The researchers hypothesize that such a slow digestive process may also require less energy.
It could be that this slow digestion is more susceptible to back flow given that the momentum of digested food through the tract must be minimal. Perhaps that is why sharks evolved something so similar to a Tesla valve.
What is Tesla's valve doing there?
Above, a Tesla valve. Below, a shark intestine.Credit: Samantha Leigh / California State University, Domi
Tesla's "valvular conduit," or what the world now calls a "Tesla valve," is a one-way valve with no moving parts. Its brilliance is based in fluid dynamics and only now coming to be fully appreciated. Essentially, a series of teardrop-shaped loops arranged along the length of the valve allow water to flow easily in one direction but not in the other. Modern tests reveal that at low flow rates, water can travel through the valve either way, but at high flow rates, the design kicks in. According to mathematician Leif Ristroph:

"Crucially, this turn-on comes with the generation of turbulent flows in the reverse direction, which 'plug' the pipe with vortices and disrupting currents. Moreover, the turbulence appears at far lower flow rates than have ever previously been observed for pipes of more standard shapes — up to 20 times lower speed than conventional turbulence in a cylindrical pipe or tube. This shows the power it has to control flows, which could be used in many applications."
A deeper dive
Summers suggests the scans are just the beginning. "The vast majority of shark species, and the majority of their physiology, are completely unknown," says Summers, adding that "every single natural history observation, internal visualization, and anatomical investigation shows us things we could not have guessed at."
To this end, the researchers plan to use 3D printing to produce models through which they can observe the behavior of different substances passing through them — after all, sharks typically eat fish, invertebrates, mammals, and seagrass. They also plan to explore with engineers ways in which the shark intestine design could be used industrially, perhaps for the treatment of wastewater or for filtering microplastics.
It could fairly be said, though, that Nikola Tesla was 100 years ahead of them.
The non-contact technique could someday be used to lift much heavier objects — maybe even humans.
Kondo and Okubo, Jpn. J. Appl. Phys., 2021.
Surprising Science
Since the 1980s, researchers have been using sound waves to move matter through a technique called acoustic trapping.
Acoustic trapping devices move bits of matter by emitting strategically designed sound waves, which interact in such a way that the matter becomes "trapped" in areas of particular velocity and pressure.
Acoustic and optical trapping devices are already used in various fields, including medicine, nanotechnology, and biological research.
Sound can have powerful effects on matter. After all, sound strikes our world in waves — vibrations of air molecules that bounce off of, get absorbed by, or pass through matter around us. Sound waves from a trained opera singer can shatter a wine glass. From a jet, they can collapse a stone wall. But sound can also be harnessed for delicate interactions with matter.

Since the 1980s, researchers have been using sound to move matter through a phenomenon called acoustic trapping. The method is based on the fact that sound waves produce an acoustic radiation force.
"When an acoustic wave interacts with a particle, it exerts both an oscillatory force and a much smaller steady-state 'radiation' force," wrote the American Physical Society. "This latter force is the one used for trapping and manipulation. Radiation forces are generated by the scattering of a traveling sound wave, or by energy gradients within the sound field."
When tiny particles encounter this radiation, they tend to be drawn toward regions of certain pressure and velocity within the sound field. Researchers can exploit this tendency by engineering sound waves that "trap" — or suspend — tiny particles in the air. Devices that do this are often called "acoustic tweezers."
Building a better tweezer
A study recently published in the Japanese Journal of Applied Physics describes how researchers created a new type of acoustic tweezer that was able to lift a small polystyrene ball into the air.
Tweezers of Sound: Acoustic Manipulation off a Reflective Surface youtu.be
It is not the first example of a successful "acoustic tweezer" device, but the new method is likely the first to overcome a common problem in acoustic trapping: sound waves bouncing off reflective surfaces, which disrupts acoustic traps.

To minimize the problems of reflectivity, the team behind the recent study configured ultrasonic transducers such that the sound waves that they produce overlap in a strategic way that is able to lift a small bit of polystyrene from a reflective surface. By changing how the transducers emit sound waves, the team can move the acoustic trap through space, which moves the bit of matter.
Move, but don't touch
So far, the device is only able to move millimeter-sized pieces of matter with varying degrees of success. "When we move a particle, it sometimes scatters away," the team noted. Still, improved acoustic trapping and other no-contact lifting technologies — like optical tweezers, commonly used in medicine — could prove useful in many future applications, including cell separation, nanotechnologies, and biological research.
Could future acoustic-trapping devices lift large and heavy objects, maybe even humans? It seems possible. In 2018, researchers from the University of Bristol managed to acoustically trap particles whose diameters were larger than the sound wavelength, which was a breakthrough because it surpassed "the classical Rayleigh scattering limit that has previously restricted stable acoustic particle trapping," the researchers wrote in their study.
In other words, the technique — which involved suspending matter in tornado-like acoustic traps — showed that it is possible to scale up acoustic trapping.
"Acoustic tractor beams have huge potential in many applications," Bruce Drinkwater, co-author of the 2018 study, said in a statement. "I'm particularly excited by the idea of contactless production lines where delicate objects are assembled without touching them."
Australian parrots have worked out how to open trash bins, and the trick is spreading across Sydney.
Surprising Science
If sharing learned knowledge is a form of culture, Australian cockatoos are one cultured bunch of birds.
A cockatoo trick for opening trash bins to get at food has been spreading rapidly through Sydney's neighborhoods.
But not all cockatoos open the bins; some just stay close to those that do.
Like humans, some animals are capable of
culture
, including learning from one another. And the cockatoos of Sydney, Australia have learned a neat trick — well, neat for them, anyway. Homeowners with dumpsters might feel differently.
Dumpster-diving trash parrots
In a study about these smart birds just published in Science, researchers define animal culture as "population-specific behaviors acquired via social learning from knowledgeable individuals."
Co-lead author of the study Barbara Klump of the Max Planck Institute of Animal Behavior in Konstanz, Germany says, "[C]ompared to humans, there are few known examples of animals learning from each other. Demonstrating that food scavenging behavior is not due to genetics is a challenge."
An opportunity presented itself in a video that co-author Richard Major of the Australian Museum shared with Klump and the other co-authors. In the video, a sulphur-crested cockatoo used its beak to pull up the handle of a closed garbage bin — using its foot as a wedge — and then walked back the lid sufficiently to flip it open, exposing the bin's edible contents.
Major has been studying Cacatua galerita for 20 years and says, "Like many Australian birds, sulphur-crested cockatoos are loud and aggressive." The study describes them as a "large-brained, long-lived, and highly social parrot." Says Major, "They are also incredibly smart, persistent, and have adapted brilliantly to living with humans."
(Research regarding some of the ways in which
wild animals adapt to the presence of humans
has already produced
some fascinating results
and is ongoing.)
Clever cockie opens bin - 01 youtu.be
The researchers became curious about how widespread this behavior might be and saw a research opportunity. After all, says John Martin, a researcher at Taronga Conservation Society, "Australian garbage bins have a uniform design across the country, and sulphur-crested cockatoos are common across the entire east coast."

Martin continues, "In 2018, we launched an online survey in various areas across Sydney and Australia with questions such as, 'What area are you from, have you seen this behavior before, and if so, when?'"
Word Gets Around
Credit: magspace/Adobe Stock
Although the cockatoos' maneuver was reported in only three suburbs before 2018, by the end of 2019, people in 44 areas reported observing the behavior. Clearly, more and more cockatoos were learning how to successfully dumpster dive.
As further proof, says Klump, "We observed that the birds do not open the garbage bins in the same way, but rather used different opening techniques in different suburbs, suggesting that the behavior is learned by observing others." One individual bird in north Sydney invented its own method, and the scientists saw it grow in popularity throughout the local population.
To track individual birds, the researchers marked 500 cockatoos with small red dots. Subsequent observations revealed that not all cockatoos are bin-openers. Only about 10 percent of them are, and they are mostly males. The other cockatoos apparently restrict their education to a different lesson: hang around with a bin-opener, and you will get supper.
Thanks to the surveys, the researchers consider the entire project to be a valuable citizen-science experiment. "By studying this behavior with the help of local residents, we are uncovering the unique and complex cultures of their neighborhood birds."
Culture & Religion
The few seconds of nuclear explosion opening shots in Godzilla alone required more than 6.5 times the entire budget of the monster movie they ended up in.
Scroll down to load more…