Was Elvis Presley a cultural appropriator of black music?
The fascinating HBO documentary 'Elvis Presley: The Searcher' looks at Elvis's practice of re-making black hits for his white audience. Was it cultural appropriation or just love of the material?
19 April, 2018
Popular hitmaker Bruno Mars has won (so far) 10 Grammys and has been nominated for another baker's dozen. So when writer Seren Sensei accused Mars in an episode of web series The Grapevine of being a cultural appropriator of black music, the uproar was immediate. It subsided soon after other black voices and a number of artists rushed to Mars' defense, citing both his incredible talent and the fact that he publicly credits his sources. Mars is "destined to be one of the greats," pointed out R&B's Charlie Wilson.
---
Appropriation is a charge that's been leveled—sometimes correctly—against musical artists since the early years of the 20th century. The volume of these disputes is generally dependent on the amplification the current technology allows, and at the time Elvis Presley brought strains of rhythm & blues and gospel to the Hit Parade in the 1950s, the rumbling was limited to voices easily drowned out by the white mainstream. By the time of The Beatles in the 1960s—"plagiarists extraordinaire," according to group member Paul McCartney—such voices were growing louder, and so on, until, well, Bruno Mars. There's no denying that the internet allows more of our voices to be heard.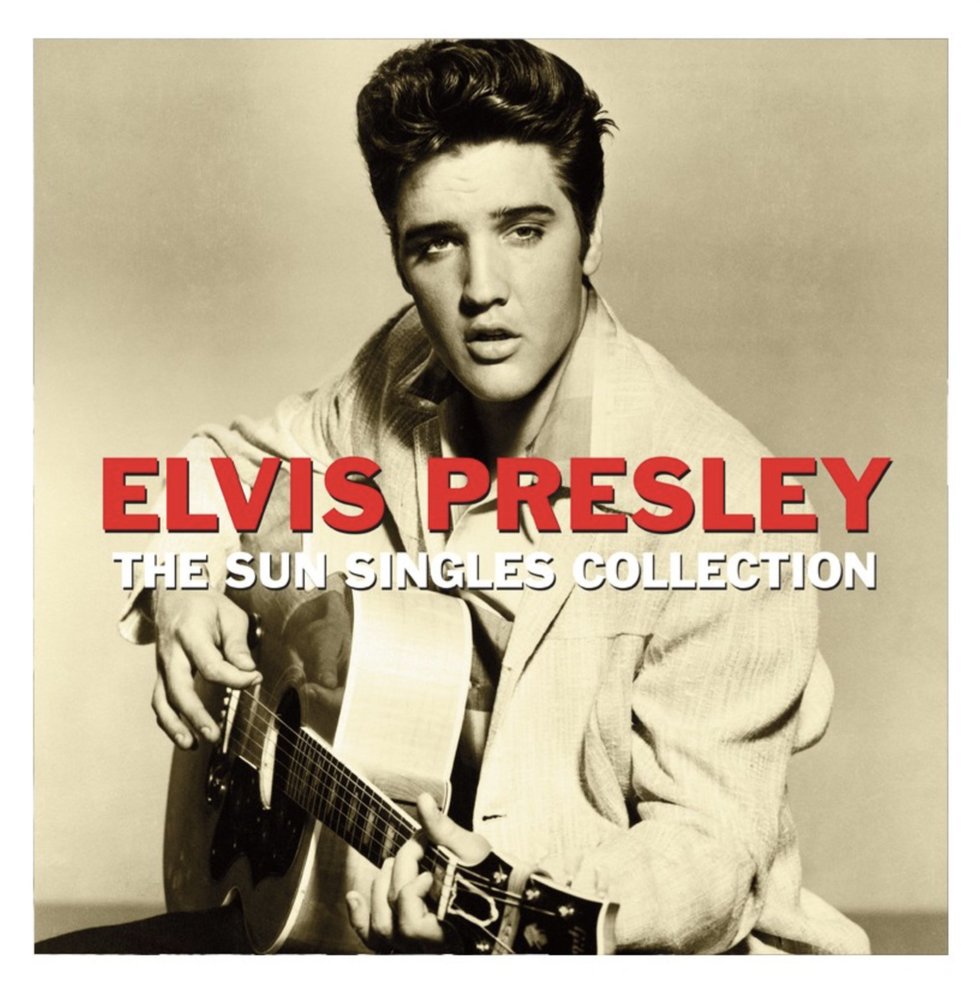 Why does this keep coming up?
Cultural appropriation is the adoption of elements of a minority culture by the majority, and it's nothing new. Cowboy hats, for example, are based on hats Spanish colonials wore; they had based them on peasants' sombreros.
But great musical artists don't spring out of nowhere and they have two characteristics you can rely on. First, they've spent a lot of time alone practicing their craft. Second, they're devoted music fans who've devoured, dissected, and internalized their favorite artists' work. Given that art is always a new synthesis of an artist's influences, it's not about theft. It's simply building on what's come before, and in the case of influences from black popular music, it's often the best of what's come before.
Appropriation, then, has something to do with intent. When another culture's property is exploited for profit, that's appropriation, and it's always deserving of criticism.
Elvis was just being Elvis
HBO is currently running an excellent two-part look into the life, career, and times of Elvis called Elvis Presley: The Searcher. The documentary's signal achievement is in showing how the singer's early years, family culture, and socioeconomic background made inevitable the musician he was to become. It makes clear that he was, first, and foremost, a committed artist, utterly dedicated to music and its ability to move people. As Bruce Springsteen notes in the HBO documentary, "An artist like Elvis, rather than pretending when he goes on the stage, he's actually pretending when he's home, to be normal. And when he goes out on stage at night is who he actually is."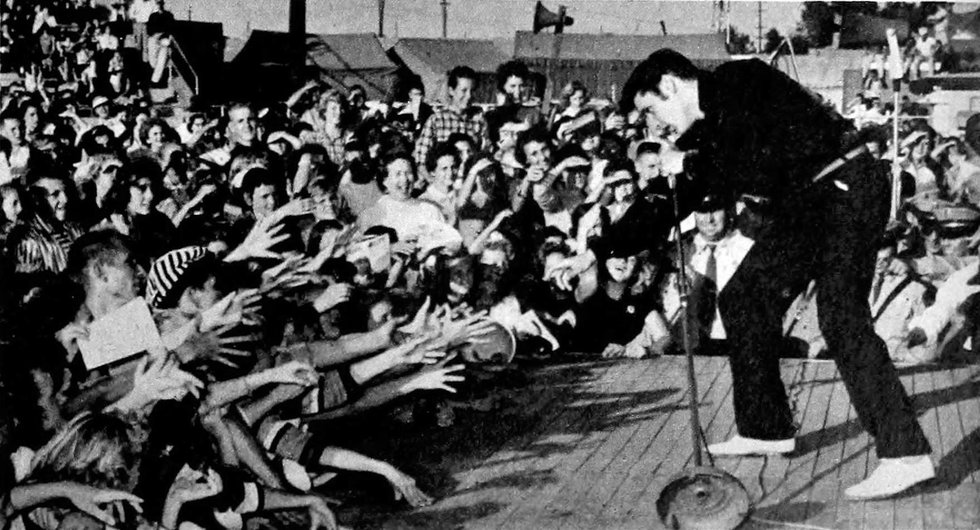 (Photo: Wikimedia)
Presley grew up in Memphis, Tennessee, having been born in Tupelo, Mississippi. His low-income neighborhood was racially mixed, and his parents took him to both white and black churches where he first heard, and fell in love with, the gospel music he returned to time and again as an adult. With black Memphis musicians playing on the street and country stations tuned in on the Presley family radio, you pretty much have the formula for Elvis' music, an un-self-conscious amalgam of gospel, blues, and country.
As a young white man auditioning for Sun Records' Sam Phillips, he naturally began with country tunes. With Phillips unimpressed, it was only a last-minute, last-resort decision that led him to start singing 'That's Alright, Mama', one of his favorite tunes of the time by Arthur "Big Boy" Crudup. (The record's B side was a Bill Monroe Bluegrass staple, 'Blue Moon of Kentucky'.) Tom Petty says in the HBO documentary, "It was just music he liked."
A number of Presley's early successes came with cover versions of black records, including Big Mama Thornton's 'Hound Dog', 'Baby, Let's Play House' by Arthur Neal Gunter, Otis Blackwell's 'Don't Be Cruel' and Lloyd Price's 'Lawdy Miss Clawdy'.
Appropriation, affection, or even something more, something valuable? Springsteen tells HBO, "Elvis and Elvis' music pointed to black culture and said, 'This is something that's filled with the force of life. If you want to be a complete and fulfilled person, if you want to be an American, this is something you need to pay attention to.'"
White audiences had never heard anything like it, and Presley's career exploded. Black artists at the time were so shut out of white radio that many listeners no doubt thought Presley had pulled this exciting music out of thin air. It's something that couldn't happen today, given the virtually unlimited number of platforms there are for music thanks to modern technology. Today's audience thankfully has access to all of the original artists in addition to the new music and artists they've inspired.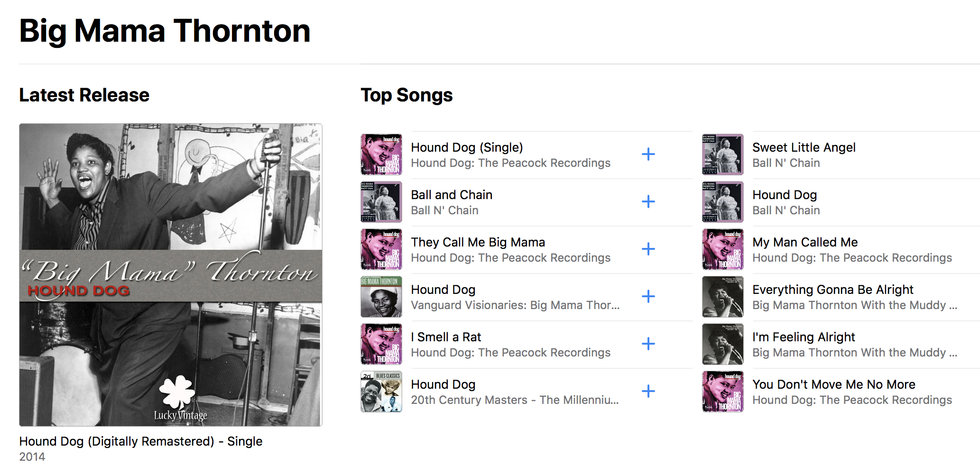 Who owns musical genres anyway?
"When you say 'black music,' understand that you are talking about rock, jazz, R&B, reggae, funk, doo-wop, hip-hop, and Motown. Black people created it all. Being Puerto Rican, even salsa music stems back to the Motherland, meaning 'Africa.' So, in my world, black music means everything. It's what gives America its swag." — Bruno Mars
Elvis had no choice, really, just like Sinatra, The Beatles, Mars, and many others. What other music could they have taken their inspiration from? Records they didn't like?
Author Shaun King recently tweeted, "I just want to be practical here. Are people saying that Bruno Mars shouldn't sing? Or that when he sings he needs to somehow whiten that shit up and sound more like Rod Stewart. I'm dead serious. What type of music is this man "allowed" to do?" The same question would have to be asked of Elvis.
Appropriation is a real issue and problem, but, again, it's all about intent. If you're looking for a heartbreaking example of what this sort of exploitation of black culture really looked like in the 1950s, look no further than Pat Boone's soulless, smash-hit version of "Tutti Frutti," sanitized for white audiences, and then listen to the brilliant Little Richard's rocking, raucous original that the mainstream never got much of a chance to hear or purchase.
Swipe right to make the connections that could change your career.
Getty Images
Sponsored
Swipe right. Match. Meet over coffee or set up a call.
No, we aren't talking about Tinder. Introducing Shapr, a free app that helps people with synergistic professional goals and skill sets easily meet and collaborate.
Is it "perverseness," the "death drive," or something else?
Mind & Brain
Each new year, people vow to put an end to self-destructive habits like smoking, overeating or overspending.

A disturbing interview given by a KGB defector in 1984 describes America of today and outlines four stages of mass brainwashing used by the KGB.
Politics & Current Affairs
Bezmenov described this process as "a great brainwashing" which has four basic stages.
The first stage is called "demoralization" which takes from 15 to 20 years to achieve.
According to the former KGB agent, that is the minimum number of years it takes to re-educate one generation of students that is normally exposed to the ideology of its country.
It's up to us humans to re-humanize our world. An economy that prioritizes growth and profits over humanity has led to digital platforms that "strip the topsoil" of human behavior, whole industries, and the planet, giving less and less back. And only we can save us.
Think Again Podcasts
It's an all-hands-on-deck moment in the arc of civilization.
Everyone has a choice: Do you want to try to earn enough money to insulate yourself from the world you're creating— or do you want to make the world a place you don't have to insulate yourself from?
Big think's weekly newsletter.
Get smarter faster from the comfort of your inbox.
See our newsletter privacy policy
here
Most Popular
Most Recent
Big think's weekly newsletter.
Get smarter faster from the comfort of your inbox.
See our newsletter privacy policy
here
© Copyright 2007-2018 & BIG THINK, BIG THINK EDGE,
SMARTER FASTER trademarks owned by The Big Think, Inc. All rights reserved.