What's So Special About a Golden Banana?
Scientists have developed a new Vitamin-A enriched banana that could help solve world hunger problems.
14 July, 2017
---
The world loves bananas. The fruit, which goes back to the jungles of southeast Asia around 500BC, is grown in about 150 countries. Over 100 billion bananas are eaten annually around the world, including the rural communities of Uganda, where the East African Highland cooking banana, eaten chopped-up and steamed, is a key component of the local diet.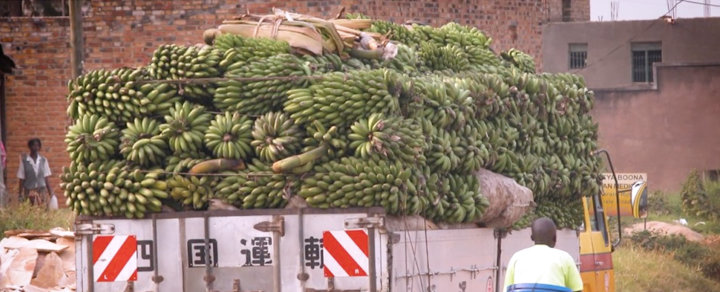 (Source: THE QUTUBE)
The world, and rural Uganda in particular, has a problem, though: Pro-Vitamin A deficiency. The World Health Organization reports that 190 million pre-school children don't get enough of this micronutrient. A lack of Vitamin A can be fatal, or cause blindness — an estimated 650,000 to 700,000 children die each year, and several hundred thousand lose their sight — and vitamin A deficiency can also cause a host of other problems including delayed growth and infertility. Recently, scientists at Queensland University (QUT) of Technology in Australia have announced a way to use the extremely popular fruit as a vehicle for solving this Vitamin A deficiency problem: They've developed the genes required to produce what they call "golden bananas." What makes them golden-orange is the amount of Vitamin A they pack. Take a look for yourself: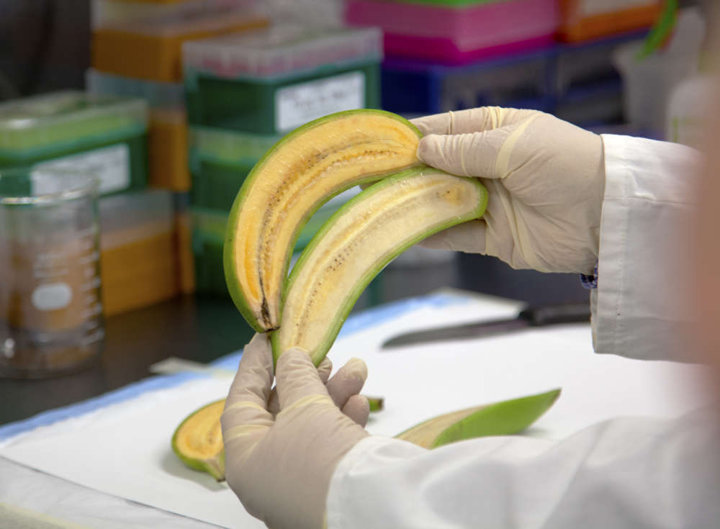 Golden banana on top (Source: QUT)
The decade-long, $10 million humanitarian project was led by James Dale of QUD, and funded by the Bill & Melinda Gates Foundation and the UK Government's Department for International Development.
The researchers tried gene combination using hundreds of banana varieties —there are about a thousand of them — field-tested the results in north Queensland, to produce a satisfactory genetic cocktail. "What we've done is take a gene from a banana that originated in Papua New Guinea and is naturally very high in pro-Vitamin A but has small bunches, and inserted it into a Cavendish banana," says Dale. 
For Uganda, the scientists aren't trying to replace the EAHB as the go-to banana. They're just interested in improving it since, already, "The East African Highland cooking banana is [already] an excellent source of starch," Dale says. So now Ugandan PhD graduates from QUT have taken the golden-banana genes back home in test tubes. They'll be overseeing the genes' insertion into local bananas and tracking the field trials for the new golden EAHBs. They hope to have them growing en masse for food purposes in 2021.
(Source: THE QUTUBE)
Here's the science of black holes, from supermassive monsters to ones the size of ping-pong balls.
Videos
There's more than one way to make a black hole, says NASA's Michelle Thaller. They're not always formed from dead stars. For example, there are teeny tiny black holes all around us, the result of high-energy cosmic rays slamming into our atmosphere with enough force to cram matter together so densely that no light can escape.
CERN is trying to create artificial black holes right now, but don't worry, it's not dangerous. Scientists there are attempting to smash two particles together with such intensity that it creates a black hole that would live for just a millionth of a second.
Thaller uses a brilliant analogy involving a rubber sheet, a marble, and an elephant to explain why different black holes have varying densities. Watch and learn!
Bonus fact: If the Earth became a black hole, it would be crushed to the size of a ping-pong ball.
Military recruits are supposed to be assessed to see whether they're fit for service. What happens when they're not?
Politics & Current Affairs
During the Vietnam War, Robert McNamara began a program called Project 100,000.
The program brought over 300,000 men to Vietnam who failed to meet minimum criteria for military service, both physically and mentally.
Project 100,000 recruits were killed in disproportionate numbers and fared worse after their military service than their civilian peers, making the program one of the biggest—and possibly cruelest—mistakes of the Vietnam War.
In a breakthrough for nuclear fusion research, scientists at China's Experimental Advanced Superconducting Tokamak (EAST) reactor have produced temperatures necessary for nuclear fusion on Earth.
Credit: EAST Team
Surprising Science
The EAST reactor was able to heat hydrogen to temperatures exceeding 100 million degrees Celsius.
Nuclear fusion could someday provide the planet with a virtually limitless supply of clean energy.
Still, scientists have many other obstacles to pass before fusion technology becomes a viable energy source.
Big think's weekly newsletter.
Get smarter faster from the comfort of your inbox.
See our newsletter privacy policy
here
Most Popular
Most Recent
Big think's weekly newsletter.
Get smarter faster from the comfort of your inbox.
See our newsletter privacy policy
here
© Copyright 2007-2018 & BIG THINK, BIG THINK EDGE,
SMARTER FASTER trademarks owned by The Big Think, Inc. All rights reserved.