Study: Sleeping too much is more dangerous than not sleeping enough
The healthiest end-of-day sleep is 6 to 8 hours, but not more. Or less. As for napping, it depends on how you want to wake up.
29 August, 2018
It's obvious that being exhausted is no fun unless you're Keith Richards. For the rest of us, it's clear we're not at our best when we're too tired, and it's not much of a leap to understand it's not a healthy state in which to live, especially for one's cardiovascular system—heart issues and a greater incidence of stroke have both been associated with not getting enough sleep.
---
But how much sleep do you need to stay healthy? Depends on how you're getting it. For some, it's a matter of adjusting one's bedtime habits and schedule to get the best rest. For others—people with excessively long commutes or those whose schedules or dispositions preclude extended stretches in bed—it's about finding the most effective way to nap. Regardless, there are right ways and wrong ways to recharge your tired self.
The sweet spot for sleeping at the end of the day
At a recent European Society of Cardiology conference, researchers at the Onassis Cardiac Surgery Centre, Athens, Greece identified the cardiovascular sweet spot for end-of-day sleep. (We're phrasing it that way to accommodate people who work regular night shifts.) It's between six and eight hours a night.
To arrive at their conclusion, the researchers performed a meta-analysis of 11 previous sleep studies published in the last five years, using data collected from 1,000,541 subjects. The subjects were sorted into three groups. The reference group slept six to eight hours a night. Another group slept less than six hours, and the final group slept more than eight.
It turned out that those getting either less than six hours sleep or more than eight sleep were at significantly higher risk of developing or dying from coronary artery disease or stroke over the course of the next decade. (In the study, the average follow-up was 9.3 years.).
Subjects sleeping less than 6 hours were 11% more likely to develop cardiovascular issues
Subjects sleeping more than 8 hours were 33% more likely to develop cardiovascular issues
It's interesting to note that getting too much sleep is more dangerous than getting too little. Lead author Epameinondas Fountas sums up the findings: "Our findings suggest that too much or too little sleep may be bad for the heart. More research is needed to clarify exactly why, but we do know that sleep influences biological processes like glucose metabolism, blood pressure, and inflammation—all of which have an impact on cardiovascular disease."
Sweet spots, literally and figuratively, for napping
Nap pods
For those without the option of a full night's (day's?) sleep, or who need to be at their best from beginning to end of very long days, naps are often the only option. A new industry is springing up in cities around the world to provide busy people cozy places in which to catch some Zzzs.
One such solution is London's Pop & Rest accommodations, which started up as a kind of Airbnb-type business offering apartment spaces for napping. Now they have purpose-built 'sleep pods' located in what they describe as London's busiest districts. You can book a nook for 30 minutes to two hours, depending on your napping needs (see below).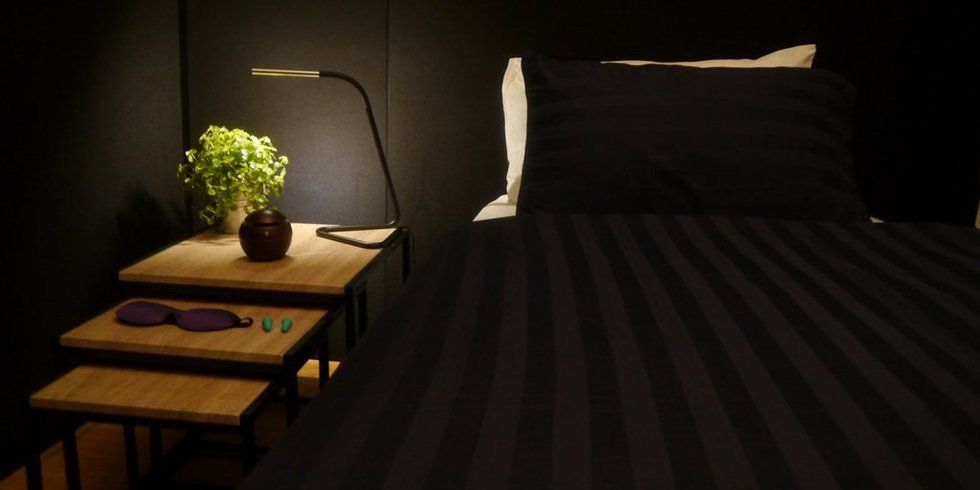 A Pop & Rest nap pod in London (Image: Pop & Rest)
In addition, there are nap pods for sale that can be installed in quiet corners of a busy office…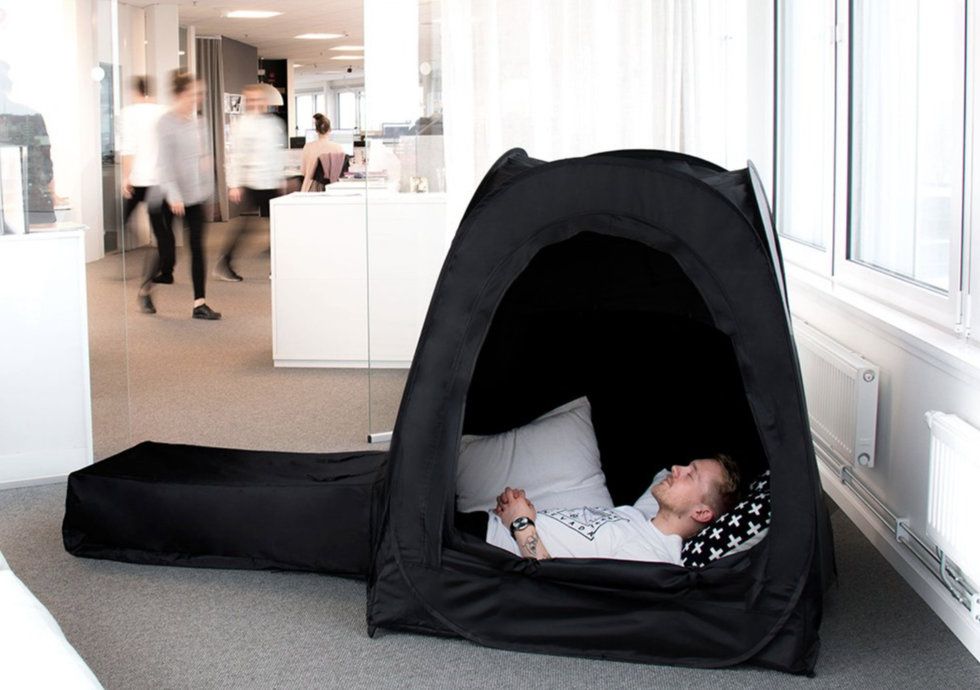 For office snoozing, a PausePod (Image: PausePod)
… or in a secluded area in a busy airport.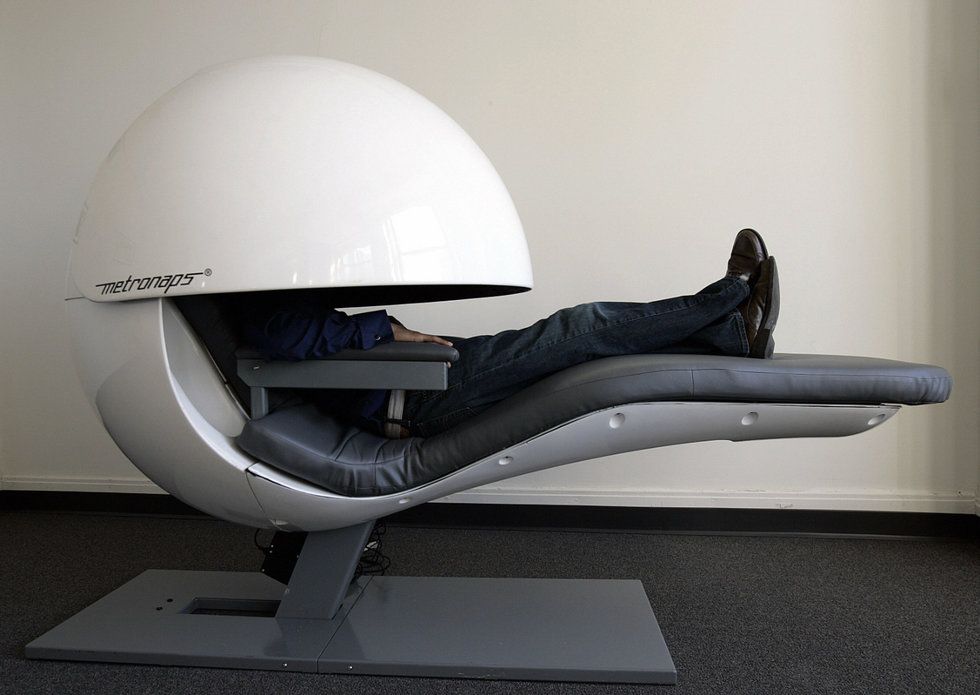 Metronaps pods are popping up in various places, including airports. (Photo: Stan Honda/Getty)
The sweet spot nap for you
As one might expect of a company specializing in naps, Pop & Rest put together a great nap graphic. What makes it so helpful is that it tells you the best type of nap to have depending on what it is you want the nap to achieve.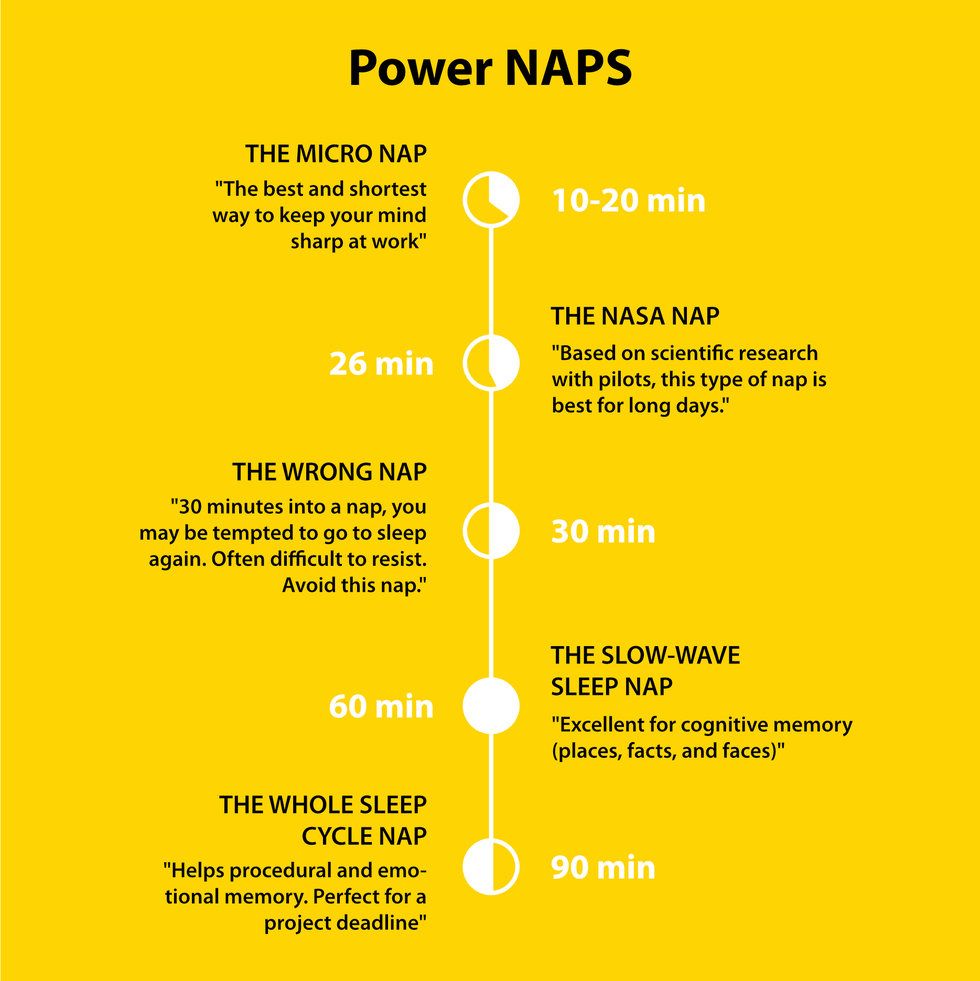 (Image: Pop & Rest/Big Think)
Have the best rest
While the new sleep study is silent on napping, it stands to reason that your overall best bet health-wise is the six- to eight-hour end-of-day sleep. Still, that's not always possible, and some of us do just love naps, even should we get a full night's sleep.
And with that, we now bid you goodnight (no matter what time of day you read this).
What can 3D printing do for medicine? The "sky is the limit," says Northwell Health researcher Dr. Todd Goldstein.
Northwell Health
Sponsored by Northwell Health
Medical professionals are currently using 3D printers to create prosthetics and patient-specific organ models that doctors can use to prepare for surgery.
Eventually, scientists hope to print patient-specific organs that can be transplanted safely into the human body.
Northwell Health, New York State's largest health care provider, is pioneering 3D printing in medicine in three key ways.
It's a "canary in the coalmine," said one climate scientist.
Surprising Science
A team of researchers discovered that permafrost in Northern Canada is melting at unusually fast rates.
This could causes dangerous and costly erosion, and it's likely speeding up climate change because thawing permafrost releases heat-trapping gasses into the atmosphere.
This week, Canada's House of Commons declared a national climate emergency.
One of Stephen Hawking's predictions seems to have been borne out in a man-made "black hole".
Image source: NASA/JPL-Caltech
Surprising Science
Stephen Hawking predicted virtual particles splitting in two from the gravitational pull of black holes.
Black holes, he also said, would eventually evaporate due to the absorption of negatively charged virtual particles.
A scientist has built a black hole analogue based on sound instead of light.
Not every part of a satellite burns up in reentry. Considering the growing number of satellites in orbital space, that's a big problem.
Technology & Innovation
Earth's orbital space is getting more crowded by the day.
The more satellites and space junk we put into orbit, the greater a risk that there could be a collision.
Not all materials burn up during reentry; that's why scientists need to stress test satellite parts to ensure that they won't become deadly falling objects.
Big think's weekly newsletter.
Get smarter faster from the comfort of your inbox.
See our newsletter privacy policy
here
Most Popular
Most Recent
Big think's weekly newsletter.
Get smarter faster from the comfort of your inbox.
See our newsletter privacy policy
here
© Copyright 2007-2019 & BIG THINK, BIG THINK EDGE,
SMARTER FASTER trademarks owned by The Big Think, Inc. All rights reserved.