The Reason You're Positive You Remember Something That Never Happened
Scientists think they may understand why our brains produce false memories.
05 September, 2016
It seems that everyone is susceptible to the phenomenon of "memory distortion," or the creation of false memories. Researchers think they may be starting to understand how false memories occur: They're the product of a kind of shorthand your brain uses to store memories efficiently.
---
By false memories, we're talking about things we clearly recall happening that never actually did. It can be an event you think you attended, or some detail you incorrectly recall, and it happens even to those with amazingly good powers of recall. 
In one 2013 study at the University of California, Irvine, two groups of subjects were assembled, those with normal memories and another group of people with "highly superior autobiographical memory" (HSAM). These are people with uncanny memories who remember dates and event associations way beyond most of us. No matter, though: Testing revealed they produced just as many false memories as normal people.
The researchers used the Deese–Roediger–McDermott (DRM) paradigm. In DRM, subjects are presented with a list of 12 "lure" words that make them think of another word that isn't on the list. For example, it could be a dozen words like "bed," "rest," "pillow," "blanket," "dream," and so on. Subjects, when quizzed on what words they've been shown, will remember seeing the word "sleep" as well. In fact, all of the test subjects in the UC Irvine experiments did. DRM-type lures can also make people falsely remember details in photos that aren't there.
Now a study by Proceedings of the National Academy of Sciences (PNAS) may have a clue as to why this happens. The researchers worked with fMRI scans of subjects' brains — in particular the temporal pole region.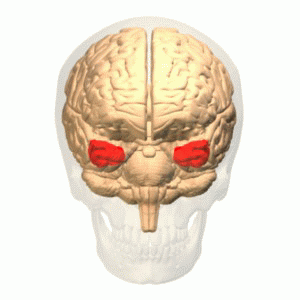 Temporal poles (DATABASE CETER FOR LIFE SCIENCE)
fMRI allowed researchers to observe the neural activity that occurred when subjects thought about lure words, and again as they thought about false-memory words to see if the neural activity was similar. They then tested subjects using DRM word lists known to be highly effective at triggering false memories. When scientists studied the scans for these words, there was a strong correspondence between the neural activity from lure words and their false-memory words.
What appears to be happening is that the brain uses common neuron firing patterns for related words — and presumably pictures, sounds, etc. — keeping them all together in the brain for efficient storage and retrieval.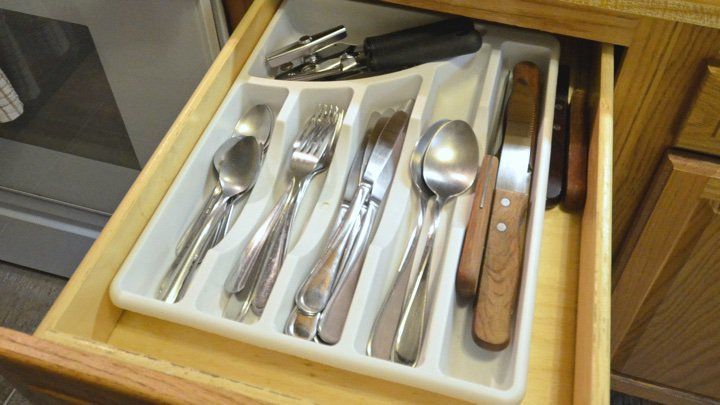 Everything in its place. (VIRGINIA STATE PARKS)
The false memory occurs because it's one of a group of words that gets remembered as a set, maybe because experience teaches us they're likely to be used together. 
It's an interesting starting point for a phenomenon scientists are eager to understand better.
After all, the study of false memories isn't just academic. Witnesses to crimes can think they saw something that's actually been suggested to them later on, and false childhood memories can be difficult to separate from actual occurrences, especially when they're painful. Advertisers use false memories to make us want to buy. And, of course, it would be preferable for each of us to know with 100% certainty what we really remember and what we've invented, whether that's a news event or something from our own lives.
What can 3D printing do for medicine? The "sky is the limit," says Northwell Health researcher Dr. Todd Goldstein.
Northwell Health
Sponsored by Northwell Health
Medical professionals are currently using 3D printers to create prosthetics and patient-specific organ models that doctors can use to prepare for surgery.
Eventually, scientists hope to print patient-specific organs that can be transplanted safely into the human body.
Northwell Health, New York State's largest health care provider, is pioneering 3D printing in medicine in three key ways.
By working together, and learning from one another, we can build better systems.
Videos
Many of the things that we experience, are our imagination manifesting into this physical realm, avers artist Dustin Yellin.
People need to completely rethink the way they work together, and learn from one another, that they they can build better systems. If not, things may get "really dark" soon.
The first step to enabling cooperation is figuring out where the common ground is. Through this method, despite contrary beliefs, we may be able to find some degree of peace.
Great ideas in philosophy often come in dense packages. Then there is where the work of Marcus Aurelius.
(Getty Images)
Personal Growth
Meditations is a collection of the philosophical ideas of the Roman Emperor Marcus Aurelius.
Written as a series of notes to himself, the book is much more readable than the dry philosophy most people are used to.
The advice he gave to himself 2,000 years ago is increasingly applicable in our hectic, stressed-out lives.
The periodic table was a lot simpler at the beginning of the universe.
Videos
Michelle Thaller's "absolute favorite fact in the universe" is that we are made of dead stars.
The Big Bang, when it went off, produced basically three elements: hydrogen, helium, and lithium. Every atom more complex had to be formed inside a star. Over time, stars such as the sun produce things like carbon and oxygen.
They don't really get much more far off the periodic table than that. If you want to go any farther than the element iron, then you actually need a very violent explosion, a supernova explosion.
Big think's weekly newsletter.
Get smarter faster from the comfort of your inbox.
See our newsletter privacy policy
here
Most Popular
Most Recent
Big think's weekly newsletter.
Get smarter faster from the comfort of your inbox.
See our newsletter privacy policy
here
© Copyright 2007-2019 & BIG THINK, BIG THINK EDGE,
SMARTER FASTER trademarks owned by The Big Think, Inc. All rights reserved.