The Reason You're Positive You Remember Something That Never Happened
Scientists think they may understand why our brains produce false memories.
05 September, 2016
It seems that everyone is susceptible to the phenomenon of "memory distortion," or the creation of false memories. Researchers think they may be starting to understand how false memories occur: They're the product of a kind of shorthand your brain uses to store memories efficiently.
---
By false memories, we're talking about things we clearly recall happening that never actually did. It can be an event you think you attended, or some detail you incorrectly recall, and it happens even to those with amazingly good powers of recall. 
In one 2013 study at the University of California, Irvine, two groups of subjects were assembled, those with normal memories and another group of people with "highly superior autobiographical memory" (HSAM). These are people with uncanny memories who remember dates and event associations way beyond most of us. No matter, though: Testing revealed they produced just as many false memories as normal people.
The researchers used the Deese–Roediger–McDermott (DRM) paradigm. In DRM, subjects are presented with a list of 12 "lure" words that make them think of another word that isn't on the list. For example, it could be a dozen words like "bed," "rest," "pillow," "blanket," "dream," and so on. Subjects, when quizzed on what words they've been shown, will remember seeing the word "sleep" as well. In fact, all of the test subjects in the UC Irvine experiments did. DRM-type lures can also make people falsely remember details in photos that aren't there.
Now a study by Proceedings of the National Academy of Sciences (PNAS) may have a clue as to why this happens. The researchers worked with fMRI scans of subjects' brains — in particular the temporal pole region.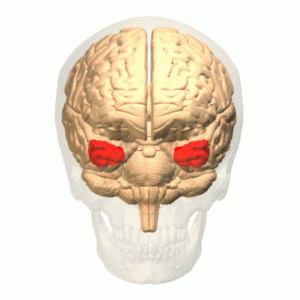 Temporal poles (DATABASE CETER FOR LIFE SCIENCE)
fMRI allowed researchers to observe the neural activity that occurred when subjects thought about lure words, and again as they thought about false-memory words to see if the neural activity was similar. They then tested subjects using DRM word lists known to be highly effective at triggering false memories. When scientists studied the scans for these words, there was a strong correspondence between the neural activity from lure words and their false-memory words.
What appears to be happening is that the brain uses common neuron firing patterns for related words — and presumably pictures, sounds, etc. — keeping them all together in the brain for efficient storage and retrieval.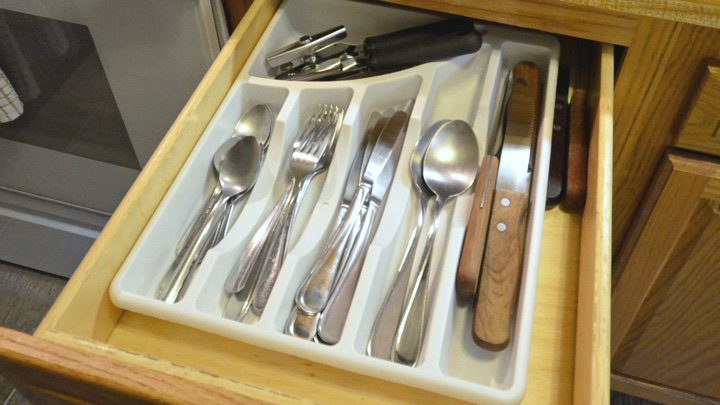 Everything in its place. (VIRGINIA STATE PARKS)
The false memory occurs because it's one of a group of words that gets remembered as a set, maybe because experience teaches us they're likely to be used together. 
It's an interesting starting point for a phenomenon scientists are eager to understand better.
After all, the study of false memories isn't just academic. Witnesses to crimes can think they saw something that's actually been suggested to them later on, and false childhood memories can be difficult to separate from actual occurrences, especially when they're painful. Advertisers use false memories to make us want to buy. And, of course, it would be preferable for each of us to know with 100% certainty what we really remember and what we've invented, whether that's a news event or something from our own lives.
It's unlikely that there's anything on the planet that is worth the cost of shipping it back
Photo Credit: National Geographic/Richard Donnelly
Surprising Science
In the second season of National Geographic Channel's MARS (premiering tonight, 11/12/18,) privatized miners on the red planet clash with a colony of international scientists
Privatized mining on both Mars and the Moon is likely to occur in the next century
The cost of returning mined materials from Space to the Earth will probably be too high to create a self-sustaining industry, but the resources may have other uses at their origin points
Want to go to Mars? It will cost you. In 2016, SpaceX founder Elon Musk estimated that manned missions to the planet may cost approximately $10 billion per person. As with any expensive endeavor, it is inevitable that sufficient returns on investment will be needed in order to sustain human presence on Mars. So, what's underneath all that red dust?
Mining Technology reported in 2017 that "there are areas [on Mars], especially large igneous provinces, volcanoes and impact craters that hold significant potential for nickel, copper, iron, titanium, platinum group elements and more."
Were a SpaceX-like company to establish a commercial mining presence on the planet, digging up these materials will be sure to provoke a fraught debate over environmental preservation in space, Martian land rights, and the slew of microbial unknowns which Martian soil may bring.
In National Geographic Channel's genre-bending narrative-docuseries, MARS, (the second season premieres tonight, November 12th, 9 pm ET / 8 pm CT) this dynamic is explored as astronauts from an international scientific coalition go head-to-head with industrial miners looking to exploit the planet's resources.
Given the rate of consumption of minerals on Earth, there is plenty of reason to believe that there will be demand for such an operation.
"Almost all of the easily mined gold, silver, copper, tin, zinc, antimony, and phosphorus we can mine on Earth may be gone within one hundred years" writes Stephen Petranek, author of How We'll Live on Mars, which Nat Geo's MARS is based on. That grim scenario will require either a massive rethinking of how we consume metals on earth, or supplementation from another source.
Elon Musk, founder of SpaceX, told Petranek that it's unlikely that even if all of Earth's metals were exhausted, it is unlikely that Martian materials could become an economically feasible supplement due to the high cost of fuel required to return the materials to Earth. "Anything transported with atoms would have to be incredibly valuable on a weight basis."
Actually, we've already done some of this kind of resource extraction. During NASA's Apollo missions to the Moon, astronauts used simple steel tools to collect about 842 pounds of moon rocks over six missions. Due to the high cost of those missions, the Moon rocks are now highly valuable on Earth.
Moon rock on display at US Space and Rocket Center, Huntsville, AL (Big Think/Matt Carlstrom)
In 1973, NASA valuated moon rocks at $50,800 per gram –– or over $300,000 today when adjusted for inflation. That figure doesn't reflect the value of the natural resources within the rock, but rather the cost of their extraction.
Assuming that Martian mining would be done with the purpose of bringing materials back to Earth, the cost of any materials mined from Mars would need to include both the cost of the extraction and the value of the materials themselves. Factoring in the price of fuel and the difficulties of returning a Martian lander to Earth, this figure may be entirely cost prohibitive.
What seems more likely, says Musk, is for the Martian resources to stay on the Red Planet to be used for construction and manufacturing within manned colonies, or to be used to support further mining missions of the mineral-rich asteroid belt between Mars and Jupiter.
At the very least, mining on Mars has already produced great entertainment value on Earth: tune into Season 2 of MARS on National Geographic Channel.
Researchers believe that the practice of sleeping through the whole night didn't really take hold until just a few hundred years ago.
The Bed by Henri de Toulouse-Lautrec.
Surprising Science
She was wide awake and it was nearly two in the morning. When asked if everything was alright, she said, "Yes." Asked why she couldn't get to sleep she said, "I don't know." Neuroscientist Russell Foster of Oxford might suggest she was exhibiting "a throwback to the bi-modal sleep pattern." Research suggests we used to sleep in two segments with a period of wakefulness in-between.
Antimicrobial resistance is growing worldwide, rendering many "work horse" medicines ineffective. Without intervention, drug-resistant pathogens could lead to millions of deaths by 2050. Thankfully, companies like Pfizer are taking action.
Image courtesy of Pfizer.
Sponsored
Antimicrobial-resistant pathogens are one of the largest threats to global health today.
As we get older, our immune systems age, increasing our risk of life threatening infections. Without reliable antibiotics, life expectancy could decline for the first time in modern history.
If antibiotics become ineffective, common infections could result in hospitalization or even death. Life-saving interventions like cancer treatments and organ transplantation would become more difficult, more often resulting in death. Routine procedures would become hard to perform.
Without intervention, resistant pathogens could result in 10 million annual deaths by 2050.
By taking a multi-faceted approach—inclusive of adherence to good stewardship, surveillance and responsible manufacturing practices, as well as an emphasis on prevention and treatment—companies like Pfizer are fighting to help curb the spread.
Big think's weekly newsletter.
Get smarter faster from the comfort of your inbox.
See our newsletter privacy policy
here
Most Popular
Most Recent
Big think's weekly newsletter.
Get smarter faster from the comfort of your inbox.
See our newsletter privacy policy
here
© Copyright 2007-2018 & BIG THINK, BIG THINK EDGE,
SMARTER FASTER trademarks owned by The Big Think, Inc. All rights reserved.