A Periodic Table of All the Exoplanets Found So Far
The Planetary Habitability Laboratory has made up some periodic tables of all of the confirmed and suspected exoplanets so far, plus planetary bodies in our own solar system.
01 December, 2017
Exoplanets are hot right now. In the popularity sense. Thermally, they're also cold and medium. But ever since the first one was discovered nearly 26 years ago — or 9,457 days as of this writing — we've been fascinated by them. Some people are intrigued by the potential any of them may hold for migration from Earth should it become inhabitable. Some wonder if other life on our level could be there. And then there's their most undeniable value: science. If you've been having trouble keeping track of what we've found so far, the Planetary Habitability Laboratory (PHL) of the University of Puerto Rico at Arecibo has just published its Periodic Table of Exoplanets, which it'll presumably keep up to date as more of them are found. It's actually a set of three tables:
---
confirmed exoplanets
exoplanet candidates observed by NASA's Kepler spacecraft
planetary bodies in our own solar system
The PHL is in a great location for this kind of thing, being near one of the world's most important celestial observatories, the Arecibo Telescope.
The exoplanets are far away, of course, and so we know little about them other than their sizes and distances from their stars. It's with these two attributes that PHL is able to sort the exoplanets.
Each table's column, or Y axis, contains the exoplanets of a particular size, going from the smallest — miniterrans — at the left, to the largest — Jovians — at the right.
Miniterrans — are probably spherical and with low mass and no atmospoheres, like Mercury and our own moon.
Subterrans — are roughly the size of Mars.
Terrans — are about the size of Earth and Venus.
Superterrans — are bigger than us but not quite Neptunian.
Neptunians — are equivalent to Neptune and Uranus.
Jovians — are as big as Jupiter and Saturn or bigger.
Here's an overview of how many exoplanets of each type there are so far: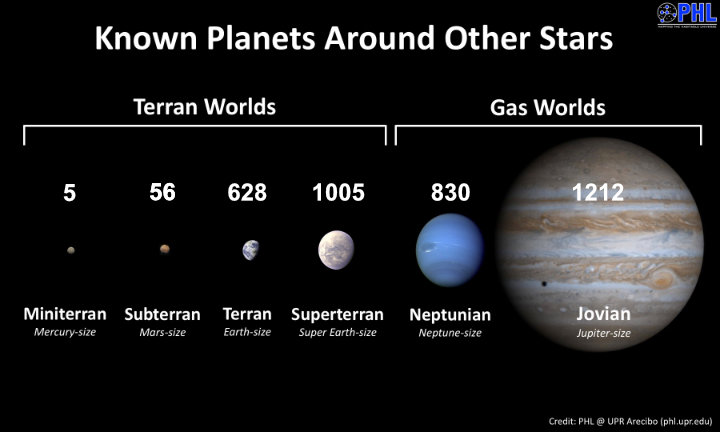 Simple summary of exoplanets by size (PHL)
There's also the issue of an exoplanet's distance from its sun, which is shown along the X axis at the left edge of each table:
Hot Zone exoplanets — are too close to their suns and too hot to have liquid water.
Warm "Habitable" Zone exoplanets — are in the sweet spot for life as we know it, with a capacity for liquid water.
Cold Zone exoplanets — are too far from their suns, and too cold, for anything but frozen ice.
Confirmed Exoplanets
There are 3,700 of these as of November 15, 2017.
Kelper Exoplanet Candidates
NASA's Kepler observatory has spotted 4,303 possible exoplanets so far.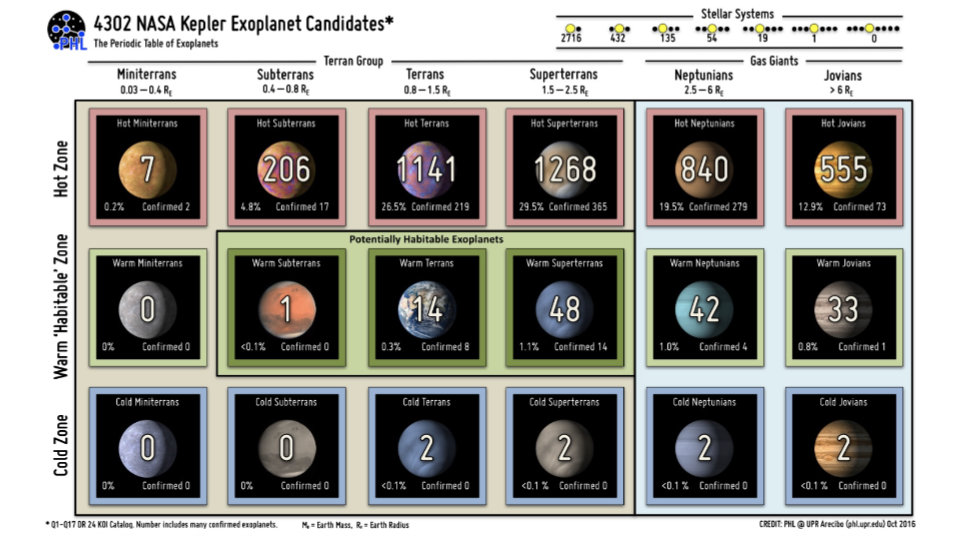 Click image to expand. (PHL)
Planetary Bodies in Our Own Solar System
These counts are accurate as of November 15, 2017. Some of the candidates will probably be confirmed and others ruled out in time. Many more will no doubt be found eventually out there in this vast, vast universe that's probably teeming with life. At least these bodies are places that life could be.
Pfizer's partnerships strengthen their ability to deliver vaccines in developing countries.
Susan Silbermann, Global President of Pfizer Vaccines, looks on as a health care worker administers a vaccine in Rwanda. Photo: Courtesy of Pfizer.
Sponsored
Community healthcare workers face many challenges in their work, including often traveling far distances to see their clients
Pfizer is helping to drive the UN's sustainable development goals through partnerships.
Pfizer partnered with AMP and the World Health Organization to develop a training program for healthcare workers.
It's the first time the association hasn't hired a comedian in 16 years.
(Photo by Anna Webber/Getty Images for Vulture Festival)
Culture & Religion
The 2018 WHCA ended in controversy after comedian Michelle Wolf made jokes some considered to be offensive.
The WHCA apologized for Wolf's jokes, though some journalists and many comedians backed the comedian and decried arguments in favor of limiting the types of speech permitted at the event.
Ron Chernow, who penned a bestselling biography of Alexander Hamilton, will speak at next year's dinner.
A glass of juice has as much sugar, ounce for ounce, as a full-calorie soda. And those vitamins do almost nothing.
popular
Quick: think back to childhood (if you've reached the scary clown you've gone too far). What did your parents or guardians give you to keep you quiet? If you're anything like most parents, it was juice. But here's the thing: juice is bad for you. 
A study on flies may hold the key to future addiction treatments.
Scott Barbour/Getty Images
Mind & Brain
A new study suggests that drinking alcohol can affect how memories are stored away as good or bad.
This may have drastic implications for how addiction is caused and how people recall intoxication.
The findings may one day lead to a new form of treatment for those suffering from addiction.
Big think's weekly newsletter.
Get smarter faster from the comfort of your inbox.
See our newsletter privacy policy
here
Most Popular
Most Recent
Big think's weekly newsletter.
Get smarter faster from the comfort of your inbox.
See our newsletter privacy policy
here
© Copyright 2007-2018 & BIG THINK, BIG THINK EDGE,
SMARTER FASTER trademarks owned by The Big Think, Inc. All rights reserved.