Michio Kaku believes in God, if not that God
It's been said that string theory physicist Michio Kaku believes in God, but the truth is it depends on what "God" means.
15 February, 2018
Co-founder of string field theory and physicist Michio Kaku made waves last year — or at least seemed to — when it was reported that he'd proven the existence of God. The Geophilosophical Association of Anthropological and Cultural Studies quoted Kaku as saying, "I have concluded that we are in a world made by rules created by an intelligence. To me, it is clear that we exist in a plan which is governed by rules that were created, shaped by a universal intelligence and not by chance."
---
Reacting to that public comment, Kaku said: "That's one of the drawbacks of being in a public sphere: Sometimes you get quoted incorrectly. My own point of view is that you can neither prove nor disprove the existence of God."
"Science is based on what is testable, reproducible, and falsifiable," Kaku says. "That's called 'science.' However, there are certain things that are not testable, not reproducible, and not falsifiable. And that would include the existence of God." He's noted that discerning whether you live in a Matrix-style construct or not would be another such 'non-falsifiable' problem.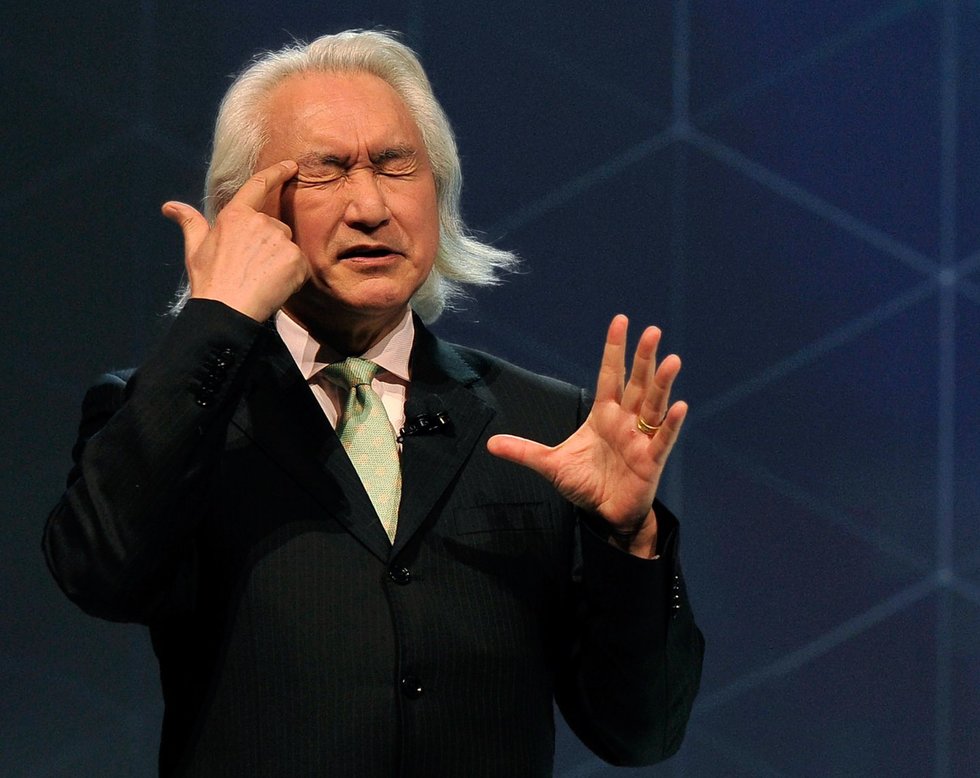 (David Becker)
Part of the problem, of course, is that "God" has different meanings to different people, and in discussing It/Him/Her, there's apt to be confusion. And yet believers continue to ask scientists this question, perhaps seeking scientific confirmation for their faith. They want to know if Kaku's an atheist, but when we can't agree on what God is, "atheist" has even less meaning.
In any event, when asked about God, Kaku is likely to quote Einstein's suggestion that there are two types of god: "One god is a personal god, the god that you pray to, the god that smites the Philistines, the god that walks on water. That's the first god. But there's another god, and that's the god of Spinoza. That's the god of beauty, harmony, simplicity."
It's that second "God" to which Kaku is drawn. He tells innovation tech today that the universe could have been random, but that instead "Our universe is rich; it is beautiful, elegant."
He's stuck by what he sees as its exquisite simplicity, pointing out that all of the laws of physics could fit on a single sheet of paper, and, "In fact, what I do for a living is to try to get that sheet of paper and summarize it into an equation one inch long." He asserts that with his string field theory, he had that one-inch explanation of everything, but that with new developments in membrane theory, he needs a little more room. For now.
Still, Kaku says, this will happen. Physics is the opposite of most other fields of study, he says: With every new advance it gets simpler, and in that lies his sense of wonder. "So, that's the God of Einstein. The God of beauty, [the idea] that says that the universe is simpler the more we study it."
Kaku recounts: 
"When scientists use the word God, they usually mean the God of Order. For example, one of the most important revelations in Einstein's early childhood took place when he read his first books on science. He immediately realized that most of what he had been taught about religion could not possibly be true. Throughout his career, however, he clung to the belief that a mysterious, divine Order existed in the universe."
That other kind of God clearly has less appeal for Kaku, as it generally does for physicists and other scientists, including Neil DeGrasse Tyson, who says that believers he talks to tell him that God is all-powerful and good, but when he looks at "all the ways Earth wants to kill us," he just doesn't see how both could be true.
So when Kaku asserts that the goal of string field theory is to "read the mind of God," it's important to remember he's talking about Einstein's God of Order. To "read the mind of God" would be to find that (one-inch) equation that explains everything in the cosmos. Bearing in mind the continual game of leapfrog going on between math and physics, and that the latest leap is physics' string theory, which requires a new type of math, Kaku mischievously suggests that the ultimate solution to the schism between physicists and mathematicians could be that God is a mathematician. And, he says, the mind of God — the explanation of Order — may turn out to be string field theory's "cosmic music," the resonating of strings through 11-dimensional hyperspace.
--
The way that you think about stress can actually transform the effect that it has on you – and others.
Big Think Edge
Stress is contagious, and the higher up in an organization you are the more your stress will be noticed and felt by others.
Kelly McGonigal teaches "Reset your mindset to reduce stress" for Big Think Edge.

Subscribe to Big Think Edge before we launch on March 30 to get 20% off monthly and annual memberships.
These quick bursts of inspiration will brighten your day in 10 minutes or less.

Explore a legendary philosopher's take on how society fails to prepare us for education and progress.
Alan Watts.
Personal Growth
Alan Watts was an instrumental figure in the 1960s counterculture revolution.
He believed that we put too much of a focus on intangible goals for our educational and professional careers.
Watts believed that the whole educational enterprise is a farce compared to how we should be truly living our lives.
How can we use the resources that are already on the Moon to make human exploration of the satellite as economical as possible?
The All-Terrain Hex-Limbed Extra-Terrestrial Explorer (ATHLETE), a prototype heavy-lift utility vehicle to support future human exploration of extraterrestrial surfaces, at right, is parked beside the Habitat Demonstration Unit - Pressurized Excursion Module (HDU-PEM), at left, a concept off-Earth living and work quarters for astronauts stationed on asteroids, the moon or Mars, 15 September 2010. Photo by: ROBYN BECK/AFP/Getty Images
Technology & Innovation
If you were transported to the Moon this very instant, you would surely and rapidly die. That's because there's no atmosphere, the surface temperature varies from a roasting 130 degrees Celsius (266 F) to a bone-chilling minus 170 C (minus 274 F). If the lack of air or horrific heat or cold don't kill you then micrometeorite bombardment or solar radiation will. By all accounts, the Moon is not a hospitable place to be.

Big think's weekly newsletter.
Get smarter faster from the comfort of your inbox.
See our newsletter privacy policy
here
Most Popular
Most Recent
Big think's weekly newsletter.
Get smarter faster from the comfort of your inbox.
See our newsletter privacy policy
here
© Copyright 2007-2018 & BIG THINK, BIG THINK EDGE,
SMARTER FASTER trademarks owned by The Big Think, Inc. All rights reserved.