A.I. will serve humans—but only about 1% of them
AI is leaving human needs and democracy behind in its race to accomplish its current profit-generating goals.
12 November, 2017
It doesn't have to be this way, but for now it is: AI's primary purpose is to maximize profits. For all of the predictions of its benefits to society, right now, that's just window-dressing—a pie-in-the-sky vision of a world we don't actually inhabit. While some like Elon Musk issue dire warnings against finding ourselves beneath the silicon thumbs of robot overlords, the fact is we're already under threat. As long as AI is dedicated to economic goals and not societal concerns, its tunnel vision is a problem. And as so often seems to be the case these days, the benefits will go to the already wealthy and powerful.
---
Right now, while artificial intelligence is focusing on profit-generation, natural intelligence has proven to be more than up to the task of manipulating it, as if sneaking up behind someone distracted by a shiny object.
We're coming to understand just how adroitly AI can be played as we learn more and more about Russia's manipulation of social media during the 2016 presidential election. Facebook's much-lauded AI was working to "consume as much of your time and conscious attention as possible," as Facebook's first president Sean Parker recently put it to Mike Allen. After all, as we've often been told, "You're not the customer—you're the product" meant to draw advertisers to the platform. Cleverly parsing our newsfeeds for clues to our most addictive interests and associations, Facebook's AI somehow completely failed to notice it was being gamed by Russia, as noted in this stunning exchange between Senator Al Franken and Facebook General Counsel Colin Stretch:
What neither man explicitly says is that it was not the job of Facebook's AI to do anything but maximize the platform's profits. Democracy? Not Facebook's problem—until it was. Stretch's classic tech-speak/euphemism is that Facebook's algorithms should have had a "broader lens."
This lack of a broader lens is at the root of growing concerns that automation is going to mean the loss of a significant number of jobs. Katherine Dempsey, writing for The Nation, discussed the issue via email with deep-learning expert Yoshua Bengio, and he summed up the end game this way:
"AI will probably exacerbate inequalities, first with job disruptions—a few people will benefit greatly from the wealth created, [while] a large number will suffer because of job loss—and second because wealth created by AI is likely to be concentrated in a few companies and a few countries."

The future currently under construction is frightening if you're not among those few people. Dempsey cites a McKinsey & Company report, 'A Future That Works', describing a time in which fewer actually will. According to that report, 51% of all the work done in the U.S. economy could be automated at a savings for companies—and loss in workers' salaries—of $2.7 trillion. While only about 5% of all occupations could be fully automated, about a third of the work in 60% of them can be taken over by machines.
Dempsey also notes that AI is reinforcing existing biases. Its mistakes may be attributable to the narrowness of programmers' intentions and sensitivities, or not, but the algorithms are just not that smart so far. The New York Times cites Google Photos tagging black people as gorillas, the algorithms in Nikon cameras assuming Asian people are blinking, and a terrifying expose by ProPublica revealing that AI is being used to identify future criminals.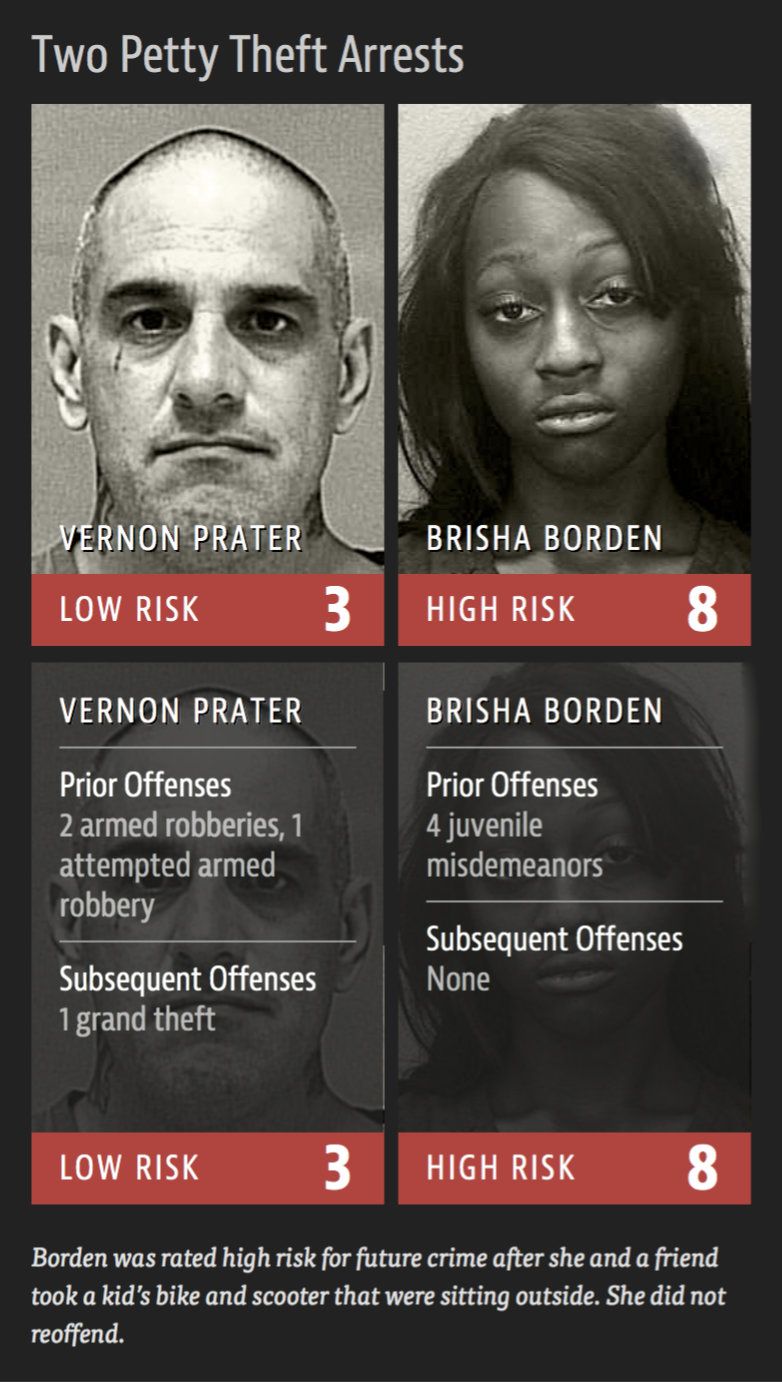 (PROPUBLICA)
A Princeton study found that a "machine-learning program associated female names more than male names with familial attributes such as 'parents' and 'wedding.' Male names had stronger associations with career-related words such as 'professional' and 'salary.'" No surprise then that, as a Carnegie Mellon study found, Google is targeting ads for high-paying jobs primarily at men. Still, as Michael Carl Tschantz of the International Computer Science Institute admits, "We can't look inside the black box that makes the decisions."
And there's the problem at its basic level. As long as AI is primarily dedicated to advancing economic goals, its workings are likely to remain largely proprietary and thus unavailable for scrutiny—that's assuming its creators even know how it works. Our best—and maybe only—defense against this danger to our society is to educate ourselves and our children about AI and machine-learning technology so we aren't treating AI as some sacred form of modern magic whose workings and effects we're forced to unquestioningly accept. Forget robot overlords for now—it's the short-sighted greed of our human ones that should worry us.
What can 3D printing do for medicine? The "sky is the limit," says Northwell Health researcher Dr. Todd Goldstein.
Northwell Health
Sponsored by Northwell Health
Medical professionals are currently using 3D printers to create prosthetics and patient-specific organ models that doctors can use to prepare for surgery.
Eventually, scientists hope to print patient-specific organs that can be transplanted safely into the human body.
Northwell Health, New York State's largest health care provider, is pioneering 3D printing in medicine in three key ways.
Big Think Edge
In some fundamental ways, humans haven't changed all that much since the days when we were sitting around communal fires, telling tales.
Although we don't always recognize them as such, stories, symbols, and rituals still have tremendous, primal power to move us and shape our lives.
This is no less true in the workplace than it is in our personal lives.
One of Stephen Hawking's predictions seems to have been borne out in a man-made "black hole".
Image source: NASA/JPL-Caltech
Surprising Science
Stephen Hawking predicted virtual particles splitting in two from the gravitational pull of black holes.
Black holes, he also said, would eventually evaporate due to the absorption of negatively charged virtual particles.
A scientist has built a black hole analogue based on sound instead of light.
Big Think Edge
The word "creative" is sometimes waved around like a badge of honor. We speak of creativity in hushed tones, as the special province of the "talented". In reality, the creative process is messy, open, and vulnerable.
For this reason, creativity is often at its best in a group setting like brainstorming. But in order to work, the group creative process needs to be led by someone who understands it.
This sense of deep trust—that no idea is too silly, that every creative impulse is worth voicing and considering—is essential to producing great work.
Big think's weekly newsletter.
Get smarter faster from the comfort of your inbox.
See our newsletter privacy policy
here
Most Popular
Most Recent
Big think's weekly newsletter.
Get smarter faster from the comfort of your inbox.
See our newsletter privacy policy
here
© Copyright 2007-2019 & BIG THINK, BIG THINK EDGE,
SMARTER FASTER trademarks owned by The Big Think, Inc. All rights reserved.