Graphene May Someday Power the World
Scientists have discovered an endless energy supply in the naturally occurring Brownian motion of graphene.
30 November, 2017
Graphene is a sheet of individual carbon atoms arranged in a chicken-wire-like pattern. It's weird stuff, an electrically two-dimensional object in that its charge carriers — its electrons — are only capable of moving in two directions. It does have a little trick by which it gets a third dimension, though: Brownian motion, in this case, continuous, tiny, random movements in its atoms that ultimately cause the sheet to ripple upward and downward. Picture waves moving across a body of water. And now, a team of physicists from the University of Arkansas led by Paul Thibado have found it's possible to capture energy from graphene's ripples as an endless source of clean energy.
---
(VERITASIUM)
Brownian motion was first discovered way back, in 1827, and as a naturally occurring phenomenon, scientists ever since have wondered if there was a way to harness its energy. Leave it to weird graphene to make that possible by doing it on an atomic scale.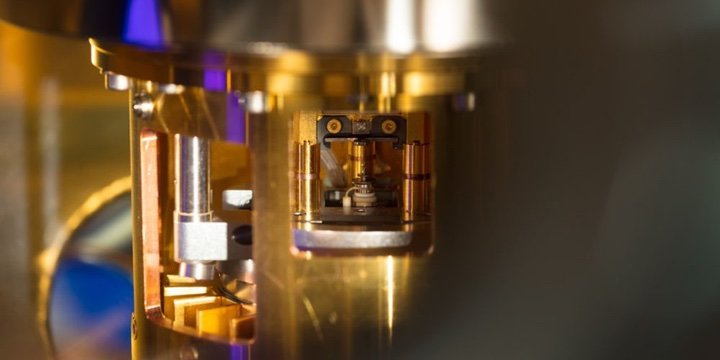 Thibado's microscope (RESEARCH FRONTIERS)
Thibado and his students were measuring the movement of graphene sheets, laid atop a copper grid for support, through a scanning tunneling microscope (or STM). The measurements didn't make any sense, really, with each observation producing different data.
Thibado tells Research Frontiers, "The students felt we weren't going to learn anything useful, but I wondered if we were asking too simple a question," in thinking about the movement of the whole graphene sheet. So they studied measurements in smaller and smaller chunks, until they arrived at a single ripple, at which point things began to at least suggest some kind of governing logic.
When they zeroed in on measurements of a single point, "like looking at a buoy which only moves up and down in the ocean," to use Thibado's metaphor, they saw it: Tiny Brownian motion combined with larger, coordinated movements, a combination referred to as Lévy flights, that caused a sheet to flip up and down in ripples, similar to the motion produced by flexing a thin sheet of metal. It was the first time this had been observed at the atomic scale, and Thibado and his students published their research in Physical Review Letters.
The insight that graphene's ripples are naturally occurring is the "key to using the motion of 2D materials as a source of harvestable energy," says Thibado. Unlike other materials' individual atoms moving randomly, the carbon atoms in graphene remain connected in their layer and thus move together, which allows the energy from those ripples to be captured using nanotechnology.
Thibado has invented the Vibration Energy Harvester, or VEH, for doing this, and he's been awarded a provisional patent for his device that can run tiny motors.
While the amount of energy produced by each graphene layer is minuscule, it's easy to see how it can scale upwards.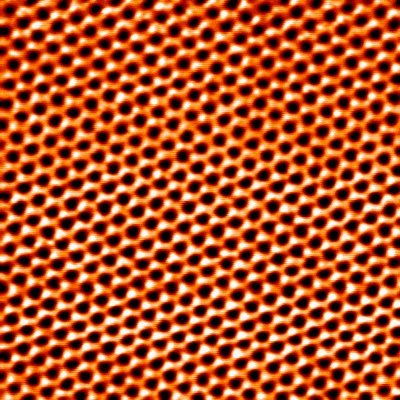 Graphene on copper from Thibado's lab (RESEARCH FRONTIERS)
Thibado's been working with pieces of graphene a mere 10 microns across, and whose Lévy flights measure only 10 nanometers by 10 nanometers to produce 10 picowatts of power.
Still, you can fit 20,000 such pieces on the head of a pin. A thin membrane of graphene layers could power a watch forever without the need for recharging, and imagine the possibilities for large "batteries" built from graphene: They could run indefinitely, never need recharging, and be absolutely clean. 
(UNIVERSITY OF ARKANSAS)
Pfizer's partnerships strengthen their ability to deliver vaccines in developing countries.
Susan Silbermann, Global President of Pfizer Vaccines, looks on as a health care worker administers a vaccine in Rwanda. Photo: Courtesy of Pfizer.
Sponsored
Community healthcare workers face many challenges in their work, including often traveling far distances to see their clients
Pfizer is helping to drive the UN's sustainable development goals through partnerships.
Pfizer partnered with AMP and the World Health Organization to develop a training program for healthcare workers.
The best-selling author tells us his methods.
Videos
James Patterson has sold 300 million copies of his 130 books, making him one of the most successful authors alive today.
He talks about how some writers can overdo it by adding too much research, or worse, straying from their outline for too long.
James' latest book, The President is Missing, co-written with former President Bill Clinton, is out now.

Progressive America would be half as big, but twice as populated as its conservative twin.
Image: Dicken Schrader
Strange Maps
America's two political tribes have consolidated into 'red' and 'blue' nations, with seemingly irreconcilable differences.
Perhaps the best way to stop the infighting is to go for a divorce and give the two nations a country each
Based on the UN's partition plan for Israel/Palestine, this proposal provides territorial contiguity and sea access to both 'red' and 'blue' America
It's the first time the association hasn't hired a comedian in 16 years.
(Photo by Anna Webber/Getty Images for Vulture Festival)
Culture & Religion
The 2018 WHCA ended in controversy after comedian Michelle Wolf made jokes some considered to be offensive.
The WHCA apologized for Wolf's jokes, though some journalists and many comedians backed the comedian and decried arguments in favor of limiting the types of speech permitted at the event.
Ron Chernow, who penned a bestselling biography of Alexander Hamilton, will speak at next year's dinner.
Big think's weekly newsletter.
Get smarter faster from the comfort of your inbox.
See our newsletter privacy policy
here
Most Popular
Most Recent
Big think's weekly newsletter.
Get smarter faster from the comfort of your inbox.
See our newsletter privacy policy
here
© Copyright 2007-2018 & BIG THINK, BIG THINK EDGE,
SMARTER FASTER trademarks owned by The Big Think, Inc. All rights reserved.