Dominant religions in the U.S., county by county
A map shows the dominant religion in each of the United States' counties. Evangelicals dominate the most areas geographically. Catholics are the majority faith in densely populated areas.
26 April, 2018
Most people in the United States are believers in one faith or another. While some would call it a Christian nation, it's not really so. Its founders created America to be a place where people of all beliefs — and those who don't subscribe to a religion — would be welcome. Also, the sheer breadth of beliefs we hold is just too expansive to be called any one thing. Still, there are a lot of Christians here, and theirs is the dominant faith in many areas. Redditor delugetheory created a fascinating map based on data from the U.S. Census Bureau and Association of Statisticians of American Religious Bodies (ASARB). It shows each U.S. county's dominant religion. It doesn't include those who don't subscribe to a faith.
---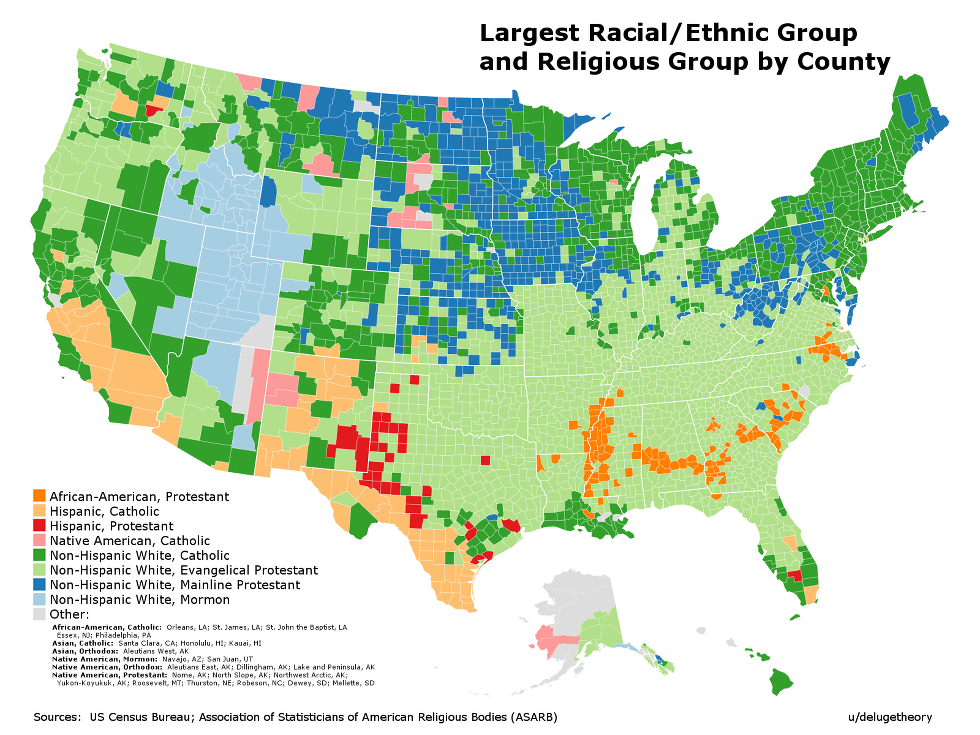 Who lives where
We've broken out the map into separate views of each faith it shows, along with Other, a mix of majority faiths of smaller, fewer regions.
Non-Hispanic White Evangelical Protestants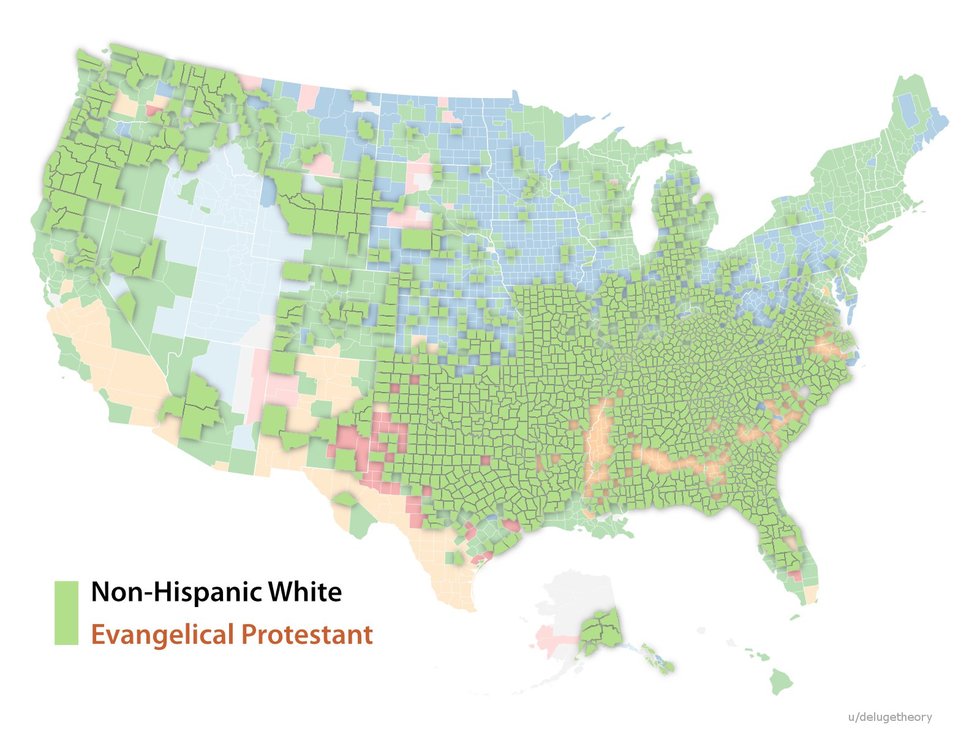 Far and away, this is the most often-self-reported religion in the sources' data. Vast swaths of the county are Evangelicals. These aren't necessarily areas with a lot of people, but it's an impressive amount of territory.
We thought it might be interesting to see how their areas of prominence overlapped with the results of the 2016 presidential election. As you can see, they solidly voted for Donald Trump.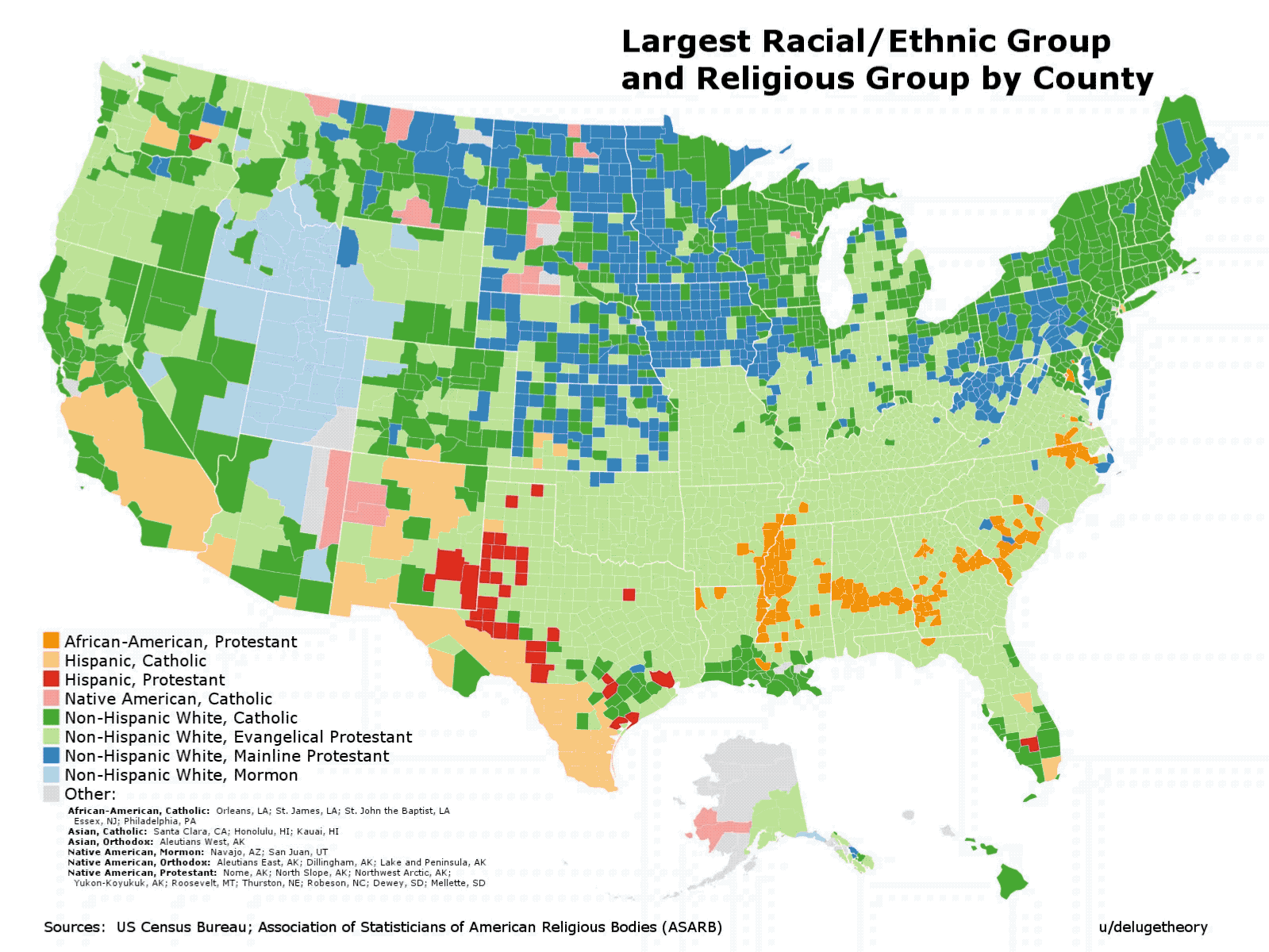 (delugetheory/Magog the Ogre, Wikipedia)
African-American Protestants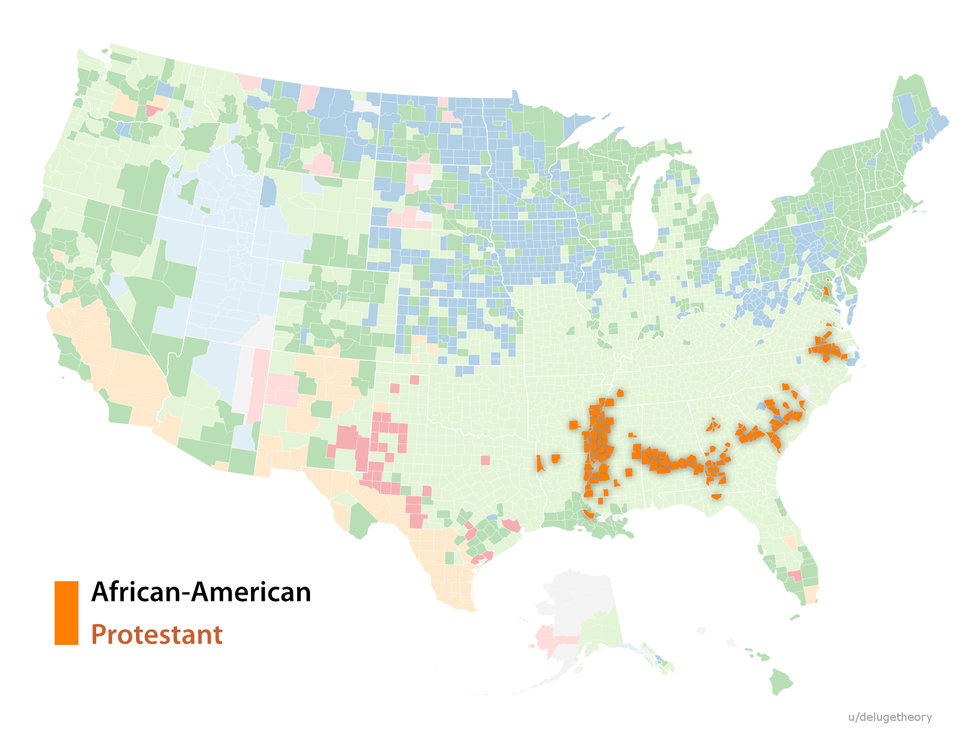 While we're thinking politics, you can see that black Americans voters disagreed, slicing through the larger Evangelical areas.
Non-Hispanic White Mainline Protestants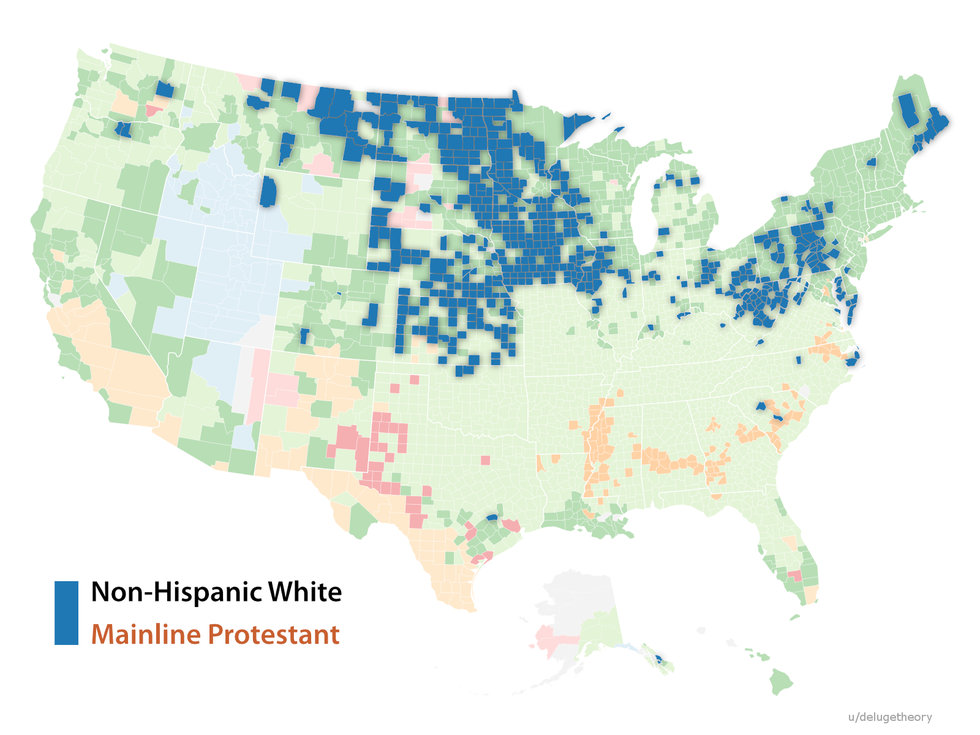 No-Evangelical white protestants live largely in the northern regions of the U.S. these days, having ceded much of the South. One would imagine that a map of 30 years ago would show them covering more of the nation.
Non-Hispanic White Catholics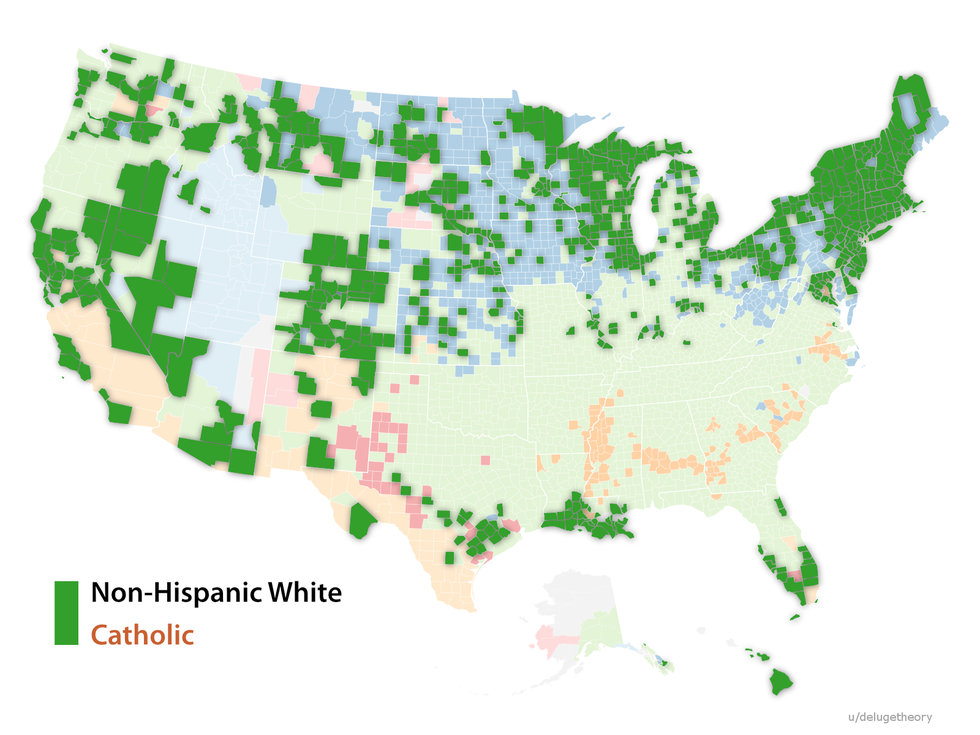 Impressive. It looks like non-Hispanic Catholicism is the primary religion through most of the populated areas in the U.S., encompassing most of the big cities, and both coasts. Catholics have a strong presence out west and along the southern border of the country, too.
Non-Hispanic White Mormons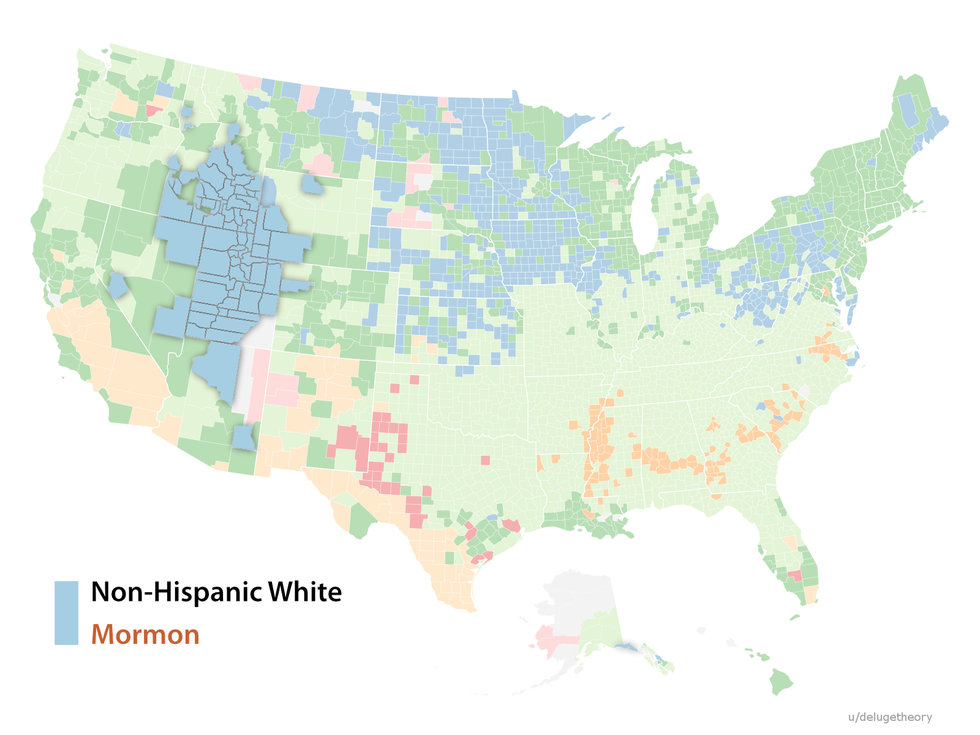 No surprise here. Hello, Utah and neighboring border areas, especially Idaho.
Hispanic Catholics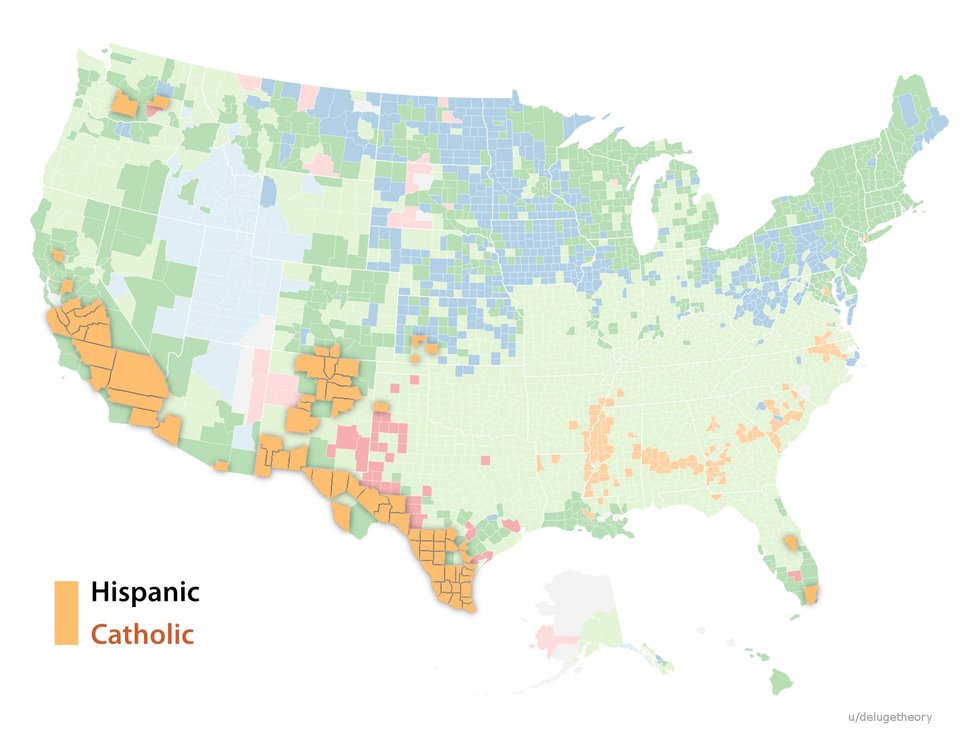 Hispanic Catholics are the main religion throughout the Southwest along the border with Mexico.
Hispanic Protestants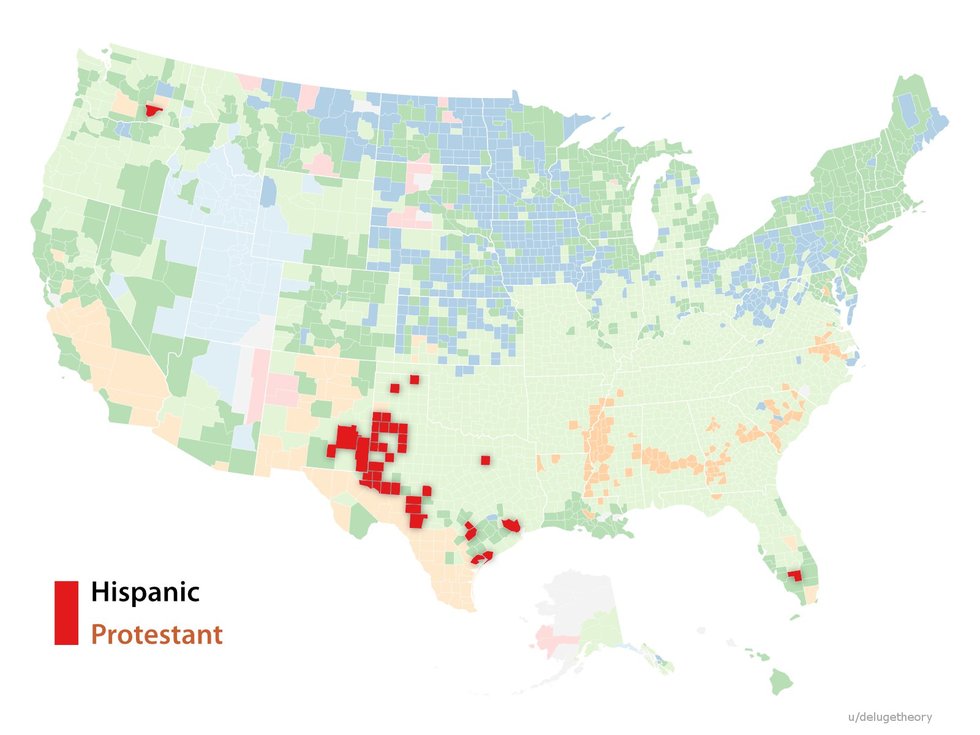 Protestant Hispanics are clustered mostly within Texas and the eastern edge of New Mexico.
Other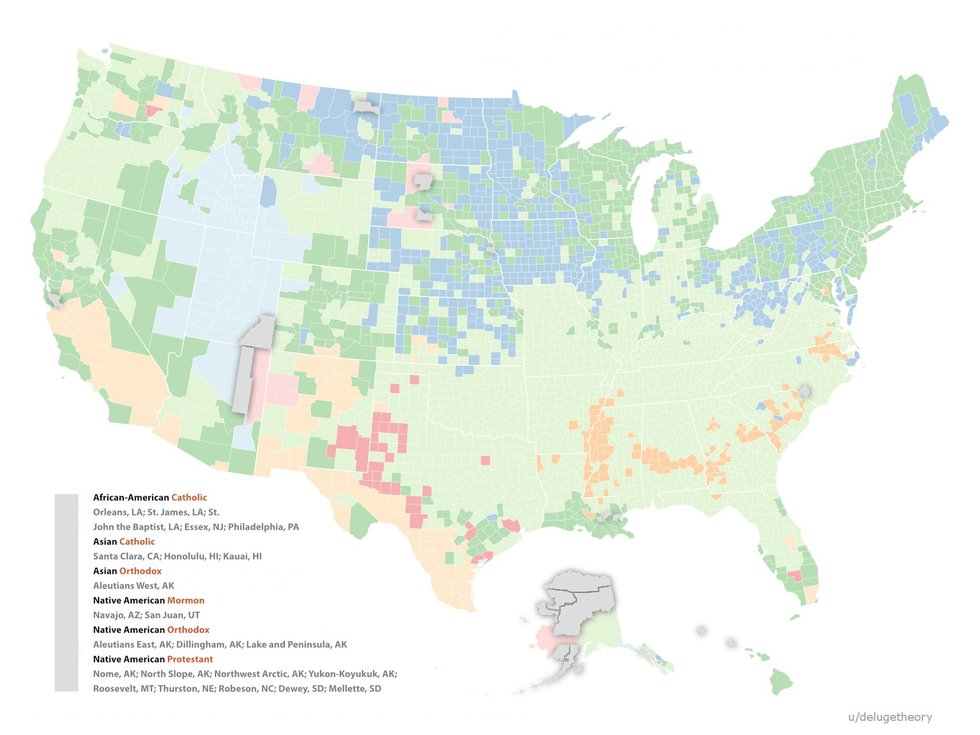 A grab-bag of communities outside the other categories. Interesting.
Bird's-eye view of U.S faith culture.
It's interesting to see the areas in which the believers in these faiths comprise the majority of religious folks. Of course, not everyone is represented: As many as a quarter of us aren't believers, as one recent study found.
Researchers discover a link between nonverbal synchronization and relationship success.
Pixabay
Sex & Relationships
Scientists say coordinating movements leads to increased intimacy and sexual desire in a couple.
The improved rapport and empathy was also observed in people who didn't know each other.
Non-verbal clues are very important in the development stages of a relationship.
Humans evolved to live in the cold through a number of environmental and genetic factors.
Image source: Wikimedia Commons
Surprising Science
According to some relatively new research, many of our early human cousins preceded Homo sapien migrations north by hundreds of thousands or even millions of years.
Cross-breeding with other ancient hominids gave some subsets of human population the genes to contend and thrive in colder and harsher climates.
Behavioral and dietary changes also helped humans adapt to cold climates.
The comics titan worked for more than half a century to revolutionize and add nuance to the comics industry, and he built a vast community of fans along the way.
(Photo: GABRIEL BOUYS/AFP/Getty Images)
Culture & Religion
Lee died shortly after being rushed to an L.A. hospital. He had been struggling with multiple illnesses over the past year, reports indicate.
Since the 1950s, Lee has been one of the most influential figures in comics, helping to popularize heroes that expressed a level of nuance and self-doubt previously unseen in the industry.
Lee, who's later years were marked by some financial and legal tumult, is survived by his daughter, Joan Celia "J.C." Lee.
Big think's weekly newsletter.
Get smarter faster from the comfort of your inbox.
See our newsletter privacy policy
here
Most Popular
Most Recent
Big think's weekly newsletter.
Get smarter faster from the comfort of your inbox.
See our newsletter privacy policy
here
© Copyright 2007-2018 & BIG THINK, BIG THINK EDGE,
SMARTER FASTER trademarks owned by The Big Think, Inc. All rights reserved.