Dominant religions in the U.S., county by county
A map shows the dominant religion in each of the United States' counties. Evangelicals dominate the most areas geographically. Catholics are the majority faith in densely populated areas.
26 April, 2018
Most people in the United States are believers in one faith or another. While some would call it a Christian nation, it's not really so. Its founders created America to be a place where people of all beliefs — and those who don't subscribe to a religion — would be welcome. Also, the sheer breadth of beliefs we hold is just too expansive to be called any one thing. Still, there are a lot of Christians here, and theirs is the dominant faith in many areas. Redditor delugetheory created a fascinating map based on data from the U.S. Census Bureau and Association of Statisticians of American Religious Bodies (ASARB). It shows each U.S. county's dominant religion. It doesn't include those who don't subscribe to a faith.
---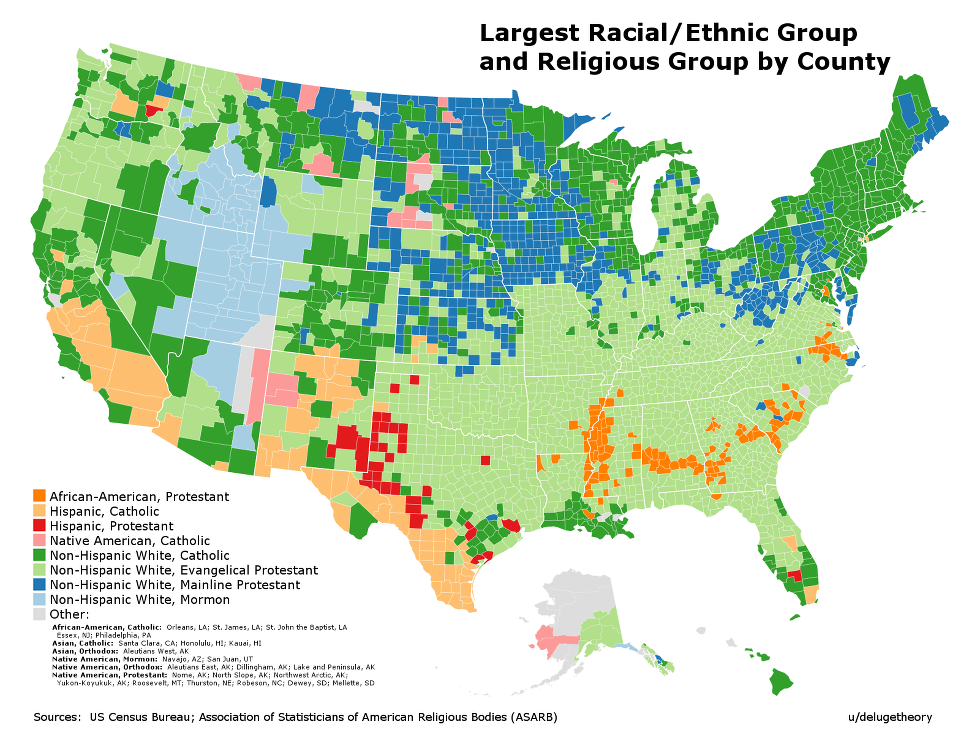 Who lives where
We've broken out the map into separate views of each faith it shows, along with Other, a mix of majority faiths of smaller, fewer regions.
Non-Hispanic White Evangelical Protestants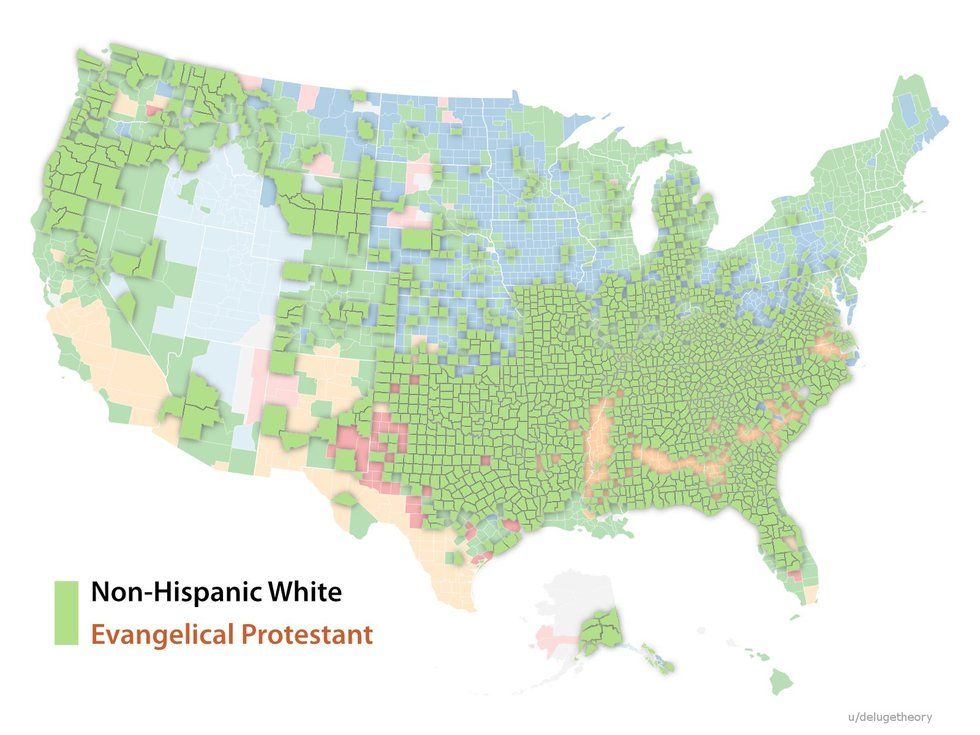 Far and away, this is the most often-self-reported religion in the sources' data. Vast swaths of the county are Evangelicals. These aren't necessarily areas with a lot of people, but it's an impressive amount of territory.
We thought it might be interesting to see how their areas of prominence overlapped with the results of the 2016 presidential election. As you can see, they solidly voted for Donald Trump.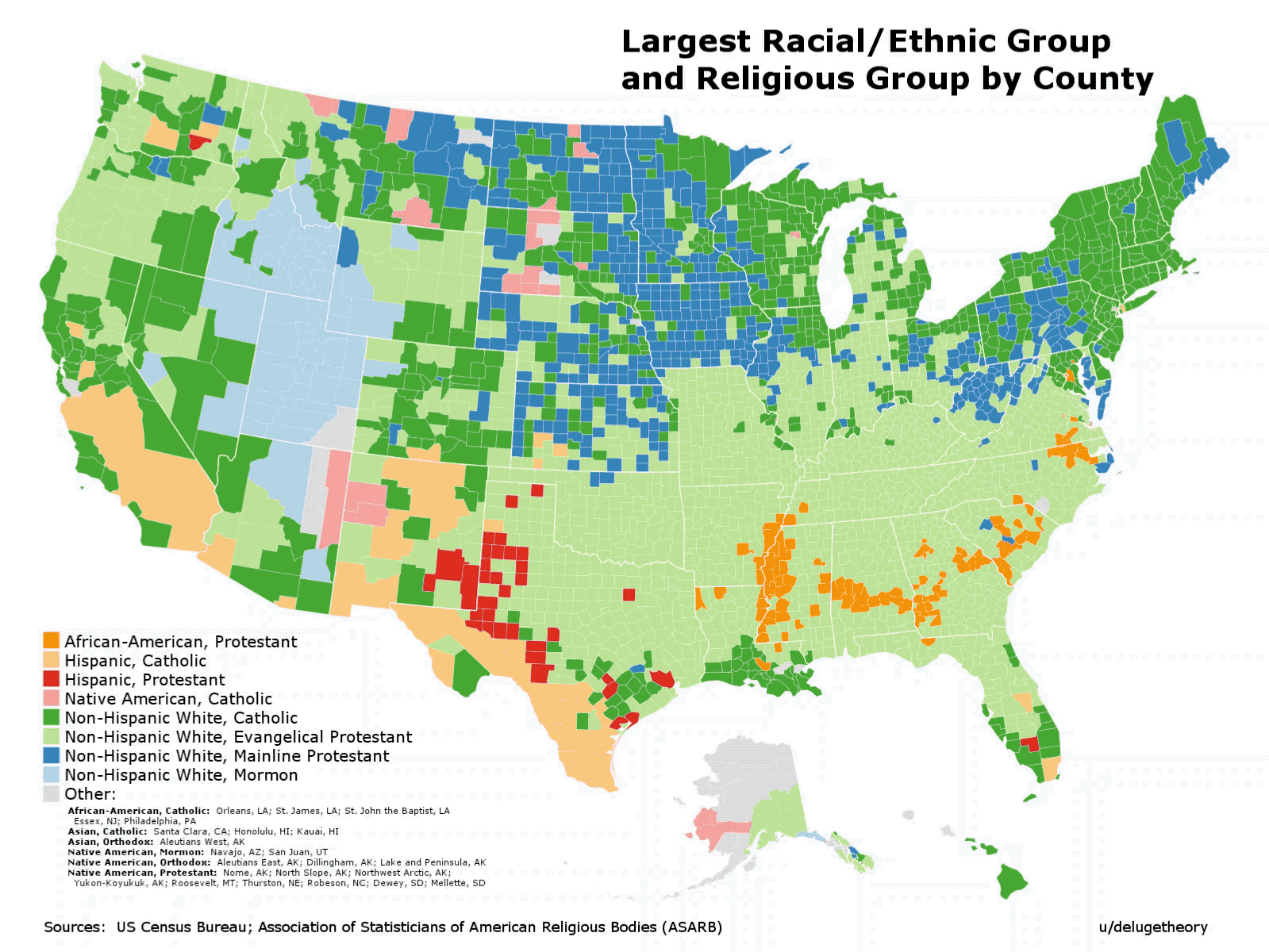 (delugetheory/Magog the Ogre, Wikipedia)
African-American Protestants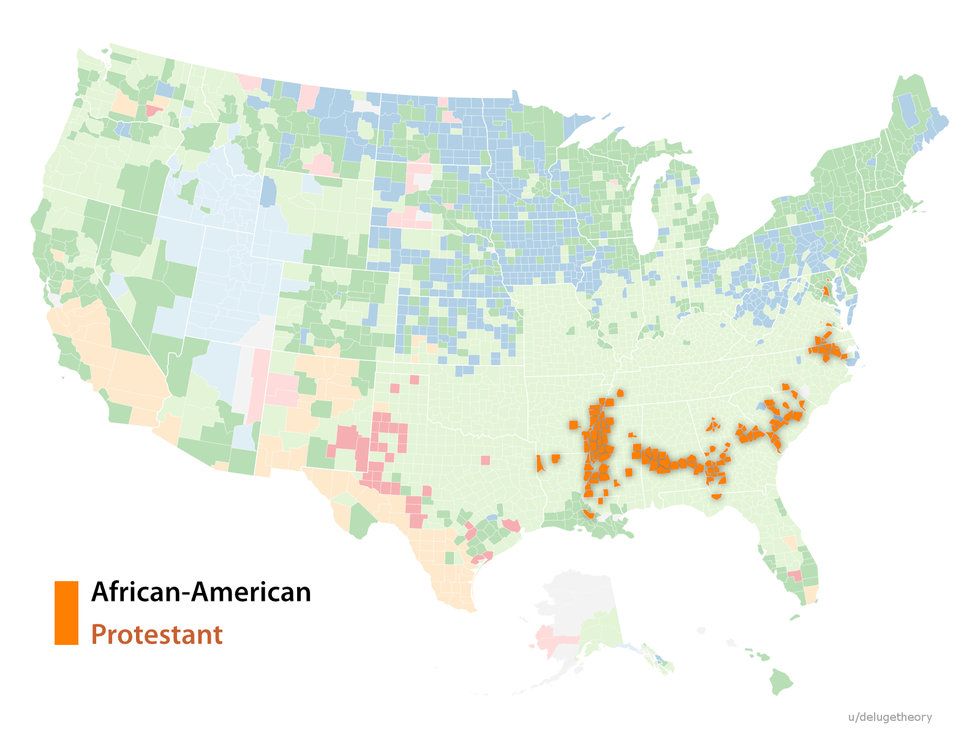 While we're thinking politics, you can see that black Americans voters disagreed, slicing through the larger Evangelical areas.
Non-Hispanic White Mainline Protestants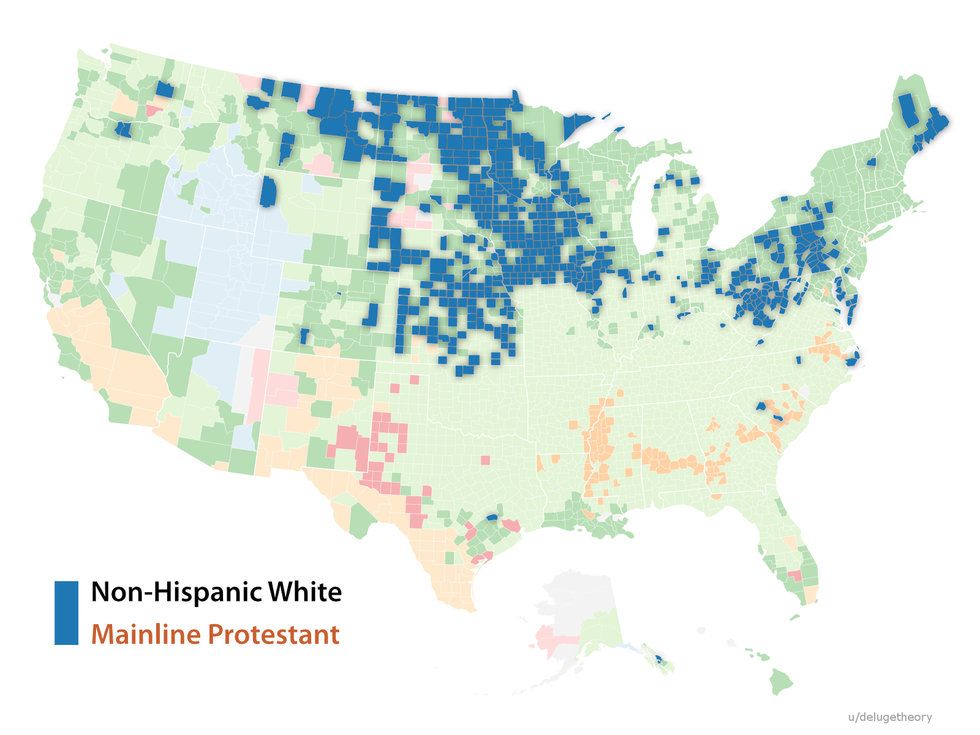 No-Evangelical white protestants live largely in the northern regions of the U.S. these days, having ceded much of the South. One would imagine that a map of 30 years ago would show them covering more of the nation.
Non-Hispanic White Catholics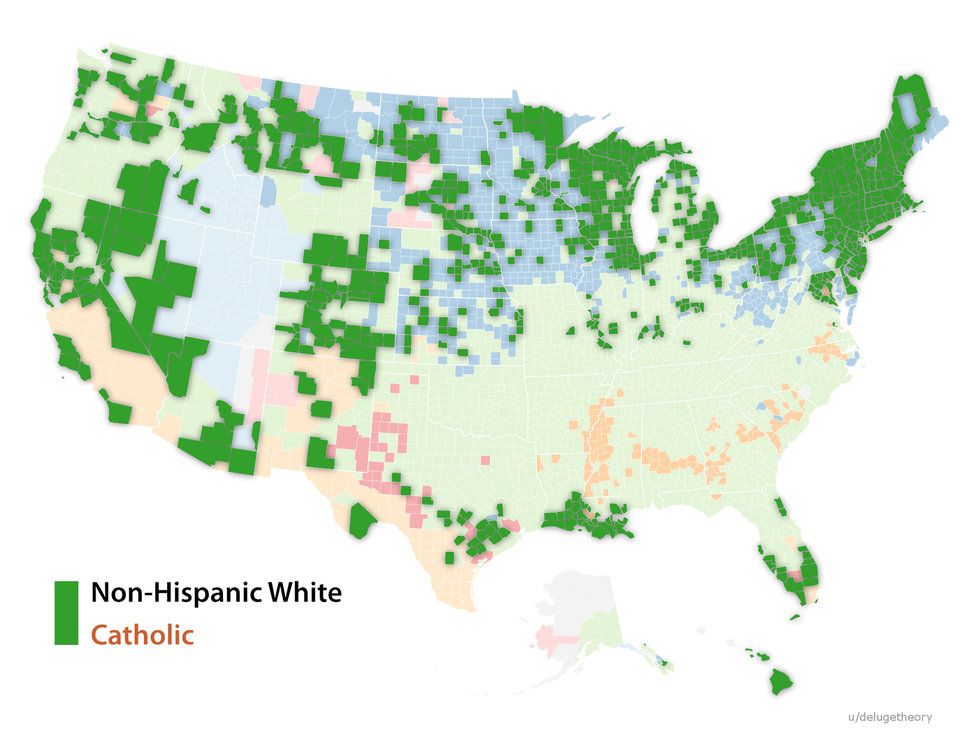 Impressive. It looks like non-Hispanic Catholicism is the primary religion through most of the populated areas in the U.S., encompassing most of the big cities, and both coasts. Catholics have a strong presence out west and along the southern border of the country, too.
Non-Hispanic White Mormons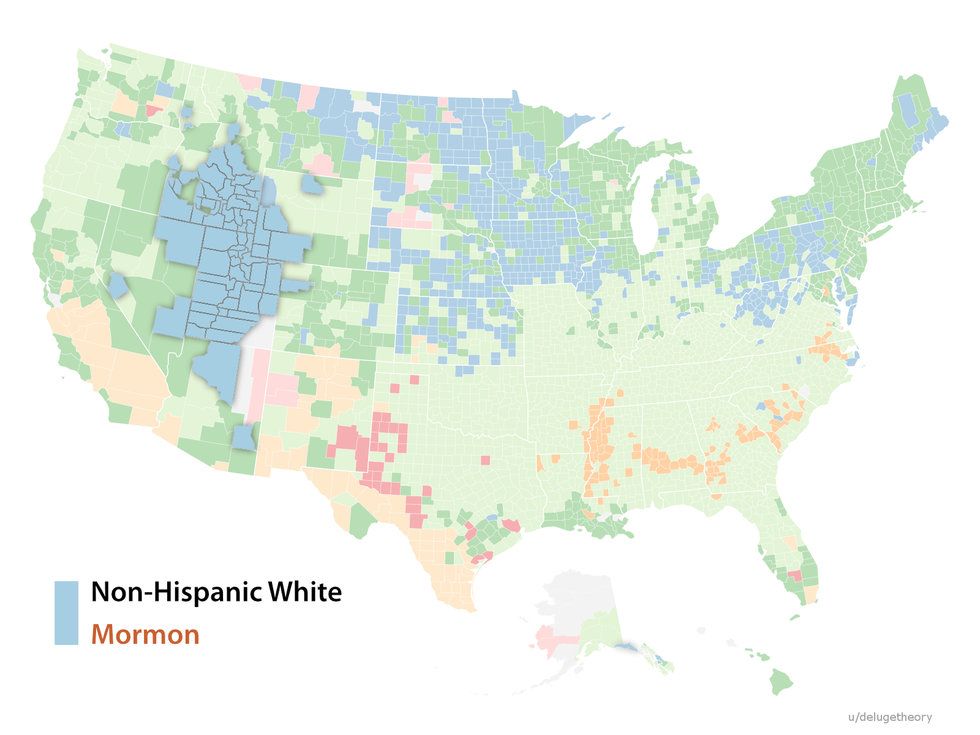 No surprise here. Hello, Utah and neighboring border areas, especially Idaho.
Hispanic Catholics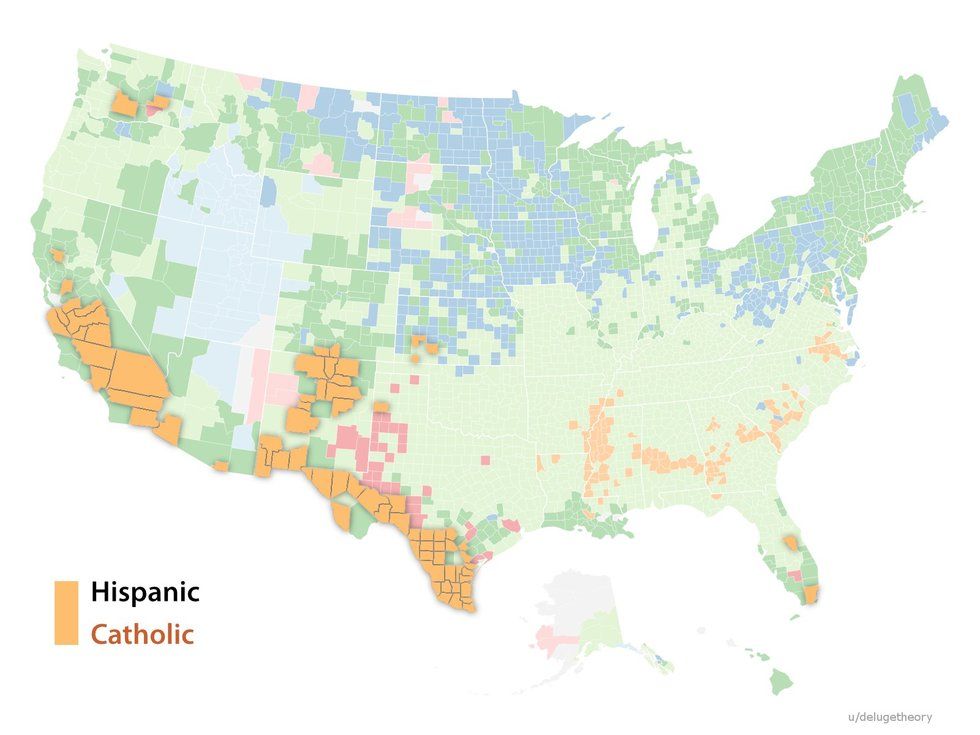 Hispanic Catholics are the main religion throughout the Southwest along the border with Mexico.
Hispanic Protestants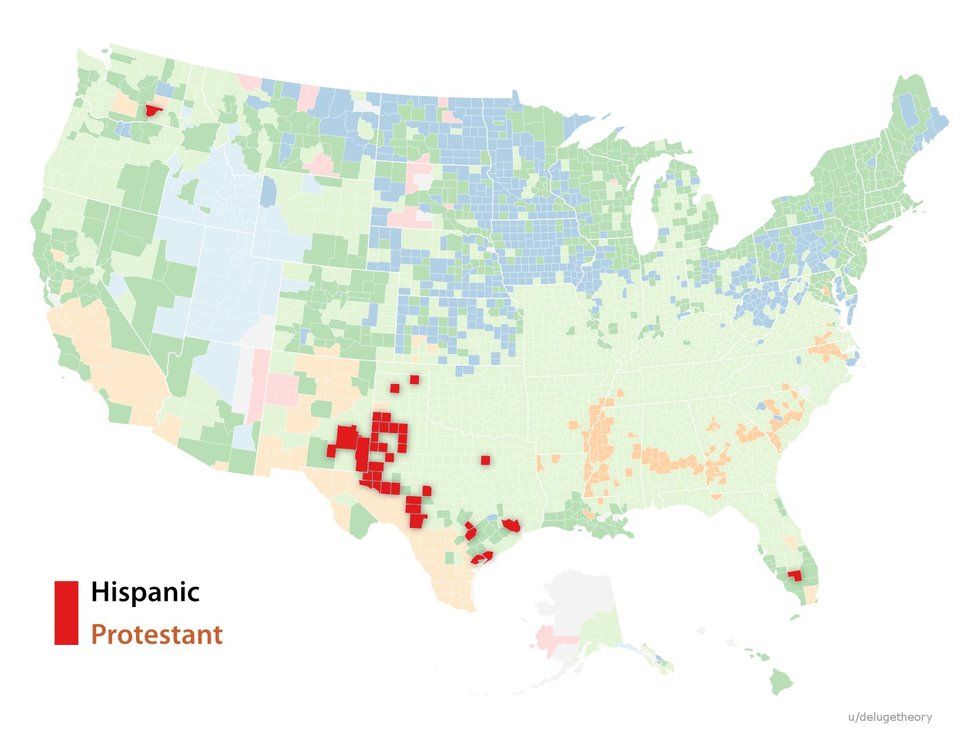 Protestant Hispanics are clustered mostly within Texas and the eastern edge of New Mexico.
Other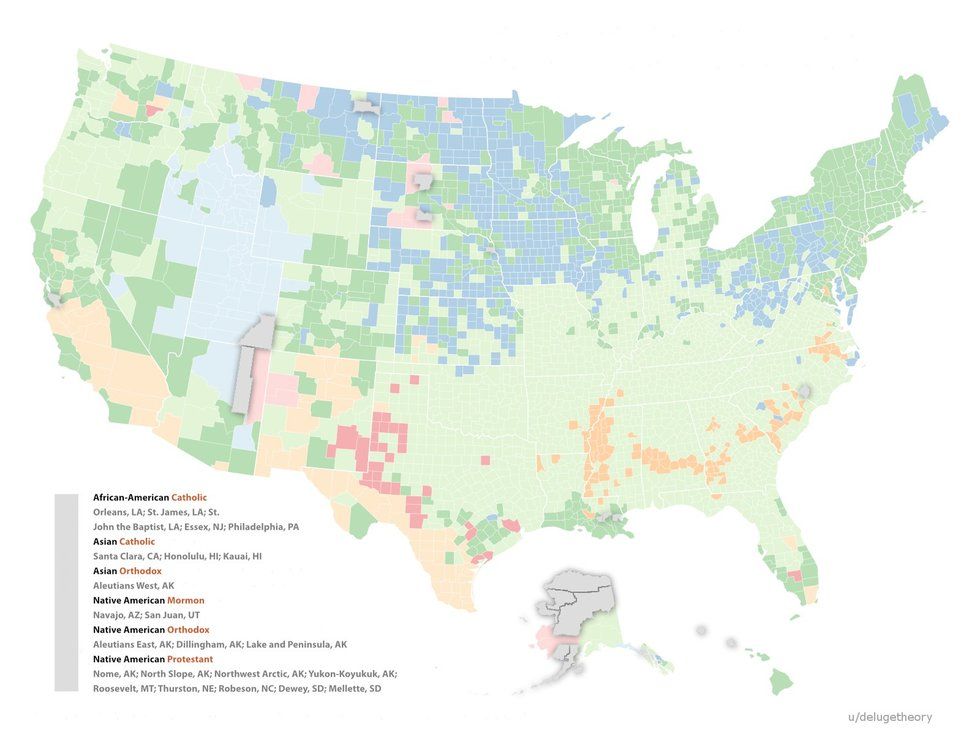 A grab-bag of communities outside the other categories. Interesting.
Bird's-eye view of U.S faith culture.
It's interesting to see the areas in which the believers in these faiths comprise the majority of religious folks. Of course, not everyone is represented: As many as a quarter of us aren't believers, as one recent study found.
Big Think Edge
The meaning of the word 'confidence' seems obvious. But it's not the same as self-esteem.
Confidence isn't just a feeling on your inside. It comes from taking action in the world.
Join Big Think Edge today and learn how to achieve more confidence when and where it really matters.
Lauren Miranda sent a nude selfie to a boyfriend years ago. Somehow one of her students discovered it.
Politics & Current Affairs
Math teacher Lauren Miranda was fired from her Long Island school when a topless selfie surfaced.
Miranda had only shared the photo with her ex-boyfriend, who is also a teacher in the school district.
She's suing the school for $3 million as well as getting her job back, citing gender discrimination.
If you're lacking confidence and feel like you could benefit from an ego boost, try writing your life story.
Personal Growth
In truth, so much of what happens to us in life is random – we are pawns at the mercy of Lady Luck. To take ownership of our experiences and exert a feeling of control over our future, we tell stories about ourselves that weave meaning and continuity into our personal identity.
Big think's weekly newsletter.
Get smarter faster from the comfort of your inbox.
See our newsletter privacy policy
here
Most Popular
Most Recent
Big think's weekly newsletter.
Get smarter faster from the comfort of your inbox.
See our newsletter privacy policy
here
© Copyright 2007-2019 & BIG THINK, BIG THINK EDGE,
SMARTER FASTER trademarks owned by The Big Think, Inc. All rights reserved.