Big ideas.
Once a week.
Subscribe to our weekly newsletter.
Are we all multiple personalities of universal consciousness?
Bernardo Kastrup proposes a new ontology he calls "idealism" built on panpsychism, the idea that everything in the universe contains consciousness. He solves problems with this philosophy by adding a new suggestion: The universal mind has dissociative identity disorder.
27 June, 2018
We're all one mind in "idealism." (Credit: Alex Grey)
There's a reason they call it the "hard problem." Consciousness: Where is it? What is it? No one single perspective seems to be able to answer all the questions we have about consciousness. Now Bernardo Kastrup thinks he's found one. He calls his ontology idealism, and according to idealism, all of us and all we perceive are manifestations of something very much like a cosmic-scale dissociative identity disorder (DID). He suggests there's an all-encompassing universe-wide consciousness, it has multiple personalities, and we're them.
---
Kastrup's paper is an attempt to devise an explanation for consciousness that leaves no unanswered questions behind as other commonly held perspectives do, at least at our current level of scientific knowledge. (Kastrup is a computer engineer specializing in A.I. and reconfigurable computing.)
Physicalism and substance dualism
There are a seemingly endless array of ultimately unsatisfying isms thrown at the problem of consciousness. If you've got some time, have a look at the Internet Encyclopedia of Philosophy. Here, though, if only to explain what panpsychism, the basis of Kastrup's idealism, isn't, it'll be helpful to talk very briefly about two of the most popular ontologies to which it's a response.
Physicalism describes the belief that consciousness is a product of interaction between different types of physical matter. For many, though, physicalism falls into a seemingly uncrossable chasm between strictly physical processes on one hand, and our "phenomenal experience"—the experience of experiencing—on the other. One is chemical, electrical, mechanical, and the other is… something else. Physical processes may be able to explain how we know a roaring fire is hot, but not what warmth feels like to us.
In substance dualism, there's physical substance and immaterial substance, consciousness, and they're two separate domains. This seems intuitively true to a lot of people—think body and soul—but if they are fundamentally different things, what means of exchange, or "language," could they possibly have in common, and how could they interact? How could a physical experience make our consciousness feel a certain way, and how could a purely mental decision cause our body to take action? And where exactly could this happen?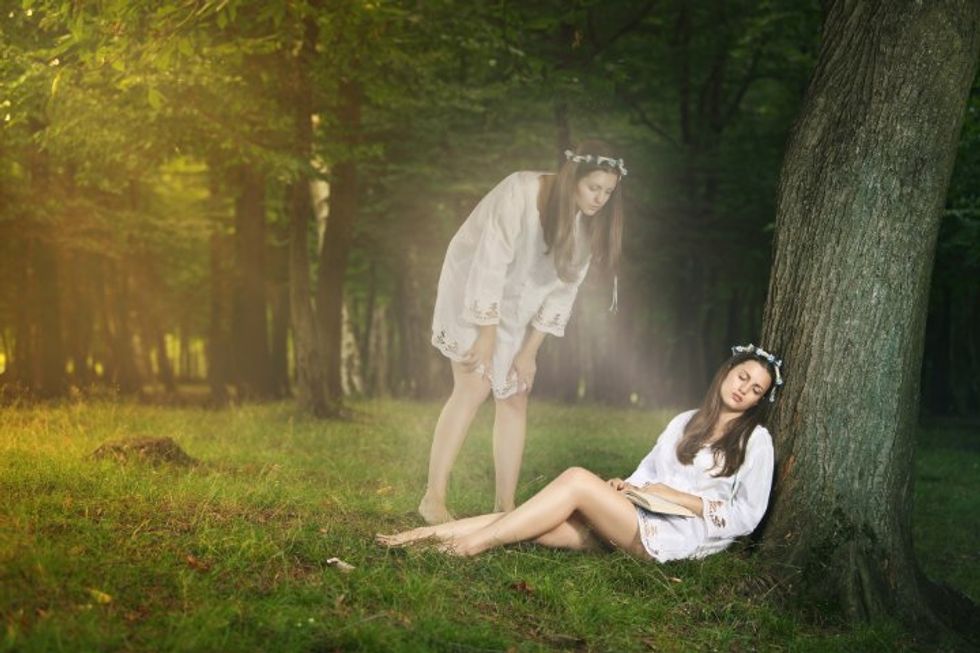 Take one dash of constitutive panpsychism
Kastrup's system is based on an ontology growing popular with some philosophers, and with some physicists, called constitutive panpsychism. (We've explained this concept in greater detail before at Big Think.) It's basically the idea that everything, all of the tiny subatomic particles that make up the universe's mass, have consciousness, a sense of what it's like to have an experience. We have consciousness because it's everywhere. In this way, it's all there is.
If so, then, how do separate and mutually aware, interacting individuals arise? One suggestion is that when enough of these conscious particles come together—there'd be countless numbers of them in each of our brains after all—a more complex, self-aware consciousness is created. Somehow. This doesn't quite make sense, though: It's as if you arranged all the various pieces of a car randomly in a pile and by virtue of sheer proximity, they self-combined into a Prius. This is constitutive panpsychism's "combination" problem, as in how do all these separate glimmers of consciousness merge to create our individuated consciousnesses.
Another thing: If conscious particles can join with others to create a larger, more complex consciousness together, does this mean the universe is itself one unimaginably large unified mind? And if so, how can private, personal, concurrent but non-overlapping consciousnesses emerge from the universal consciousnesses, each one of which has its own personality and experiences? This is the ontology's "recombination" problem, and it's what Kastrup's idealism attempts to solve.
Add one dollop of dissociative identity disorder
Here we leave, for a little bit, the realm of brain-bending consciousness talk for the world of mental disorders and fMRI scans.
Dissociative identity disorder (DID) is the current correct term for what used to be called multiple personality disorder. It's the mental condition in which a single person manifests multiple dissociated personalities, each of which is referred to as an "alter". This hasn't always been a widely accepted phenomenon, but recent research has been validating. Kastrup cites a 2014 study in which fMRI scans were performed on DID patients and actors re-creating DID symptoms. Brain activity didn't look remotely the same in the scans, which, Kastrup notes, showed that "dissociation has an identifiable extrinsic appearance. In other words, there is something rather particular that dissociative processes look like."
Alters are self-contained and internally consistent in terms of memories. They may even have different physical capabilities though they share the same body, as in the recently studied sighted woman who had blind alters. Kastrup writes, "Through EEGs, the doctors were able to ascertain that the brain activity normally associated with sight wasn't present while a blind alter was in control of the woman's body, even though her eyes were open. When a sighted alter assumed control, the usual brain activity returned."
Just as interesting—and the real source of Kastrup's interest in the condition—is that there's evidence multiple alters can be active—conscious—at the same time, aware of each other, and competing for control of their body. He cites a 2009 study of an alter named "Miss Beauchamp" which found, "When she was not interacting with the world, she did not become dormant, but persisted and was active." Other research has seen, says Kastrup, that alters "'might intervene in the lives of others [that is, other alters], intentionally interfering with their interests and activities, or at least playing mischief on them.' It thus appears that alters can not only be concurrently conscious, but that they can also vie for dominance with each other."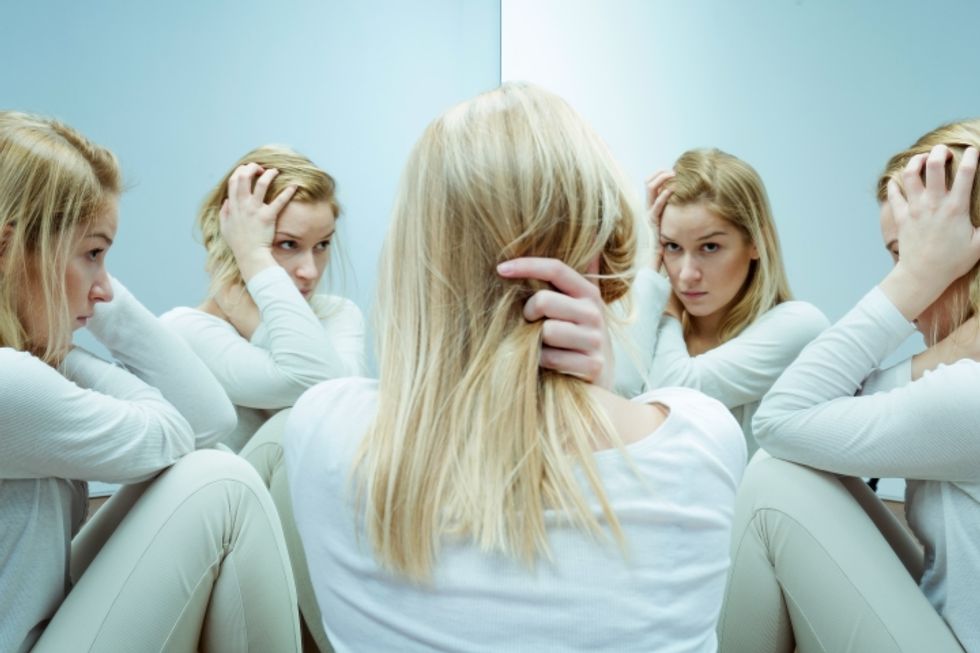 (Credit: Photographee.eu/Shutterstock)
Idealism: A universe with DID
Kastrup suggests that if the entire universe is one mind, the presence of dissociative personalities creating individual consciousnesses could answer questions that defeat other ontologies. In this view, each of us is an alter, and just like conventional alters are, we can be aware of and interact with each other without mentally overlapping or seeing into each other's minds.
Kastrup proposes our individual experiences in the physical world aren't an issue because they're not what they seem: In fact (he says), they're merely "patterns of self-excitation of cosmic consciousness." That's to say there is no physical world, no steering wheel in front of you—rather, "It is the variety and dynamics of excitations across the underlying 'medium' that lead to different experiential qualities."
This isn't as out-there as it may at first seem. We've written before about cognitive scientists who suggest that the reality that surrounds us could be very different than what we think since what we see, hear, feel, etc, are merely internally generated representations that help us survive external stimuli. In Kastrup's premise, it's not actual, physical things out there, but merely bursts of self-excitation coming from elsewhere in the cosmic mind: There is no out there out there.
This version of idealism, if true, resolves a bunch of issues that vex other perspectives, such as the hard problem, and the DID aspect handles the combination problem. In fact, Kastrup lists in his paper five concerns his ontology must, and he feels does, satisfy:
a) Grounding experience in cosmic consciousness: how do myriad, ephemeral experiential qualities arise in one enduring cosmic consciousness?
b) The decombination problem: how do private phenomenal fields form within cosmic consciousness? Why can I not read your thoughts by simply shifting the focus of my attention?
c) Reducing perception: how can the revealed order of nature (the physical world we measure) be explained in terms of its concealed order (its underlying thoughts)? Why are the respective qualities so different?
d) Explaining the correlations between brain function and inner experience: if brain function does not constitute or generate phenomenality, why do they correlate so well?
e) Explaining a seemingly shared, autonomous world: if the world is imagined in consciousness, how can we all be imagining essentially the same world outside the control of our personal volition?

It's a very interesting argument.
A new paper reveals that the Voyager 1 spacecraft detected a constant hum coming from outside our Solar System.
Credit: NASA / JPL - Caltech.
Surprising Science
Voyager 1, humankind's most distant space probe, detected an unusual "hum" in the data from interstellar space.
The noise is likely produced by interstellar gas.
Further investigation may reveal the hum's exact origins.
Voyager 1, humanity's most faraway spacecraft, has detected an unusual "hum" coming from outside our solar system. Fourteen billion miles away from Earth, the Voyager's instruments picked up a droning sound that may be caused by plasma (ionized gas) in the vast emptiness of interstellar space. Launched in 1977, the Voyager 1 space probe — along with its twin Voyager 2 — has been traveling farther and farther into space for over 44 years. It has now breached the edge of our solar system, exiting the heliosphere, the bubble-like region of space influenced by the sun. Now, the spacecraft is moving through the "interstellar medium," where it recorded the peculiar sound.
Stella Koch Ocker, a doctoral student in astronomy at Cornell University, discovered the sound in the data from the Voyager's Plasma Wave System (PWS), which measures electron density. Ocker called the drone coming from plasma shock waves "very faint and monotone," likely due to the narrow bandwidth of its frequency.
While they think the persistent background hum may be coming from interstellar gas, the researchers don't yet know what exactly is causing it. It might be produced by "thermally excited plasma oscillations and quasi-thermal noise."
The new paper from Ocker and her colleagues at Cornell University and the University of Iowa, published in Nature Astronomy, also proposes that this is not the last we'll hear of the strange noise. The scientists write that "the emission's persistence suggests that Voyager 1 may be able to continue tracking the interstellar plasma density in the absence of shock-generated plasma oscillation events."
Voyager Captures Sounds of Interstellar Space www.youtube.com
The researchers think the droning sound may hold clues to how interstellar space and the heliopause, which can be thought of as the solar's system border, may be affecting each other. When it first entered interstellar space, the PWS instrument reported disturbances in the gas caused by the sun. But in between such eruptions is where the researchers spotted the steady signature made by the near-vacuum.

Senior author James Cordes, a professor of astronomy at Cornell, compared the interstellar medium to "a quiet or gentle rain," adding that "in the case of a solar outburst, it's like detecting a lightning burst in a thunderstorm and then it's back to a gentle rain."
More data from Voyager over the next few years may hold crucial information to the origins of the hum. The findings are already remarkable considering the space probe is functioning on technology from the mid-1970s. The craft has about 70 kilobytes of computer memory. It also carries a Golden Record created by a committee chaired by the late Carl Sagan, who taught at Cornell University. The 12-inch gold-plated copper disk record is essentially a time capsule, meant to tell the story of Earthlings to extraterrestrials. It contains sounds and images that showcase the diversity of Earth's life and culture.
Milgram's experiment is rightly famous, but does it show what we think it does?
Mind & Brain
In the 1960s, Stanley Milgram was sure that good, law-abiding Americans would never be able to follow orders like the Germans in the Holocaust.
His experiments proved him spectacularly wrong. They showed just how many of us are willing to do evil if only we're told to by an authority figure.
Yet, parts of the experiment were set up in such a way that we should perhaps conclude something a bit more nuanced.
Holding a clipboard and wearing a lab coat makes you a very powerful person. Add in a lanyard and a confident voice, and you're pretty much in Ocean's Eleven.
Though we believe ourselves to be contrarians, most of us like to obey authority. We answer questions, help with any number of tasks, and obey commands unthinkingly. The vast majority of the time, this is relatively harmless and even requisite for a functioning society, but it can also lead humanity to very dark places.
It could happen here
As we've seen with Asch's experiments on conformity, the post-World War II community was determined to answer how and why the Holocaust took place. Just after the trial of Adolf Eichmann, the American media and public came to see German society as some special kind of monster in just how willing they were to follow orders unthinkingly, at odds with any sense of duty or morality.
Into this came Stanley Milgram. In 1961, Milgram set out a series of experiments to show, in his view, how the German people were more susceptible to authoritarianism than Americans. Milgram believed, as a lot of people did, that the American people would never be capable of such horrendous evil.
The experiment was to be set up in two stages: the first would be on American subjects, to gauge how far they would obey orders; the second would be on Germans, to prove how much they differed. The results stopped Milgram in his tracks.
Shock, shock, horror
Milgram wanted to ensure that his experiment involved as broad and diverse a group of people as possible. In addition to testing the American vs. German mindset, he wanted to see how much age, education, employment, and so on affected a person's willingness to obey orders.
So, the original 40 participants he gathered came from a wide spectrum of society, and each was told that they were to take part in a "memory test." They were to determine the extent to which punishment affects learning and the ability to memorize.
Milgram believed, as a lot of people did, that the American people would never be capable of such horrendous evil.
The experiment involved three people. First, there was the "experimenter," dressed in a lab coat, who gave instructions and prompts. Second, there was an actor who was the "learner." Third, there was the participant who thought that they were acting as the "teacher" in the memory test. The apparent experimental setup was that the learner had to match two words together after being taught them, and whenever they got the answer wrong, the teacher had to administer an electric shock. (The teachers (participants) were shocked as well to let them know what kind of pain the learner would experience.) At first, the shock was set at 15 volts.
The learner (actor) repeatedly made mistakes for each study, and the teacher was told to increase the voltage each time. A tape recorder was played that had the learner (apparently) make sounds as if in pain. As it went on, the learner would plead and beg for the shocks to stop. The teacher was told to increase the amount of voltage as punishment up to a level that was explicitly described as being fatal — not least because the learner was desperately saying he had a heart condition.
The question Milgram wanted to know: how far would his participants go?
Just obeying orders
Credit: Amos from Stockphotos.com via Unsplash
The results were surprising. Sixty-five percent of the participants were willing to give a 450-volt shock described as lethal, and all administered a 300-volt shock described as traumatically painful. It should be repeated, this occurred despite the learner (actor) begging the teacher (participant) to stop.

In the studies that came after, in a variety of different setups, that 60 percent number came up again and again. They showed that roughly two out of three people would be willing to kill someone if told to by an authority figure. Milgram proved that all genders, ages, and nationalities were depressingly capable of inflicting incredible pain or worse on innocent people.
Major limitations in Milgram's experiment
Milgram took many steps to make sure that his experiment was rigorous and fair. He used the same tape recording of the "learner" screaming, begging, and pleading for all participants. He made sure the experimenters used only the same four prompts each time when the participants were reluctant or wanted to stop. He even made sure that he himself was not present at the experiment, lest he interfere with the procedure (something Phillip Zimbardo did not do).
But, does the Milgram experiment actually prove what we think it does?
First, the experimenters were permitted to remind the participants that they were not responsible for what they did and that the team would take full blame. This, of course, does not make the study any less shocking, but it does perhaps change the scope of the conclusions. Perhaps the experiment reveals more about our ability to surrender responsibility and our willingness simply to become a tool. The conclusion is still pretty depressing, but it shows what we are capable of when offered absolution rather than when simply following orders.
Second, the experiment took place in a single hour, with very little time either to deliberate or talk things over with someone. In most situations, like the Holocaust, the perpetrators had ample time (years) to reflect on their actions, and yet, they still chose to turn up every day. Milgram perhaps highlights only how far we'll go in the heat of the moment.
Finally, the findings do not tell the whole tale. The participants were not engaging in sadistic glee to shock the learner. They all showed signs of serious distress and anxiety, such as nervous laughing fits. Some even had seizures. These were not willing accomplices but participants essentially forced to act a certain way. (Since then, many scientists have argued that Milgram's experiment is hugely unethical.)
The power of authority
That all being said, there's a reason why Milgram's experiment stays with us today. Whether it's evolutionarily or socially drilled into us, it seems that humans are capable of doing terrible things, if only we are told to do so by someone in power — or, at the very least, when we don't feel responsible for the consequences.
One silver lining to Milgram is in how it can inoculate us against such drone-like behavior. It can help us to resist. Simply knowing how far we can be manipulated helps allow us to say, "No."
Jonny Thomson teaches philosophy in Oxford. He runs a popular Instagram account called Mini Philosophy (@philosophyminis). His first book is Mini Philosophy: A Small Book of Big Ideas.
As the American population grows, fewer people will die of cancer.
Surprising Science
A new study projects that cancer deaths will decrease in relative and absolute terms by 2040.
The biggest decrease will be among lung cancer deaths, which are predicted to fall by 50 percent.
Cancer is like terrorism: we cannot eliminate it entirely, but we can minimize its influence.
As the #2 leading cause of death, cancer takes the lives of about 600,000 Americans each year. In comparison, heart disease (#1) claims more than 650,000 lives, while accidents (#3) take about 175,000 lives. (In 2020 and likely 2021, COVID will claim the #3 spot.)
Headlines are usually full of terrible news about cancer. Seemingly, you can't get away from anything that causes it. RealClearScience made a list of all the things blamed for cancer — antiperspirants, salty soup, eggs, corn, Pringles, bras, burnt toast, and even Facebook made the list.
The reality, however, is much more optimistic. We're slowly but surely winning the war on cancer.
Winning the war on cancer
How can we make such a brazen statement? A new paper published in the journal JAMA Network Open tracks trends in cancer incidence and deaths and makes projections to the year 2040. The authors predict that around 568,000 Americans will have died of cancer in 2020, but they project that number to fall to 410,000 by 2040. That's a drop of nearly 28 percent, despite the U.S. population being projected to grow from roughly 333 million today to 374 million in 2040, an increase of 12 percent. That means cancer deaths will decrease in both relative and absolute terms.
What accounts for this unexpected good news? The lion's share is the number of deaths attributable to lung cancer, which is projected to decrease by more than 50 percent, from 130,000 to 63,000. This drop is largely due to the decreasing use of tobacco products. Other deaths predicted to decline include those from colorectal, breast, prostate, and ovarian cancers, among others, such as leukemia and non-Hodgkin lymphoma (NHL).
The authors credit screening and biomedical advances for saving many of these lives. For instance, lead author Dr. Lola Rahib wrote in an email to Big Think that "colonoscopies remove precancerous polyps." She also noted that targeted therapies and immunotherapies have helped reduce the number of deaths from leukemia and NHL.
We'll never cure cancer
Now the bad news: We'll never cure cancer. There are at least three reasons for this. The first is obvious: We all die. The lifetime prevalence of death is 100 percent. The truth is that we are running out of things to die from. After a long enough period of time, something gives out — often your cardiovascular system or nervous system. Or you develop you cancer.
The second reason is that we are multicellular organisms and, hence, we are susceptible to cancer. (Contrary to popular myth, sharks get cancer, too.) The cells of multicellular organisms face an existential dilemma: they can either get old and stop dividing (a process called senescence) or become immortal but cancerous. For this reason, the problem of cancer may not have a solution.
Finally, there isn't really such a thing as a disease called "cancer." What we call cancer is actually a collection of several different diseases, some of which are preventable (like cervical cancer with the HPV vaccine) or curable (like prostate cancer). Unfortunately, some cancers probably never will be curable, not least because cancers can mutate and develop resistance to the drugs we use to treat them.
But the overall optimism still stands: We are slowly and incrementally winning the war on cancer. Like terrorism, it's not a foe that we can completely vanquish, but it is one whose influence we can minimize in our lives.
Scroll down to load more…