Big ideas.
Once a week.
Subscribe to our weekly newsletter.
Hitler Wasn't a Psychopath But Our Best Presidents Were. In-teresting.
Many of our best U.S presidents qualify as psychopaths, while Hitler doesn't.
28 June, 2016
Apparently, when it comes to U.S. presidents, we like 'em psychopathic. (Uh-oh.) Biographers of U.S. presidents (up through George W. Bush) rated their subjects according to a checklist of psychopathic traits, and many of the presidents rated most highly by historians topped the list.
---
Here's the Top 10, or bottom depending on how you look at it:
1. Teddy Roosevelt
2. John F. Kennedy
3. Franklin Roosevelt
4. Ronald Reagan
5. Rutherford B. Hayes
6. Zachary Taylor
7. Bill Clinton
8. Martin Van Buren
9. Andrew Jackson
10. George W. Bush
Among the least psychopathic are some of our less-effective leaders: Jimmy Carter, Gerald Ford, George H.W. Bush.
Okay, so, what the hell? Here's neuroscientist James Fallon.
Why do we prefer leaders who are, as Fallon puts it, "world-champ liars, pathological liars, even for the hell of it?" Well, it turns out that they lie for us. We're totally cool with someone being a psychopath as long as they're our psychopath.
So not all psychopaths are bad people, and not all bad people are psychopaths. According to Fallon, there's agreement among psychologists that Hitler wasn't one, nor were his fellow Nazis. Same with Mafia middle-management. And very few killers qualify.
So what on earth is a psychopath anyway? The Psychopathic Personality Inventory, AKA the PPI -R, breaks the required traits into two categories:
PPI-1: Fearless Dominance
Social Potency: You're charming and can influence others easily.
Stress Immunity: You don't really react to traumatic event or events that produce stress in others.
Fearlessness: You get off on risky behaviors, and you're not afraid of their consequences.
PPI-2: Self-Centered Impulsivity
Carefree Nonplanfulness: You're not good at planning ahead and thinking through the consequences of your actions.
Impulsive Nonconformity: You don't care about social norms or behaving in a way others consider acceptable.
Machiavellian Egocentricity: You're so concerned with achieving your own goals you have a lack of empathy and a detachment from how your actions affect others.
Blame Externalization: You blame others for your bad behavior.
This is the first successful DNA sequencing on ancient Egyptian mummies, ever.
Getty Images
Surprising Science
Egyptologists, writers, scholars, and others, have argued the race of the ancient Egyptians since at least the 1970's. Some today believe they were Sub-Saharan Africans. We can see this interpretation portrayed in Michael Jackson's 1991 music video for "Remember the Time" from his "Dangerous" album. The video, a 10-minute mini-film, includes performances by Eddie Murphy and Magic Johnson.
Reactionaries, meanwhile, say that there's never been any significant black civilizations—an utter falsehood, of course. There were several in fact, highly advanced African empires and kingdoms throughout history. Curiously, some extreme Right groups have even used blood group data to proclaim a Nordic origin to King Tutankhamun and his brethren.
The problem, it was thought, is that mummy DNA couldn't be sequenced. But a group of international researchers, using unique methods, have overcome the barriers to do just that. They found that the ancient Egyptians were most closely related to the peoples of the Near East, particularly from the Levant. This is the Eastern Mediterranean which today includes the countries of Turkey, Iraq, Israel, Jordan, Syria, and Lebanon. The mummies used were from the New Kingdom and a later period, (a period later than the Middle Kingdom) when Egypt was under Roman rule.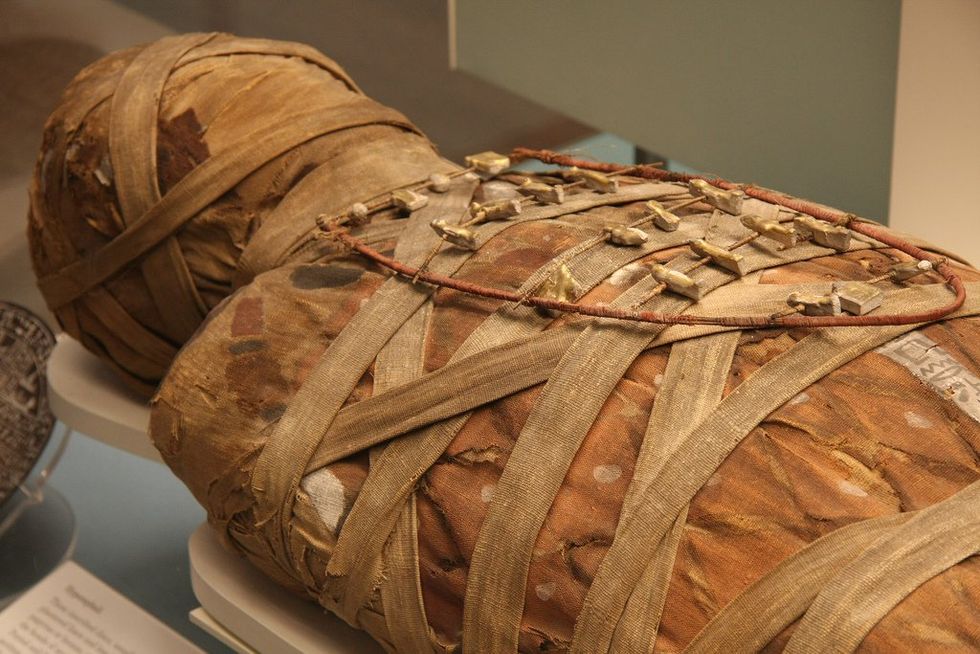 Egyptian mummy. British Museum. Flikr.
Modern Egyptians share 8% of their genome with central Africans, far more than ancient ones, according to the study, published in the journal Nature Communications. The influx of Sub-Saharan genes only occurred within the last 1,500 years. This could be attributed to the trans-Saharan slave trade or just from regular, long distance trade between the two regions. Improved mobility on the Nile during this period increased trade with the interior, researchers claim.
Egypt over the span of antiquity was conquered many times including by Alexander the Great, by the Greeks, Romans, Arabs, and more. Researchers wanted to know if these constant waves of invaders caused any major genetic changes in the populace over time. Group leader Wolfgang Haak at the Max Planck Institute in Germany said, "The genetics of the Abusir el-Meleq community did not undergo any major shifts during the 1,300 year timespan we studied, suggesting that the population remained genetically relatively unaffected by foreign conquest and rule."
The study was led by archeogeneticist Johannes Krause, also of the Max Planck Institute. Historically, there's been a problem finding intact DNA from ancient Egyptian mummies. "The hot Egyptian climate, the high humidity levels in many tombs and some of the chemicals used in mummification techniques, contribute to DNA degradation and are thought to make the long-term survival of DNA in Egyptian mummies unlikely," Dr. Krause said.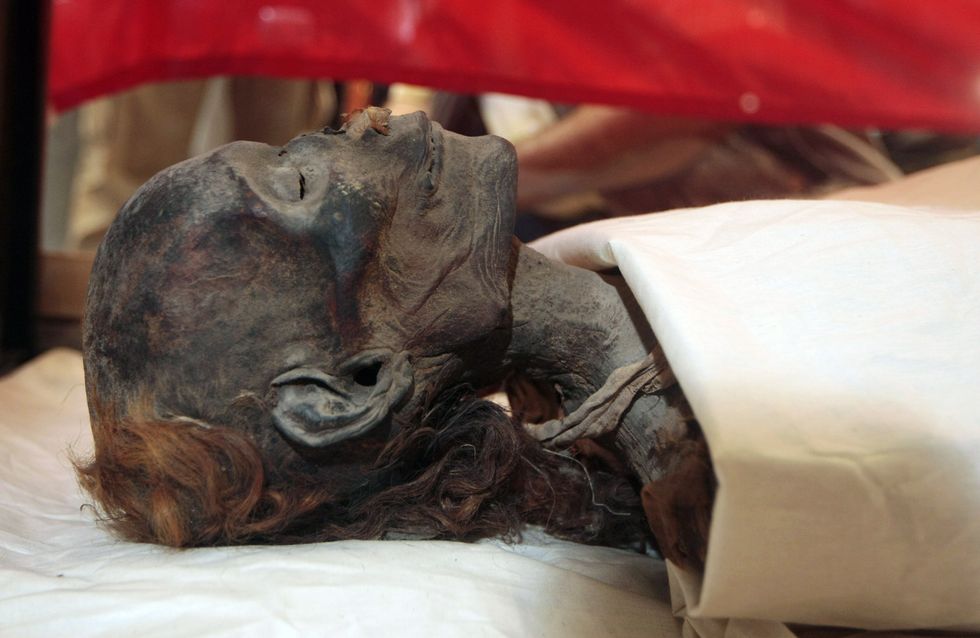 The mummified remains of Queen Hatshepsut wet-nurse Sitre-In. Egyptian Museum, Cairo. 2007. Getty Images.
It was also thought that, even if genetic material were recovered, it may not be reliable. Despite this, Krause and colleagues have been able to introduce robust DNA sequencing and verification techniques, and completed the first successful genomic testing on ancient Egyptian mummies.
Each came from Abusir el-Meleq, an archaeological site situated along the Nile, 70 miles (115 km) south of Cairo. This necropolis there houses mummies which display aspects revealing a dedication to the cult of Osiris, the green-skinned god of the afterlife.
First, the mitochondrial genomes from 90 of mummies were taken. From these, Krause and colleagues found that they could get the entire genomes from just three of the mummies in all. For this study, scientists took teeth, bone, and soft tissue samples. The teeth and bones offered the most DNA. They were protected by the soft tissue which has been preserved through the embalming process.
Researchers took these samples back to a lab in Germany. They began by sterilizing the room. Then they put the samples under UV radiation for an hour to sterilize them. From there, they were able to perform DNA sequencing.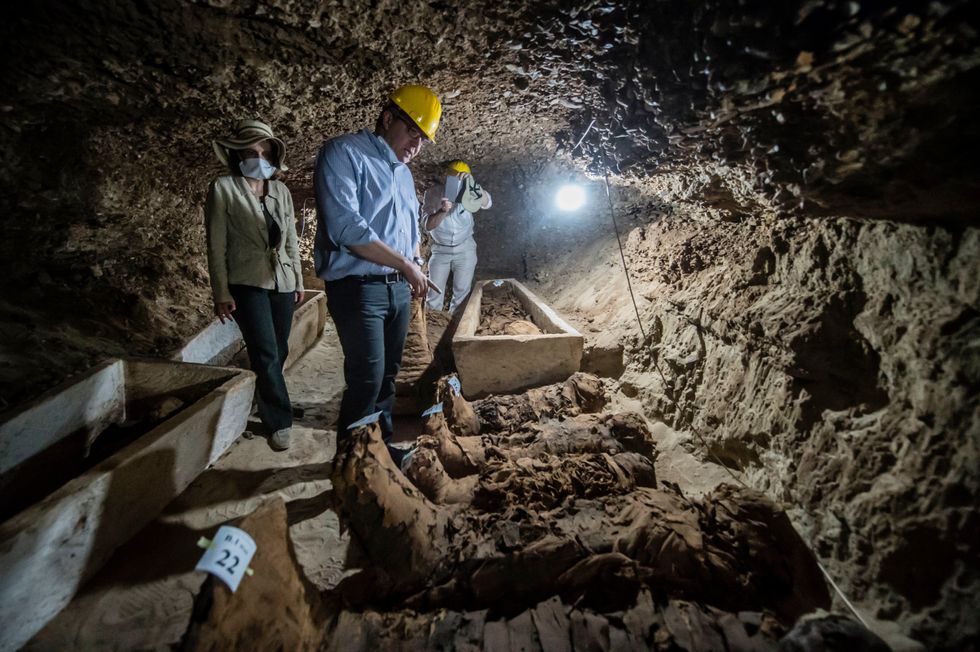 An Egyptian necropolis. Getty Images.
Scientists also gathered data on Egyptian history and archaeological data of northern Africa, to give their discoveries some context. They wanted to know what changes had occurred over time. To find out, they compared the mummies' genomes to that of 100 modern Egyptians and 125 Ethiopians. "For 1,300 years, we see complete genetic continuity," Krause said.
The oldest mummy sequenced was from the New Kingdom, 1,388 BCE, when Egypt was at the height of its power and glory. The youngest was from 426 CE, when the country was ruled from Rome. The ability to acquire genomic data on ancient Egyptians is a dramatic achievement, which opens up new avenues of research.
One limitation according to their report, "all our genetic data were obtained from a single site in Middle Egypt and may not be representative for all of ancient Egypt." In southern Egypt they say, the genetic makeup of the people may have been different, being closer to the interior of the continent.
Researchers in future want to determine exactly when Sub-Saharan African genes seeped into the Egyptian genome and why. They'll also want to know where ancient Egyptians themselves came from. To do so, they'll have to identify older DNA from, as Krause said, "Back further in time, in prehistory."
Using high-throughput DNA sequencing and cutting-edge authentication techniques, researchers proved they could retrieve reliable DNA from mummies, despite the unforgiving climate and damaging embalming techniques.
Further testing will likely contribute much knowledge to our understanding of the ancient Egyptians and perhaps even those from other places as well, helping to fill in the gaps in humanity's collective memory.
To learn about the latest Egyptian archaeological find, click here:
Seawater is raising salt levels in coastal woodlands along the entire Atlantic Coastal Plain, from Maine to Florida.
Surprising Science
Permanent flooding has become commonplace on this low-lying peninsula, nestled behind North Carolina's Outer Banks. The trees growing in the water are small and stunted. Many are dead.
Throughout coastal North Carolina, evidence of forest die-off is everywhere. Nearly every roadside ditch I pass while driving around the region is lined with dead or dying trees.
As an ecologist studying wetland response to sea level rise, I know this flooding is evidence that climate change is altering landscapes along the Atlantic coast. It's emblematic of environmental changes that also threaten wildlife, ecosystems, and local farms and forestry businesses.
Like all living organisms, trees die. But what is happening here is not normal. Large patches of trees are dying simultaneously, and saplings aren't growing to take their place. And it's not just a local issue: Seawater is raising salt levels in coastal woodlands along the entire Atlantic Coastal Plain, from Maine to Florida. Huge swaths of contiguous forest are dying. They're now known in the scientific community as "ghost forests."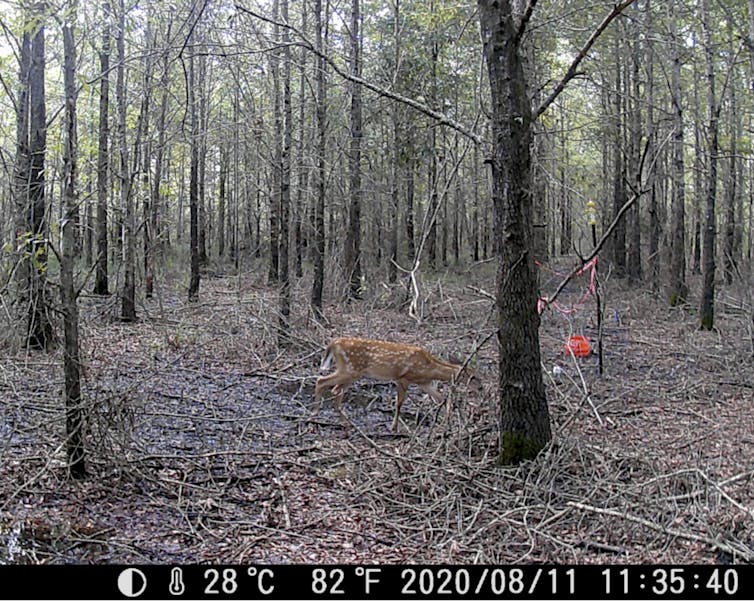 Deer photographed by a remote camera in a climate change-altered forest in North Carolina. Emily Ury, CC BY-ND
The insidious role of salt
Sea level rise driven by climate change is making wetlands wetter in many parts of the world. It's also making them saltier.
In 2016 I began working in a forested North Carolina wetland to study the effect of salt on its plants and soils. Every couple of months, I suit up in heavy rubber waders and a mesh shirt for protection from biting insects, and haul over 100 pounds of salt and other equipment out along the flooded trail to my research site. We are salting an area about the size of a tennis court, seeking to mimic the effects of sea level rise.
After two years of effort, the salt didn't seem to be affecting the plants or soil processes that we were monitoring. I realized that instead of waiting around for our experimental salt to slowly kill these trees, the question I needed to answer was how many trees had already died, and how much more wetland area was vulnerable. To find answers, I had to go to sites where the trees were already dead.
Rising seas are inundating North Carolina's coast, and saltwater is seeping into wetland soils. Salts move through groundwater during phases when freshwater is depleted, such as during droughts. Saltwater also moves through canals and ditches, penetrating inland with help from wind and high tides. Dead trees with pale trunks, devoid of leaves and limbs, are a telltale sign of high salt levels in the soil. A 2019 report called them "wooden tombstones."
As the trees die, more salt-tolerant shrubs and grasses move in to take their place. In a newly published study that I coauthored with Emily Bernhardt and Justin Wright at Duke University and Xi Yang at the University of Virginia, we show that in North Carolina this shift has been dramatic.
The state's coastal region has suffered a rapid and widespread loss of forest, with cascading impacts on wildlife, including the endangered red wolf and red-cockaded woodpecker. Wetland forests sequester and store large quantities of carbon, so forest die-offs also contribute to further climate change.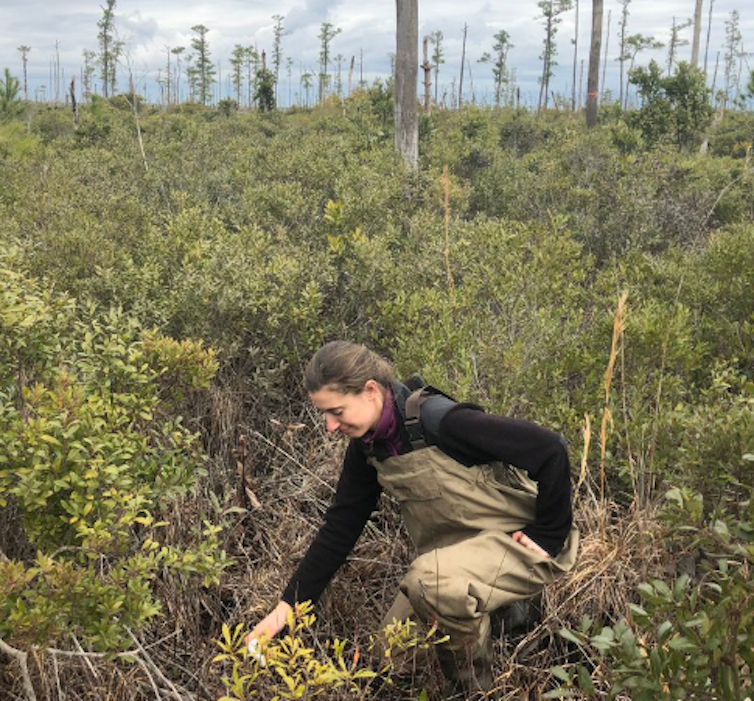 Researcher Emily Ury measuring soil salinity in a ghost forest. Emily Bernhardt, CC BY-ND
Assessing ghost forests from space
To understand where and how quickly these forests are changing, I needed a bird's-eye perspective. This perspective comes from satellites like NASA's Earth Observing System, which are important sources of scientific and environmental data.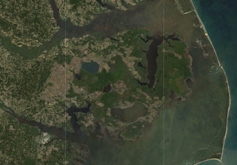 A 2016 Landsat8 image of the Albemarle Pamlico Peninsula in coastal North Carolina. USGS
Since 1972, Landsat satellites, jointly operated by NASA and the U.S. Geological Survey, have captured continuous images of Earth's land surface that reveal both natural and human-induced change. We used Landsat images to quantify changes in coastal vegetation since 1984 and referenced high-resolution Google Earth images to spot ghost forests. Computer analysis helped identify similar patches of dead trees across the entire landscape.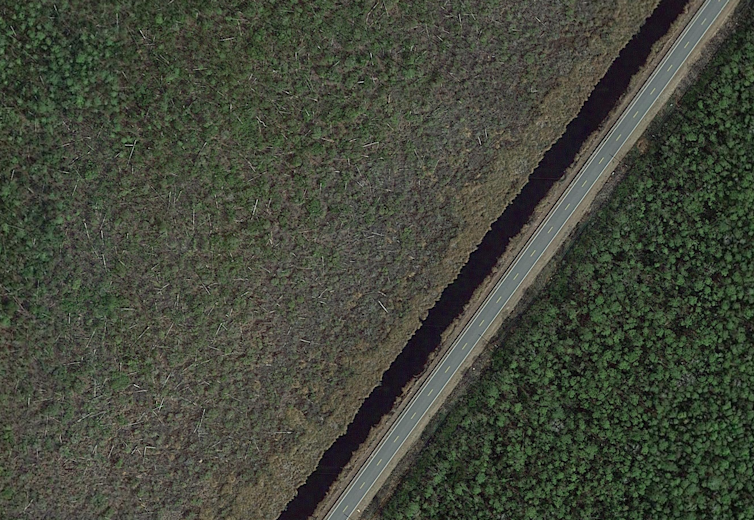 Google Earth image of a healthy forest on the right and a ghost forest with many dead trees on the left. Emily Ury
The results were shocking. We found that more than 10% of forested wetland within the Alligator River National Wildlife Refuge was lost over the past 35 years. This is federally protected land, with no other human activity that could be killing off the forest.
Rapid sea level rise seems to be outpacing the ability of these forests to adapt to wetter, saltier conditions. Extreme weather events, fueled by climate change, are causing further damage from heavy storms, more frequent hurricanes and drought.
We found that the largest annual loss of forest cover within our study area occurred in 2012, following a period of extreme drought, forest fires and storm surges from Hurricane Irene in August 2011. This triple whammy seemed to have been a tipping point that caused mass tree die-offs across the region.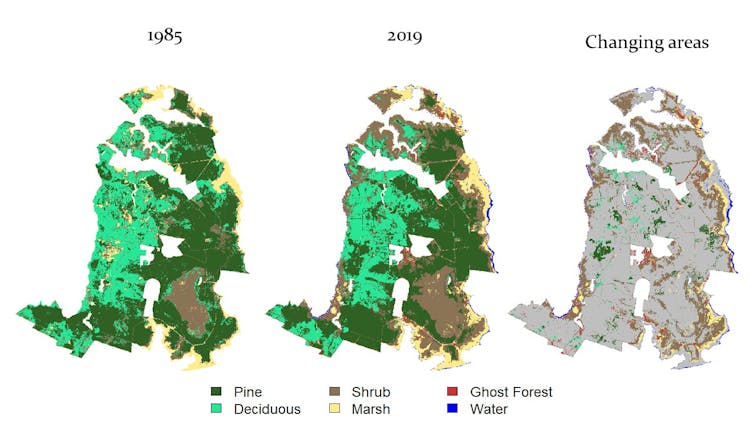 Habitat maps we created for the Alligator River National Wildlife Refuge showing the change over time and the prevalence of ghost forests. Ury et al, 2021., CC BY-ND
Should scientists fight the transition or assist it?
As global sea levels continue to rise, coastal woodlands from the Gulf of Mexico to the Chesapeake Bay and elsewhere around the world could also suffer major losses from saltwater intrusion. Many people in the conservation community are rethinking land management approaches and exploring more adaptive strategies, such as facilitating forests' inevitable transition into salt marshes or other coastal landscapes.
For example, in North Carolina the Nature Conservancy is carrying out some adaptive management approaches, such as creating "living shorelines" made from plants, sand and rock to provide natural buffering from storm surges.
A more radical approach would be to introduce marsh plants that are salt-tolerant in threatened zones. This strategy is controversial because it goes against the desire to try to preserve ecosystems exactly as they are.
But if forests are dying anyway, having a salt marsh is a far better outcome than allowing a wetland to be reduced to open water. While open water isn't inherently bad, it does not provide the many ecological benefits that a salt marsh affords. Proactive management may prolong the lifespan of coastal wetlands, enabling them to continue storing carbon, providing habitat, enhancing water quality and protecting productive farm and forest land in coastal regions.

Emily Ury, Ph.D. Candidate, Duke University
This article is republished from The Conversation under a Creative Commons license. Read the original article.
A new study used functional near-infrared spectroscopy (fNIRS) to measure brain activity as inexperienced and experienced soccer players took penalty kicks.
Mind & Brain
The new study is the first to use in-the-field imaging technology to measure brain activity as people delivered penalty kicks.
Participants were asked to kick a total of 15 penalty shots under three different scenarios, each designed to be increasingly stressful.
Kickers who missed shots showed higher activity in brain areas that were irrelevant to kicking a soccer ball, suggesting they were overthinking.
In a 2019 soccer match, Swansea City was down 1-0 against West Brom late in the first half. A penalty was called against West Brom. Swansea midfielder Bersant Celina was preparing to deliver a penalty kick. He scuttled up to the ball, but his foot only made partial contact, lobbing it weakly to the right.
Was it a simple mistake? Maybe. But there might be deeper explanations for why professional athletes choke under high-pressure situations.
A new study published in Frontiers in Computer Science used functional near-infrared spectroscopy (fNIRS) to analyze the brain activity of inexperienced and experienced soccer players as they missed penalty shots. Although past research has explored why soccer players miss penalty shots, the recent study is the first to do so using in-the-field fNIRS measurement.
The results showed that kickers who choked were activating parts of their brain associated with long-term thinking, self-instruction, and self-reflection. The chokers, in other words, were overthinking it.
The psychology of penalty kicks
Penalty shots offer an interesting case study of how mental pressure affects physical performance. After all, there's a lot at stake, not only because the kick can sometimes render a win or loss, but also because there are sometimes millions of people anxiously watching, some of whom might have a financial interest in the outcome.
That pressure is no joke. For example, research on Men's World Cup penalty shoot-outs has shown that when the score is tied and a goal means an immediate win, players score 92 percent of kicks. But when teams are facing elimination in a shootout, and the kick determines an immediate tie or loss, players only score 60 percent of the time.
"How can it be that football players with a near perfect control over the ball (they can very precisely kick a ball over more than 50 meters) fail to score a penalty kick from only 11 meters?" study co-author Max Slutter, of the University of Twente in the Netherlands, said in a press release.
"Obviously, huge psychological pressure plays a role, but why does this pressure cause a missed penalty? We tried to answer this by measuring the brain activity of football players during the physical execution of a penalty kick."
In the new study, the researchers aimed to answer two key questions about choking under pressure among both experienced and inexperienced players: (1) What is the difference in brain activity between success (scoring) and failure (missing) when taking a penalty kick? (2) What brain activity is associated with performing under pressure during a penalty kick situation?
To find out, the researchers asked ten experienced soccer players and twelve inexperienced players to participate in a penalty-kicking task. The task was divided into three rounds, each of which was designed to be increasingly stressful:
Round 1 had no goalkeeper and was labeled as a practice round.
Round 2 had a friendly goalkeeper who wasn't allowed to distract the kicker.
Round 3 had a competitive goalkeeper who was allowed to distract the kicker, and kickers were also competing for a prize.
Participants kicked five shots in each round. They wore a fNIRS-equipped headset during the task that measured activity in various parts of the brain.
All participants performed worse in the second and third rounds and reported experiencing the most pressure in the third round. Inexperienced players performed worse than experienced players, which might suggest that they were less able to deal with the mental stress.
The locations in which experienced and inexperienced players kicked the ball in each round. Red dots represent missed penalties and green dots represent scored penalties.Slutter et al., Frontiers in Computer Science, 2021.
The neuroscience of choke artists

So, what types of brain activity were associated with missed shots?
The most noticeable result was that kickers missed more shots when they showed higher activity in their prefrontal cortex (PFC), an area of the brain associated with long-term planning. This was especially true among participants who reported higher levels of anxiety. More specifically, experienced soccer players who missed shots showed high activity in the left temporal cortex, which is related to self-instruction and self-reflection.
"By activating the left temporal cortex more, experienced players neglect their automated skills and start to overthink the situation," the researchers wrote. "This increase can be seen as a distracting factor."
Also, when players of all experience levels felt anxious and missed shots, they showed less activity in the motor cortex, which is the brain area most directly associated with kicking a penalty shot.
Don't overthink it
The results suggest that mental pressure can activate parts of the brain that are irrelevant to the task at hand. In general, expert athletes show more efficient brain activity — that is, more activity in relevant areas, and less activity in irrelevant areas — and therefore experience fewer distractions. This is likely one reason why they were more successful at penalties than inexperienced players in high-stress situations.
This principle is described by neural efficiency theory, and it applies not only to athletes but experts in any field. As you gain mastery over something, you can rely more on automatic brain processes rather than deliberate thinking, which can lead to distractions. The authors of the study concluded that their results provide supporting evidence for neural efficiency theory.
Still, as long our experts are human, it seems that high-pressure situations can turn anyone into a choke artist.
Mind & Brain
What's the difference between brainwashing and rehabilitation?
Scroll down to load more…