A New Battery-Free Phone Grabs Power from the Air Around It
Researchers develop a working, battery-free cellphone.
12 July, 2017
---
One of the holy grails of mobile-device technology has been the search for longer-lasting batteries, with each breakthrough tantalizing us with the promise of phones that don't die out just when we most need them. So how about a phone that requires no battery at all, but just works? This is exactly the invention researchers at the University of Washington have just announced. This little wonder runs on a teensy 2-3 microwatts of power it pulls from ambient RF (radio-frequency) waves. It also derives power from ambient light, thanks to its tiny photodiodes.
UW Faculty lead Joshua Smith tells UW Today that, "The cellphone is the device we depend on most today.  So if there were one device you'd want to be able to use without batteries, it is the cellphone. The proof of concept we've developed is exciting today, and we think it could impact everyday devices in the future." The uwPhone (our name, not theirs) is currently a circuit board tricked out with off-the-shelf components.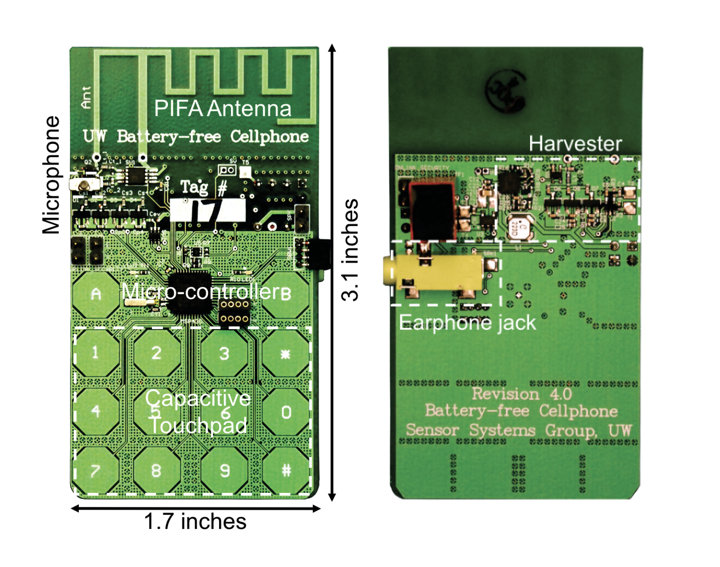 The "uwPhone" front and back (UNIVERSITY OF WASHINGTON)
Reducing the power needs of the UW device is the thing that makes the phone possible. Co-author of the paper Shayam Gollakota tells UW Today, "We've built what we believe is the first functioning cellphone that consumes almost zero power. To achieve the really, really low power consumption that you need to run a phone by harvesting energy from the environment, we had to fundamentally rethink how these devices are designed."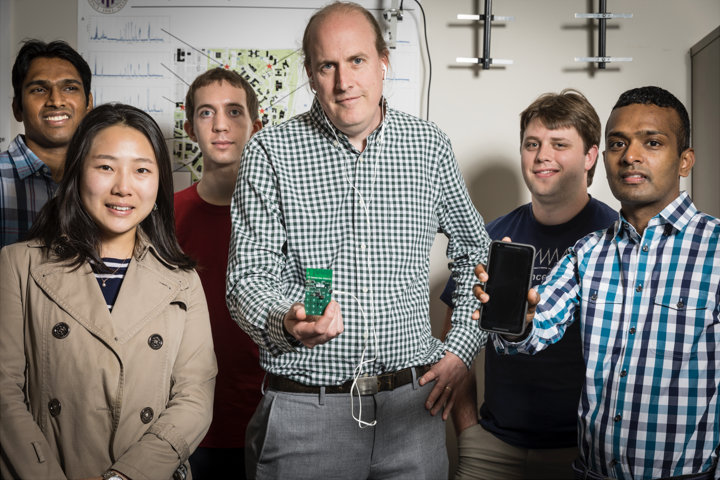 The team: Vamsi Talla, Wu Meiling, Sam Crow, Joshua Smith, Bryce Kellogg and Shyam Gollakota (MARK STONE/UNIVERSITY OF WASHINGTON)
One of the most power-hungry processes in a normal cellphone is the conversion of an analog audio from a mic into digital form for transmission, and vice versa for incoming audio. The prime culprits are micro-controllers and Field Programmable Gate Arrays (FPGAs), which the uwPhone does without. Instead, they off-load the heavy lifting of ADC (analog-to-digital conversion) and DAC (digital-to-analog conversion) to a custom-built base station.
The vibrations that occur when someone speaks into the phone are transmitted via backscatter as voltage fluctations into the RF waves produced by, and ultimately bounced back to, the base station, essentially encoding the voice in those waves. At the base station, they're converted to digital data,and sent via Skype over the internet to the person at the other end of the call. Pretty much the same thing happens going the other way: The base station converts Skype's output to an analog signal that an AM receiver connected directly to the phone's headphone jack receives. For now, the phone can't send and receive at the same time — there's a switch that must be pressed, so it's a bit like a walkie-talkie.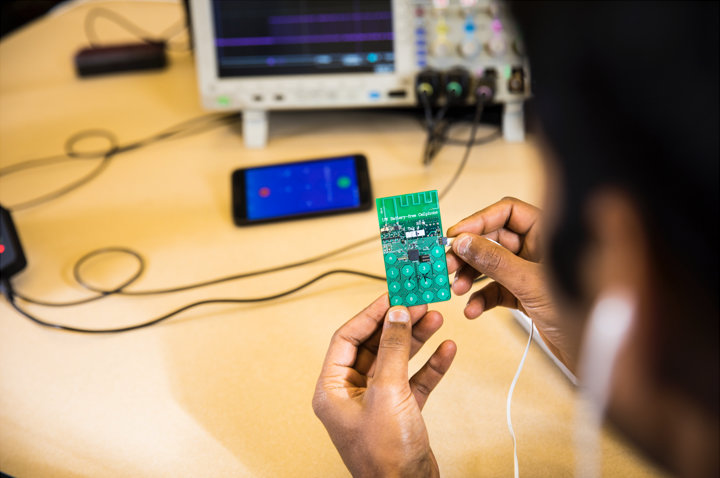 (MARK STONE/UNIVERSITY OF WASHINGTON)
The team believe the base station tech can be built into existing cellular infrastructure and WiFi routers. "You could imagine in the future that all cell towers or Wi-Fi routers could come with our base station technology embedded in it," according to Vamsi Talla, on of the co-authors. "And if every house has a Wi-Fi router in it, you could get battery-free cellphone coverage everywhere."
(UNIVERSITY OF WASHINGTON)
Giving our solar system a "slap in the face"
Surprising Science
A stream of galactic debris is hurtling at us, pulling dark matter along with it
It's traveling so quickly it's been described as a hurricane of dark matter
Scientists are excited to set their particle detectors at the onslffaught
We know the dangers of too little sleep. Now for the other side of the story.
Photo: Vladislav Muslakvo / Unsplash
Surprising Science
Western University researchers found that sleeping over eight hours per night results in cognitive decline.
Oversleepers suffer similar difficulties on certain cognitive tests as those who sleep under seven hours.
Not all the news is bad: One night of oversleeping results in a cognitive boost.
Firefighters in California are still struggling to contain several wildfires nearly one week after they broke out.
(Photo by Elijah Nouvelage/Getty Images)
Politics & Current Affairs
Hundreds of people are still missing after three wildfires spread across Northern and Southern California last week.
48 of the 50 deaths occurred after the Camp Fire blazed through the town of Paradise, north of Sacramento.
On Tuesday night, a fourth wildfire broke out, though it's mostly contained.
Big think's weekly newsletter.
Get smarter faster from the comfort of your inbox.
See our newsletter privacy policy
here
Most Popular
Most Recent
Big think's weekly newsletter.
Get smarter faster from the comfort of your inbox.
See our newsletter privacy policy
here
© Copyright 2007-2018 & BIG THINK, BIG THINK EDGE,
SMARTER FASTER trademarks owned by The Big Think, Inc. All rights reserved.