Scientists Accidentally Create a Battery That Can Outlast Your Device
Scientists at University of California, Irving stumble across the secret to long-lasting rechargeable batteries.
27 April, 2016
Over the last decade or so it's become increasingly obvious that the limits of battery technology are a pothole on our road to the future. It's not even a new problem; scientists have been trying to invent better batteries since Edison. Whether we're talking about storing clean energy, more practical electric cars, or maybe even just our dozing-off phones, battery issues are slowing progress w-a-a-y down. They're not powerful enough unless they're uselessly big and seriously pricey. They take a long time to recharge. And for keeping the devices we depend on up and running, they just don't last long enough.
---
That is, at least, until researchers at the University of California, Irvine (UCI) stumbled across a way to make ridiculously long-lasting rechargeable batteries. They've made a battery that takes 200,000 charge cycles, says, "Is that all you got?" and keeps going. That's 400 times the charges that a lithium battery can handle.
They were as surprised as anyone. "We started to cycle the devices, and then realized that they weren't going to die," admitted chair of UCI's Chemistry department Reginald Penner in an interview with Popular Science. "We don't understand the mechanism of that yet."
Penner's lab had been experimenting with replacing lithium with gold nanowires—they're thousands of times thinner than a human hair and very conductive, with a large surface area for storing and transferring electrons. The goal was to make a solid-state battery, without the liquid lithium batteries contain that makes them overly sensitive to heat and combustible. Other researchers have experimented with using the nanowires before, but they're fragile.
At UCI, PhD candidate Mya Le Thai got the idea of suspending the brittle nanowire in a protective electrolyte gel after coating them with manganese oxide.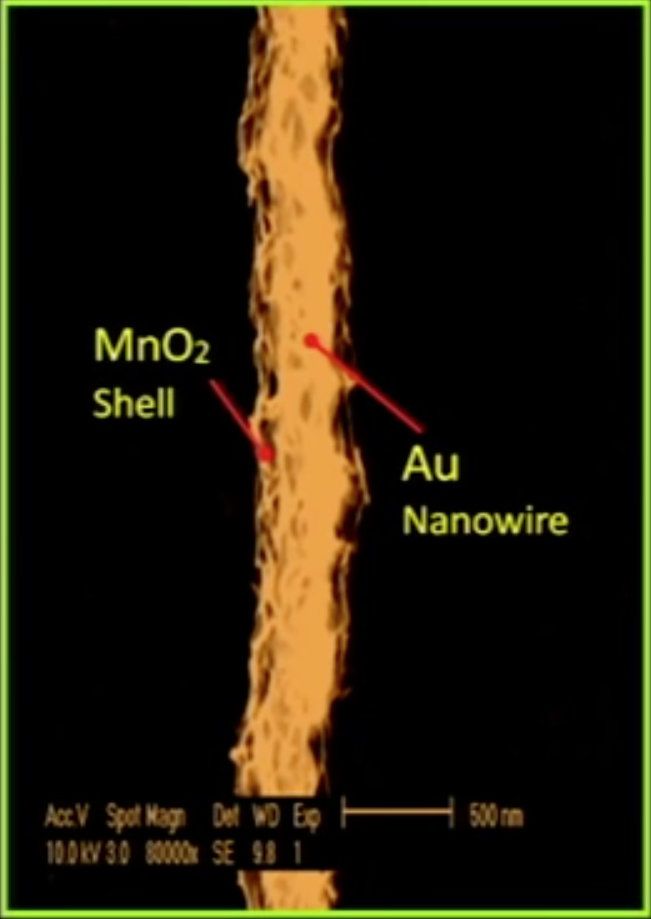 And boom: Super-Battery.
 "Mya was playing around, and she coated this whole thing with a very thin gel layer and started to cycle it," as Penner tells it. "She discovered that just by using this gel, she could cycle it hundreds of thousands of times without losing any capacity."
Rechargeables usually die after 6-7,000 charges, so this is amazing. UCI suspects the gel makes the nanowire more pliable, and thus prevent the cracking that ended previous experiments. This could be the kind of battery-life breakthrough we've been waiting for.
Here's the young scientist herself telling the story of this amazing leap forward.
Headline image: Steve Zylius / UCI
As religious diversity increases in the United States, we must learn to channel religious identity into interfaith cooperation.
Sponsored by Charles Koch Foundation
Religious diversity is the norm in American life, and that diversity is only increasing, says Eboo Patel.
Using the most painful moment of his life as a lesson, Eboo Patel explains why it's crucial to be positive and proactive about engaging religious identity towards interfaith cooperation.
The opinions expressed in this video do not necessarily reflect the views of the Charles Koch Foundation, which encourages the expression of diverse viewpoints within a culture of civil discourse and mutual respect.
Ask very silly questions to spur very serious innovation.
Videos
To get really innovative solutions to complex problems, you need to abandon logic, says Dan Seewald.
Asking provocative and ridiculous 'what if?' questions pushes us down lateral paths of thinking versus the vertical or logical path. The latter approach is practical but it doesn't break new ground.
Breaking with tradition through lateral thinking allows us to solve really serious problems, from climate change to political turmoil. Or, as Dan Seewald explains, it could just help you solve all your laundry headaches.
If you don't want to know anything about your death, consider this your spoiler warning.
Culture & Religion
For centuries cultures have personified death to give this terrifying mystery a familiar face.
Modern science has demystified death by divulging its biological processes, yet many questions remain.
Studying death is not meant to be a morbid reminder of a cruel fate, but a way to improve the lives of the living.
When it comes to sniffing out whether a source is credible or not, even journalists can sometimes take the wrong approach.
Sponsored by Charles Koch Foundation
We all think that we're competent consumers of news media, but the research shows that even journalists struggle with identifying fact from fiction.
When judging whether a piece of media is true or not, most of us focus too much on the source itself. Knowledge has a context, and it's important to look at that context when trying to validate a source.
The opinions expressed in this video do not necessarily reflect the views of the Charles Koch Foundation, which encourages the expression of diverse viewpoints within a culture of civil discourse and mutual respect.