A papyrus reveals how the Great Pyramid was built
A newly discovered papyrus contains an eye-witness account of the gathering of materials for the Great Pyramid.
27 September, 2017
(PAWEESIT)
---
The Great Pyramid in Egypt is the last of the ancient Seven Wonders of the World. The tomb for Pharaoh Khufu — "Cheops" in Greek — sits on the Giza plateau about 3 kilometers southwest of Egypt's capitol Cairo, and it's huge: nearly 147 meters high and 230.4 meters on each side (it's now slightly smaller due to erosion). Built of roughly 2.3 million limestone and rose granite stones from hundreds of kilometers away, it's long posed a couple of vexing and fascinating mysteries: How did the ancient Egyptians manage to get all of these stones to Giza, and how did they build such a monumental object? All sorts of exotic ideas have been floated, including assistance from aliens visiting earth. Now, as the result of an amazing find in a cave 606 kilometers away, we have an answer in the form of 4,600-year-old, bound papyrus scrolls, the oldest papyri ever found. They're the journal of one of the managers who helped build the great pyramid. It's the only eye-witness account of building the Great Pyramid that's ever been found.
It was written by a man named Merer, who reported to "the noble Ankh-haf," Khufu's half-brother. It describes, among other things, a stop of his 200-man crew in the Tura, or Maaasara, limestone quarries on the eastern shore of the Gulf of Suez, and filling up their boat for the 13-17 km trip back up the river to Giza. Since this type of limestone was used for the pyramid's outer casing, the journal is believed to document work on the tomb during the final year of Khufu's life, around 2560 BCE.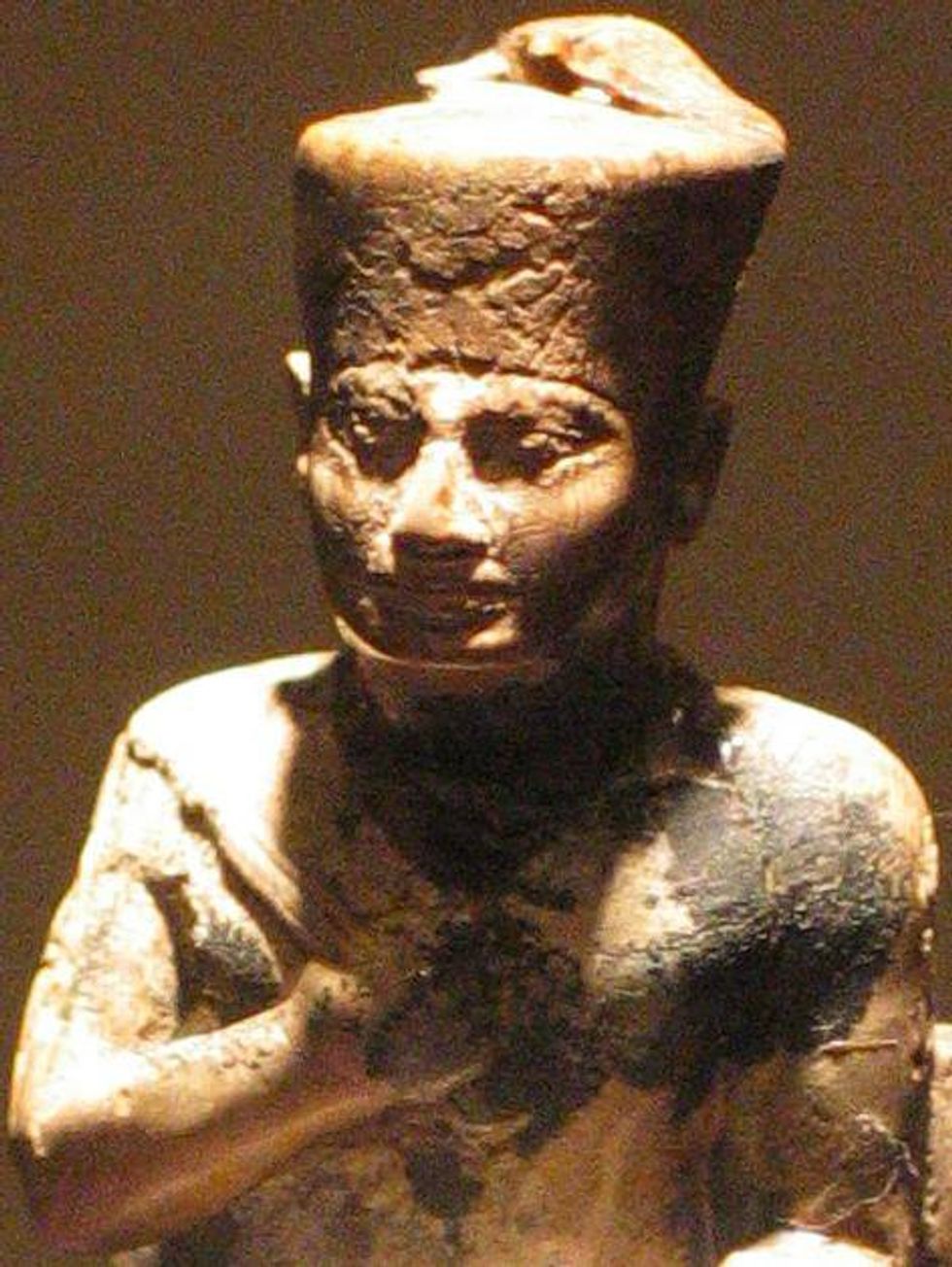 Khufu
In 1823, British explorer John Gardner Wilkinson first described the caves in Wadi al-Jarf on the eastern coast of the Red Sea: "Near the ruins is a small knoll containing eighteen excavated chambers, beside, perhaps, many others, the entrance of which are no longer visible." He described them as being "well cut and vary from about 80 to 24 feet, by 5; their height may be from 6 to 8 feet." Two French pilots also noted presence of the 30 caves in the mid-1950s, but it wasn't until Pierre Tallet interviewed one of the pilots that he was able to pinpoint the caves' location during a 2011 dig. Two years later, the papyri were discovered. Egyptian archaeologist Zahi Hawass called it "the greatest discovery in Egypt in the 21st century." 
Prior to the work of Tallet and others, the ancient Egyptians weren't thought to be seafarers, but abandoned ports unearthed along the Gulf of Suez and the Read Sea tell a different story.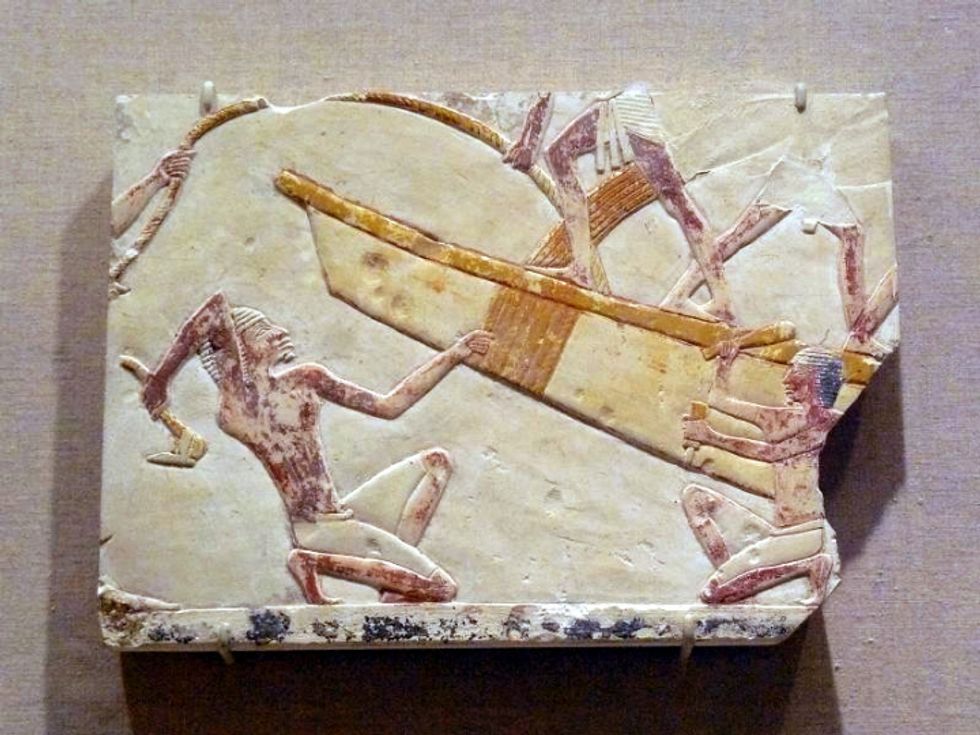 In the Egyptian resort town Ayn Soukhna, along the west coast of the Suez, Egyptian heirogplyhs were first found on cliff walls in 1997. "I love rock inscriptions," Tallet told Smithsonian, "they give you a page of history without excavating." He read one to the Smithsonian: "In year one of the king, they sent a troop of 3,000 men to fetch copper, turquoise and all the good products of the desert."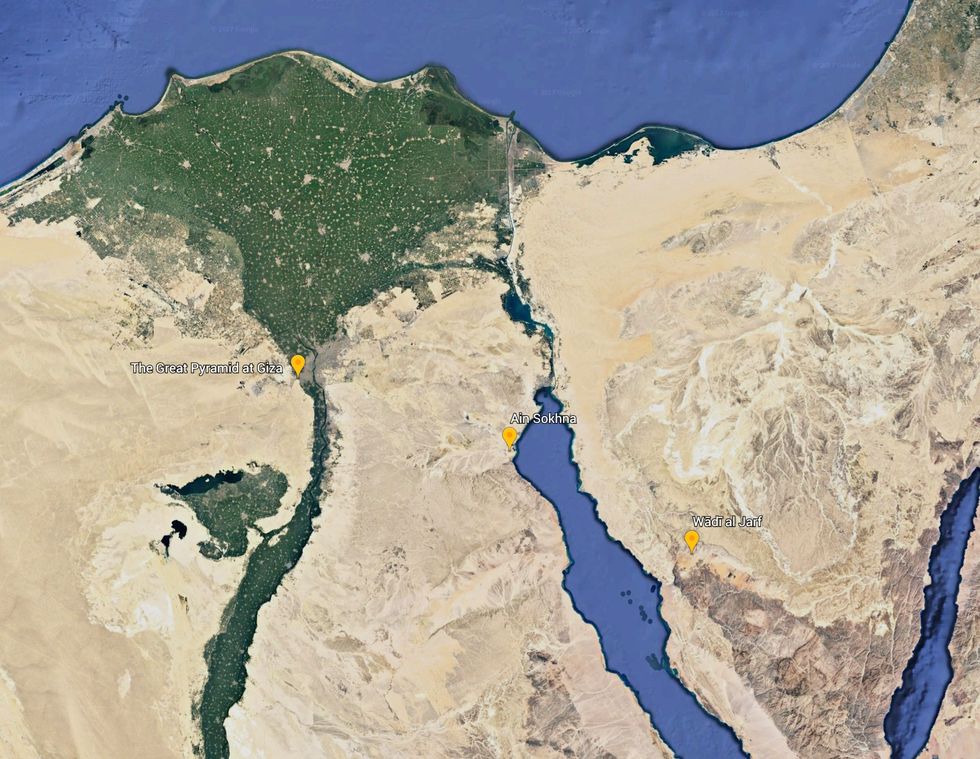 (GOOGLE EARTH)
That would be the Sinai desert across the Red Sea, and Wadi al-Jarf is only 56 km away from two of a group of ports. Tallet has uncovered the remains of an 182-meter, L-shaped jetty there, along with 130 anchors. He believes it, like Ayn Soukhna, were part of a series of ports, supply hubs, bringing needed materials into Egypt. The caves were apparently built for boat storage, as they have been elsewhere around the edges of ancient Egypt. It appears Wadi al-Jarf was only in use a short while, during the building of the pyramid — it likely supplied the project with Sinai copper, the hardest metal of is time, for cutting stones. 
The second part of the Great Pyramid mystery — who built it? — may have been solved in the 1980s by Mark Lehner, who uncovered a residential area capable of housing some 20,000 people just meters from the pyramids. Prior to that find, there was scant evidence of the massive population of workers that would have been required for building the tomb. Studying the "cattle-to-pig" ratio revealed the diversity of the population that lived there,: Beef was the food of the elite; pigs of the working person, and Lerhner discovered "the ratio of cattle to pig for the entire site stands at 6:1, and for certain areas 16:1," a plausible distribution for the construction team.
Lehner visited Wadi al-Jarf and concurs with Tallet about its meaning: "The power and purity of the site is so Khufu," he told Smithsonian. "The scale and ambition and sophistication of it — the size of these galleries cut out of rock like the Amtrak train garages, these huge hammers made out of hard black diorite they found, the scale of the harbor, the clear and orderly writing of the hieroglyphs of the papyri, which are like Excel spreadsheets of the ancient world—all of it has the clarity, power and sophistication of the pyramids, all the characteristics of Khufu and the early fourth dynasty." He believes the pyramid stones were transported by boat from ports like Wadi al-Jarf and Ayn Soukhna via canals to the construction site in Giza, the ancient Egyptians having been master builders of such waterways for the purposes of irrigation.
Young people could even end up less anxiety-ridden, thanks to newfound confidence
Photos: Courtesy of Let Grow
Sponsored by Charles Koch Foundation
The coronavirus pandemic may have a silver lining: It shows how insanely resourceful kids really are.
Let Grow, a non-profit promoting independence as a critical part of childhood, ran an "Independence Challenge" essay contest for kids. Here are a few of the amazing essays that came in.
Download Let Grow's free Independence Kit with ideas for kids.
Many Americans are being misled on serious scientific issues, and science journalists have to spend an inordinate amount of time debunking myths which seemingly never die.
Technique may enable speedy, on-demand design of softer, safer neural devices.
Dan Kitwood/Getty Images
Surprising Science
The brain is one of our most vulnerable organs, as soft as the softest tofu. Brain implants, on the other hand, are typically made from metal and other rigid materials that over time can cause inflammation and the buildup of scar tissue.
New research establishes an unexpected connection.
Image source: Vaccaro et al, 2020/Harvard Medical School
Surprising Science
A study provides further confirmation that a prolonged lack of sleep can result in early mortality.
Surprisingly, the direct cause seems to be a buildup of Reactive Oxygen Species in the gut produced by sleeplessness.
When the buildup is neutralized, a normal lifespan is restored.
We don't have to tell you what it feels like when you don't get enough sleep. A night or two of that can be miserable; long-term sleeplessness is out-and-out debilitating. Though we know from personal experience that we need sleep — our cognitive, metabolic, cardiovascular, and immune functioning depend on it — a lack of it does more than just make you feel like you want to die. It can actually kill you, according to study of rats published in 1989. But why?
A new study answers that question, and in an unexpected way. It appears that the sleeplessness/death connection has nothing to do with the brain or nervous system as many have assumed — it happens in your gut. Equally amazing, the study's authors were able to reverse the ill effects with antioxidants.
The study, from researchers at Harvard Medical School (HMS), is published in the journal Cell.
An unexpected culprit
The new research examines the mechanisms at play in sleep-deprived fruit flies and in mice — long-term sleep-deprivation experiments with humans are considered ethically iffy.
What the scientists found is that death from sleep deprivation is always preceded by a buildup of Reactive Oxygen Species (ROS) in the gut. These are not, as their name implies, living organisms. ROS are reactive molecules that are part of the immune system's response to invading microbes, and recent research suggests they're paradoxically key players in normal cell signal transduction and cell cycling as well. However, having an excess of ROS leads to oxidative stress, which is linked to "macromolecular damage and is implicated in various disease states such as atherosclerosis, diabetes, cancer, neurodegeneration, and aging." To prevent this, cellular defenses typically maintain a balance between ROS production and removal.
"We took an unbiased approach and searched throughout the body for indicators of damage from sleep deprivation," says senior study author Dragana Rogulja, admitting, "We were surprised to find it was the gut that plays a key role in causing death." The accumulation occurred in both sleep-deprived fruit flies and mice.
"Even more surprising," Rogulja recalls, "we found that premature death could be prevented. Each morning, we would all gather around to look at the flies, with disbelief to be honest. What we saw is that every time we could neutralize ROS in the gut, we could rescue the flies." Fruit flies given any of 11 antioxidant compounds — including melatonin, lipoic acid and NAD — that neutralize ROS buildups remained active and lived a normal length of time in spite of sleep deprivation. (The researchers note that these antioxidants did not extend the lifespans of non-sleep deprived control subjects.)
Image source: Tomasz Klejdysz/Shutterstock/Big Think
The experiments
The study's tests were managed by co-first authors Alexandra Vaccaro and Yosef Kaplan Dor, both research fellows at HMS.
You may wonder how you compel a fruit fly to sleep, or for that matter, how you keep one awake. The researchers ascertained that fruit flies doze off in response to being shaken, and thus were the control subjects induced to snooze in their individual, warmed tubes. Each subject occupied its own 29 °C (84F) tube.
For their sleepless cohort, fruit flies were genetically manipulated to express a heat-sensitive protein in specific neurons. These neurons are known to suppress sleep, and did so — the fruit flies' activity levels, or lack thereof, were tracked using infrared beams.
Starting at Day 10 of sleep deprivation, fruit flies began dying, with all of them dead by Day 20. Control flies lived up to 40 days.
The scientists sought out markers that would indicate cell damage in their sleepless subjects. They saw no difference in brain tissue and elsewhere between the well-rested and sleep-deprived fruit flies, with the exception of one fruit fly.
However, in the guts of sleep-deprived fruit flies was a massive accumulation of ROS, which peaked around Day 10. Says Vaccaro, "We found that sleep-deprived flies were dying at the same pace, every time, and when we looked at markers of cell damage and death, the one tissue that really stood out was the gut." She adds, "I remember when we did the first experiment, you could immediately tell under the microscope that there was a striking difference. That almost never happens in lab research."
The experiments were repeated with mice who were gently kept awake for five days. Again, ROS built up over time in their small and large intestines but nowhere else.
As noted above, the administering of antioxidants alleviated the effect of the ROS buildup. In addition, flies that were modified to overproduce gut antioxidant enzymes were found to be immune to the damaging effects of sleep deprivation.
The research leaves some important questions unanswered. Says Kaplan Dor, "We still don't know why sleep loss causes ROS accumulation in the gut, and why this is lethal." He hypothesizes, "Sleep deprivation could directly affect the gut, but the trigger may also originate in the brain. Similarly, death could be due to damage in the gut or because high levels of ROS have systemic effects, or some combination of these."
The HMS researchers are now investigating the chemical pathways by which sleep-deprivation triggers the ROS buildup, and the means by which the ROS wreak cell havoc.
"We need to understand the biology of how sleep deprivation damages the body so that we can find ways to prevent this harm," says Rogulja.
Referring to the value of this study to humans, she notes,"So many of us are chronically sleep deprived. Even if we know staying up late every night is bad, we still do it. We believe we've identified a central issue that, when eliminated, allows for survival without sleep, at least in fruit flies."
Scroll down to load more…