2 Billionaires Are Financing an Escape From the Real Matrix
Two billionaires are apparently funding research into how we can escape the simulation they believe we're trapped in.
07 October, 2016
Do you think we're actually living in a gigantic computer simulation like the one in The Matrix? If you do, you're not alone. In fact, you're in some very famous, very wealthy company. Near the end of a recent New Yorker article about Y Combinator, a Silicon Valley tech-company incubator, this paragraph raised the possibility we're in need of a red pill:
---
Many people in Silicon Valley have become obsessed with the simulation hypothesis, the argument that what we experience as reality is in fact fabricated in a computer; two tech billionaires have gone so far as to secretly engage scientists to work on breaking us out of the simulation.
The billionaires weren't named, but we can guess. Earlier in the piece, its writer, Tad Friend, pointed out something odd to one of his interviewees, Y Combinator president Sam Altman. Friend noted that Altman apparently hadn't visited a bathroom over the course of several days' interviews. Altman responded, "I will practice going to the bathroom more often so you humans don't realize that I'm the A.I." It could be he wasn't 100% joking.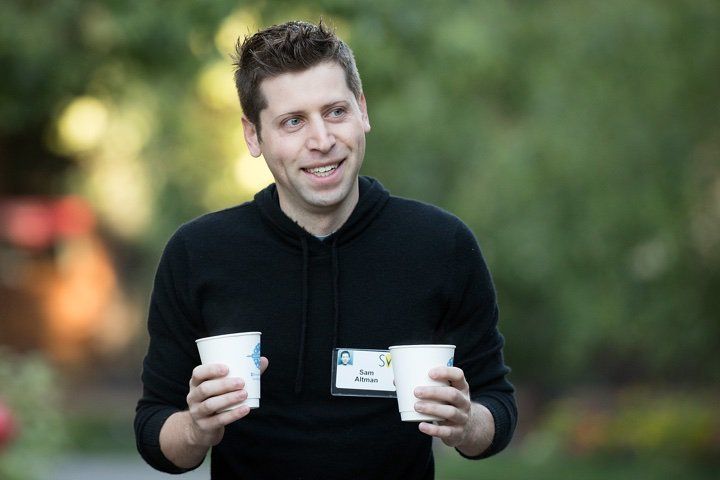 Another breakout candidate is Elon Musk, who claimed in an interview at Recode's Code Conference 2016 that the odds of us not being in a simulation are "one in billions." His reasoning is that with all the advancements we've seen already, how could it not happen?
(RECODE)
Musk suggests this has been a conversation in a lot of the hot tubs he soaks in with his (presumably also-wealthy) friends, some of whom are deeply involved in virtual-reality projects. Certainly, current systems like Oculus couldn't fool anyone, but these people spend their days immersed in VR and new tech, dreaming and designing future capabilities, so they would naturally be drawn to the question. Wait a minute. Wasn't humanity actually trapped and wired into (let's say hot) tubs in The Matrix?
At least one major company whose business depends on a clear-eyed assessment of imminent possibilities also agrees this could be where we really are. Financial behemoth Bank of America considers the odds of us living in a simulation to be as high as 50%. Yipes.
Big Think recently asked Bill Nye what he thought of the entire notion, and he asked the really simple unanswerable question: How could we ever know, absent a really inarguable glitch? [Insert Trump joke here.]
A skeptic could ask why ubiquitous overlords would even allow this topic to come up in our simulated discussions — or allow the release of a movie like The Matrix — if they didn't want us to know. (Maybe the two Matrix sequels were supposed to ruin the original.) Could letting the topic come up in conversation or science fiction be a way to de-pressurize and de-fang doubts our programmers consider inevitable? Maybe articles like this, in which the writer doesn't believe it's a simulation, are part of that steam-letting mechanism.
In a way, maybe choosing to believe we're in a simulation fills an unconscious need for a post-religion, science-based God. And it's not like escaping a matrix would answer all of our Big Questions: We still would want to know if there's a reason we exist and what happens when we die.
What can 3D printing do for medicine? The "sky is the limit," says Northwell Health researcher Dr. Todd Goldstein.
Northwell Health
Sponsored by Northwell Health
Medical professionals are currently using 3D printers to create prosthetics and patient-specific organ models that doctors can use to prepare for surgery.
Eventually, scientists hope to print patient-specific organs that can be transplanted safely into the human body.
Northwell Health, New York State's largest health care provider, is pioneering 3D printing in medicine in three key ways.
Cook's commencement speech at Tulane University urges students to take action.
Getty Images
Technology & Innovation
Apple CEO Tim Cook gave a commencement speech at Tulane University on May 18th.
Cook cautioned the graduates to not get caught up in echo chambers and algorithms.
He acknowledged the failures of his generation.
As Game of Thrones ends, a revealing resolution to its perplexing geography.
Strange Maps
The fantasy world of Game of Thrones was inspired by real places and events.
But the map of Westeros is a good example of the perplexing relation between fantasy and reality.
Like Britain, it has a Wall in the North, but the map only really clicks into place if you add Ireland.
Junk food causes weight gain, but it's not just about the calories.
Photo Illustration by Justin Sullivan / Getty Images
Surprising Science
We know we should eat less junk food, such as crisps, industrially made pizzas and sugar-sweetened drinks, because of their high calorie content.
Big think's weekly newsletter.
Get smarter faster from the comfort of your inbox.
See our newsletter privacy policy
here
Most Popular
Most Recent
Big think's weekly newsletter.
Get smarter faster from the comfort of your inbox.
See our newsletter privacy policy
here
© Copyright 2007-2019 & BIG THINK, BIG THINK EDGE,
SMARTER FASTER trademarks owned by The Big Think, Inc. All rights reserved.