Now that It Causes Cancer, Are You Going to Give Up Your Bacon? How About Your Cellphone? Or Your Pesticides?
Cancer is the scariest disease, but not all causes of cancer frighten us equally.
27 October, 2015
            The first wave of reporting about the International Agency for Research on Cancer (IARC) listing of processed meats as carcinogens, and red meat as a probable carcinogen, was predictably simplistic and alarmist. The second wave, by science journalists with the maturity to give things a bit of analysis, is commendably trying to put things in perspective.
---
     There is exemplary work by Casey Dunlop for Cancer Research UK putting the actual risk in perspective: Processed meat and cancer — what you need to know.  Bottom Line: Heavy consumption of processed meats like bacon, ham, sausages, hot dogs, corned beef, and beef jerky, over years, increases the number of people likely to die of bowel cancer by five per thousand. Pretty small.
     Several pieces also explain the caveats about just what a listing by IARC (part of the World Health Organization — WHO) does and doesn't mean.
Sarah Zhang at Wired:  Bacon causes cancer? Sort of. Not Really. Ish.  
Brad Plumer at Vox: The bacon freak-out: Why the WHO's cancer warnings cause so much confusion  which includes this helpful chart: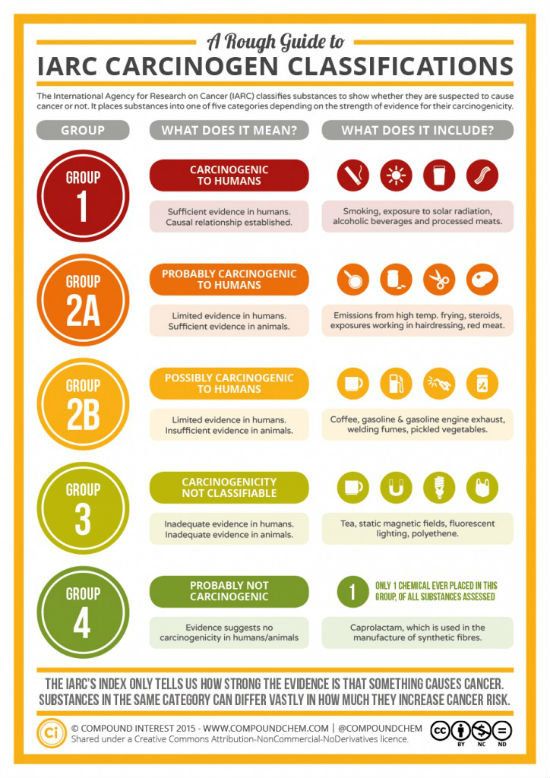 And at The Atlantic, in Beefing with the World Health Organization's Cancer Warnings, Ed Yong suggests
Perhaps we need a separate classification scheme for scientific organizations that are "confusogenic to humans."
     But beyond putting the risk in perspective and explaining IARC's listing system, there's another important aspect to this story that needs consideration. Why does labeling anything a carcinogen automatically provoke such concern and attention in the first place, even when the actual likelihood of cancer is really low? And why do some carcinogens freak us out more than others, regardless of the actual number of cases each one is likely to cause?
     The answers come from the psychology of risk perception, which has found that, as the pioneer researcher in the field, Paul Slovic, has put it, "risk is a feeling." Our perception of potential danger is not just based on the facts. It's mostly a product of how the facts feel. Any officially designated "carcinogen" gets our attention, regardless of how many people might actually get sick or die, because we are more afraid of things that harm us in particularly painful ways than we are of statistically more likely dangers that don't involve as much suffering. We are also more afraid of risks over which we feel we have no control. We still believe that we are powerless to cure cancer. Saddled with those psychological characteristics, cancer has long been the disease people fear most, and anything that can cause it evokes special concern.
            But why do some carcinogens freak us out more than others, regardless of how many people each one might affect? Compare the reaction to the IARC designation of processed meat to its listing of two other probable or possible carcinogens: radiation from mobile phones, and the pesticide glyphosate. Here too you can see how emotion more than pure, objective reason shapes how we perceive and respond to risk.
     Processed meat is the only "known carcinogen" — IARC rating 1A — of the three. It's getting lots of attention now, but as was the case with the listing of radiation from mobile phones (2B or "possibly carcinogenic"), that attention is likely to fade, because these potential carcinogens just don't scare as much as some others. Why? Well, we like our bacon/ham/sausages/hot dogs/corned beef/beef jerky, and we LOVE our mobile phones. The more of a benefit we feel we get out of some product or behavior or choice, the more we tend to play down any risk that may come with it.
     Compare the reaction to the listing of mobile phone radiation to the much deeper and longer-lasting concern in response to IARC's listing of glyphosate as a 2A "probable carcinogen." That's the same rating IARC gives red meat, steroid medications, air emissions from wood stoves, and shift work that interferes with our sleep cycle. Why has the listing of glyphosate evoked more persistent attention and concern than the listing of those other threats? Glyphosate doesn't endanger more people. But it is...
A human-made (unnatural) industrial chemical, a general class of boogeyman we have learned to fear, regardless of the evidence about each one.
A pesticide, another stigmatized category of threat we've learned to automatically worry about.
Made and sold by Monsanto, a company vilified by environmentalists.
Associated with genetically modified crops, which are also attacked by some environmental advocates... more than a few of whom probably enjoy the warm glow of sitting near their wood stoves and talking on their mobile phones even while working on their "Glyphosate is a carcinogen!" anti-GMO outreach.
     The problem with these emotion-based responses to risk is, when we worry about some things more than the evidence says we need to, or we don't worry about some things as much as the evidence says we should, we sometimes make choices that feel right, but which may actually increase the danger. Ignoring the low but real risk of pigging out on processed meats because — hey, I like my bacon. Oops. Opposing genetically modified food on environmental grounds, even the crops that have been modified to allow farmers to replace a far more toxic pesticide with safer glyphosate, reduce pesticide use overall, and employ other weed-control practices that do far less damage to the soil? Oops. And as for excessive general fear of cancer — that can in many ways do more harm than the disease itself. 
     The IARC listings usually get lots of attention, as anything connected with cancer often does. But it's not just these listings, and our knowledge about what is or isn't carcinogenic, that determine how much risk we actually face. That also depends on how we actually behave. In the end, risk is determined by how we feel and what we do with what we know.
Image: Getty Images, John Rentsen DigitalVision
What can 3D printing do for medicine? The "sky is the limit," says Northwell Health researcher Dr. Todd Goldstein.
Northwell Health
Sponsored by Northwell Health
Medical professionals are currently using 3D printers to create prosthetics and patient-specific organ models that doctors can use to prepare for surgery.
Eventually, scientists hope to print patient-specific organs that can be transplanted safely into the human body.
Northwell Health, New York State's largest health care provider, is pioneering 3D printing in medicine in three key ways.
An ordained Lama in a Tibetan Buddhist lineage, Lama Rod grew up a queer, black male within the black Christian church in the American south. Navigating all of these intersecting, evolving identities has led him to a life's work based on compassion for self and others.
Think Again Podcasts
"What I'm interested in is deep, systematic change. What I understand now is that real change doesn't happen until change on the inside begins to happen."
"Masculinity is not inherently toxic. Patriarchy is toxic. We have to let that energy go so we can stop forcing other people to do emotional labor for us."
We were gaining three IQ points per decade for many, many years. Now, that's going backward. Could this explain some of our choices lately?
The Flynn effect appears to be in retrograde. (Credit: Shutterstock/Big Think)
popular
There's a new study out of Norway that indicates our—well, technically, their—IQs are shrinking, to the tune of about seven IQ points per generation.
Here's why generalists triumph over specialists in the new era of innovation.
Videos
Since the explosion of the knowledge economy in the 1990s, generalist inventors have been making larger and more important contributions than specialists.
One theory is that the rise of rapid communication technologies allowed the information created by specialists to be rapidly disseminated, meaning generalists can combine information across disciplines to invent something new.
Here, David Epstein explains how Nintendo's Game Boy was a case of "lateral thinking with withered technology." He also relays the findings of a fascinating study that found the common factor of success among comic book authors.
Big think's weekly newsletter.
Get smarter faster from the comfort of your inbox.
See our newsletter privacy policy
here
Most Popular
Most Recent
Big think's weekly newsletter.
Get smarter faster from the comfort of your inbox.
See our newsletter privacy policy
here
© Copyright 2007-2019 & BIG THINK, BIG THINK EDGE,
SMARTER FASTER trademarks owned by The Big Think, Inc. All rights reserved.