The mystery of how birds navigate is over, and the answer is so amazing
It's the first time magnetoreception has been discovered in animals, researchers claim.
12 April, 2018
One of the longest running mysteries is exactly how birds navigate when they fly south for the winter or back come spring. For forty years, scientists have known that birds can somehow sense the magnetic field and navigate by it. But they've been unable to figure out how, until now. Two teams have recently identified that birds can actually visualize the magnetosphere.
---
One study comes out of the University of Oldenburg, in Germany, where researchers studied European robins. The other is from Lund University, in Sweden, where scientists examined zebra finches. For a long time, the prevailing theory was that cells rich in iron in bird's beaks aided their navigation. Then, in the late 1960s, Klaus Schulten of the University of Illinois proposed that migratory animals, including birds, must contain a certain molecule in their eyes or brains that responds to the magnetic field.
Evidence since has mounted towards Schulten's hypothesis. Now it seems, these two teams have made it the prevailing theory. The Swedish study was published in the Journal of the Royal Society Interface, while the German one was published in Current Biology. Both studies focus on a class of proteins known as cryptochromes.
Certain molecules in birds' eyes help them to see the magnetic field and navigate by it. Credit: Getty Images.
Each team discovered a particular type of cryptochrome protein in birds' retinas known as Cry4, which is sensitive to blue light—including that given off by the Earth's magnetic field. Both plants and animals are known to contain photoreceptive cells that respond to blue light, which are necessary for circadian rhythms. Yet, this is the first time magnetoreception has been discovered in animals.
A bird's visual magnetic detection cells rely on quantum coherence. It's interactions with the quantum field that allows migratory birds to navigate, according to biologist Atticus Pinzon-Rodriguez, at Lund University. Recent research indicated three possible cryptochromes, Cry1, Cry2, and Cry 4, may be involved. Scientists in both teams looked at the gene expression associated with each protein.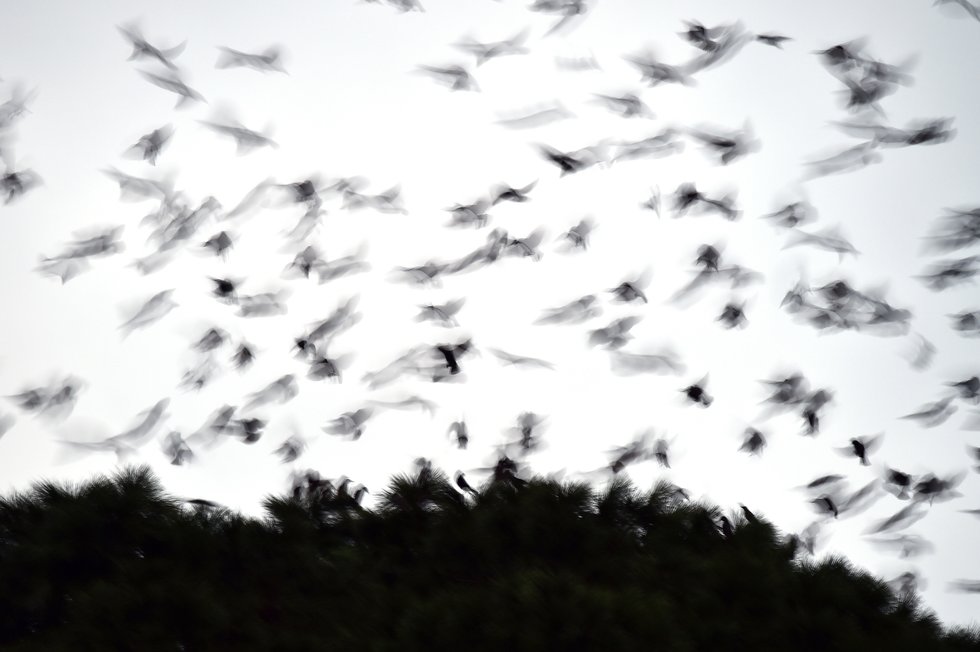 This is the first time magnetoreception has been discovered in animals. But how is the magnetic field perceived by birds? Credit: Getty Images.
They found that Cry1 and Cry2 expression fluctuated throughout the day—as they're both tied to circadian rhythms, Cry 4 didn't. It stayed constant. As this gene's protein is being consistently produced, researchers believe it's tied to detecting the magnetic field. Consider that birds navigate by it day or night. There are other indicators too. European robins for instance, were shown to have increased Cry4 expression during the migratory season, something that wasn't found in chickens.
Both teams, in addition to looking at gene expression, found that the area in the birds' retinas where Cry4 is located receives a lot of light. Though the evidence is compelling and the theory strong, more research must be done, particularly in bird species with latent Cry4, in order to confirm these results. And beyond that, scientists if they prove the theory true, will then have to discern exactly how birds perceive the magnetic field.
To learn more about the science behind migratory animals, click here:
The ability to speak clearly, succinctly, and powerfully is easier than you think
Former U.S. President Barack Obama speaks during a Democratic Congressional Campaign Committee rally at the Anaheim Convention Center on September 8, 2018 in Anaheim, California. (Photo by Barbara Davidson/Getty Images)
Personal Growth
The ability to communicate effectively can make or break a person's assessment of your intelligence, competence, and authenticity.
Researchers discover a link between nonverbal synchronization and relationship success.
Pixabay
Sex & Relationships
Scientists say coordinating movements leads to increased intimacy and sexual desire in a couple.
The improved rapport and empathy was also observed in people who didn't know each other.
Non-verbal clues are very important in the development stages of a relationship.
What defines a dark horse? The all-important decision to pursue fulfillment and excellence.
Big Think Books
When we first set the Dark Horse Project in motion, fulfillment was the last thing on our minds. We were hoping to uncover specific and possibly idiosyncratic study methods, learning techniques, and rehearsal regimes that dark horses used to attain excellence. Our training made us resistant to ambiguous variables that were difficult to quantify, and personal fulfillment seemed downright foggy. But our training also taught us never to ignore the evidence, no matter how much it violated our expectations.
Big think's weekly newsletter.
Get smarter faster from the comfort of your inbox.
See our newsletter privacy policy
here
Most Popular
Most Recent
Big think's weekly newsletter.
Get smarter faster from the comfort of your inbox.
See our newsletter privacy policy
here
© Copyright 2007-2018 & BIG THINK, BIG THINK EDGE,
SMARTER FASTER trademarks owned by The Big Think, Inc. All rights reserved.