How Taoist philosophy deals with the concept of anxiety
Perpetual worry doesn't have to be your default mindset.
13 March, 2019
Anxiety doesn't exist for someone who has a life lived in the present.
Our concerns for a spectral future fuel anxiety.
Taoist philosophy teaches us a new way of living.
---
Varying degrees of anxiety awash over millions. Whether it's stress from the workplace, fretting for a future that never comes or getting tangled in the ceaseless political drama of the day. At the root of this issue is the constant need to live for the future and it is here where our anxiety stems from.
One of the solutions for anxiety, and other assorted mental ailments, set forth by Taoists is the idea of mindfulness or being within the present moment. It is from within this philosophy which emerges the art of meditation. The concept of presence flows throughout the Eastern idea of being within the now. It's been repeated so many times that the words often read as platitude and banality. But the concept cannot be overlooked because it is the missing key toward living a fulfilling life devoid of angst and anxiety.
Here's how Taoist philosophy rids us of anxiety.
Taoism takes us back to what is real     
Our insistence on staying secure in a fluid and metamorphic world is an absurd concept when you get down to the bottom of it. Change is ever constant. The future doesn't exist. These adages are all ignored. And as they will be continually ignored by the masses in perpetuity — then it will come as no surprise that the concept of anxiety will stay with us.
Though, decide not to ignore this timeless wisdom and one will find a new way to live freely without anxiety. One of the great translators of Taoist ideas, Alan Watts, codified this way of living in his seminal work: The Wisdom of Insecurity: A Message for An Age of Anxiety.
In this book, Watts argues that our primary way we delude ourselves from the present moment is by leaving the body and retreating behind our minds. The boiling pot of countless worries, thinking, categorizing and calculating space where anxieties and thoughts pouring over thoughts remove us from any truth of the real moment at hand. This is where Watts states that "the 'primary consciousness,' the basic mind which knows reality rather than ideas about it, does not know the future." In other words, our thinking facilities are divorced from the actuality of experience.
Our more methodical thinking processes on the other hand creates memories, which we use for making predictions on what is to come. These predictions prove to be relatively accurate and we begin to rely on them. The future begins to take on as Watts says, "a high degree of reality — so high that the present loses its value."
But the future is still not here, and cannot become a part of experienced reality until it is present. Since what we know of the future is made up of purely abstract and logical elements — inferences, guesses, deductions — it cannot be eaten, felt, smelled, seen, heard, or otherwise enjoyed.
Rephrasing the way we think about future events then is one such way that the Taoist philosophy does away with anxiety. It's really that simple. But as practice or non-practice, it is something that our modern civilization lacks. After all, the anxiety riddled addict is probably already thinking, "What are we to do!"
To pursue it is to pursue a constantly retreating phantom, and the faster you chase it, the faster it runs ahead. This is why all the affairs of civilization are rushed, why hardly anyone enjoys what he has, and is forever seeking more and more.
Applying the concept of wu-wei 
Laozi's Tao Te Ching is a small book filled with immeasurable wisdom. It has instructed us on the basis of Taoism. From within this book comes an interesting concept called wu-wei, which literally means "without exertion." There are plenty of famous aphorisms from this text that explain this concept fully.
If you try to change it, you will ruin it. Try to hold it, and you will lose it.
Wu-wei is the act of not going against the natural rhythms of the present, while learning to get out of your own way. Again, meditation and a silencing of the over analytic mind is what wu-wei proposes to offer us. It is also within this way that we begin to see what Buddhism, Tao, yoga and other assorted religions of the Ancient East offer us — a renewed psychology of the mind.
Psychotherapy as philosophy in the Ancient East
There are many similarities between Eastern philosophical ways of life and Western psychotherapy. Both deal with the concern of changing our consciousness for the betterment of humanity and availing us of negative ailments such as anxiety. Although, where they converge is within their categorization of what is considered a well-suited and enlightened individual. Alan Watts put it as:
"The psychotherapist has, for the most part, been interested in changing the consciousness of peculiarly disturbed individuals. The disciplines of Buddhism and Taoism are, however, concerned with changing the consciousness of normal, socially adjusted people."
Modern Western approaches to mental well-being largely focus on the symptoms and not the root causes. The mechanization of mental health treatment often muddies the water even further. Contrast this to the way that Ancient Eastern religions have approached self-care for thousands of years. Through the act of meditation, breathing exercises, and a yogic life, those who are adept at centering themselves "in the now" are continually living in a state of self-directed care.
These approaches to emotional distress and anxious turmoil recognize that the issue stems from the delusion of self and future — two ironclad concepts we, in the West, still hold very close to our identity in our culture. From this renewed Taoist perspective, we become the arbiters and shrinks of our own psychology. When worries about scenarios that may never manifest are substituted with grounded, thoughtful deliberations, we regain a sense of potent agency.
This all said, it seems that an integrative Taoist philosophy may, indeed, reduce anxiety when followed by an individual.
Malcolm Gladwell teaches "Get over yourself and get to work" for Big Think Edge.
Big Think Edge
Learn to recognize failure and know the big difference between panicking and choking.

At Big Think Edge, Malcolm Gladwell teaches how to check your inner critic and get clear on what failure is.

Subscribe to Big Think Edge before we launch on March 30 to get 20% off monthly and annual memberships.
It's one of the most consistent patterns in the unviverse. What causes it?
Videos
Spinning discs are everywhere – just look at our solar system, the rings of Saturn, and all the spiral galaxies in the universe.
Spinning discs are the result of two things: The force of gravity and a phenomenon in physics called the conservation of angular momentum.
Gravity brings matter together; the closer the matter gets, the more it accelerates – much like an ice skater who spins faster and faster the closer their arms get to their body. Then, this spinning cloud collapses due to up and down and diagonal collisions that cancel each other out until the only motion they have in common is the spin – and voila: A flat disc.
It turns out, that tattoo ink can travel throughout your body and settle in lymph nodes.
17th August 1973: An American tattoo artist working on a client's shoulder. (Photo by F. Roy Kemp/BIPs/Getty Images)
popular
In the slightly macabre experiment to find out where tattoo ink travels to in the body, French and German researchers recently used synchrotron X-ray fluorescence in four "inked" human cadavers — as well as one without. The results of their 2017 study? Some of the tattoo ink apparently settled in lymph nodes.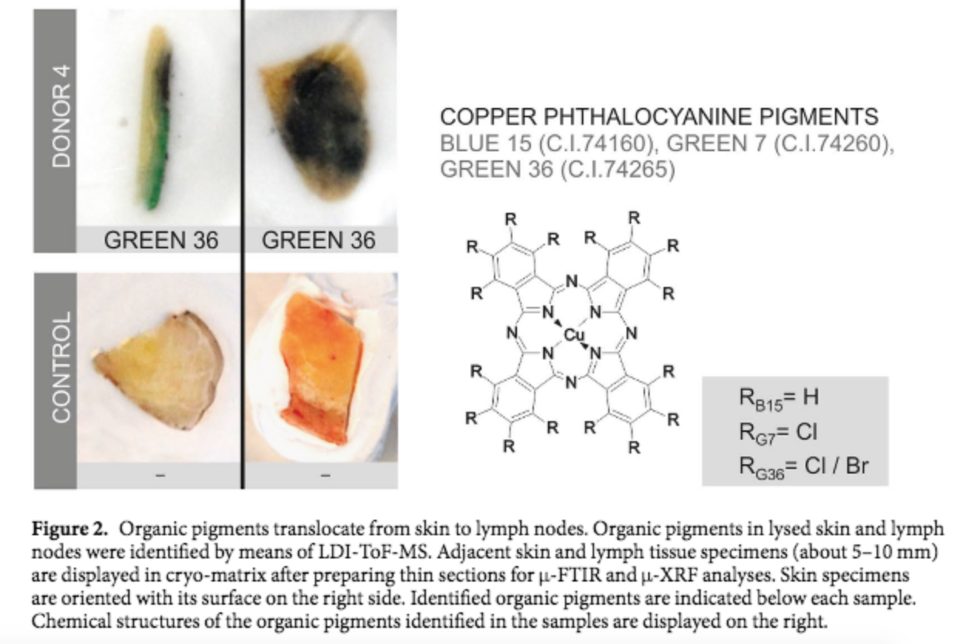 Image from the study.
As the authors explain in the study — they hail from Ludwig Maximilian University of Munich, the European Synchrotron Radiation Facility, and the German Federal Institute for Risk Assessment — it would have been unethical to test this on live animals since those creatures would not be able to give permission to be tattooed.
Because of the prevalence of tattoos these days, the researchers wanted to find out if the ink could be harmful in some way.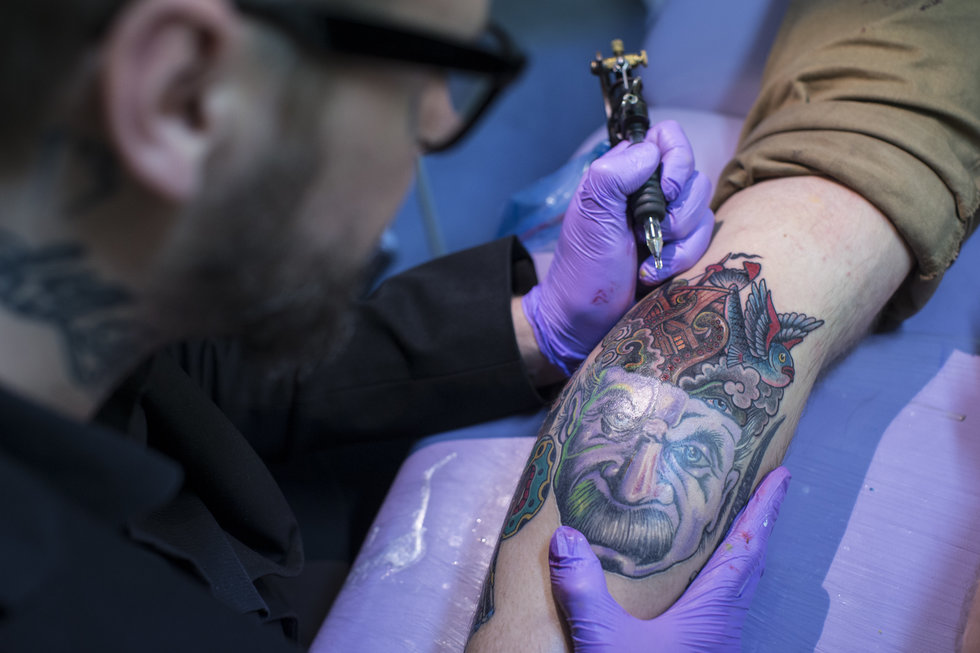 "The increasing prevalence of tattoos provoked safety concerns with respect to particle distribution and effects inside the human body," they write.
It works like this: Since lymph nodes filter lymph, which is the fluid that carries white blood cells throughout the body in an effort to fight infections that are encountered, that is where some of the ink particles collect.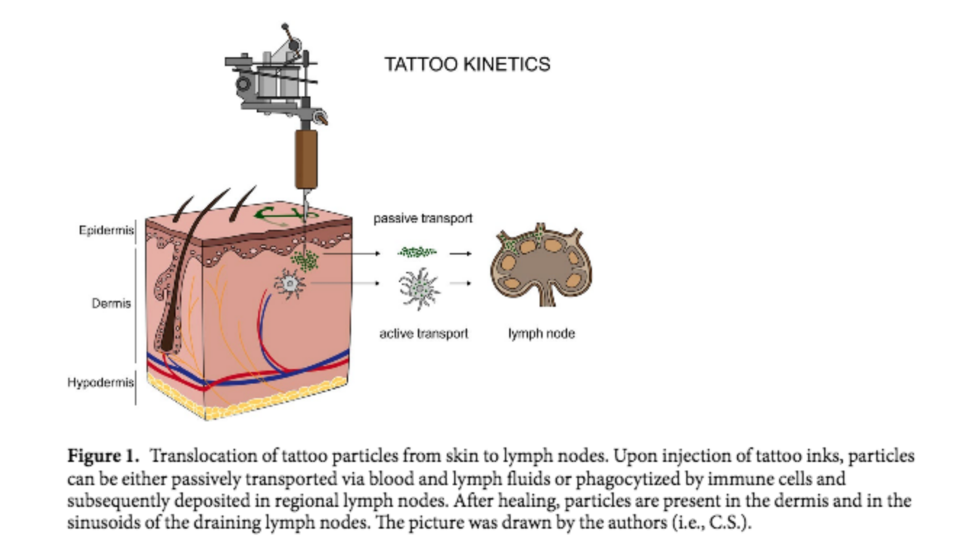 Image by authors of the study.
Titanium dioxide appears to be the thing that travels. It's a white tattoo ink pigment that's mixed with other colors all the time to control shades.
The study's authors will keep working on this in the meantime.
"In future experiments we will also look into the pigment and heavy metal burden of other, more distant internal organs and tissues in order to track any possible bio-distribution of tattoo ink ingredients throughout the body. The outcome of these investigations not only will be helpful in the assessment of the health risks associated with tattooing but also in the judgment of other exposures such as, e.g., the entrance of TiO2 nanoparticles present in cosmetics at the site of damaged skin."
Do you have a magnetic compass in your head?
Big think's weekly newsletter.
Get smarter faster from the comfort of your inbox.
See our newsletter privacy policy
here
Most Popular
Most Recent
Big think's weekly newsletter.
Get smarter faster from the comfort of your inbox.
See our newsletter privacy policy
here
© Copyright 2007-2018 & BIG THINK, BIG THINK EDGE,
SMARTER FASTER trademarks owned by The Big Think, Inc. All rights reserved.