Divers discover world's largest underwater cave system filled with Mayan mysteries
Researchers in Mexico discover the longest underwater cave system in the world that's full of invaluable artifacts.
21 January, 2018
---
Mexican scientists discovered the world's largest flooded cave system that extends an amazing 216 miles (347 km) and is filled with artifacts. The maze of caves is a major archaeological find that promises to shed light on the mysteries of the Mayan civilization. 
Underwater archaeologist Guillermo de Anda of Mexico's National Institute of Anthropology and History led the Great Maya Aquifer Project (GAM), which has been exploring underwater caves on the Caribbean coastline of the Yucatán Peninsula in Mexico for decades. The region has 358 freshwater flooded cave systems that stretch for over 870 miles (1,400km). 
De Anda explained that their accomplishment has wide-ranging significance:
"This immense cave represents the most important submerged archaeological site in the world," said de Anda. "It has more than a hundred archaeological contexts, among which are evidence of the first settlers of America, as well as extinct fauna and, of course, the Maya culture."
The current research effort took 10 months and proved that two caves systems - the Sac Actun System and the Dos Ojos caves are actually part of one continuous and, certainly gigantic, cavity in the Earth.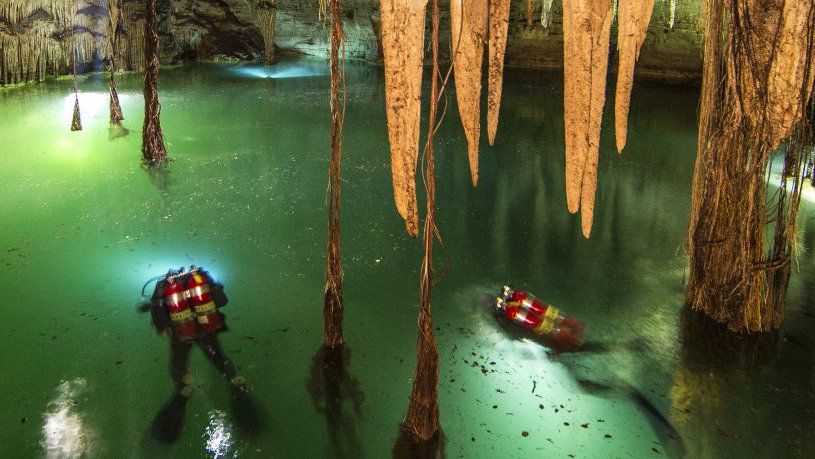 Inside the cave system. Credit: GAM
GAM exploration director Robert Schmittner told the Mexican newspaper El Pais how the research team came close a number of times to proving the connection between the two giant cave systems.
"It was like trying to follow the veins within a body," said Schmittner. "It was a labyrinth of paths that sometimes came together and sometimes separated. We had to be very careful." 
Now that the researchers showed that the two cave mazes are linked, they think another three underwater cave systems can be added to what is already the longest cave labyrinth in the world.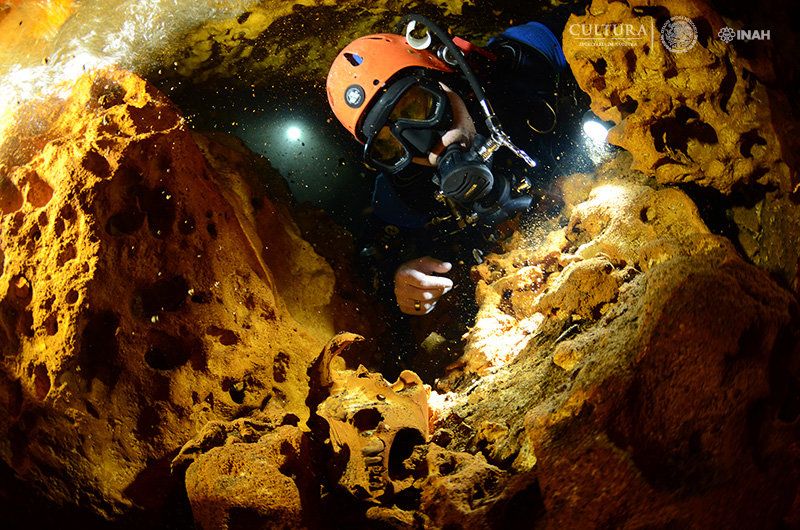 Diver inside the underwater caves. Credit: GAM
The impressive caves present an invaluable scientific loot, with divers finding a large amount of Mayan artifacts like ceramics, remains (including those of early humans, giant sloths and tigers) and extinct fauna.
De Anda called the caves a "tunnel of time that transports you to a place 10,000 to 12,000 years ago."
Check out this video about the find, which has some great footage:
Research in plant neurobiology shows that plants have senses, intelligence and emotions.
Getty Images
Surprising Science
The field of plant neurobiology studies the complex behavior of plants.
Plants were found to have 15-20 senses, including many like humans.
Some argue that plants may have awareness and intelligence, while detractors persist.
E-cigarettes may be safer than traditional cigarettes, but they come with their own risks.
Surprising Science
A new study used an MRI machine to examine how vaping e-cigarettes affects users' cardiovascular systems immediately after inhalation.
The results showed that vaping causes impaired circulation, stiffer arteries and less oxygen in their blood.
The new study adds to a growing body of research showing that e-cigarettes – while likely safer than traditional cigarettes – are far from harmless.
Since the idea of locality is dead, space itself may not be an aloof vacuum: Something welds things together, even at great distances.

Videos
Realists believe that there is an exactly understandable way the world is — one that describes processes independent of our intervention. Anti-realists, however, believe realism is too ambitious — too hard. They believe we pragmatically describe our interactions with nature — not truths that are independent of us.
In nature, properties of Particle B may be depend on what we choose to measure or manipulate with Particle A, even at great distances.
In quantum mechanics, there is no explanation for this. "It just comes out that way," says Smolin. Realists struggle with this because it would imply certain things can travel faster than light, which still seems improbable.