Wolves leaving radioactive area around Chernobyl raise mutant fears
Researchers study wolves in the area contaminated by the Chernobyl nuclear disaster and what happens when they leave.
08 July, 2018
Scientists followed a mutant wolf out of the Chernobyl contaminated "exclusion zone" into the regular world just to see what would happen. No, that's not the plot of the latest horror film but a study that recently came out. 
---
The Chernobyl nuclear disaster took place in 1986 near the town of Chernobyl in what was then the Soviet Union (now Ukraine). An exploded reactor ended up releasing 400 times more radioactive fallout than the atomic bomb dropped on Hiroshima (according to the IAEA). It was to this date the worst nuclear accident mankind has ever seen, resulting in the quarantining of an area 30 miles in diameter around the reactor. This has now grown to be about a 1,000 sq miles.
While there are no humans in the Chernobyl Exclusion Zone (or CEZ), the area has seen an expansion of wildlife, essentially acting as a preserve. And now some of that wildlife is leaving the area and traveling to other places. That's what the scientists who outfitted a wolf with a tracker observed for the first time. Not only is some wildlife leaving, it might have mutated genes. Scientists are hoping to understand what would happen if these genes mixed in the pool with non-contaminated animals. Besides, creating radioactive zombie wolves, of course. 
In an interview with Live Science, researcher Michael Byrne from the University of Missouri at Columbia explained why wildlife migration is significant to study:
"Instead of being an ecological black hole, the Chernobyl Exclusion Zone might actually act as a source of wildlife to help other populations in the region," said Byrne. "And these findings might not just apply to wolves – it's reasonable to assume similar things are happening with other animals as well."
The data on the young wolf tracked with a GPS collar is actually from 2015, but the study analyzing the data is new. The original gray wolf traveled across Ukraine from the CEZ, venturing at least 229 miles (369 km) from the Zone. It is no longer being tracked, with researchers getting the last signal from its GPS a few months ago. 
Check out this PBS-screened doc on the 'Radioactive wolves of Chernobyl":
It's also reasonable to assume that much more traveling has taken place by the Chernobyl animals in the years since, although the roaming wolf was the only one of 14 that were tracked which left the CEZ. 
What is the effect of having the wolf and other animals from Chernobyl mixing with animals from non-contaminated areas remains to be seen. Scientists have shown that species in the Exclusion Zone have mutation rates increases of up to 20 times. 
This doesn't necessarily mean some strange hybrid beasts are roaming that area. "No wolves there were glowing — they all have four legs, two eyes and one tail," Byrne confirmed.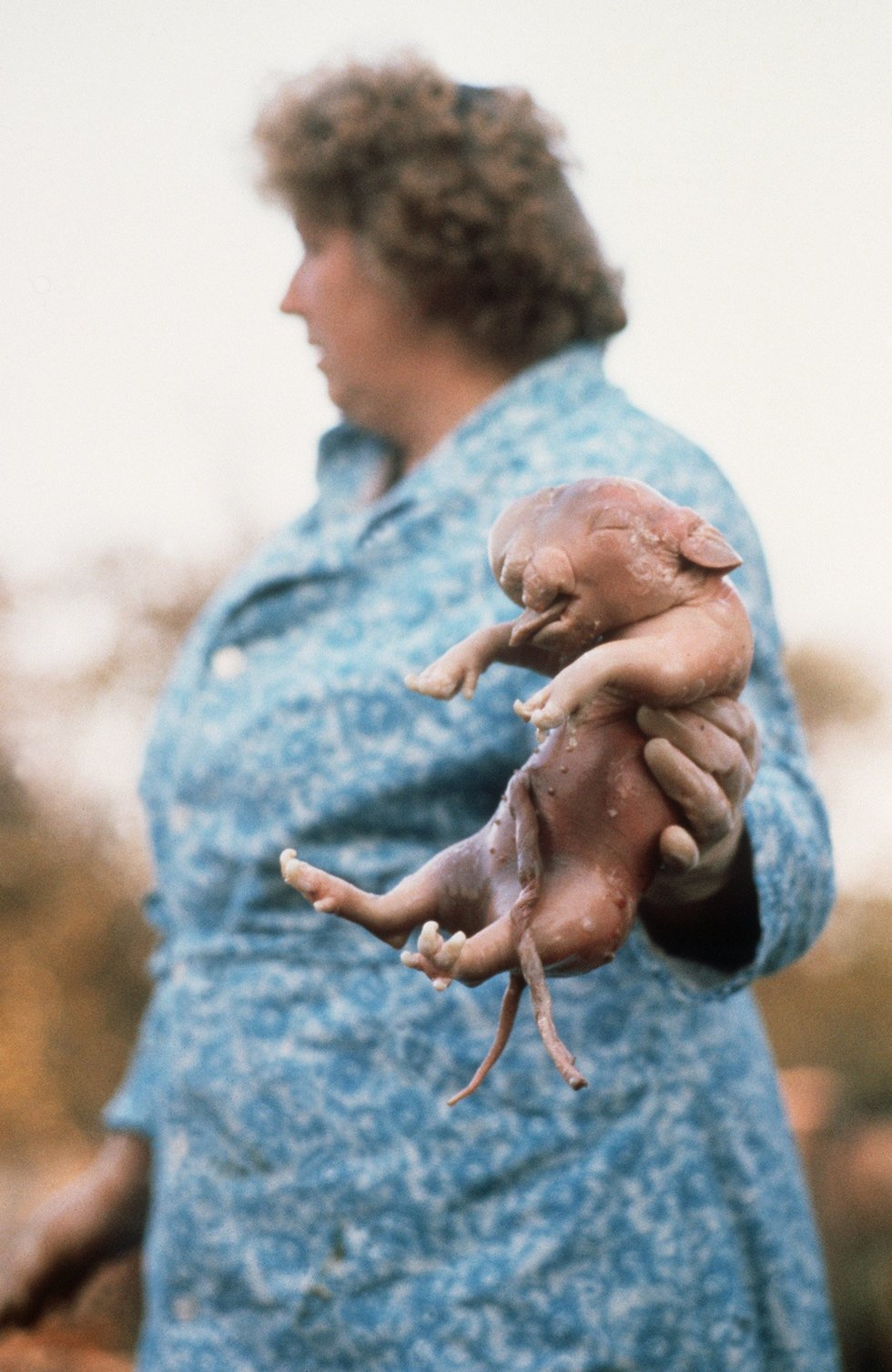 A woman holds a disabled newly-born pig -- a victim of the radioactivity fall-out of the Chernobyl nuclear accident in 1986. Photo was taken on October 2nd, 1989(Photo credit: LARS GRANSTRAND/AFP/Getty Images)
Mutations are not usually very dramatic in character and tend to keep happening even without exposure to radiation. In an interview with Mashable, Bridgett vonHoldt, an evolutionary biologist at Princeton University and a specialist in wolf genetics, explained:
"Not all mutations are bad," said vonHoldt. "Mutations are the bread and butter of diversity, and can enhance proteins, or gene expression patterns, etc." But "they can also be harmful."
We just don't know what could happen. Who is willing to roll that particular dice other than curious scientists?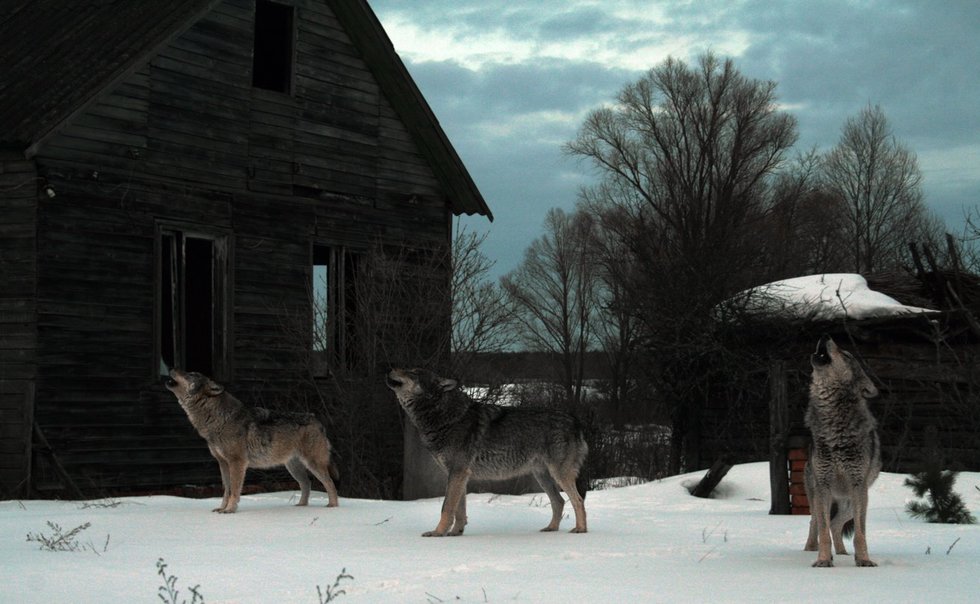 Wolves in an abandoned village in Chernobyl area. Credit: Byshnev/iStock/Getty Images
What is especially interesting is that gray wolves have increased in population within the Zone much faster than other species. The Zone is 7 times more dense in the wolf population than the nature reserves outside it.
You can read the study published in the European Journal of Wildlife Research.
Giving our solar system a "slap in the face"
Surprising Science
A stream of galactic debris is hurtling at us, pulling dark matter along with it
It's traveling so quickly it's been described as a hurricane of dark matter
Scientists are excited to set their particle detectors at the onslffaught
Two massive clouds of dust in orbit around the Earth have been discussed for years and finally proven to exist.
J. Sliz-Balogh, A. Barta and G. Horvath
Surprising Science
Hungarian astronomers have proven the existence of two "pseudo-satellites" in orbit around the earth.
These dust clouds were first discovered in the sixties, but are so difficult to spot that scientists have debated their existence since then.
The findings may be used to decide where to put satellites in the future and will have to be considered when interplanetary space missions are undertaken.
Once again, our circadian rhythm points the way.
Photo: Victor Freitas / Unsplash
Surprising Science
Seven individuals were locked inside a windowless, internetless room for 37 days.
While at rest, they burned 130 more calories at 5 p.m. than at 5 a.m.
Morning time again shown not to be the best time to eat.
Big think's weekly newsletter.
Get smarter faster from the comfort of your inbox.
See our newsletter privacy policy
here
Most Popular
Most Recent
Big think's weekly newsletter.
Get smarter faster from the comfort of your inbox.
See our newsletter privacy policy
here
© Copyright 2007-2018 & BIG THINK, BIG THINK EDGE,
SMARTER FASTER trademarks owned by The Big Think, Inc. All rights reserved.