We live in a zombie galaxy that died and came back to life, claims new study
A Japanese astronomer shows that the Milky Way galaxy was formed in two stages, "dying" in between.
27 August, 2018
We live inside a galaxy-wide zombie, says a fascinating new study. Our galaxy, the Milky Way, has apparently had quite an eventual life, "dying" once before. This is according to calculations by the Japanese astronomer Masafumi Noguchi of Tohoku University. 
---
Noguchi looked at the history of the Milky Way over a period of 10 billion years. He wanted to explain the mystery of why the stars of the Milky Way can be split into those that are rich in the "alpha" elements like oxygen, silicon and magnesium, and those that are overflowing with iron. The astronomer created a model that shows the existence of two separate periods of star formation.
The model utilizes the theory of "cold flow accretion," proposed in 2006 by Avishai Dekel and his colleagues from The Hebrew University. Also central to the model is the fact that the chemical composition of stars can tell us about the gases that formed them. Stars essentially memorize the amount of the elements at the time they were being created.
Noguchi showed that during the first period of formation, streams of cold gas came into the galaxy from the outside, leading to the creation of the first stars. Fast-forward a few million years and some of these stars exploded as supernovas, creating a large number of alpha elements. These, in turn, made their way into gas and got incorporated into other stars.
But around 7 billion years ago, shock waves heated the gas so much that its flow into our galaxy stopped. This also ceased the star formation process for the next 2 billion years. This "dormant" period was notable for long-lived star explosions, which pumped iron into the gas, changing its composition. 
About 5 billion years ago, the gas cooled enough and the second generation of stars started to form, including our sun. This new crop of celestial objects was also much richer in iron.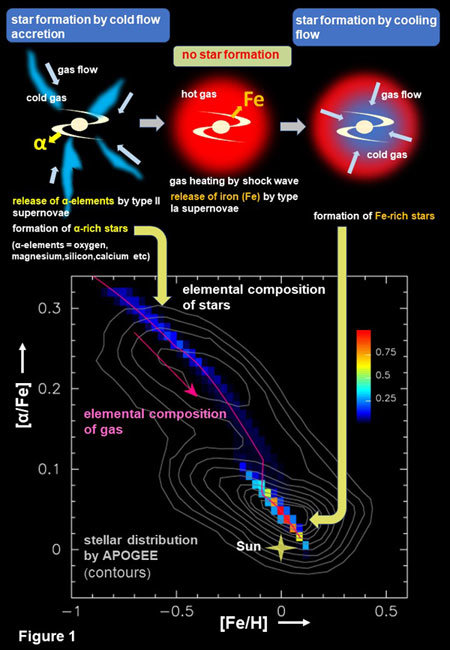 In corroboration of Noguchi's theory about the Milky Way, previous research has shown that our neighboring Andromeda galaxy also created stars in two stages. Similarly, that process featured a long quiet period in between.
While Noguchi expects that massive spiral galaxies like the Milky Way and the Andromeda nebula follow the same pattern of formation, he predicts smaller galaxies make stars without stopping. 
"Future observations of nearby galaxies may revolutionize our view about galaxy formation," stated Noguchi in a press release. 
Noguchi revealed his findings in a paper published the July 26th issue of Nature - the International Journal of Science.
Pfizer's partnerships strengthen their ability to deliver vaccines in developing countries.
Susan Silbermann, Global President of Pfizer Vaccines, looks on as a health care worker administers a vaccine in Rwanda. Photo: Courtesy of Pfizer.
Sponsored
Community healthcare workers face many challenges in their work, including often traveling far distances to see their clients
Pfizer is helping to drive the UN's sustainable development goals through partnerships.
Pfizer partnered with AMP and the World Health Organization to develop a training program for healthcare workers.
The stories we tell define history. So who gets the mic in America?
Videos
History is written by lions. But it's also recorded by lambs.
In order to understand American history, we need to look at the events of the past as more prismatic than the narrative given to us in high school textbooks.
Including different voices can paint a more full and vibrant portrait of America. Which is why more walks of American life can and should be storytellers.

There is no doubt that the historical Jesus, the man who was executed by the Roman State in the first century CE, was a brown-skinned, Middle Eastern Jew.
Hans Zatzka (Public Domain)/The Conversation, CC BY-ND
popular
I grew up in a Christian home, where a photo of Jesus hung on my bedroom wall. I still have it. It is schmaltzy and rather tacky in that 1970s kind of way, but as a little girl I loved it. In this picture, Jesus looks kind and gentle, he gazes down at me lovingly. He is also light-haired, blue-eyed, and very white.
Orangutans join humans and bees in a very exclusive club
Surprising Science
Orangutan mothers wait to sound a danger alarm to avoid tipping off predators to their location
It took a couple of researchers crawling around the Sumatran jungle to discover the phenomenon
This ability may come from a common ancestor
Big think's weekly newsletter.
Get smarter faster from the comfort of your inbox.
See our newsletter privacy policy
here
Most Popular
Most Recent
Big think's weekly newsletter.
Get smarter faster from the comfort of your inbox.
See our newsletter privacy policy
here
© Copyright 2007-2018 & BIG THINK, BIG THINK EDGE,
SMARTER FASTER trademarks owned by The Big Think, Inc. All rights reserved.