We live in a zombie galaxy that died and came back to life, claims new study
A Japanese astronomer shows that the Milky Way galaxy was formed in two stages, "dying" in between.
27 August, 2018
We live inside a galaxy-wide zombie, says a fascinating new study. Our galaxy, the Milky Way, has apparently had quite an eventual life, "dying" once before. This is according to calculations by the Japanese astronomer Masafumi Noguchi of Tohoku University. 
---
Noguchi looked at the history of the Milky Way over a period of 10 billion years. He wanted to explain the mystery of why the stars of the Milky Way can be split into those that are rich in the "alpha" elements like oxygen, silicon and magnesium, and those that are overflowing with iron. The astronomer created a model that shows the existence of two separate periods of star formation.
The model utilizes the theory of "cold flow accretion," proposed in 2006 by Avishai Dekel and his colleagues from The Hebrew University. Also central to the model is the fact that the chemical composition of stars can tell us about the gases that formed them. Stars essentially memorize the amount of the elements at the time they were being created.
Noguchi showed that during the first period of formation, streams of cold gas came into the galaxy from the outside, leading to the creation of the first stars. Fast-forward a few million years and some of these stars exploded as supernovas, creating a large number of alpha elements. These, in turn, made their way into gas and got incorporated into other stars.
But around 7 billion years ago, shock waves heated the gas so much that its flow into our galaxy stopped. This also ceased the star formation process for the next 2 billion years. This "dormant" period was notable for long-lived star explosions, which pumped iron into the gas, changing its composition. 
About 5 billion years ago, the gas cooled enough and the second generation of stars started to form, including our sun. This new crop of celestial objects was also much richer in iron.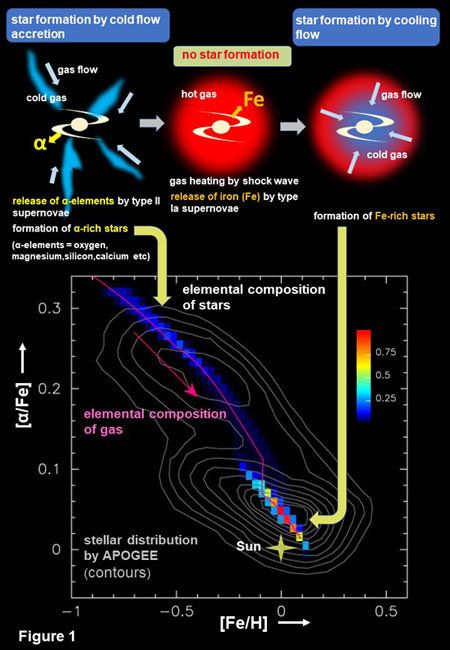 In corroboration of Noguchi's theory about the Milky Way, previous research has shown that our neighboring Andromeda galaxy also created stars in two stages. Similarly, that process featured a long quiet period in between.
While Noguchi expects that massive spiral galaxies like the Milky Way and the Andromeda nebula follow the same pattern of formation, he predicts smaller galaxies make stars without stopping. 
"Future observations of nearby galaxies may revolutionize our view about galaxy formation," stated Noguchi in a press release. 
Noguchi revealed his findings in a paper published the July 26th issue of Nature - the International Journal of Science.
Big Think Edge
The meaning of the word 'confidence' seems obvious. But it's not the same as self-esteem.
Confidence isn't just a feeling on your inside. It comes from taking action in the world.
Join Big Think Edge today and learn how to achieve more confidence when and where it really matters.
Sponsored by the Institute for Humane Studies
There are 2 different approaches to governing free speech on college campuses.
One is a morality/order approach. The other is a bottom-up approach.
Emily Chamlee-Wright says there are many benefits to having no one central authority on what is appropriate speech.
America continues to tread water in healthcare and education while other countries have enacted reforms to great effect.
Joe Raedle/Getty Images
Politics & Current Affairs
The American healthcare and education systems are known to need some work, but a new study suggests we've fallen far in comparison to the rest of the world.
The findings show what progress, if any, 195 countries have made over the last twenty years
The study suggests that economic growth is tied to human capital, which gives a dire view of America's economic prospects.
Big Think Edge
Economist Sylvia Ann Hewlett breaks down what qualities will inspire others to believe in you.
Here's how 300 leaders and 4,000 mid-level managers described someone with executive presence.
Get more deep insights like these to power your career forward. Join Big Think Edge.
Big think's weekly newsletter.
Get smarter faster from the comfort of your inbox.
See our newsletter privacy policy
here
Most Popular
Most Recent
Big think's weekly newsletter.
Get smarter faster from the comfort of your inbox.
See our newsletter privacy policy
here
© Copyright 2007-2019 & BIG THINK, BIG THINK EDGE,
SMARTER FASTER trademarks owned by The Big Think, Inc. All rights reserved.