Big ideas.
Once a week.
Subscribe to our weekly newsletter.
Top 20 greatest inventions of all time
The most impactful technology inventions in history are ranked.
30 October, 2016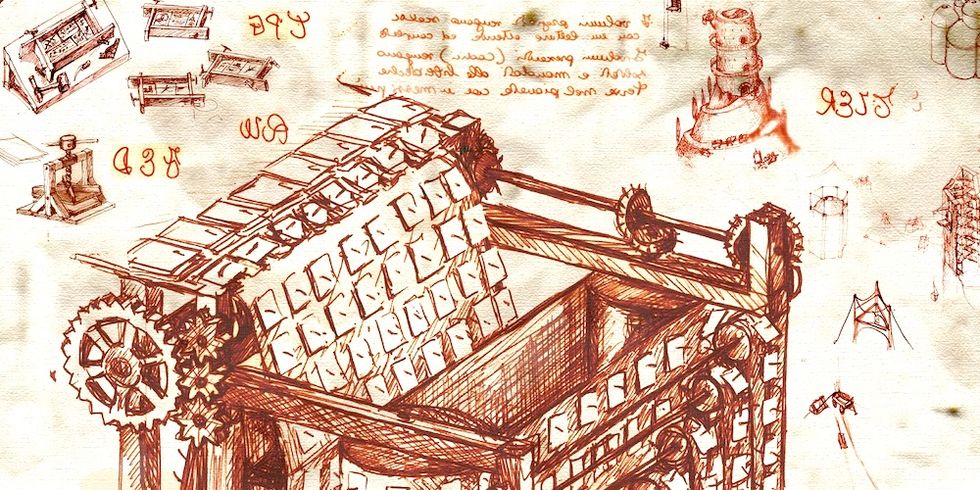 Technology is a core component of the human experience. We have been creating tools to help us tame the physical world since the early days of our species.
---
Any attempt to count down the most important technological inventions is certainly debatable, but here are some major advancements that should probably be on any such list (in chronological order):
1. FIRE - it can be argued that fire was discovered rather than invented. Certainly, early humans observed incidents of fire, but it wasn't until they figured out how to control it and produce it themselves that humans could really make use of everything this new tool had to offer. The earliest use of fire goes back as far as two million years ago, while a widespread way to utilize this technology has been dated to about 125,000 years ago. Fire gave us warmth, protection, and led to a host of other key inventions and skills like cooking. The ability to cook helped us get the nutrients to support our expanding brains, giving us an indisputable advantage over other primates.
2. WHEEL - the wheel was invented by Mesopotamians around 3500 B.C., to be used in the creation of pottery. About 300 years after that, the wheel was put on a chariot and the rest is history. Wheels are ubiquitous in our everyday life, facilitating our transportation and commerce.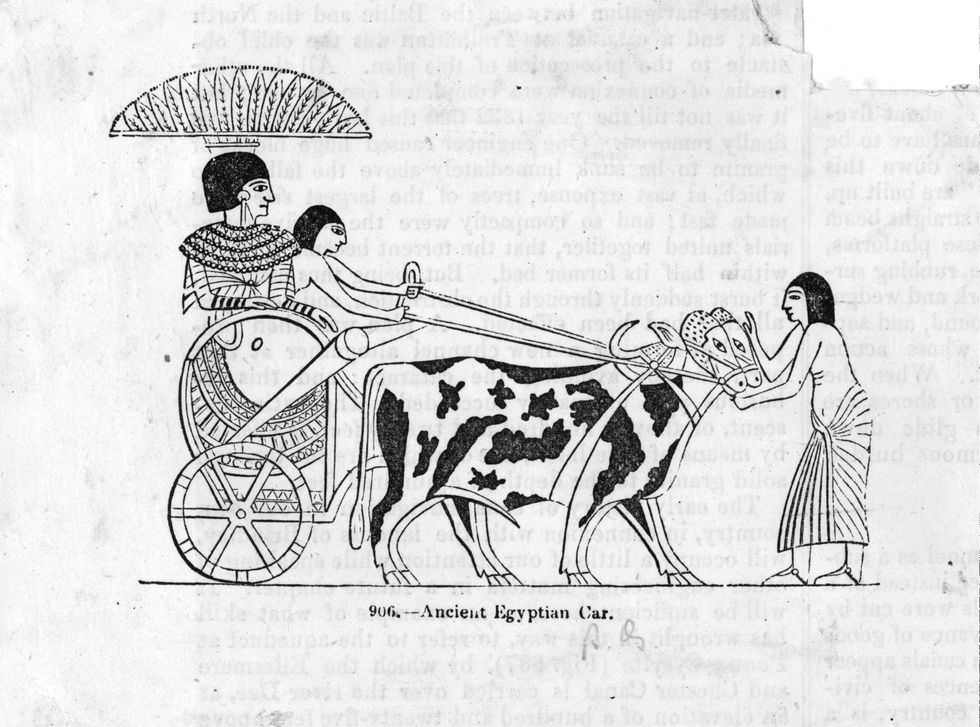 Circa 2000 BC, Oxen drawing an ancient Egyptian two-wheeled chariot. (Photo by Hulton Archive/Getty Images)
3. NAIL - The earliest known use of this very simple but super-useful metal fastener dates back to Ancient Egypt, about 3400 B.C. If you are more partial to screws, they've been around since Ancient Greeks (1st or 2nd century B.C.).
4. OPTICAL LENSES - from glasses to microscopes and telescopes, optical lenses have greatly expanded the possibilities of our vision. They have a long history, first developed by ancient Egyptians and Mesopotamians, with key theories of light and vision contributed by Ancient Greeks. Optical lenses were also instrumental components in the creation of media technologies involved in photography, film and television.
5. COMPASS - this navigational device has been a major force in human exploration. The earliest compasses were made of lodestone in China between 300 and 200 B.C.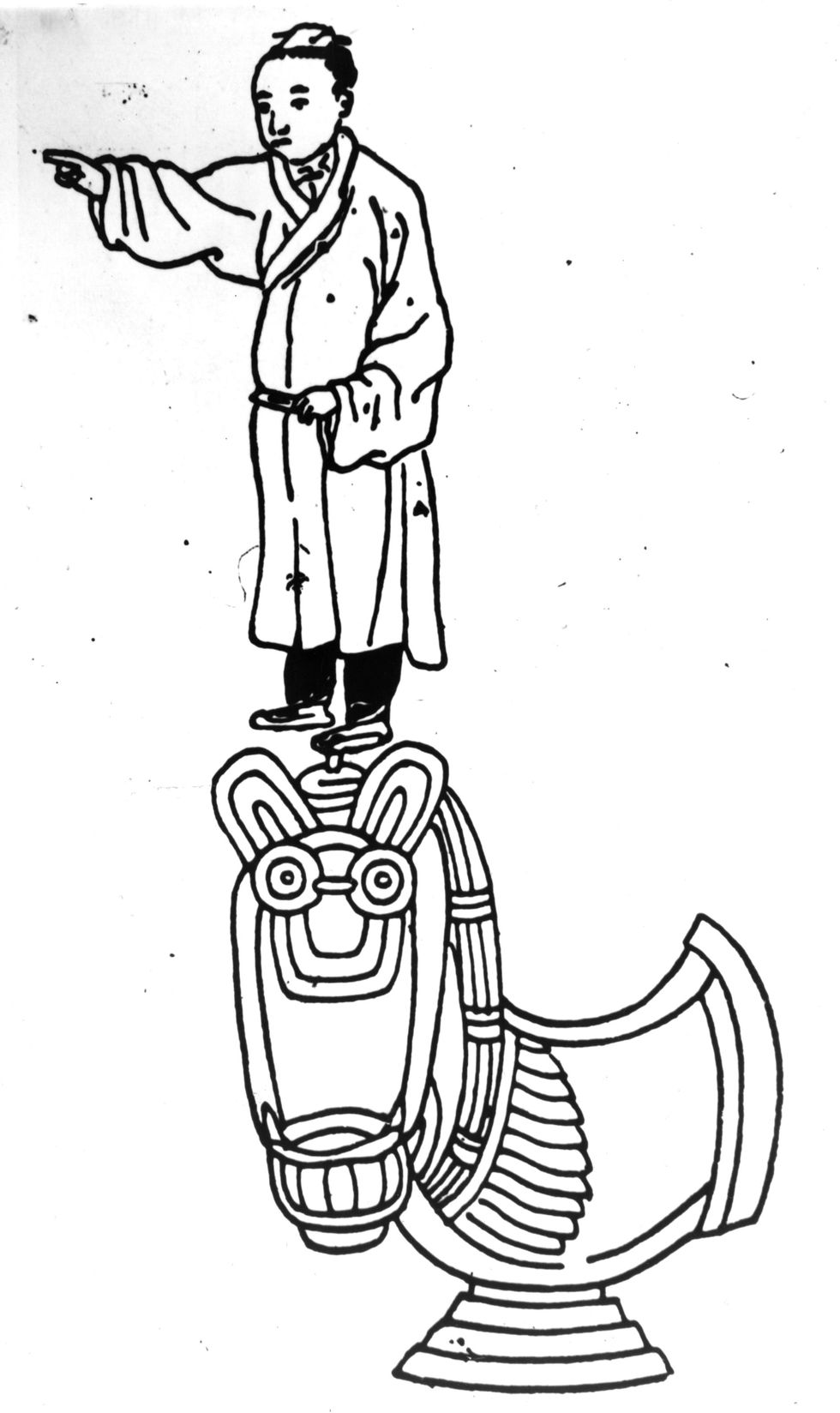 Circa 1121 BC, An ancient Chinese magnetic chariot. The figure, pointing to the south, moves in accordance with the principle of the magnetic compass. (Photo by Hulton Archive/Getty Images)
6. PAPER - invented about 100 BC in China, paper has been indispensible in allowing us to write down and share our ideas.
7. GUNPOWDER - this chemical explosive, invented in China in the 9th century, has been a major factor in military technology (and, by extension, in wars that changed the course of human history).
8. PRINTING PRESS - invented in 1439 by the German Johannes Gutenberg, this device in many ways laid the foundation for our modern age. It allowed ink to be transferred from the movable type to paper in a mechanized way. This revolutionized the spread of knowledge and religion as previously books were generally hand-written (often by monks).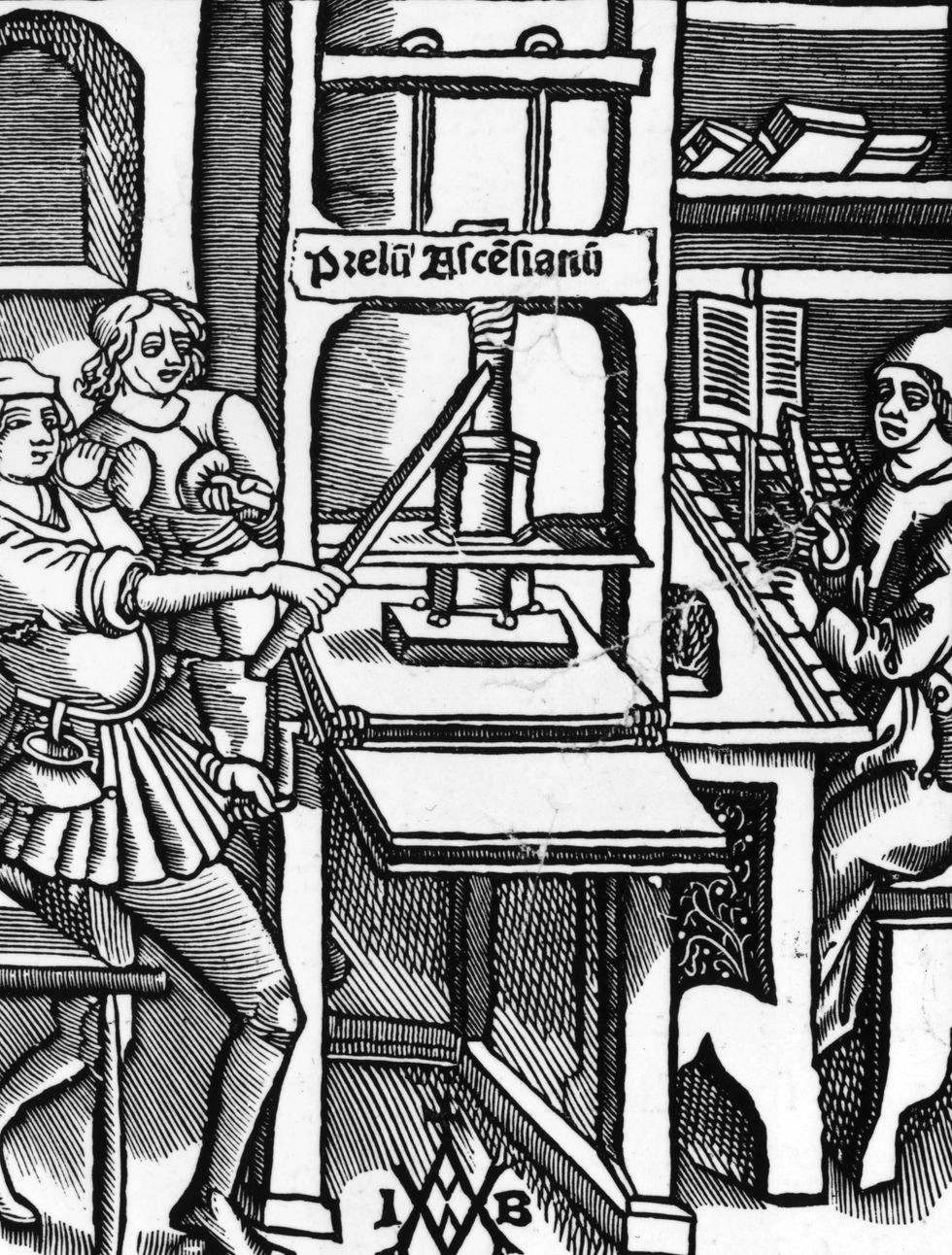 1511, Printing Press, from the title page of 'Hegesippus' printed by Jodocus Badius Ascensius in Paris. (Photo by Hulton Archive/Getty Images)
9. ELECTRICITY - utilization of electricity is a process to which a number of bright minds have contributed over thousands of years, going all the way back to Ancient Egypt and Ancient Greece, when Thales of Miletus conducted the earliest research into the phenomenon. The 18th-century American Renaissance man Benjamin Franklin is generally credited with significantly furthering our understanding of electricity, if not its discovery. It's hard to overestimate how important electricity has become to humanity as it runs the majority of our gadgetry and shapes our way of life. The invention of the light bulb, although a separate contribution, attributed to Thomas Edison in 1879, is certainly a major extension of the ability to harness electricity. It has profoundly changed the way we live, work as well as the look and functioning of our cities.
10. STEAM ENGINE - invented between 1763 and 1775 by Scottish inventor James Watt (who built upon the ideas of previous steam engine attempts like the 1712 Newcomen engine), the steam engine powered trains, ships, factories and the Industrial Revolution as a whole.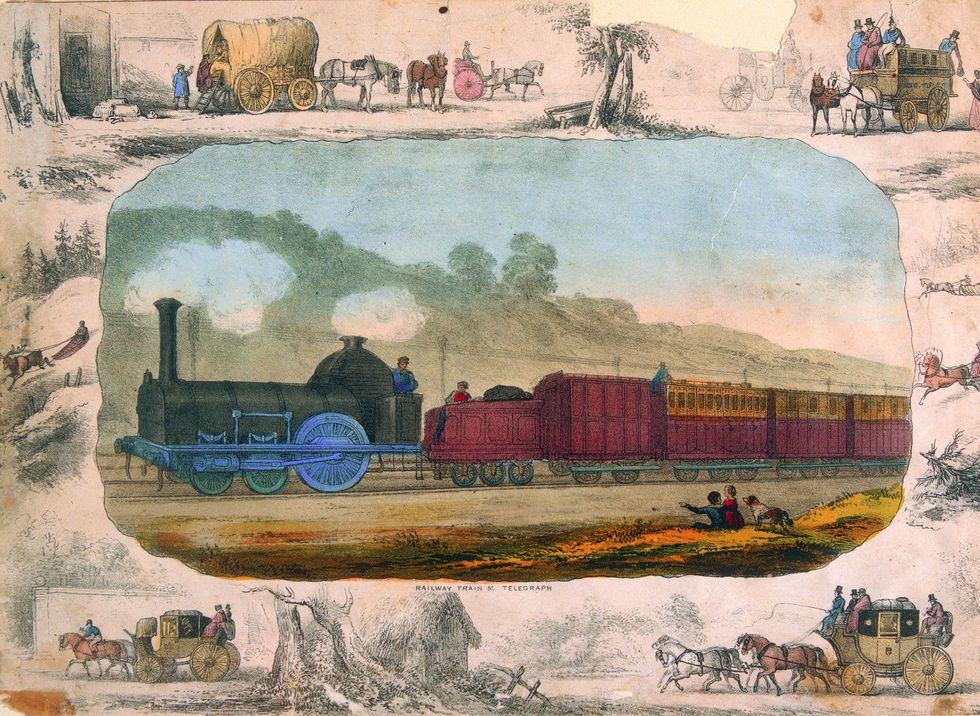 circa 1830: An early locomotive hauling freight. (Photo by Hulton Archive/Getty Images)
11. INTERNAL COMBUSTION ENGINE - the 19th-century invention (created by Belgian engineer Etienne Lenoir in 1859 and improved by Germany's Nikolaus Otto in 1876), this engine that converts chemical energy into mechanical energy overtook the steam engine and is used in modern cars and planes. Elon Musk's electric car company Tesla, among others, is currently trying to revolutionize technology in this arena once again.
12. TELEPHONE - although he was not the only one working on this kind of tech, Scottish-born inventor Alexander Graham Bell got the first patent for an electric telephone in 1876. Certainly, this instrument has revolutionized our ability to communicate.
13. VACCINATION - while sometimes controversial, the practice of vaccination is responsible for eradicating diseases and extending the human lifespan. The first vaccine (for smallpox) was developed by Edward Jenner in 1796. A rabies vaccine was developed by the French chemist and biologist Louis Pasteur in 1885, who is credited with making vaccination the major part of medicine that is it today. Pasteur is also responsible for inventing the food safety process of pasteurization, that bears his name.
14. CARS - cars completely changed the way we travel, as well as the design of our cities, and thrust the concept of the assembly line into the mainstream. They were invented in their modern form in the late 19th century by a number of individuals, with special credit going to the German Karl Benz for creating what's considered the first practical motorcar in 1885.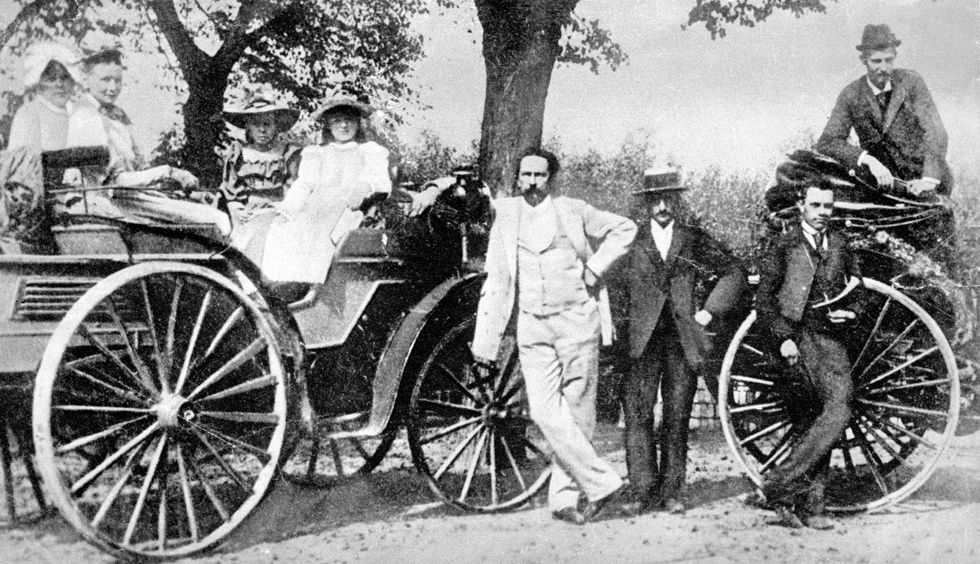 Karl Benz (in light suit) on a trip with his family with one of his first cars, which was built in 1893 and powered by a single cylinder, 3 h.p. engine. His friend Theodor von Liebig is in the Viktoria. (Photo by Hulton Archive/Getty Images)
15. AIRPLANE - invented in 1903 by the American Wright brothers, planes brought the world closer together, allowing us to travel quickly over great distances. This technology has broadened minds through enormous cultural exchanges—but it also escalated the reach of the world wars that would soon break out, and the severity of every war thereafter.
16. PENICILLIN - discovered by the Scottish scientist Alexander Fleming in 1928, this drug transformed medicine by its ability to cure infectious bacterial diseases. It began the era of antibiotics.
17. ROCKETS - while the invention of early rockets is credited to the Ancient Chinese, the modern rocket is a 20th century contribution to humanity, responsible for transforming military capabilities and allowing human space exploration.
18. NUCLEAR FISSION - this process of splitting atoms to release a tremendous amount of energy led to the creation of nuclear reactors and atomic bombs. It was the culmination of work by a number of prominent (mostly Nobel Prize-winning) 20th-century scientists, but the specific discovery of nuclear fission is generally credited to the Germans Otto Hahn and Fritz Stassmann, working with the Austrians Lise Meitner and Otto Frisch.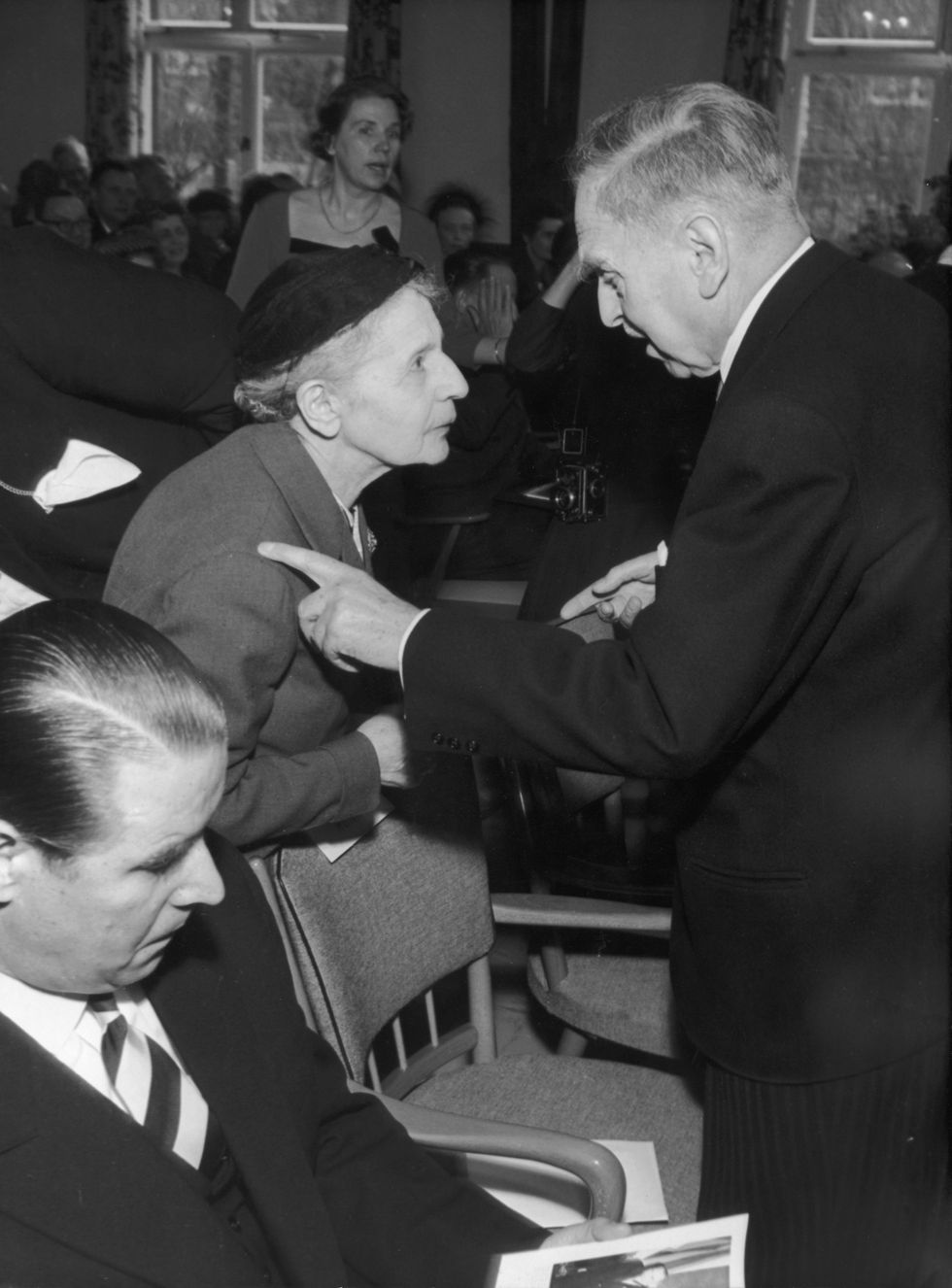 Austrian nuclear physicist Lise Meitner (1878 - 1968) congratulates German chemist Otto Hahn (1879 - 1968) on his 80th birthday, Gottingen, Germany, 8th March 1959. The pair collaborated for 30 years in the study of radioactivity, work which culminated in the discovery of nuclear fission. (Photo by Keystone/Hulton Archive/Getty Images)
19. SEMICONDUCTORS - they are at the foundation of electronic devices and the modern Digital Age. Mostly made of silicon, semiconductor devices are behind the nickname of "Silicon Valley", home to today's major U.S. computing companies. The first device containing semiconductor material was demonstrated in 1947 by America's John Bardeen, Walter Brattain and William Shockley of Bell Labs.
20. PERSONAL COMPUTER - invented in the 1970s, personal computers greatly expanded human capabilities. While your smartphone is more powerful, one of the earliest PCs was introduced in 1974 by Micro Instrumentation and Telemetry Systems (MITS) via a mail-order computer kit called the Altair. From there, companies like Apple, Microsoft, and IBM have redefined personal computing.
(BONUS) 21. THE INTERNET - while the worldwide network of computers (which you used to find this article) has been in development since the 1960s, when it took the shape of U.S. Defense Department's ARPANET, the Internet as we know it today is an even more modern invention. 1990s creation of the World Wide Web by England's Tim Berners-Lee is responsible for transforming our communication, commerce, entertainment, politics, you name it.
Cover photo: a drawing by Leonardo Da Vinci
From Your Site Articles
Related Articles Around the Web
Why mega-eruptions like the ones that covered North America in ash are the least of your worries.
Image: USGS - public domain
Strange Maps
The supervolcano under Yellowstone produced three massive eruptions over the past few million years.
Each eruption covered much of what is now the western United States in an ash layer several feet deep.
The last eruption was 640,000 years ago, but that doesn't mean the next eruption is overdue.
The end of the world as we know it
Panoramic view of Yellowstone National Park
Image: Heinrich Berann for the National Park Service – public domain
Of the many freak ways to shuffle off this mortal coil – lightning strikes, shark bites, falling pianos – here's one you can safely scratch off your worry list: an outbreak of the Yellowstone supervolcano.
As the map below shows, previous eruptions at Yellowstone were so massive that the ash fall covered most of what is now the western United States. A similar event today would not only claim countless lives directly, but also create enough subsidiary disruption to kill off global civilisation as we know it. A relatively recent eruption of the Toba supervolcano in Indonesia may have come close to killing off the human species (see further below).
However, just because a scenario is grim does not mean that it is likely (insert topical political joke here). In this case, the doom mongers claiming an eruption is 'overdue' are wrong. Yellowstone is not a library book or an oil change. Just because the previous mega-eruption happened long ago doesn't mean the next one is imminent.
Ash beds of North America
Ash beds deposited by major volcanic eruptions in North America.
Image: USGS – public domain
This map shows the location of the Yellowstone plateau and the ash beds deposited by its three most recent major outbreaks, plus two other eruptions – one similarly massive, the other the most recent one in North America.
Huckleberry Ridge
The Huckleberry Ridge eruption occurred 2.1 million years ago. It ejected 2,450 km3 (588 cubic miles) of material, making it the largest known eruption in Yellowstone's history and in fact the largest eruption in North America in the past few million years.
This is the oldest of the three most recent caldera-forming eruptions of the Yellowstone hotspot. It created the Island Park Caldera, which lies partially in Yellowstone National Park, Wyoming and westward into Idaho. Ash from this eruption covered an area from southern California to North Dakota, and southern Idaho to northern Texas.
Mesa Falls
About 1.3 million years ago, the Mesa Falls eruption ejected 280 km3 (67 cubic miles) of material and created the Henry's Fork Caldera, located in Idaho, west of Yellowstone.
It was the smallest of the three major Yellowstone eruptions, both in terms of material ejected and area covered: 'only' most of present-day Wyoming, Colorado, Kansas and Nebraska, and about half of South Dakota.
Lava Creek
The Lava Creek eruption was the most recent major eruption of Yellowstone: about 640,000 years ago. It was the second-largest eruption in North America in the past few million years, creating the Yellowstone Caldera.
It ejected only about 1,000 km3 (240 cubic miles) of material, i.e. less than half of the Huckleberry Ridge eruption. However, its debris is spread out over a significantly wider area: basically, Huckleberry Ridge plus larger slices of both Canada and Mexico, plus most of Texas, Louisiana, Arkansas, and Missouri.
Long Valley
This eruption occurred about 760,000 years ago. It was centered on southern California, where it created the Long Valley Caldera, and spewed out 580 km3 (139 cubic miles) of material. This makes it North America's third-largest eruption of the past few million years.
The material ejected by this eruption is known as the Bishop ash bed, and covers the central and western parts of the Lava Creek ash bed.
Mount St Helens
The eruption of Mount St Helens in 1980 was the deadliest and most destructive volcanic event in U.S. history: it created a mile-wide crater, killed 57 people and created economic damage in the neighborhood of $1 billion.
Yet by Yellowstone standards, it was tiny: Mount St Helens only ejected 0.25 km3 (0.06 cubic miles) of material, most of the ash settling in a relatively narrow band across Washington State and Idaho. By comparison, the Lava Creek eruption left a large swathe of North America in up to two metres of debris.

The difference between quakes and faults
The volume of dense rock equivalent (DRE) ejected by the Huckleberry Ridge event dwarfs all other North American eruptions. It is itself overshadowed by the DRE ejected at the most recent eruption at Toba (present-day Indonesia). This was one of the largest known eruptions ever and a relatively recent one: only 75,000 years ago. It is thought to have caused a global volcanic winter which lasted up to a decade and may be responsible for the bottleneck in human evolution: around that time, the total human population suddenly and drastically plummeted to between 1,000 and 10,000 breeding pairs.
Image: USGS – public domain
So, what are the chances of something that massive happening anytime soon? The aforementioned mongers of doom often claim that major eruptions occur at intervals of 600,000 years and point out that the last one was 640,000 years ago. Except that (a) the first interval was about 200,000 years longer, (b) two intervals is not a lot to base a prediction on, and (c) those intervals don't really mean anything anyway. Not in the case of volcanic eruptions, at least.
Earthquakes can be 'overdue' because the stress on fault lines is built up consistently over long periods, which means quakes can be predicted with a relative degree of accuracy. But this is not how volcanoes behave. They do not accumulate magma at constant rates. And the subterranean pressure that causes the magma to erupt does not follow a schedule.
What's more, previous super-eruptions do not necessarily imply future ones. Scientists are not convinced that there ever will be another big eruption at Yellowstone. Smaller eruptions, however, are much likelier. Since the Lava Creek eruption, there have been about 30 smaller outbreaks at Yellowstone, the last lava flow being about 70,000 years ago.
As for the immediate future (give or take a century): the magma chamber beneath Yellowstone is only 5 percent to 15 percent molten. Most scientists agree that is as un-alarming as it sounds. And that its statistically more relevant to worry about death by lightning, shark, or piano.
Strange Maps #1041
Got a strange map? Let me know at strangemaps@gmail.com.

How imagining the worst case scenario can help calm anxiety.
Credit
: OLIVIER DOULIERY via Getty Images
Personal Growth
Stoicism is the philosophy that nothing about the world is good or bad in itself, and that we have control over both our judgments and our reactions to things.
It is hardest to control our reactions to the things that come unexpectedly.
By meditating every day on the "worst case scenario," we can take the sting out of the worst that life can throw our way.
Are you a worrier? Do you imagine nightmare scenarios and then get worked up and anxious about them? Does your mind get caught in a horrible spiral of catastrophizing over even the smallest of things? Worrying, particularly imagining the worst case scenario, seems to be a natural part of being human and comes easily to a lot of us. It's awful, perhaps even dangerous, when we do it.
But, there might just be an ancient wisdom that can help. It involves reframing this attitude for the better, and it comes from Stoicism. It's called "premeditation," and it could be the most useful trick we can learn.
Practical Stoicism
Broadly speaking, Stoicism is the philosophy of choosing your judgments. Stoics believe that there is nothing about the universe that can be called good or bad, valuable or valueless, in itself. It's we who add these values to things. As Shakespeare's Hamlet says, "There is nothing either good or bad, but thinking makes it so." Our minds color the things we encounter as being "good" or "bad," and given that we control our minds, we therefore have control over all of our negative feelings.
Put another way, Stoicism maintains that there's a gap between our experience of an event and our judgment of it. For instance, if someone calls you a smelly goat, you have an opportunity, however small and hard it might be, to pause and ask yourself, "How will I judge this?" What's more, you can even ask, "How will I respond?" We have power over which thoughts we entertain and the final say on our actions. Today, Stoicism has influenced and finds modern expression in the hugely effective "cognitive behavioral therapy."
Helping you practice StoicismCredit: Robyn Beck via Getty Images
One of the principal fathers of ancient Stoicism was the Roman statesmen, Seneca, who argued that the unexpected and unforeseen blows of life are the hardest to take control over. The shock of a misfortune can strip away the power we have to choose our reaction. For instance, being burglarized feels so horrible because we had felt so safe at home. A stomach ache, out of the blue, is harder than a stitch thirty minutes into a run. A sudden bang makes us jump, but a firework makes us smile. Fell swoops hurt more than known hardships.
What could possibly go wrong?
So, how can we resolve this? Seneca suggests a Stoic technique called "premeditatio malorum" or "premeditation." At the start of every day, we ought to take time to indulge our anxious and catastrophizing mind. We should "rehearse in the mind: exile, torture, war, shipwreck." We should meditate on the worst things that could happen: your partner will leave you, your boss will fire you, your house will burn down. Maybe, even, you'll die.
This might sound depressing, but the important thing is that we do not stop there.
Stoicism has influenced and finds modern expression in the hugely effective "cognitive behavioral therapy."
The Stoic also rehearses how they will react to these things as they come up. For instance, another Stoic (and Roman Emperor) Marcus Aurelius asks us to imagine all the mean, rude, selfish, and boorish people we'll come across today. Then, in our heads, we script how we'll respond when we meet them. We can shrug off their meanness, smile at their rudeness, and refuse to be "implicated in what is degrading." Thus prepared, we take control again of our reactions and behavior.
The Stoics cast themselves into the darkest and most desperate of conditions but then realize that they can and will endure. With premeditation, the Stoic is prepared and has the mental vigor necessary to take the blow on the chin and say, "Yep, l can deal with this."
Catastrophizing as a method of mental inoculation
Seneca wrote: "In times of peace, the soldier carries out maneuvers." This is also true of premeditation, which acts as the war room or training ground. The agonizing cut of the unexpected is blunted by preparedness. We can prepare the mind for whatever trials may come, in just the same way we can prepare the body for some endurance activity. The world can throw nothing as bad as that which our minds have already imagined.
Stoicism teaches us to embrace our worrying mind but to embrace it as a kind of inoculation. With a frown over breakfast, try to spend five minutes of your day deliberately catastrophizing. Get your anti-anxiety battle plan ready and then face the world.
Jonny Thomson teaches philosophy in Oxford. He runs a popular Instagram account called Mini Philosophy (@philosophyminis). His first book is Mini Philosophy: A Small Book of Big Ideas.
A study on charity finds that reminding people how nice it feels to give yields better results than appealing to altruism.
Personal Growth
A study finds asking for donations by appealing to the donor's self-interest may result in more money than appealing to their better nature.
Those who received an appeal to self-interest were both more likely to give and gave more than those in the control group.
The effect was most pronounced for those who hadn't given before.
Even the best charities with the longest records of doing great fundraising work have to spend some time making sure that the next donation checks will keep coming in. One way to do this is by showing potential donors all the good things the charity did over the previous year. But there may be a better way.
A new study by researchers in the United States and Australia suggests that appealing to the benefits people will receive themselves after a donation nudges them to donate more money than appealing to the greater good.
How to get people to give away free money
The postcards that were sent to different study subjects. The one on the left highlighted benefits to the self, while the one on the right highlighted benefits to others.List et al. / Nature Human Behaviour
The study, published in Nature Human Behaviour, utilized the Pick.Click.Give program in Alaska. This program allows Alaska residents who qualify for dividends from the Alaska Permanent Fund, a yearly payment ranging from $800 to $2000 in recent years, to donate a portion of it to various in-state non-profit organizations.
The researchers randomly assigned households to either a control group or to receive a postcard in the mail encouraging them to donate a portion of their dividend to charity. That postcard could come in one of two forms, either highlighting the benefits to others or the benefits to themselves.
Those who got the postcard touting self-benefits were 6.6 percent more likely to give than those in the control group and gave 23 percent more on average. Those getting the benefits-to-others postcard were slightly more likely to give than those receiving no postcard, but their donations were no larger.
Additionally, the researchers were able to break the subject list down into a "warm list" of those who had given at least once before in the last two years and a "cold list" of those who had not. Those on the warm list, who were already giving, saw only minor increases in their likelihood to donate after getting a postcard in the mail compared to those on the cold list.
Additionally, the researchers found that warm-list subjects who received the self-interest postcard gave 11 percent more than warm-list subjects in the control group. Amazingly, among cold-list subjects, those who received a self-interest postcard gave 39 percent more.
These are substantial improvements. At the end of the study, the authors point out, "If we had sent the benefits to self message to all households in the state, aggregate contributions would have increased by nearly US$600,000."
To put this into perspective, in 2017 the total donations to the program were roughly $2,700,000.
Is altruism dead?
Are all actions inherently self-interested? Thankfully, no. The study focuses entirely on effective ways to increase charitable donations above levels that currently exist. It doesn't deny that some people are giving out of pure altruism, but rather that an appeal based on self-interest is effective. Plenty of people were giving before this study took place who didn't need a postcard as encouragement. It is also possible that some people donated part of their dividend check to a charity that does not work with Pick.Click.Give and were uncounted here.
It is also important to note that Pick.Click.Give does not provide services but instead gives money to a wide variety of organizations that do. Those organizations operate in fields from animal rescue to job training to public broadcasting. The authors note that it is possible that a more specific appeal to the benefits others will receive from a donation might prove more effective than the generic and all-inclusive "Make Alaska Better For Everyone" appeal that they used.
In an ideal world, charity is its own reward. In ours, it might help to remind somebody how warm and fuzzy they'll feel after donating to your cause.
Surprising Science
The 'Monkeydactyl' was a flying reptile that evolved highly specialized adaptations in the Mesozoic Era.
Scroll down to load more…