Big ideas.
Once a week.
Subscribe to our weekly newsletter.
The Most Dangerous Philosopher in the World
The work of Kremlin-approved philosopher Alexander Dugin provides key insights on the longterm strategy behind Russian hacks of the American elections.
18 December, 2016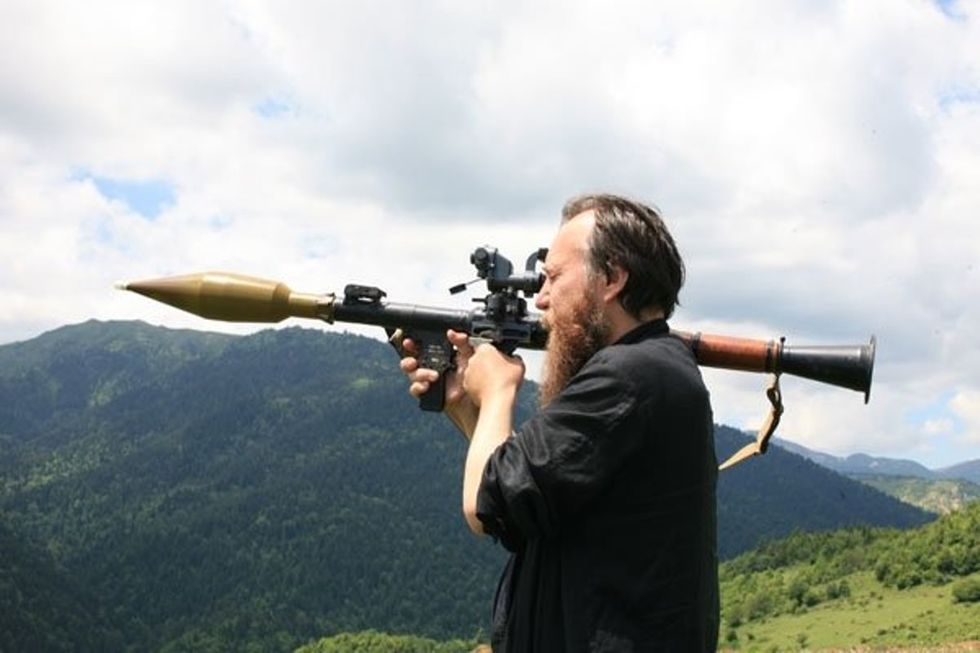 The revelations about Russian involvement in the hacking of the Democratic Party officials, intending to vault Trump over Clinton, have added more fuel to an already-explosive and exhausting election cycle. Why would Russia do this, especially as it's been revealed that Russian President Vladimir Putin was likely personally directing the operation? Enter Alexander Dugin, the political scientist known as "Putin's Rasputin" or "Putin's Brain", as well as an occult fascist. He is also a sociology professor at the highly prestigious Moscow State University, a prolific writer, an advisor to key political and military figures and an articulator of a Kremlin-approved nationalist philosophy.
---
He has also been on the U.S. sanctions list following Russia's takeover of Crimea for advocating the murder of Ukrainians, among other things.
It's not that Dugin is personally responsible for the hacks that are currently being explained as Putin's personal vendetta against Clinton. But Dugin's influential philosophy aligns very well with what seems to have happened and provides a stunning window into this and future conflicts with Russia. There are likely much deeper motives behind Russian actions.
Alexander Dugin is at once a sociologist, historian and a philosopher. You can find many of his lectures online on Youtube, although it would help to know Russian. He himself speaks ten languages. Among his many controversial opinions, he has expressed deeply anti-scientific views, calling for the ban of chemistry and physics. He would also get rid of the Internet, an anti-technological view that actually stems from his his desire to ultimately upend the world as we know it.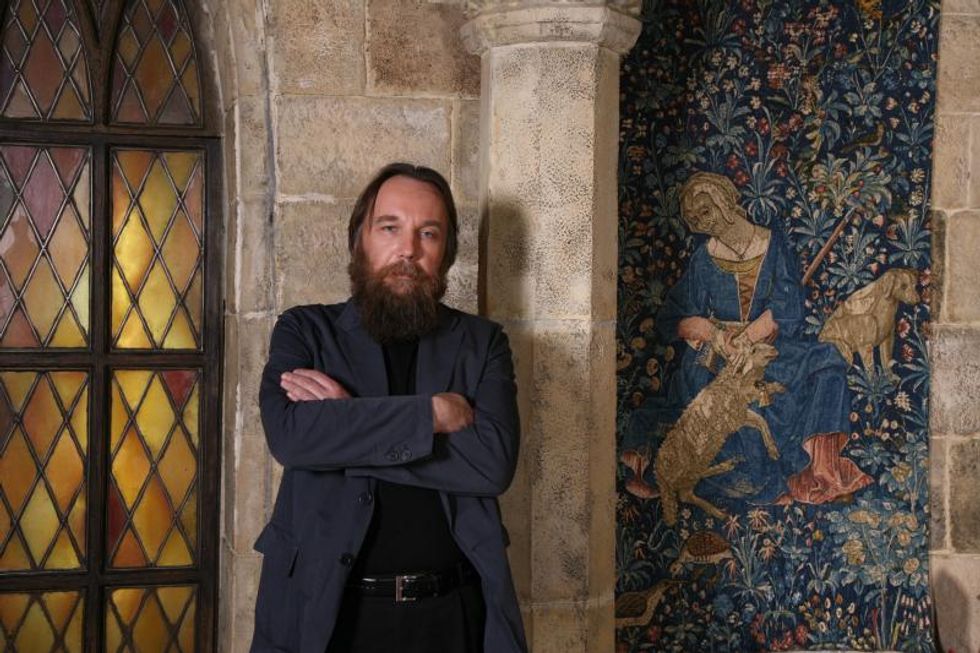 Credit: Dugin.ru
What he proposes is that there have been three leading political theories that impacted the world in the relatively recent past - liberal capitalism or "liberalism", communism and fascism. According to Dugin, the United States is the world's leader of liberalism, which offers individual liberty, a rationalist approach and market competition.
Even though liberalism has been the winning ideology so far, triumphing over fascism in 1945, and communism in 1991 (when the Soviet Union dissolved), Dugin thinks that it is now also experiencing a fatal crisis. He believes liberals themselves would the first to claim that. Dugin regards liberalism nearing a dead end, mired currently in a "nihilistic post-modern stage" because it is trying to liberate itself from rational thought and the oppression of the brain, which to a liberal is "something fascist in itself". Dugin takes this a step further, describing liberalism as now trying to free the organs of the body from the brain's control, alluding to its acceptance of the LGBT community.
Here's how he explains this rationale:
"The liberalism insists on the freedom and liberation from any form of collective identity. That is the very essence of the liberalism. The liberals have liberated the human being from national identity, religious identity and so on. The last kind of collective identity is gender. So there is time to abolish it making it arbitrary and optional."
What Dugin proposes instead of what he sees as three dead and dying ideologies is his "Fourth Political Theory". It would create an entirely alternative political model, set against "progress" of world history as is. It would not be based on the issues of individualism, race or nationalism. He sees this theory to be partially based on the work of the existential German philosopher Martin Heidegger, controversial for his association with Nazism. His philosophy calls for a root of a human being's self-awareness (called dasein by Heidegger) to be saved in the world, as it has been diluted in the modern space by essentially dehumanizing technology.
Since this root of being differs from person to person and from culture to culture, the world should feature a multipolar power division, instead of one superpower in the United States. Finding a way to implement such a new way of looking at the world would, per Dugin, return a sense of identity to humans who have been losing it all around the world. 
Dugin contrasts this theory of a multipolar world with what he (and conspiracy theorists worldwide) see as the movement towards creating a "world government," led by disingenuous "globalist elites" who are out to deprive people of a sense of identity and to subjugate them to their corporate needs.
In this world of a number of regional superpowers, what role would Russia play? Dugin sees Russia to be the leading nation in the Eurasian Union and has founded the International Eurasia Movement to make that happen.
What is Eurasia? Basically, it's the territory of the former Soviet Union. Dugin thinks the Soviet Union just took over the boundaries of a historical union of people and ethnicities that was there from the Russian Empire. As Russia is a country of a unique culture and destiny, it is its mission to create a center of power that has elements of both Europe and Asia, the two continents straddled by the expansive country.
"The West knows little or nothing at all about the real history of Russia. Sometime they think that the Soviet Union was purely a communist creation and the States as Ukraine, Kazakhstan or Azerbaidjan were independent before the USSR and conquered by Bolsheviks or forced into Soviet State," says Dugin. "The fact is they never existed as such and represented but administrative districts without any political or historical meaning inside Russian Empire as well as inside USSR. These countries were created in their present borders artificially only after the collapse of USSR and as the result of such collapse."
So the goal of establishing the Eurasian Union would be essentially to right a historical wrong and bring back a successful empire that existed even before the Soviet Union. Russia's recent takeover of Crimea and further designs on Ukraine seem to be a logical part of such a plan. 
Dugin digs even deeper into his very controversial historical analysis, claiming Eurasia's current opponent is not just the United States, but Atlanticism, the axis of cooperation between Europe, US and Canada that crosses the Atlantic Ocean. These maritime, liberal nations value individuality and market forces.
Eurasia, on the other hand, represents the conservative philosophy of land-locked continentalism, which according to Eurasians, has among its values a hierarchical structure, law and order, traditionalism and religion.
Thus we have Atlantis vs Eurasia. In fact, Dugin claims all history can be viewed as a battle between maritime and land-based nations. 
What does Dugin think about Trump's victory? He has been quite enthusiastic about Trump throughout the whole election process, to say the least, describing him this way to point out why Trump is a "sensation" that can stand up to globalist elites:
"[Donald Trump] is tough, rough, says what he thinks, rude, emotional and, apparently, candid. The fact that he is a billionaire doesn't matter. He is different. He is an extremely successful ordinary American…"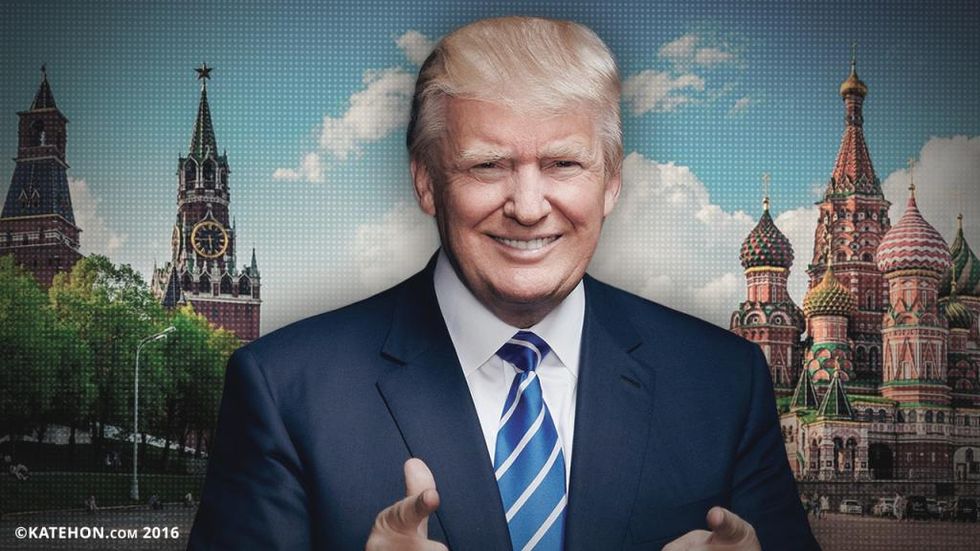 Dugin thinks Trump's victory is a monumental strike against the "globalists", whose candidate was Hillary Clinton - the same language that you can easily find peppering conservative American websites like Breitbart News, Drudge Report and conspiracy king Alex Jones (a particular favorite of Dugin's). He thinks Trump's victory was a kind of "revolution" started by American people and should lead to worldwide defeats of the globalist agenda, draining the proverbial "swamp" the world over.
Dugin doesn't stop there, however. His visions of what Trump's victory means go into the apocalyptic and civilization-changing:
"We need to return to the Being, to the Logos, to the foundamental- ontology (of Heidegger), to the Sacred, to the New Middle Ages - and thus to the Empire, religion, and the institutions of traditional society (hierarchy, cult, domination of spirit over matter and so on). All content of Modernity - is Satanism and degeneration. Nothing is worth, everything is to be cleansed off. The Modernity is absolutely wrong -- science, values, philosophy, art, society, modes, patterns, "truths", understanding of Being, time and space. All is dead with Modernity. So it should end. We are going to end it."
This certainly would not be the first time in recent history a Russian thought that everything is wrong and the world needs to be completely uprooted. We know how that turned out. And the occult-sounding elements of some of what Dugin is saying, along with his beard, perhaps earn the comparison to Rasputin. But does Dugin believe concrete measures should be taken to bring about his vision of the world? 
Interestingly, prior to Trump's victory, influential American conservative outlets like the National Review were warning about Russian intentions, specifically singling out the threat Dugin's ideology posed, calling Eurasianism "a satanic cult". Now that Trump won and Russia was implicated in election meddling, they are not so keen to bring that up. 
Does Putin really listen to Dugin? Scholars and commentators say his ideas are taken seriously by people in Putin's circle and their growing popularity matches up with Putin's evolving authoritarianism and actions. Notably, Dugin came out in 2008 in support of Russian troops taking over Georgia and very much fanned the flames during the 2014 Russia-Ukraine conflict, calling for massacring Ukrainians and annexing the Ukrainian lands that were part of the former Russian Empire.
To see what Dugin might advocate specifically, we can look in his bestselling book "The Foundation of Geopolitics" from 1997, which had particular success among Russian military and according to Foreign Policy (and Dugin's own words), is assigned as a textbook at Russian military universities. 
The book outlines a vision for Russia in the 21st century that would lead to Eurasia's formation, but also includes specific strategies for defeating or neutralizing the United States. These include destabilization and disinformation campaigns using Russian special forces and asymmetrical warfare, splitting alliances between U.S. and countries like Germany and France, as well as fermenting division within the country itself, specifically singling out race relations. On Page 367 of the first edition of the book, Dugin explains:
"It is especially important to introduce geopolitical disorder into internal American activity, encouraging all kinds of separatism and ethnic, social and racial conflicts, actively supporting all dissident movements – extremist, racist, and sectarian groups, thus destabilizing internal political processes in the U.S. It would also make sense simultaneously to support isolationist tendencies in American politics…"
After our hyper-divisive elections, full of calamities described above, facing an increasingly eye-opening investigation into Russian interference in our most cherished democratic institution, it's hard not to take Dugin's ideas seriously. With Trump's victory, Dugin has backed off somewhat from painting the U.S. as enemy number one. It's also been reported that the relationship between Dugin and Putin might have cooled off recently, with Dugin criticizing Putin for being "too slow" in bringing about his vision of the world. But looking at the facts on the ground it's possible to conclude that Putin may still be playing a Eurasia-oriented long game that is not going to end only at Wikileaking embarrassing emails. Especially in light of the fact that the United States now finds itself in a vulnerable position, looking for a unifying philosophy and a way forward of its own. 
Here's a paper on Dugin and his book by Hoover Institution's John B. Dunlop. If you know Russian, you can read the book here.
Cover photo: Alexander Dugin in South Ossetia, before the Russian-Georgian war, August 2008.
Some evidence attributes a certain neurological phenomenon to a near death experience.
Credit: Petr Kratochvil. PublicDomainPictures.net.
Surprising Science
Time of death is considered when a person has gone into cardiac arrest. This is the cessation of the electrical impulse that drive the heartbeat. As a result, the heart locks up. The moment the heart stops is considered time of death. But does death overtake our mind immediately afterward or does it slowly creep in?
Some scientists have studied near death experiences (NDEs) to try to gain insights into how death overcomes the brain. What they've found is remarkable, a surge of electricity enters the brain moments before brain death. One 2013 study out of the University of Michigan, which examined electrical signals inside the heads of rats, found they entered a hyper-alert state just before death.
Scientists are beginning to think an NDE is caused by reduced blood flow, coupled with abnormal electrical behavior inside the brain. So the stereotypical tunnel of white light might derive from a surge in neural activity. Dr. Sam Parnia is the director of critical care and resuscitation research, at NYU Langone School of Medicine, in New York City. He and colleagues are investigating exactly how the brain dies.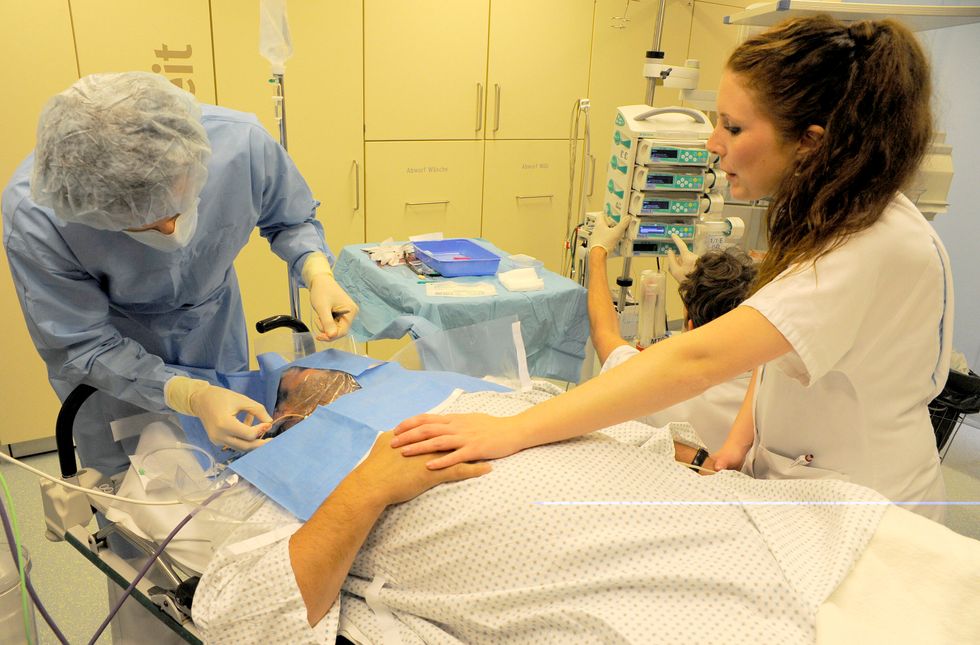 Our cerebral cortex is likely active 2–20 seconds after cardiac arrest. Credit: Getty Images.
In previous work, he's conducted animal studies looking at the moments before and after death. He's also investigated near death experiences. "Many times, those who have had such experiences talk about floating around the room and being aware of the medical team working on their body," Dr. Parnia told Live Science. "They'll describe watching doctors and nurses working and they'll describe having awareness of full conversations, of visual things that were going on, that would otherwise not be known to them."
Medical staff confirm this, he said. So how could those who were technically dead be cognizant of what's happening around them? Even after our breathing and heartbeat stops, we're conscious for about 2–20 seconds, Dr. Parnia says. That's how long the cerebral cortex is thought to last without oxygen. This is the thinking and decision-making part of the brain. It's also responsible for deciphering the information gathered from our senses.
According to Parnia during this period, "You lose all your brain stem reflexes — your gag reflex, your pupil reflex, all that is gone." Brain waves from the cerebral cortex soon become undetectable. Even so, it can take hours for our thinking organ to fully shut down.
Usually, when the heart stops beating, someone performs CPR (cardiopulmonary resuscitation). This will provide about 15% of the oxygen needed to perform normal brain function. "If you manage to restart the heart, which is what CPR attempts to do, you'll gradually start to get the brain functioning again," Parnia said. "The longer you're doing CPR, those brain cell death pathways are still happening — they're just happening at a slightly slower rate."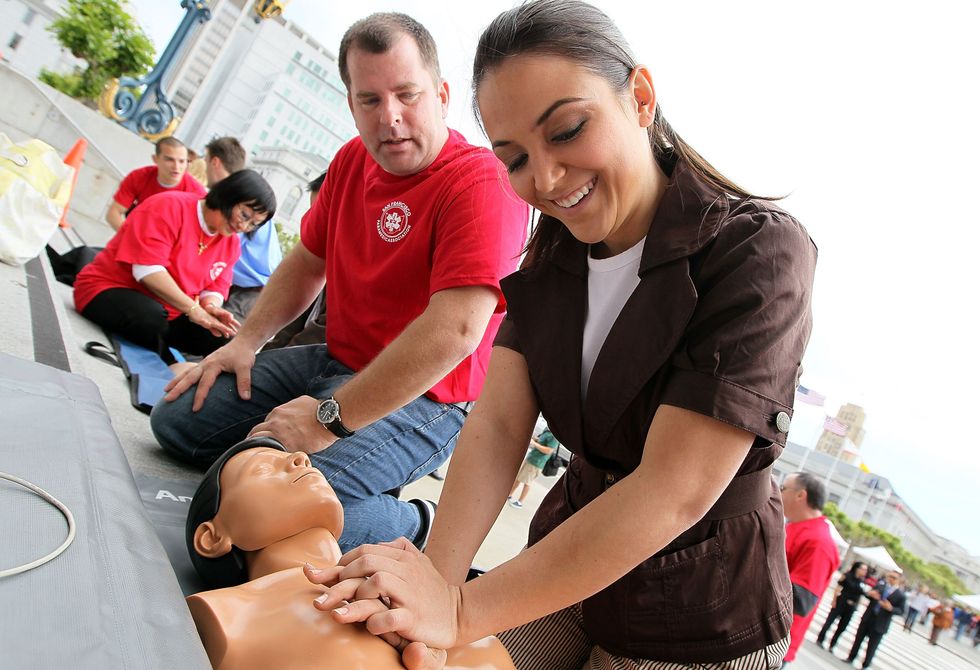 CPR may help retain some brain function for longer. Credit: Getty Images.
Dr. Parnia's latest, ongoing study looks at large numbers of Europeans and Americans who have experienced cardiac arrest and survived. "In the same way that a group of researchers might be studying the qualitative nature of the human experience of 'love,'" he said, "we're trying to understand the exact features that people experience when they go through death, because we understand that this is going to reflect the universal experience we're all going to have when we die."
One of the objectives is to observe how the brain acts and reacts during cardiac arrest, through the process of death, and during revival. How much oxygen exactly does it take to reboot the brain? How is the brain affected after revival? Learning where the lines are drawn might improve resuscitation techniques, which could save countless lives per year.
"At the same time, we also study the human mind and consciousness in the context of death," Parnia said, "to understand whether consciousness becomes annihilated or whether it continues after you've died for some period of time — and how that relates to what's happening inside the brain in real time."
For more on the scientific perspective on a near death experience, click here:
The experience of life flashing before one's eyes has been reported for well over a century, but where's the science behind it?
Mind & Brain
At the age of 16, when Tony Kofi was an apprentice builder living in Nottingham, he fell from the third story of a building. Time seemed to slow down massively, and he saw a complex series of images flash before his eyes.
As he described it, "In my mind's eye I saw many, many things: children that I hadn't even had yet, friends that I had never seen but are now my friends. The thing that really stuck in my mind was playing an instrument". Then Tony landed on his head and lost consciousness.
When he came to at the hospital, he felt like a different person and didn't want to return to his previous life. Over the following weeks, the images kept flashing back into his mind. He felt that he was "being shown something" and that the images represented his future.
Later, Tony saw a picture of a saxophone and recognized it as the instrument he'd seen himself playing. He used his compensation money from the accident to buy one. Now, Tony Kofi is one of the UK's most successful jazz musicians, having won the BBC Jazz awards twice, in 2005 and 2008.
Though Tony's belief that he saw into his future is uncommon, it's by no means uncommon for people to report witnessing multiple scenes from their past during split-second emergency situations. After all, this is where the phrase "my life flashed before my eyes" comes from.
But what explains this phenomenon? Psychologists have proposed a number of explanations, but I'd argue the key to understanding Tony's experience lies in a different interpretation of time itself.
When life flashes before our eyes
The experience of life flashing before one's eyes has been reported for well over a century. In 1892, a Swiss geologist named Albert Heim fell from a precipice while mountain climbing. In his account of the fall, he wrote is was "as if on a distant stage, my whole past life [was] playing itself out in numerous scenes".
More recently, in July 2005, a young woman called Gill Hicks was sitting near one of the bombs that exploded on the London Underground. In the minutes after the accident, she hovered on the brink of death where, as she describes it: "my life was flashing before my eyes, flickering through every scene, every happy and sad moment, everything I have ever done, said, experienced".
In some cases, people don't see a review of their whole lives, but a series of past experiences and events that have special significance to them.
Explaining life reviews
Perhaps surprisingly, given how common it is, the "life review experience" has been studied very little. A handful of theories have been put forward, but they're understandably tentative and rather vague.
For example, a group of Israeli researchers suggested in 2017 that our life events may exist as a continuum in our minds, and may come to the forefront in extreme conditions of psychological and physiological stress.
Another theory is that, when we're close to death, our memories suddenly "unload" themselves, like the contents of a skip being dumped. This could be related to "cortical disinhibition" – a breaking down of the normal regulatory processes of the brain – in highly stressful or dangerous situations, causing a "cascade" of mental impressions.
But the life review is usually reported as a serene and ordered experience, completely unlike the kind of chaotic cascade of experiences associated with cortical disinhibition. And none of these theories explain how it's possible for such a vast amount of information – in many cases, all the events of a person's life – to manifest themselves in a period of a few seconds, and often far less.
Thinking in 'spatial' time
An alternative explanation is to think of time in a "spatial" sense. Our commonsense view of time is as an arrow that moves from the past through the present towards the future, in which we only have direct access to the present. But modern physics has cast doubt on this simple linear view of time.
Indeed, since Einstein's theory of relativity, some physicists have adopted a "spatial" view of time. They argue we live in a static "block universe" in which time is spread out in a kind of panorama where the past, the present and the future co-exist simultaneously.
The modern physicist Carlo Rovelli – author of the best-selling The Order of Time – also holds the view that linear time doesn't exist as a universal fact. This idea reflects the view of the philosopher Immanuel Kant, who argued that time is not an objectively real phenomenon, but a construct of the human mind.
This could explain why some people are able to review the events of their whole lives in an instant. A good deal of previous research – including my own – has suggested that our normal perception of time is simply a product of our normal state of consciousness.
In many altered states of consciousness, time slows down so dramatically that seconds seem to stretch out into minutes. This is a common feature of emergency situations, as well as states of deep meditation, experiences on psychedelic drugs and when athletes are "in the zone".
The limits of understanding
But what about Tony Kofi's apparent visions of his future? Did he really glimpse scenes from his future life? Did he see himself playing the saxophone because somehow his future as a musician was already established?
There are obviously some mundane interpretations of Tony's experience. Perhaps, for instance, he became a saxophone player simply because he saw himself playing it in his vision. But I don't think it's impossible that Tony did glimpse future events.
If time really does exist in a spatial sense – and if it's true that time is a construct of the human mind – then perhaps in some way future events may already be present, just as past events are still present.
Admittedly, this is very difficult to make sense of. But why should everything make sense to us? As I have suggested in a recent book, there must be some aspects of reality that are beyond our comprehension. After all, we're just animals, with a limited awareness of reality. And perhaps more than any other phenomenon, this is especially true of time.

Steve Taylor, Senior Lecturer in Psychology, Leeds Beckett University
This article is republished from The Conversation under a Creative Commons license. Read the original article.
Might as well face it, you're addicted to love.
Sex & Relationships
Many writers have commented on the addictive qualities of love. Science agrees.
The reward system of the brain reacts similarly to both love and drugs
Someday, it might be possible to treat "love addiction."
Since people started writing, they've written about love. The oldest love poem known dates back to the 21st century BCE. For most of that time, writers also apparently have been of two (or more) minds about it, announcing that love can be painful, impossible to quit, or even addictive — while also mentioning how nice it is.
The idea of love as an addiction is one that is both familiar and unsettling. Surely it can't be the case that our mutual love with our partner — a thing that can produce euphoria, consumes a great deal of our time, and which we fear losing — can be compared to a drug habit? But indeed, many scientists have turned their attention to the idea of "love addiction" and how your brain on drugs might resemble your brain in love.
Love and other drugs
In a 2017 article published in the journal Philosophy, Psychiatry, & Psychology, a team of neuroethicists considered the idea that love is addicting and held the idea up to science for scrutiny.
They point out that the leading model of addiction rests on the notion of a drug causing the brain to release an unnatural level of reward chemicals, such as dopamine, effectively hijacking the brain's reward system. This phenomenon isn't strictly limited to drugs, though they are more effective at this process than other things. Rats can get a similar rush from sugar as from cocaine, and they can have terrible withdrawal symptoms when the sugar crash kicks in.
On the structural level, there is a fair amount of overlap between the parts of the brain that handle love and pair-bonding and the parts that deal with addiction and reward processing. When inside an MRI machine and asked to think about the person they love romantically, the reward centers of people's brains light up like Broadway.
Love as an addiction
These facts lead the authors to consider two ideas, dubbed the "narrow" and "broad" views of love as an addiction.
The narrow view holds that addiction is the result of abnormal brain processes that simply don't exist in non-addicts. Under this paradigm, "food-seeking or love-seeking behaviors are not truly the result of addiction, no matter how addiction-like they may outwardly appear." It could be that abnormal processes cause the brain's reward system to misfire when exposed to love and to react to it excessively.
If this model is accurate, love addiction would be a rare thing — one study puts it around five to ten percent of the population — but could be considered a disorder similar to others and caused by faulty wiring in the brain. As with other addictions, this malfunction of the reward system could lead to an inability to fully live a typical life, difficulty having healthy relationships, and a number of other negative consequences.
The broad view looks at addiction differently, perhaps even radically.
It begins with the idea that addiction exists on a spectrum of motivations. All of our appetites, including those for food and water, exist on this spectrum and activate similar parts of the brain when satisfied. We can have appetites for anything that taps into our reward system, including food, gambling, sex, drugs, and love. For most people most of the time, our appetites are fairly temperate, if recurring. I might be slightly "addicted" to food — I do need some a few times per day — but that "addiction" doesn't have any negative effects on my health.
An appetite for cocaine, however, is rarely temperate and usually dangerous. Likewise, a person's appetite for love could reach addiction levels, and a person could be considered "hooked" on relationships (or on a particular person). This would put love addiction at the extreme end of the spectrum.
None of this is to say that the authors think that love is bad for you just because it can resemble an addiction. Love addiction is not the same as cocaine addiction at the neurological level: important differences, like how long it takes for the desire for another "hit" to occur, do exist. Rather, the authors see this as an opportunity to reconsider our approach to addiction in general and to think about how we can help the heartsick when they just can't seem to get over their last relationship.
Is "love addiction" a treatable disorder?
Hypothetically, a neurological basis for an addiction to love could point toward interventions that "correct" for it. If the narrow view of addiction is accurate, perhaps some people will be able to seek treatment for love addiction in the same way that others seek help to quit smoking. If the broad view of addiction is correct, the treatment of love addiction would be unlikely as it may be difficult to properly identify where the cutoff of acceptability on a spectrum should be.
Either way, since love is generally held in high regard by all cultures and doesn't quite seem to be in the same category as a bad cocaine habit in terms of social undesirability, the authors doubt we'll be treating anyone for "love addiction" anytime soon.
Politics & Current Affairs
A brief passage from a recent UN report describes what could be the first-known case of an autonomous weapon, powered by artificial intelligence, killing in the battlefield.
Scroll down to load more…