Who Was America's Greenest, Most Environmental President Ever?
The environmental legacy of this generally disgraced President is second to none.
31 December, 2016
Who was the greenest, most environmental President so far? You'll be probably surprised to learn it's Richard Nixon. Yes, that Richard Nixon, also America's most disgraced President. This Republican's record on the environment is not only second to none, it's had a profound and lasting effect. 
---
Some argue that Nixon was just doing what was politically expedient, cynically exploiting the mood of the time for votes, and didn't really care much for the environment. In fact, he's on record being skeptical of the true intentions of environmentalists, calling them "demagogues" and stating in secretly recorded tapes:
"They're a group of people that aren't one really damn bit interested in safety or clean air. What they're interested in is destroying the system. They're enemies of the system."
He also said that we can't have a pollution-free society or we'd have to "go back and live like a bunch of animals". 
Despite such opinions, there is agreement among historians that Nixon did push some pieces of green legislation personally and didn't stand in the way of others.
Nixon "was probably our greatest environmental president up to now," said Stephen Hess, a senior fellow emeritus at the Brookings Institution. "He was a very environmentally aggressive president, although that's not what people tend to remember about him."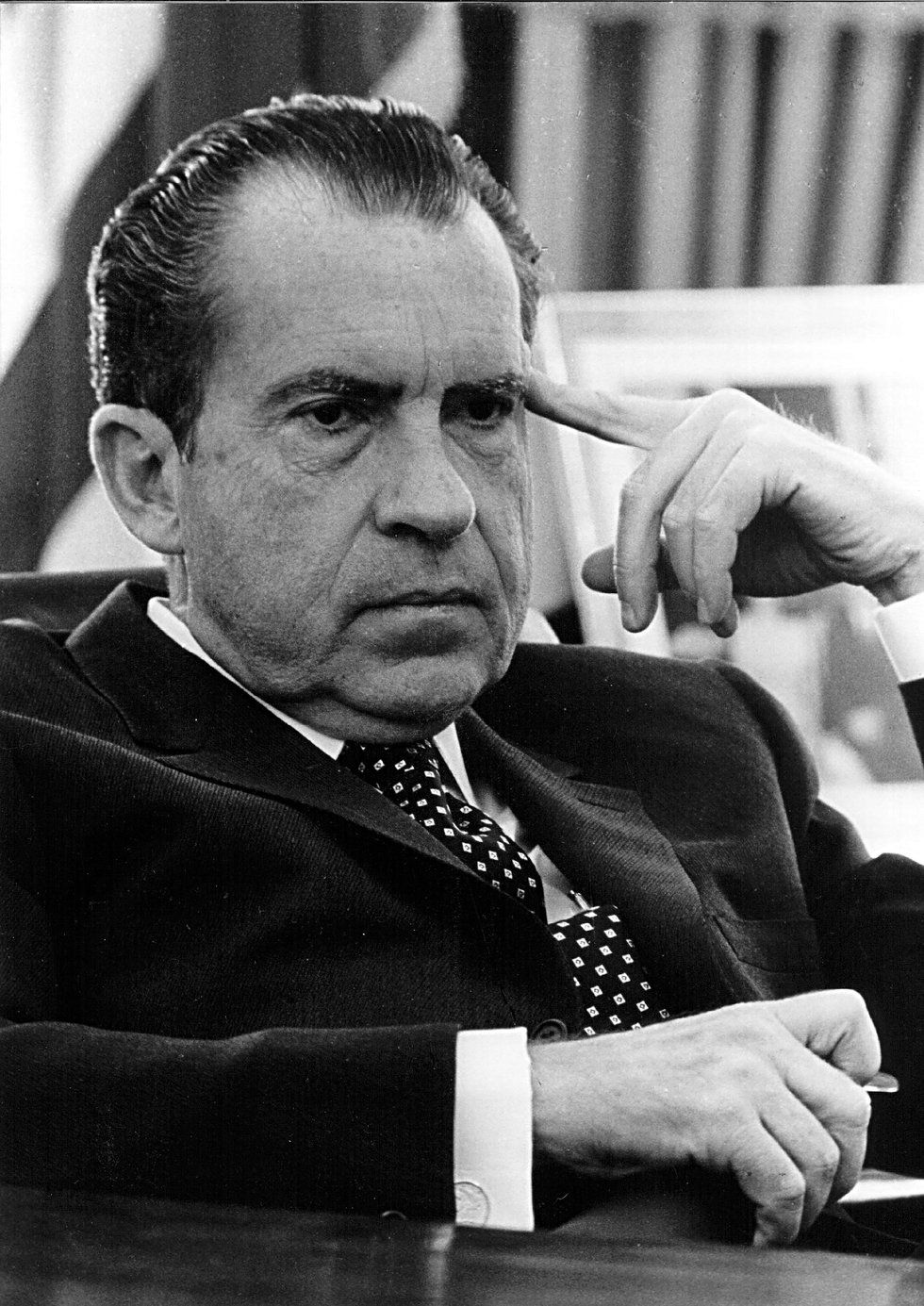 President Richard Nixon in the Oval office February 19, 1970 in Washington, D.C. (Photo by National Archive/Newsmakers)
It bears saying that perhaps this is one area where actual accomplishments are much more important than words or even intentions. And the achievements of the Nixon administration with regards to protecting the environment were plenty. In 1970 alone, he signed the National Environmental Policy Act into law, which required environmental impact statements for major new building projects, created the Environmental Protection Agency (EPA) and signed the landmark Clean Air Act, perhaps the most significant air pollution control bill in American history.
During his time as President, Nixon also created the National Oceanic and Atmospheric Administration (NOAA), approved the Clean Water Act and helped protect animals via the Marine Mammal Protection Act and the Endangered Species Act. 
Overall, Nixon signed 14 major pieces of "green" legislation into law, basically setting up the framework of the U.S. environmental policy up to now. 
Nixon's 1970 speech to Congress sounds a thoughtful and dialogue-encouraging note on the environment that resonates today:
"The fight against pollution," Nixon said, "is not a search for villains. For the most part, the damage done to our environment has not been the work of evil men, nor has it been the inevitable by-product either of advancing technology or of growing population. It results not so much from choices made, as from choices neglected; not from malign intention, but from failure to take into account the full consequences of our actions."
He was also realistic about how the environment and the economic needs of America are interconnected.
"The price of economic growth need not, and will not be, deterioration in the quality of our lives and our surroundings," said Nixon. "The destiny of our land, the air we breathe, the water we drink, is not in the mystical hands of an uncontrollable agent. It is in our hands."
Perhaps, without Watergate, history would have an entirely different opinion of Nixon. Outside of Teddy Roosevelt, another Republican President, and also considered one of the most environment-friendly leaders for his work on conservation, Nixon made probably the most significant contribution to protecting this planet (maybe of anyone ever, if you think about the influence of his office). Whatever his personal failings, his Presidency is a reminder of a time when bipartisan action on key issues like the environment was possible. The Clean Air Act of 1970 passed the Senate with just one "nay" vote. 
Cover photo: 

President Richard Nixon looks out of a window November 22, 1972 at Camp David, MD. (Photo by National Archive/Newsmakers)
What can 3D printing do for medicine? The "sky is the limit," says Northwell Health researcher Dr. Todd Goldstein.
Northwell Health
Sponsored by Northwell Health
Medical professionals are currently using 3D printers to create prosthetics and patient-specific organ models that doctors can use to prepare for surgery.
Eventually, scientists hope to print patient-specific organs that can be transplanted safely into the human body.
Northwell Health, New York State's largest health care provider, is pioneering 3D printing in medicine in three key ways.
Big Think Edge
Push Past Negative Self-Talk: Give Yourself the Proper Fuel to Attack the World, with David Goggins, Former NAVY SealIf you've ever spent 5 minutes trying to meditate, you know something most people don't realize: that our minds are filled, much of the time, with negative nonsense. Messaging from TV, from the news, from advertising, and from difficult daily interactions pulls us mentally in every direction, insisting that we focus on or worry about this or that. To start from a place of strength and stability, you need to quiet your mind and gain control. For former NAVY Seal David Goggins, this begins with recognizing all the negative self-messaging and committing to quieting the mind. It continues with replacing the negative thoughts with positive ones.
If you don't want to know anything about your death, consider this your spoiler warning.
Culture & Religion
For centuries cultures have personified death to give this terrifying mystery a familiar face.
Modern science has demystified death by divulging its biological processes, yet many questions remain.
Studying death is not meant to be a morbid reminder of a cruel fate, but a way to improve the lives of the living.
Big Think Edge
Master Execution: How to Get from Point A to Point B in 7 Steps, with Rob Roy, Retired Navy SEALUsing the principles of SEAL training to forge better bosses, former Navy SEAL and founder of the Leadership Under Fire series Rob Roy, a self-described "Hammer", makes people's lives miserable in the hopes of teaching them how to be a tougher—and better—manager. "We offer something that you are not going to get from reading a book," says Roy. "Real leaders inspire, guide and give hope."Anybody can make a decision when everything is in their favor, but what happens in turbulent times? Roy teaches leaders, through intense experiences, that they can walk into any situation and come out ahead. In this lesson, he outlines seven SEAL-tested steps for executing any plan—even under extreme conditions or crisis situations.
Big think's weekly newsletter.
Get smarter faster from the comfort of your inbox.
See our newsletter privacy policy
here
Most Popular
Most Recent
Big think's weekly newsletter.
Get smarter faster from the comfort of your inbox.
See our newsletter privacy policy
here
© Copyright 2007-2019 & BIG THINK, BIG THINK EDGE,
SMARTER FASTER trademarks owned by The Big Think, Inc. All rights reserved.