The Drug Overdose Epidemic Cuts Thousands of Lives Short by Half
A new study highlights the extent of the drug overdose epidemic in the United States.
21 August, 2016
Celebrity deaths have a way of jolting us, as if a part of our life dies with the famous singer or actor. This is especially true when these deaths are untimely, often coming as a result of drug overdoses. Some of our recent traumas include the fatal overdoses by Prince, Michael Jackson, Whitney Houston, Heath Ledger, Philip Seymour Hoffman, and Amy Winehouse. It's a veritable hall of fame. But for all the famous people whose life is cut short, there are thousands of everyday people who die well before their time by overdosing on drugs.
---
A new study by the addiction educator Project Know shows that on average, people who die from drug overdoses lose nearly half of their natural life expectancies. That means instead of living on average to 76.4 years, men die at about 41.7 years of age. Instead of living to 81.2 years, women die at 44.8 years. 
As we consider lives of unfulfilled promise, we need to come to grips with the fact that we are in the midst of a real epidemic. Americans use and abuse a lot of drugs. Data shows that while making up only 4.6% of the world's population, Americans consume 80% of the global opioid supply. They also consume 99% of the global hydrocodone supply, and two-thirds of the world's illegal drugs.
All this drug use results in the the overall number of deaths from overdoses increasing steadily for the past 15 years, with 2014 seeing 47,055 people die, and the mortality rate from overdoses rising faster than other causes of death. Compared to 2001, almost 3 times as many people are dying from prescription drugs (the largest cause of overdose deaths), 42% more from cocaine, and 6 times as many from heroin.
The figures do vary by state, gender, and the drug of choice. Rural areas get more drug deaths than urban area. The overdose stats from the Southwest and Appalachia have been particularly alarming for the past decade.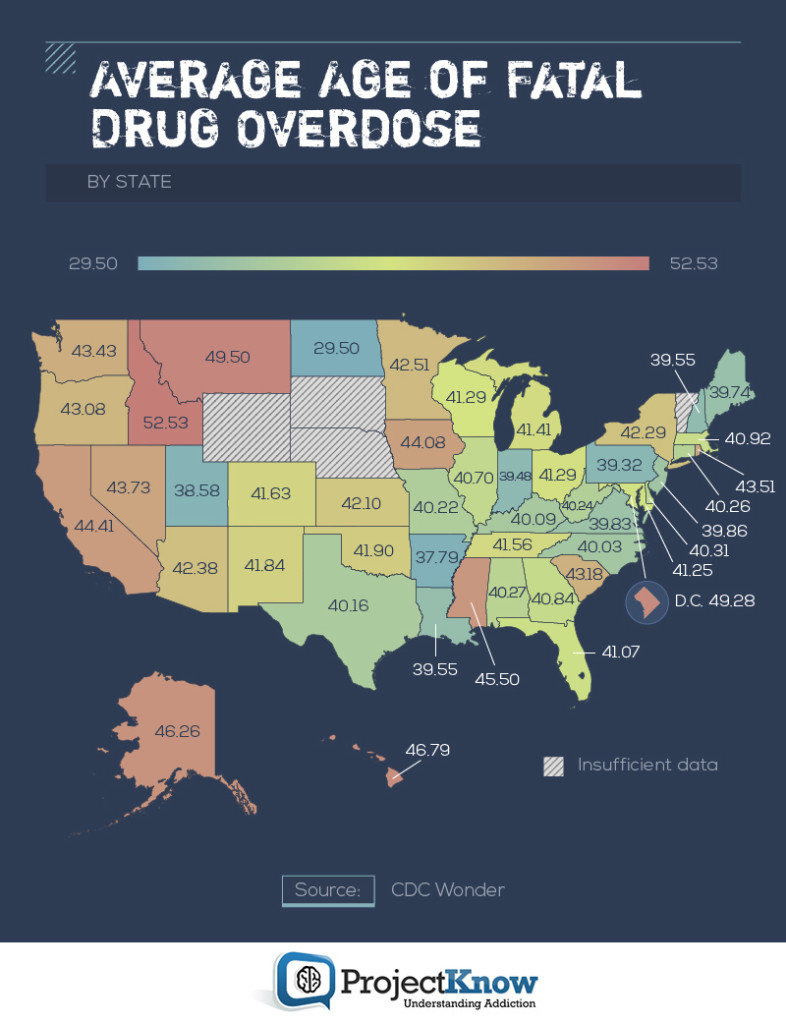 The ages of those who die from overdoses also vary based on where they are. In North Dakota, the average age is 29.5, while in D.C., victims are closer to 50. In general, in the past 15 years, the average age of overdose victims is going up, increasing nearly 7% to 42.
Older patients are at higher risk for abusing prescription or over-the-counter medications with about 25% of older adults using some prescription drug that has the potential for abuse, according to the Administration on Aging and SAMHSA.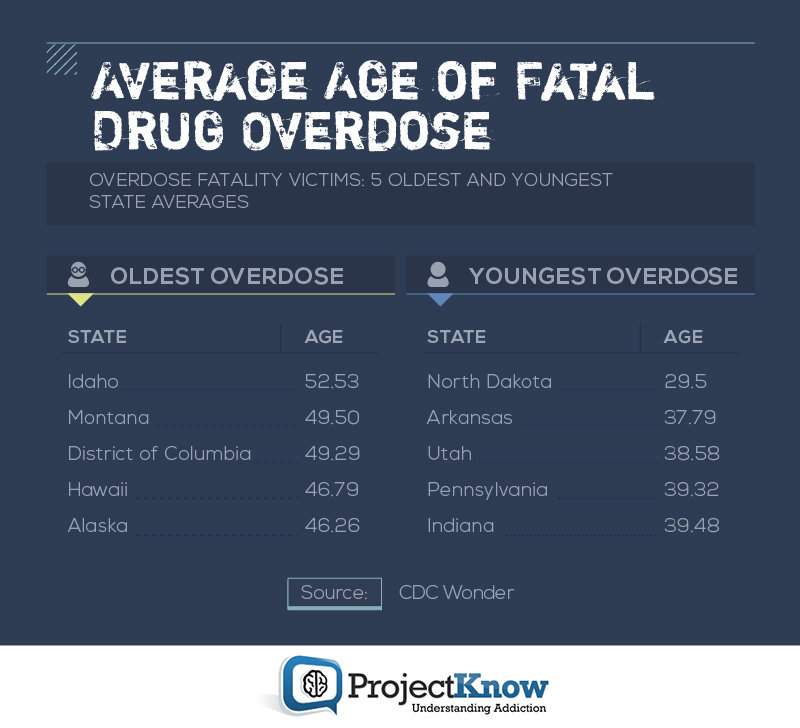 Heroin is responsible for the youngest overdose deaths, both for men and women, with the average ages of 37.65 for men and just 35.99 years for women.
Opioid use by Americans is particularly disturbing and exhibits a racial component. While the mortality rate among black Americans has declined, opioid abuse is particularly responsible for the increase of mortality rates among white Americans. One reason for this is that doctors are found to be more likely to prescribe painkillers to white patients than black patients.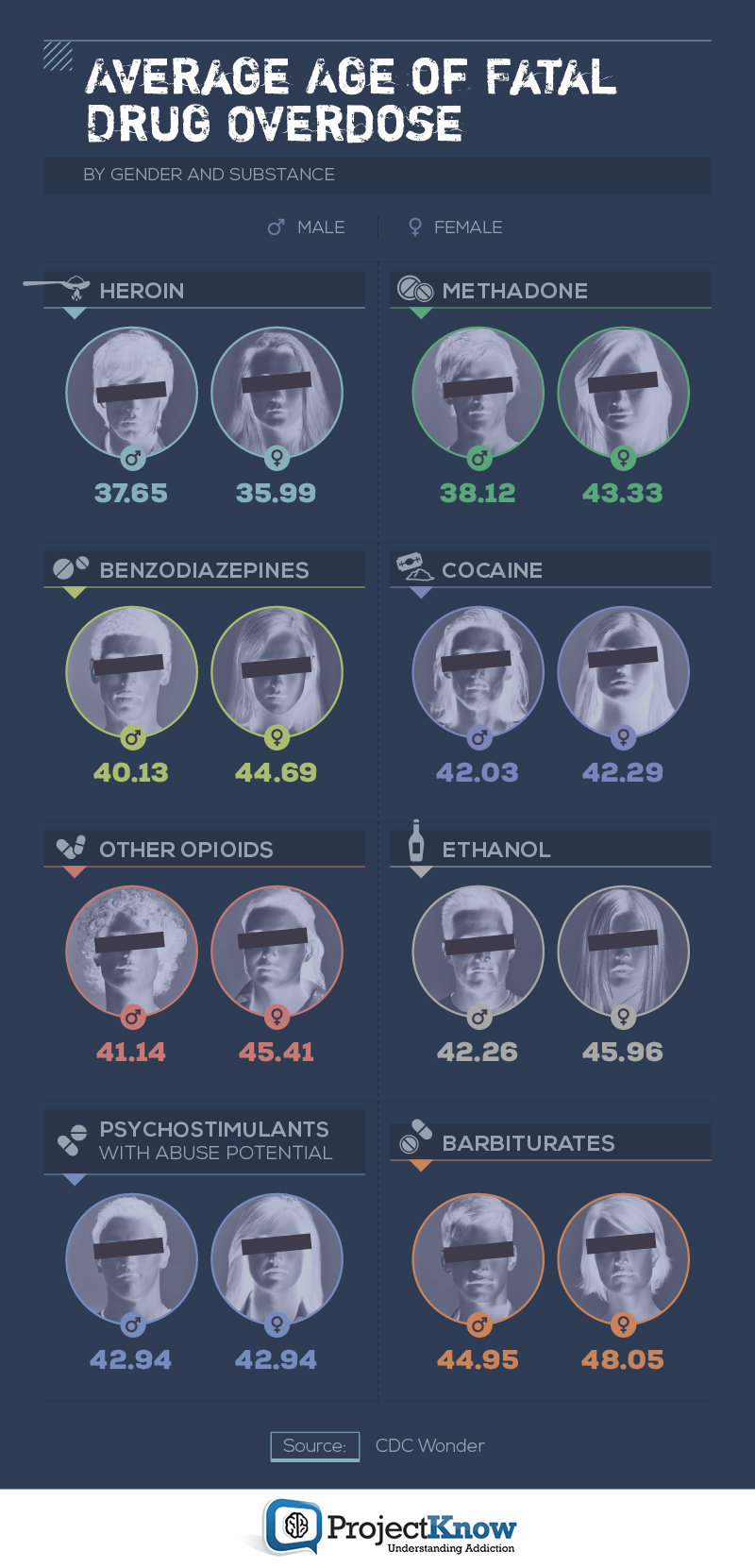 If you are still not alarmed, consider that the overdose mortality rate is going up at a much faster pace than the AIDS epidemic in the 80s.  
Project Know previously highlighted drug use by teens, as 50% of 12th graders have used illicit drugs at some point in their lives. 
Sharon Salzberg, world-renowned mindfulness leader, teaches meditation at Big Think Edge.
Image: Big Think
Big Think Edge
Try meditation for the first time with this guided lesson or, if you already practice, enjoy being guided by a world-renowned meditation expert.
Sharon Salzberg teaches mindfulness meditation for Big Think Edge.

Subscribe to Big Think Edge before we launch on March 30 to get 20% off monthly and annual memberships.
The 21st century is experiencing an Asianization of politics, business, and culture.
Videos
Our theories about the world, even about history or the geopolitics of the present, tend to be shaped by Anglo perspectives of the Western industrial democracies, particularly those in the United States and the United Kingdom.
The West, however, is not united. Canada, for instance, acts in many ways that are not in line with American or British policies, particularly in regard to populism. Even if it were united, though, it would not represent most of the world's population.
European ideas, such as parliamentary democracy and civil service, spread across the world in the 19th century. In the 20th century, American values such as entrepreneurialism went global. In the 21st century, however, what we're seeing now is an Asianization — an Asian confidence that they can determine their own political systems, their own models, and adapt to their own circumstances.
Research has shown that men today have less testosterone than they used to. What's happening?
Sex & Relationships
Several studies have confirmed that testosterone counts in men are lower than what they used to be just a few decades ago.
While most men still have perfectly healthy testosterone levels, its reduction puts men at risk for many negative health outcomes.
The cause of this drop in testosterone isn't entirely clear, but evidence suggests that it is a multifaceted result of modern, industrialized life.
Can sensitive coral reefs survive another human generation?
Videos
Coral reefs may not be able to survive another human decade because of the environmental stress we have placed on them, says author David Wallace-Wells. He posits that without meaningful changes to policies, the trend of them dying out, even in light of recent advances, will continue.
The World Wildlife Fund says that 60 percent of all vertebrate mammals have died since just 1970. On top of this, recent studies suggest that insect populations may have fallen by as much as 75 percent over the last few decades.
If it were not for our oceans, the planet would probably be already several degrees warmer than it is today due to the emissions we've expelled into the atmosphere.
Big think's weekly newsletter.
Get smarter faster from the comfort of your inbox.
See our newsletter privacy policy
here
Most Popular
Most Recent
Big think's weekly newsletter.
Get smarter faster from the comfort of your inbox.
See our newsletter privacy policy
here
© Copyright 2007-2018 & BIG THINK, BIG THINK EDGE,
SMARTER FASTER trademarks owned by The Big Think, Inc. All rights reserved.