The Drug Overdose Epidemic Cuts Thousands of Lives Short by Half
A new study highlights the extent of the drug overdose epidemic in the United States.
21 August, 2016
Celebrity deaths have a way of jolting us, as if a part of our life dies with the famous singer or actor. This is especially true when these deaths are untimely, often coming as a result of drug overdoses. Some of our recent traumas include the fatal overdoses by Prince, Michael Jackson, Whitney Houston, Heath Ledger, Philip Seymour Hoffman, and Amy Winehouse. It's a veritable hall of fame. But for all the famous people whose life is cut short, there are thousands of everyday people who die well before their time by overdosing on drugs.
---
A new study by the addiction educator Project Know shows that on average, people who die from drug overdoses lose nearly half of their natural life expectancies. That means instead of living on average to 76.4 years, men die at about 41.7 years of age. Instead of living to 81.2 years, women die at 44.8 years. 
As we consider lives of unfulfilled promise, we need to come to grips with the fact that we are in the midst of a real epidemic. Americans use and abuse a lot of drugs. Data shows that while making up only 4.6% of the world's population, Americans consume 80% of the global opioid supply. They also consume 99% of the global hydrocodone supply, and two-thirds of the world's illegal drugs.
All this drug use results in the the overall number of deaths from overdoses increasing steadily for the past 15 years, with 2014 seeing 47,055 people die, and the mortality rate from overdoses rising faster than other causes of death. Compared to 2001, almost 3 times as many people are dying from prescription drugs (the largest cause of overdose deaths), 42% more from cocaine, and 6 times as many from heroin.
The figures do vary by state, gender, and the drug of choice. Rural areas get more drug deaths than urban area. The overdose stats from the Southwest and Appalachia have been particularly alarming for the past decade.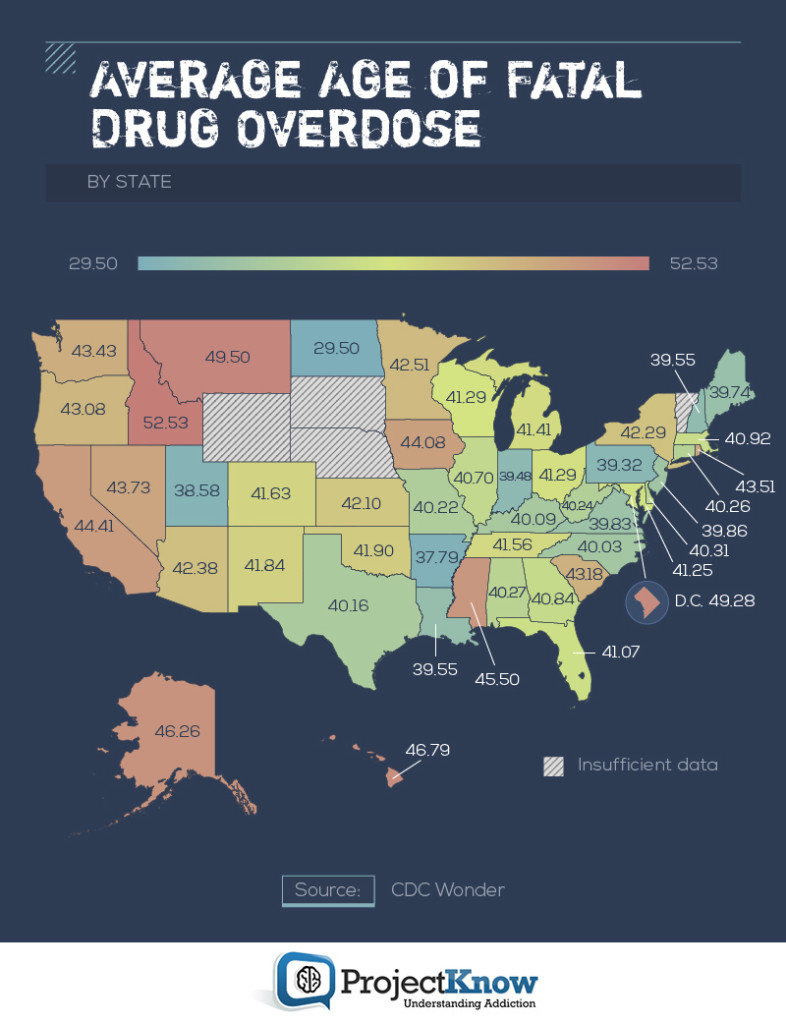 The ages of those who die from overdoses also vary based on where they are. In North Dakota, the average age is 29.5, while in D.C., victims are closer to 50. In general, in the past 15 years, the average age of overdose victims is going up, increasing nearly 7% to 42.
Older patients are at higher risk for abusing prescription or over-the-counter medications with about 25% of older adults using some prescription drug that has the potential for abuse, according to the Administration on Aging and SAMHSA.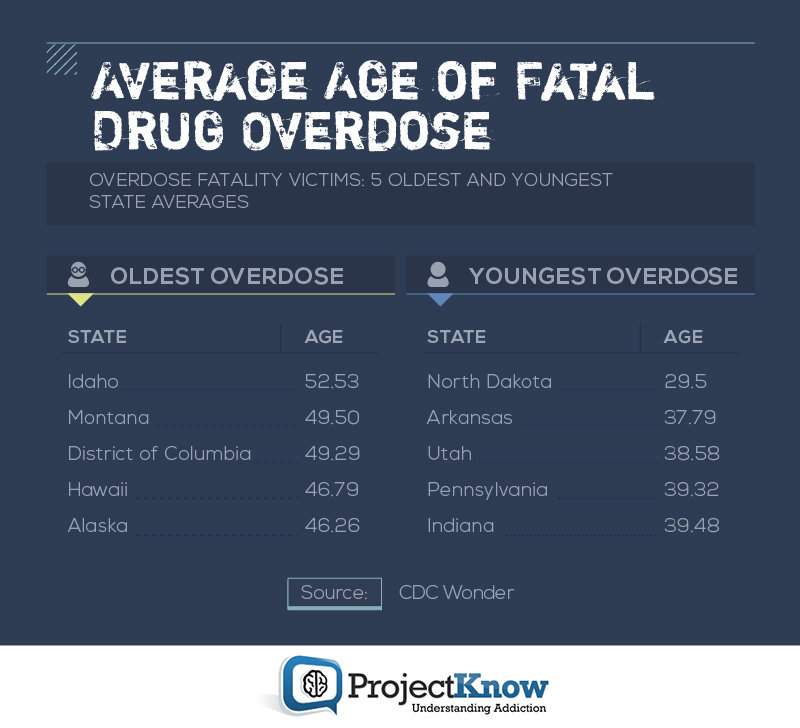 Heroin is responsible for the youngest overdose deaths, both for men and women, with the average ages of 37.65 for men and just 35.99 years for women.
Opioid use by Americans is particularly disturbing and exhibits a racial component. While the mortality rate among black Americans has declined, opioid abuse is particularly responsible for the increase of mortality rates among white Americans. One reason for this is that doctors are found to be more likely to prescribe painkillers to white patients than black patients.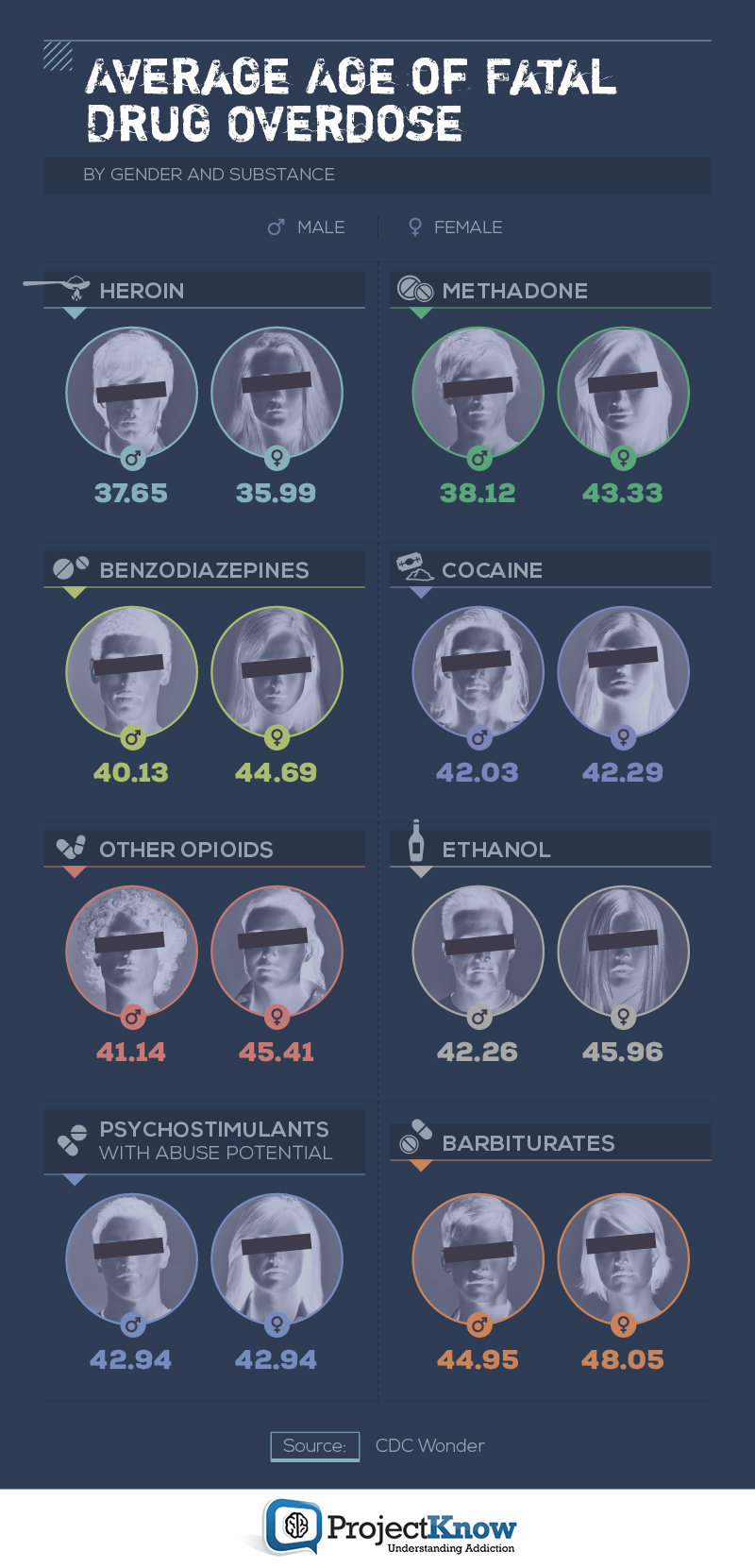 If you are still not alarmed, consider that the overdose mortality rate is going up at a much faster pace than the AIDS epidemic in the 80s.  
Project Know previously highlighted drug use by teens, as 50% of 12th graders have used illicit drugs at some point in their lives. 
Related Articles
Ready your Schrödinger's Cat Jokes.
Quantum entanglement. Conceptual artwork of a pair of entangled quantum particles or events (left and right) interacting at a distance. Quantum entanglement is one of the consequences of quantum theory. Two particles will appear to be linked across space and time, with changes to one of the particles (such as an observation or measurement) affecting the other one. This instantaneous effect appears to be independent of both space and time, meaning that, in the quantum realm, effect may precede cause.
Technology & Innovation
For a time, quantum computing was more theory than fact.
That's starting to change.
New quantum computer designs look like they might be scalable.
Quantum computing has existed in theory since the 1980's. It's slowly making its way into fact, the latest of which can be seen in a paper published in Nature called, "Deterministic teleportation of a quantum gate between two logical qubits."

To ensure that we're all familiar with a few basic terms: in electronics, a 'logic gate' is something that takes in one or more than one binary inputs and produces a single binary output. To put it in reductive terms: if you produce information that goes into a chip in your computer as a '0,' the logic gate is what sends it out the other side as a '1.'

A quantum gate means that the '1' in question here can — roughly speaking — go back through the gate and become a '0' once again. But that's not quite the whole of it.
A qubit is a single unit of quantum information. To continue with our simple analogy: you don't have to think about computers producing a string of information that is either a zero or a one. A quantum computer can do both, simultaneously. But that can only happen if you build a functional quantum gate.

That's why the results of the study from the folks at The Yale Quantum Institute saying that they were able to create a quantum gate with a "process fidelity" of 79% is so striking. It could very well spell the beginning of the pathway towards realistic quantum computing.
The team went about doing this through using a superconducting microwave cavity to create a data qubit — that is, they used a device that operates a bit like a organ pipe or a music box but for microwave frequencies. They paired that data qubit with a transmon — that is, a superconducting qubit that isn't as sensitive to quantum noise as it otherwise could be, which is a good thing, because noise can destroy information stored in a quantum state. The two are then connected through a process called a 'quantum bus.'
That process translates into a quantum property being able to be sent from one location to the other without any interaction between the two through something called a teleported CNOT gate, which is the 'official' name for a quantum gate. Single qubits made the leap from one side of the gate to the other with a high degree of accuracy.
Above: encoded qubits and 'CNOT Truth table,' i.e., the read-out.
The team then entangled these bits of information as a way of further proving that they were literally transporting the qubit from one place to somewhere else. They then analyzed the space between the quantum points to determine that something that doesn't follow the classical definition of physics occurred.

They conclude by noting that "... the teleported gate … uses relatively modest elements, all of which are part of the standard toolbox for quantum computation in general. Therefore ... progress to improve any of the elements will directly increase gate performance."
In other words: they did something simple and did it well. And that the only forward here is up. And down. At the same time.
These modern-day hermits can sometimes spend decades without ever leaving their apartments.
700,000 Japanese people are thought to be hikikomori, modern-day hermits who never leave their apartments (BEHROUZ MEHRI/AFP/Getty Images).
Mind & Brain
A hikikomori is a type of person in Japan who locks themselves away in their bedrooms, sometimes for years.
This is a relatively new phenomenon in Japan, likely due to rigid social customs and high expectations for academic and business success.
Many believe hikikomori to be a result of how Japan interprets and handles mental health issues.
How a cataclysm worse than what killed the dinosaurs destroyed 90 percent of all life on Earth.
Credit: Ron Miller
Surprising Science
While the demise of the dinosaurs gets more attention as far as mass extinctions go, an even more disastrous event called "the Great Dying" or the "End-Permian Extinction" happened on Earth prior to that. Now scientists discovered how this cataclysm, which took place about 250 million years ago, managed to kill off more than 90 percent of all life on the planet.
Big think's weekly newsletter.
Get smarter faster from the comfort of your inbox.
See our newsletter privacy policy
here
Most Popular
Most Recent
Big think's weekly newsletter.
Get smarter faster from the comfort of your inbox.
See our newsletter privacy policy
here
© Copyright 2007-2018 & BIG THINK, BIG THINK EDGE,
SMARTER FASTER trademarks owned by The Big Think, Inc. All rights reserved.