Big ideas.
Once a week.
Subscribe to our weekly newsletter.
What Drugs the Kids Are Using and Why
An expansive new study makes clear the extent of the problem and the importance of parents in avoiding teen drug use.
01 July, 2016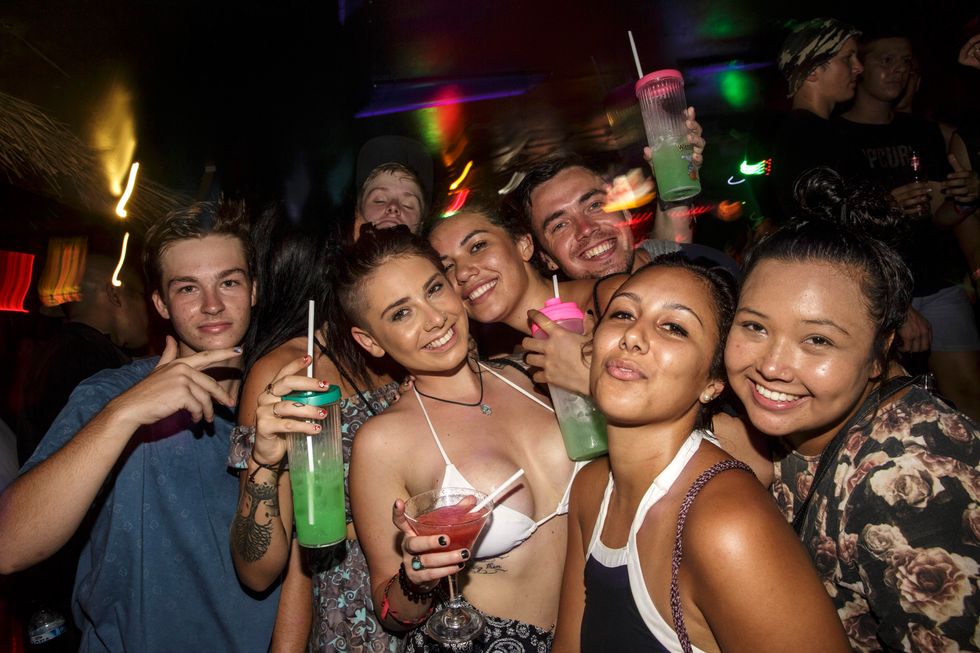 If you remember your days as a teen or have a teen in your life, you are probably aware of the role drugs play at that age. In fact, there's a good chance your teen is using illegal drugs.
---
A new 3-part investigation by addiction educator ProjectNow offers some remarkable statistics on the drug use by American teens. The survey conducted by the University of Michigan centered on the practices and attitudes towards drugs by about 40,000 students in 8th, 10th and 12th grades.
If you're wondering whether drug use is a widespread issue, the survey confirms that about 50% of 12th graders have used illicit drugs at some point in their lives. This number has held somewhat steady for the past 5 years, but is higher than it was, for example, in 1992 when it was at 40%.
You can see the yearly statistics of the drug usage here: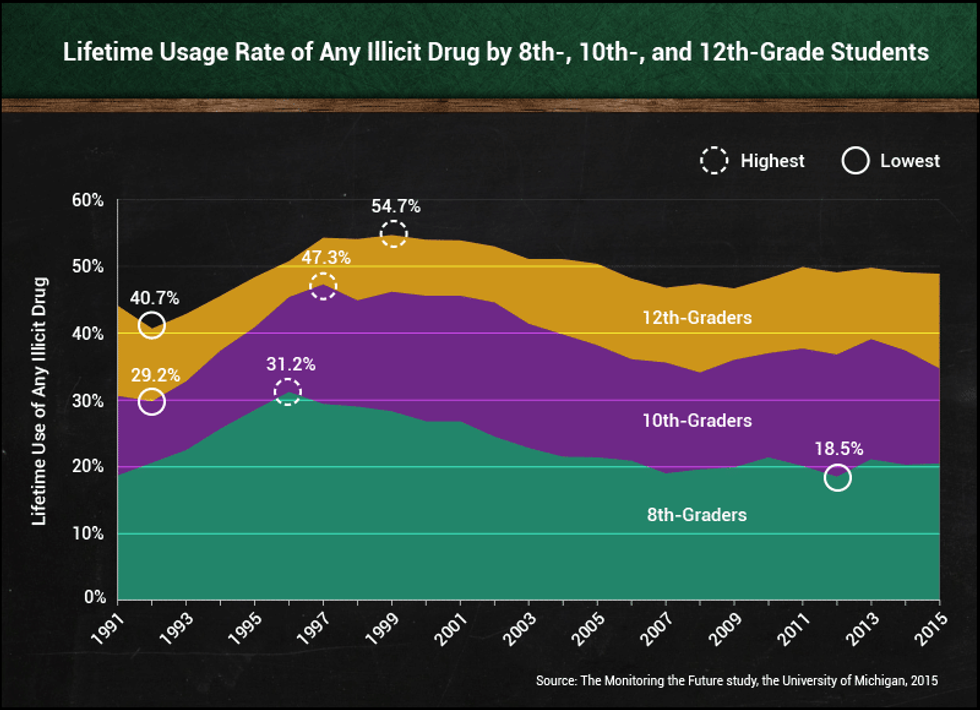 What kind of drugs are the kids using?
Alcohol is the drug of choice, with 39.9% of the teens in 8th thru 12th grades using it in the past year. It's not actually an illegal drug, but alcohol is certainly illegal for the underage kids who appear to have little trouble in getting it. What does 39.9% really mean? As of 2014, this would have come out to about 2.33 million kids between 12 and 17 years old.
Marijuana is the next most popular at 23.7%. Drugs like ecstasy, LSD, cocaine and heroin are used marginally, but an estimated 117,000 young cocaine users should sound alarming. 
Check out the past-year usage chart here: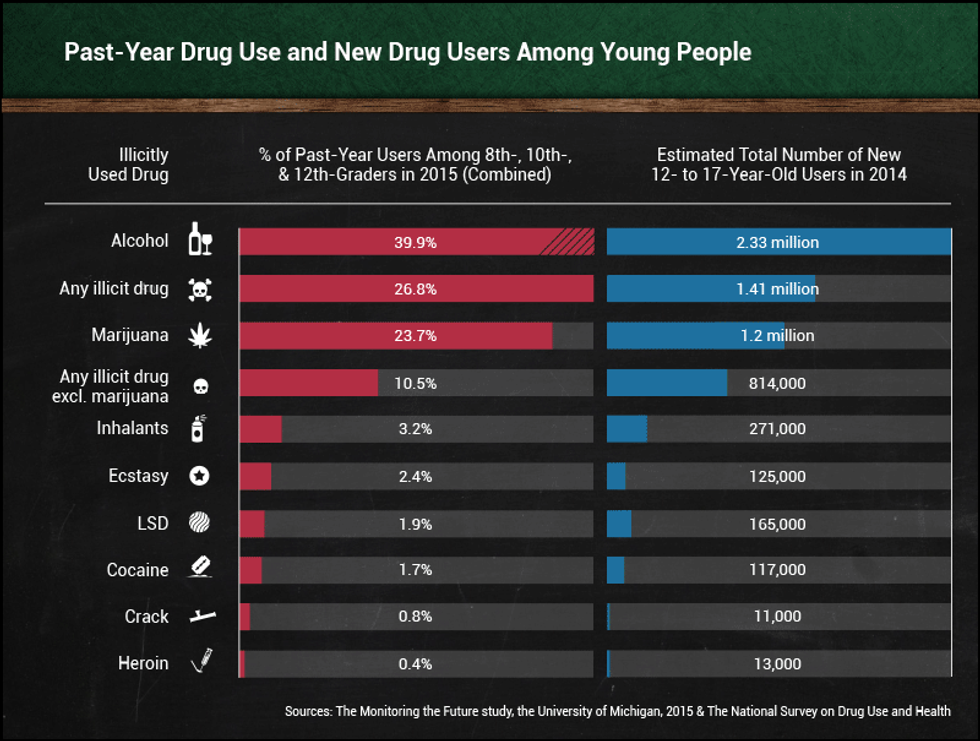 The relative popularity of the drugs being used is reflected in the attitudes of the kids towards how dangerous they are. Heroin is perceived to be dangerous by close to 85% of 10th graders and is one of the least used drugs. You can see in the chart below how the perception of cigarettes changed over time, with over 70% of the teens thinking it's dangerous, topping LSD and ecstasy in this category. Conversely, the view on marijuana experienced a drop in the other direction. 20% fewer teens think it's risky than did just 15 years ago. It's considered the least dangerous drug, even beating out alcohol. 
Here's the risk-assessment chart: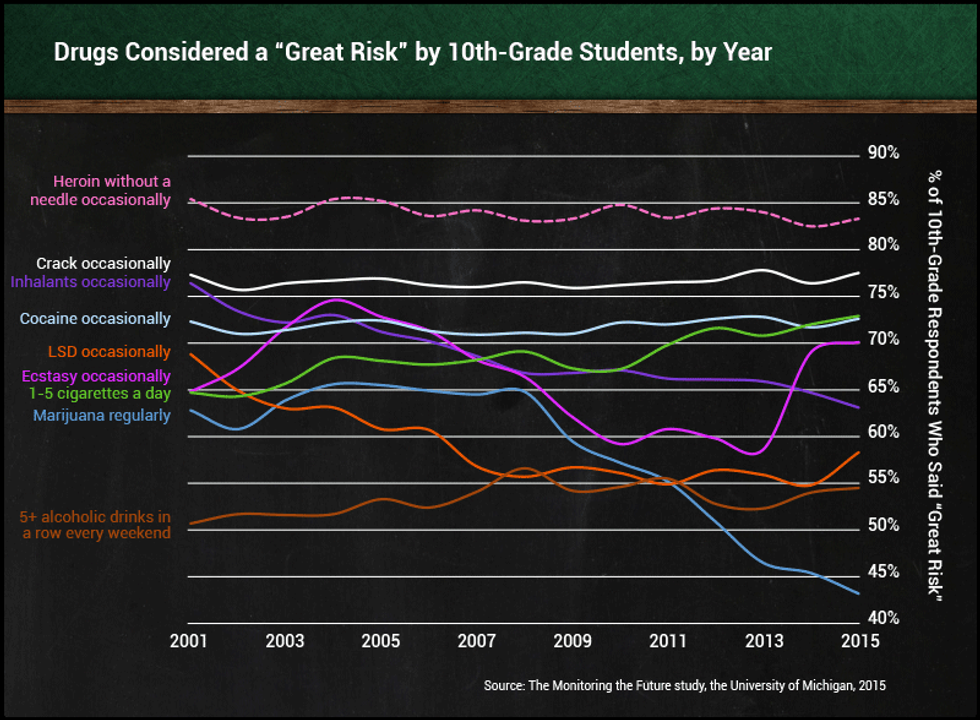 What conclusions can we draw from this fascinating information?
One further piece of the survey considers the possible reasons for the drug use by teens. It focuses on their home life and finds that the lowest drug usage is by kids who live with both their mother and father. Interestingly, kids living with only their father had higher drug usage rates than those living with only their mother. Those living without any parents had higher rates across the board, with the most significant difference being in heroine usage - that number shot up 6 times!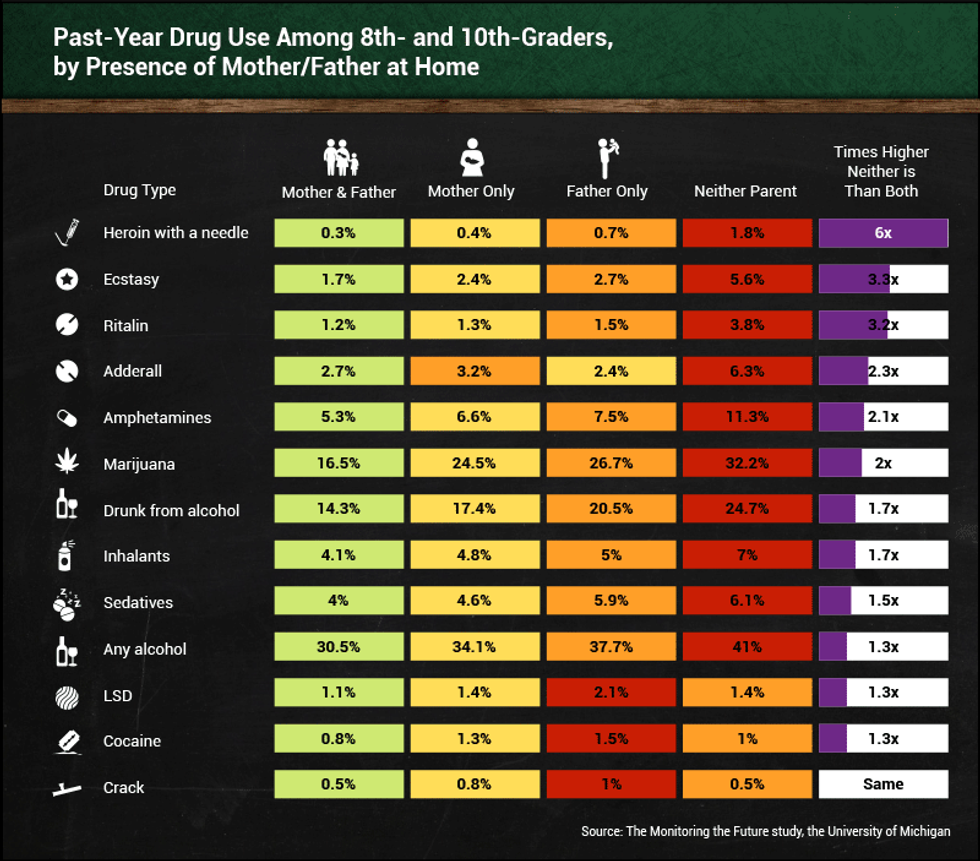 Certainly, such statistics point clearly to the importance of parental presence in the lives of their kids.
In a further focus on the role parents can play, another part of the survey demonstrates how well disciplining your children works. If you don't allow them to go out on school nights, make sure they do their homework and chores, and don't let them watch too much tv, your kids are much less likely to get drunk.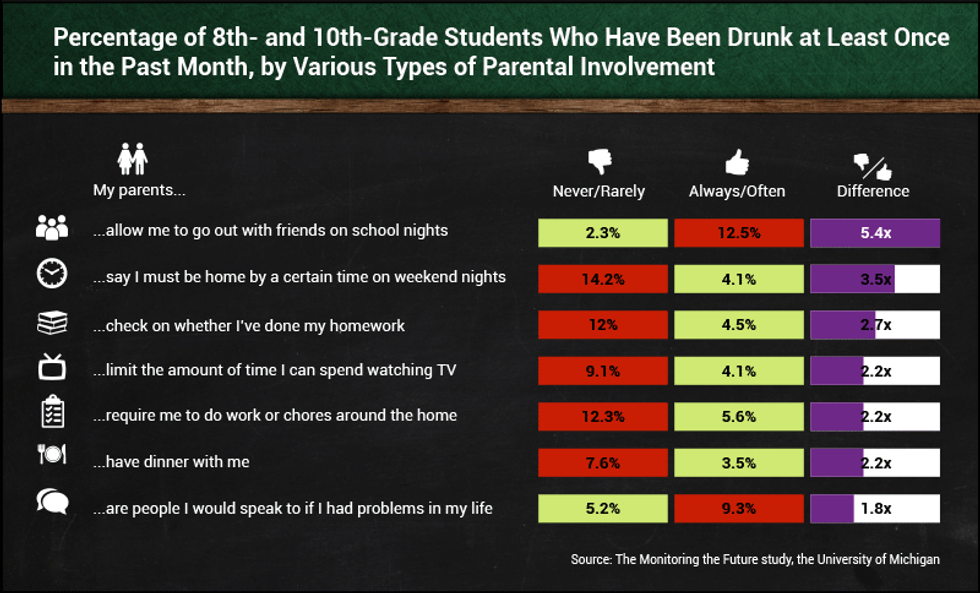 And if you think none of this matters much as "kids will be kids," we should consider the impact this behavior has on the academic performance of students. Teens who smoked cigarettes or marijuana and got drunk were much less likely to receive an A than those who didn't. In fact, cigarette smokers fared the worst, being 5 times less likely to get an A than their abstaining counterparts.
Of course, as we see, a number of factors team up to affect a kid who uses various types of drugs. Drug usage may be a symptom of larger issues as much as a problem in an of itself. But as 8th through 12th grades comprise such an important portion of an adolescent's path towards becoming a functioning adult, we must consider how adversely the future of the drug-using kids can be affected.
You can see here a clear correlation between drug usage and various "deviant" behaviors: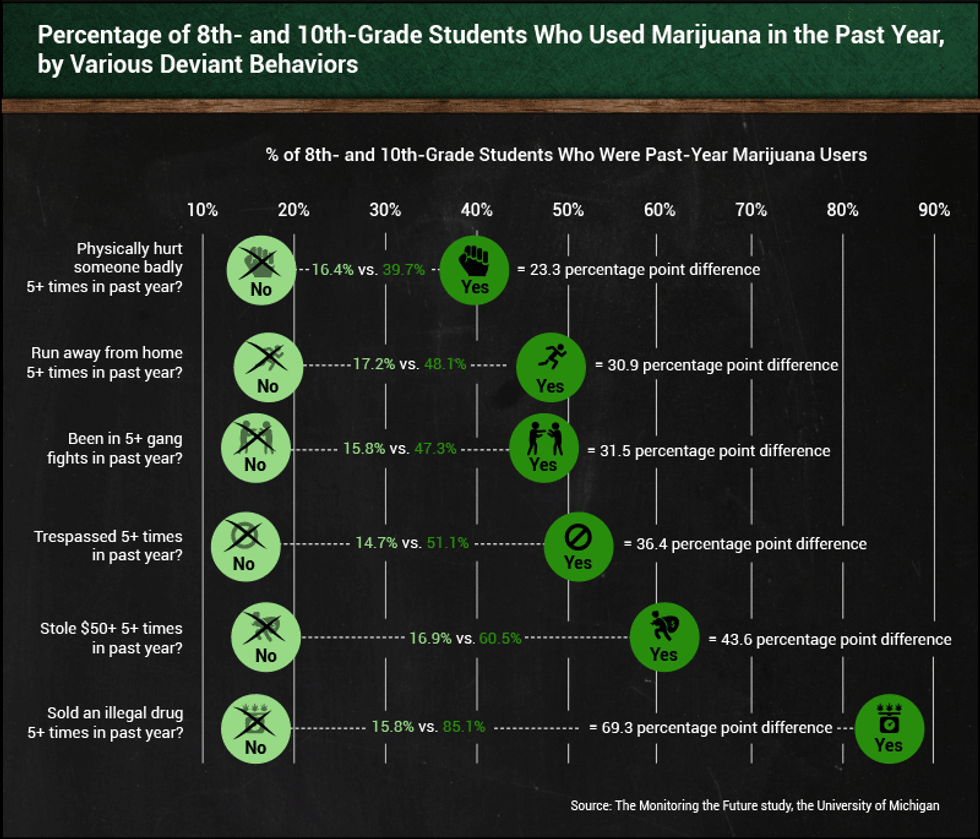 A much larger percentage of teen weed smokers got into fights, ran away from home and stole. Again, did they do so because of the drugs or were the drugs simply masking larger issues (perhaps related to their home lives)? While it's important to find out this answer, it's very visible how related is drug use to anti-social behavior.
--
Scientists discover what our human ancestors were making inside the Wonderwerk Cave in South Africa 1.8 million years ago.
Credit: Michael Chazan / Hebrew University of Jerusalem
Surprising Science
Researchers find evidence of early tool-making and fire use inside the Wonderwerk Cave in Africa.
The scientists date the human activity in the cave to 1.8 million years ago.
The evidence is the earliest found yet and advances our understanding of human evolution.
One of the oldest activities carried out by humans has been identified in a cave in South Africa. A team of geologists and archaeologists found evidence that our ancestors were making fire and tools in the Wonderwerk Cave in the country's Kalahari Desert some 1.8 million years ago.
A new study published in the journal Quaternary Science Reviews from researchers at the Hebrew University of Jerusalem and the University of Toronto proposes that Wonderwerk — which means "miracle" in Afrikaans — contains the oldest evidence of human activity discovered.
"We can now say with confidence that our human ancestors were making simple Oldowan stone tools inside the Wonderwerk Cave 1.8 million years ago," shared the study's lead author Professor Ron Shaar from Hebrew University.
Oldowan stone tools are the earliest type of tools that date as far back as 2.6 million years ago. An Oldowan tool, which was useful for chopping, was made by chipping flakes off of one stone by hitting it with another stone.
An Oldowan stone toolCredit: Wikimedia / Public domain
Professor Shaar explained that Wonderwerk is different from other ancient sites where tool shards have been found because it is a cave and not in the open air, where sample origins are harder to pinpoint and contamination is possible.
Studying the cave, the researchers were able to pinpoint the time over one million years ago when a shift from Oldowan tools to the earliest handaxes could be observed. Investigating deeper in the cave, the scientists also established that a purposeful use of fire could be dated to one million years back.
This is significant because examples of early fire use usually come from sites in the open air, where there is the possibility that they resulted from wildfires. The remnants of ancient fires in a cave — including burned bones, ash, and tools — contain clear clues as to their purpose.
To precisely date their discovery, the researchers relied on paleomagnetism and burial dating to measure magnetic signals from the remains hidden within a sedimentary rock layer that was 2.5 meters thick. Prehistoric clay particles that settled on the cave floor exhibit magnetization and can show the direction of the ancient earth's magnetic field. Knowing the dates of magnetic field reversals allowed the scientists to narrow down the date range of the cave layers.
The Kalahari desert Wonderwerk CaveCredit: Michael Chazan / Hebrew University of Jerusalem
Professor Ari Matmon of Hebrew University used another dating method to solidify their conclusions, focusing on isotopes within quartz particles in the sand that "have a built-in geological clock that starts ticking when they enter a cave." He elaborated that in their lab, the scientists were "able to measure the concentrations of specific isotopes in those particles and deduce how much time had passed since those grains of sand entered the cave."
Finding the exact dates of human activity in the Wonderwerk Cave could lead to a better understanding of human evolution in Africa as well as the way of life of our early ancestors.
If you ask your maps app to find "restaurants that aren't McDonald's," you won't like the result.
Mind & Brain
The Chinese Room thought experiment is designed to show how understanding something cannot be reduced to an "input-process-output" model.
Artificial intelligence today is becoming increasingly sophisticated thanks to learning algorithms but still fails to demonstrate true understanding.
All humans demonstrate computational habits when we first learn a new skill, until this somehow becomes understanding.
It's your first day at work, and a new colleague, Kendall, catches you over coffee.
"You watch the game last night?" she says. You're desperate to make friends, but you hate football.
"Sure, I can't believe that result," you say, vaguely, and it works. She nods happily and talks at you for a while. Every day after that, you live a lie. You listen to a football podcast on the weekend and then regurgitate whatever it is you hear. You have no idea what you're saying, but it seems to impress Kendall. You somehow manage to come across as an expert, and soon she won't stop talking football with you.
The question is: do you actually know about football, or are you imitating knowledge? And what's the difference? Welcome to philosopher John Searle's "Chinese Room."
The Chinese Room
Credit: http://america.pink/ via Wikipedia and licensed under CC0 1.0
Searle's argument was designed as a critique of what's called a "functionalist" view of mind. This is the philosophy that argues that our mind can be explained fully by what role it plays, or in other words, what it does or what "function" it has.

One form of functionalism sees the human mind as following an "input-process-output" model. We have the input of our senses, the process of our brains, and a behavioral output. Searle thought this was at best an oversimplification, and his Chinese Room thought experiment goes to show how human minds are not simply biological computers. It goes like this:
Imagine a room, and inside is John, who can't speak a word of Chinese. Outside the room, a Chinese person sends a message into the room in Chinese. Luckily, John has an "if-then" book for Chinese characters. For instance, if he gets <你好吗>, the proper reply is <我还好>. All John has to do is follow his instruction book.
The Chinese speaker outside of the room thinks they're talking to someone inside who knows Chinese. But in reality, it's just John with his fancy book.
What is understanding?
Does John understand Chinese? The Chinese Room is, by all accounts, a computational view of the mind, yet it seems that something is missing. Truly understanding something is not an "if-then" automated response. John is missing that sinking in feeling, the absorption, the bit of understanding that's so hard to express. Understanding a language doesn't work like this. Humans are not Google Translate.
And yet, this is how AIs are programmed. A computer system is programmed to provide a certain output based on a finite list of certain inputs. If I double click the mouse, I open a file. If you type a letter, your monitor displays tiny black squiggles. If we press the right buttons in order, we win at Mario Kart. Input — Process — Output.
Can imitation become so fluid or competent that it is understanding.
But AIs don't know what they're doing, and Google Translate doesn't really understand what it's saying, does it? They're just following a programmer's orders. If I say, "Will it rain tomorrow?" Siri can look up the weather. But if I ask, "Will water fall from the clouds tomorrow?" it'll be stumped. A human would not (although they might look at you oddly).
A fun way to test just how little an AI understands us is to ask your maps app to find "restaurants that aren't McDonald's." Unsurprisingly, you won't get what you want.
The Future of AI
To be fair, the field of artificial intelligence is just getting started. Yes, it's easy right now to trick our voice assistant apps, and search engines can be frustratingly unhelpful at times. But that doesn't mean AI will always be like that. It might be that the problem is only one of complexity and sophistication, rather than anything else. It might be that the "if-then" rule book just needs work. Things like "the McDonald's test" or AI's inability to respond to original questions reveal only a limitation in programming. Given that language and the list of possible questions is finite, it's quite possible that AI will be able to (at the very least) perfectly mimic a human response in the not too distant future.
Credit: Oli Scarff via Getty Images
What's more, AIs today have increasingly advanced learning capabilities. Algorithms are no longer simply input-process-output but rather allow systems to search for information and adapt anew to what they receive.

A notorious example of this occurred when a Microsoft chat bot started spouting bigotry and racism after "learning" from what it read on Twitter. (Although, this might just say more about Twitter than AI.) Or, more sinister perhaps, two Facebook chat bots were shut down after it was discovered that they were not only talking to each other but were doing so in an invented language. Did they understand what they were doing? Who's to say that, with enough learning and enough practice, an AI "Chinese Room" might not reach understanding?
Can imitation become understanding?
We've all been a "Chinese Room" at times — be it talking about sports at work, cramming for an exam, using a word we didn't entirely know the meaning of, or calculating math problems. We can all mimic understanding, but it also begs the question: can imitation become so fluid or competent that it is understanding.
The old adage "fake it, 'till you make it" has been proven true over and over. If you repeat an action enough times, it becomes easy and habitual. For instance, when you practice a language, musical instrument, or a math calculation, then after a while, it becomes second nature. Our brain changes with repetition.
So, it might just be that we all start off as Chinese Rooms when we learn something new, but this still leaves us with a pertinent question: when, how, and at what point does John actually understand Chinese? More importantly, will Siri or Alexa ever understand you?
Jonny Thomson teaches philosophy in Oxford. He runs a popular Instagram account called Mini Philosophy (@philosophyminis). His first book is Mini Philosophy: A Small Book of Big Ideas.
With the rise of Big Data, methods used to study the movement of stars or atoms can now reveal the movement of people. This could have important implications for cities.
Credit: Getty Images
13-8
A treasure trove of mobility data from devices like smartphones has allowed the field of "city science" to blossom.
I recently was part of team that compared mobility patterns in Brazilian and American cities.
We found that, in many cities, low-income and high-income residents rarely travel to the same geographic locations. Such segregation has major implications for urban design.
Almost 55 percent of the world's seven billion people live in cities. And unless the COVID-19 pandemic puts a serious — and I do mean serious — dent in long-term trends, the urban fraction will climb almost to 70 percent by midcentury. Given that our project of civilization is staring down a climate crisis, the massive population shift to urban areas is something that could really use some "sciencing."
Is urbanization going to make things worse? Will it make things better? Will it lead to more human thriving or more grinding poverty and inequality? These questions need answers, and a science of cities, if there was such a thing, could provide answers.
Good news. There already is one!
The science of cities
With the rise of Big Data (for better or worse), scientists from a range of disciplines are getting an unprecedented view into the beating heart of cities and their dynamics. Of course, really smart people have been studying cities scientifically for a long time. But Big Data methods have accelerated what's possible to warp speed. As "exhibit A" for the rise of a new era of city science, let me introduce you to the field of "human mobility" and a new study just published by a team I was on.
Credit: nonnie192 / 405009778 via Adobe Stock
Human mobility is a field that's been amped up by all those location-enabled devices we carry around and the large-scale datasets of our activities, such as credit card purchases, taxi rides, and mobile phone usage. These days, all of us are leaving digital breadcrumbs of our everyday activities, particularly our movements around towns and cities. Using anonymized versions of these datasets (no names please), scientists can look for patterns in how large collections of people engage in daily travel and how these movements correlate with key social factors like income, health, and education.

There have been many studies like this in the recent past. For example, researchers looking at mobility patterns in Louisville, Kentucky found that low-income residents tended to travel further on average than affluent ones. Another study found that mobility patterns across different socioeconomic classes exhibit very similar characteristics in Boston and Singapore. And an analysis of mobility in Bogota, Colombia found that the most mobile population was neither the poorest nor the wealthiest citizens but the upper-middle class.
These were all excellent studies, but it was hard to make general conclusions from them. They seemed to point in different directions. The team I was part of wanted to get a broader, comparative view of human mobility and income. Through a partnership with Google, we were able to compare data from two countries — Brazil and the United States — of relatively equal populations but at different points on the "development spectrum." By comparing mobility patterns both within and between the two countries, we hoped to gain a better understanding of how people at different income levels moved around each day.
Mobility in Brazil vs. United States
Socioeconomic mobility "heatmaps" for selected cities in the U.S. and Brazil. The colors represent destination based on income level. Red depicts destinations traveled by low-income residents, while blue depicts destinations traveled by high-income residents. Overlapping areas are colored purple.Credit: Hugo Barbosa et al., Scientific Reports, 2021.
The results were remarkable. In a figure from our paper (shown above), it's clear that we found two distinct kinds of relationship between income and mobility in cities.

The first was a relatively sharp distinction between where people in lower and higher income brackets traveled each day. For example, in my hometown of Rochester, New York or Detroit, the places visited by the two income groups (e.g., job sites, shopping centers, doctors' offices) were relatively partitioned. In other words, people from low-income and high-income neighborhoods were not mixing very much, meaning they weren't spending time in the same geographical locations. In addition, lower income groups traveled to the city center more often, while upper income groups traveled around the outer suburbs.
The second kind of relationship was exemplified by cities like Boston and Atlanta, which didn't show this kind of partitioning. There was a much higher degree of mixing in terms of travel each day, indicating that income was less of a factor for determining where people lived or traveled.
In Brazil, however, all the cities showed the kind of income-based segregation seen in U.S. cities like Rochester and Detroit. There was a clear separation of regions visited with practically no overlap. And unlike the U.S., visits by the wealthy were strongly concentrated in the city centers, while the poor largely traversed the periphery.
Data-driven urban design
Our results have straightforward implications for city design. As we wrote in the paper, "To the extent that it is undesirable to have cities with residents whose ability to navigate and access resources is dependent on their socioeconomic status, public policy measures to mitigate this phenomenon are the need of the hour." That means we need better housing and public transportation policies.
But while our study shows there are clear links between income disparity and mobility patterns, it also shows something else important. As an astrophysicist who spent decades applying quantitative methods to stars and planets, I am amazed at how deep we can now dive into understanding cities using similar methods. We have truly entered a new era in the study of cities and all human systems. Hopefully, we'll use this new power for good.
Mind & Brain
A small percentage of people who consume psychedelics experience strange lingering effects, sometimes years after they took the drug.
Scroll down to load more…