Why Spending Time Alone Is The Best Way to Rest
Study reveals that most of us want more rest and would rather rest alone.
02 October, 2016
Do you get enough rest? Probably not. Even on a weekend, you are most likely surrounded by family and friends, who are great and well-meaning, but wouldn't it be better if they could all just leave you alone, at least for a few peaceful  hours?
---
It turns out you don't need to feel guilty about such feelings. Most of us would like some more rest and what we may find most restful is spending time alone.
This conclusion is the result of a year-long online survey "The Rest Test" that questioned 18,000 people in 134 countries. Its goal was to understand "subjective experiences of rest," and if rest has an effect on overall health and a sense of well-being.
The research was a collaboration between BBC and Hubbub, an interdisciplinary research collective run by Durham University. It includes academics, mental health experts, but also artists and poets.

What the researchers found is that 68% of the surveyed would like more rest. The average amount of rest people estimated to have had the previous day was 3 hours and 6 minutes. The optimal amount of rest linked to a high sense of well-being was found to be 5-6 hours. 
Keep in mind, that the respondents were allowed to define "rest" as what that means to them. So, for close to 40% of the people that meant walking, with 16% choosing exercising, while for almost 60% reading was the most restful activity. This was closely followed (at over 50%) by being in nature.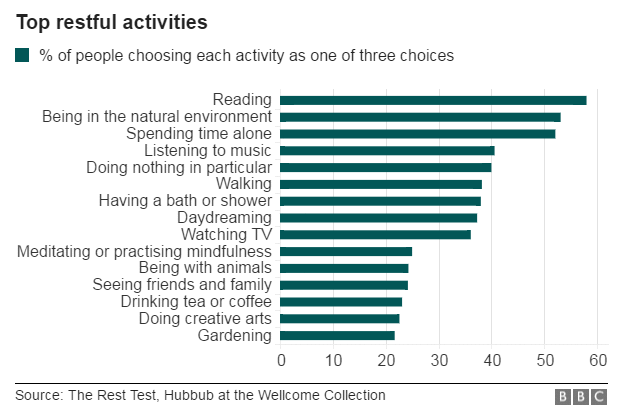 Interestingly, being by yourself while resting was a component of a number of the top choices. In contrast, social activities like hanging out with friends and family was a desired restful activity for just over 20% of the surveyed. It's not hard to conclude that most people ultimately need rest from people. Socializing may be fun but not restful.
The researchers tried to dig deeper into why we might like to be alone.
"People said that when they were on their own mostly they were focused on how they were feeling, so on their body or their emotions," said the survey's co-writer Ben Alderson-Day, a psychologist from the University of Durham.
What's more, it's not that we need to be alone so we could think things over. Chances are, we turn any kind of thinking off the moment we can.
"People said they were only talking to themselves in their head 30% of the time," said Alderson-Day."There is a hint that when you're on your own, as well as switching off from other people, you get the chance to switch off from your own inner monologue as well."
The survey also revealed that perception of rest matters greatly. We need to feel rested to feel good about ourselves. People who didn't feel the need to get more rest scored twice as high on their well-being than those who needed additional rest.
"We really need to challenge the assumption that if you take more rest, you are more lazy. The fact that people who are more rested seem to have better well-being is an endorsement for the need for the rest," said Professor Felicity Callard of Durham University, director of Hubbub. 
Indeed, while our methods for relaxation differ individually, most would agree that the realities of modern life are highly demanding, stressful and anything-but-restful or focused on increasing our sense of well-being. 
Antimicrobial resistance is growing worldwide, rendering many "work horse" medicines ineffective. Without intervention, drug-resistant pathogens could lead to millions of deaths by 2050. Thankfully, companies like Pfizer are taking action.
Image courtesy of Pfizer.
Antimicrobial-resistant pathogens are one of the largest threats to global health today.
As we get older, our immune systems age, increasing our risk of life threatening infections. Without reliable antibiotics, life expectancy could decline for the first time in modern history.
If antibiotics become ineffective, common infections could result in hospitalization or even death. Life-saving interventions like cancer treatments and organ transplantation would become more difficult, more often resulting in death. Routine procedures would become hard to perform.
Without intervention, resistant pathogens could result in 10 million annual deaths by 2050.
By taking a multi-faceted approach—inclusive of adherence to good stewardship, surveillance and responsible manufacturing practices, as well as an emphasis on prevention and treatment—companies like Pfizer are fighting to help curb the spread.
Sponsored
Entrepreneur and author Andrew Horn shares his rules for becoming an assured conversationalist.
content.jwplatform.com
Videos
To avoid basing action on external validation, you need to find your "authentic voice" and use it.
Finding your voice requires asking the right questions of yourself.
There are 3-5 questions that you would generally want to ask people you are talking to.
Sarco assisted suicide pods come in three different styles, and allow you to die quickly and painlessly. They're even quite beautiful to look at.
The Sarco assisted suicide pod
Technology & Innovation
Death: it happens to everyone (except, apparently, Keanu Reeves). But while the impoverished and lower-class people of the world die in the same ol' ways—cancer, heart disease, and so forth—the upper classes can choose hip and cool new ways to die. Now, there's an assisted-suicide pod so chic and so stylin' that peeps (young people still say peeps, right?) are calling it the "Tesla" of death... it's called... the Sarco! 
Swiss researchers identify new dangers of modern cocaine.
Getty Images
Mind & Brain
Cocaine cut with anti-worming adulterant levamisole may cause brain damage.
Levamisole can thin out the prefrontal cortex and affect cognitive skills.
Government health programs should encourage testing of cocaine for purity.
Big think's weekly newsletter.
Get smarter faster from the comfort of your inbox.
See our newsletter privacy policy
here
Most Popular
Most Recent
Big think's weekly newsletter.
Get smarter faster from the comfort of your inbox.
See our newsletter privacy policy
here
© Copyright 2007-2018 & BIG THINK, BIG THINK EDGE,
SMARTER FASTER trademarks owned by The Big Think, Inc. All rights reserved.