Why Spending Time Alone Is The Best Way to Rest
Study reveals that most of us want more rest and would rather rest alone.
02 October, 2016
Do you get enough rest? Probably not. Even on a weekend, you are most likely surrounded by family and friends, who are great and well-meaning, but wouldn't it be better if they could all just leave you alone, at least for a few peaceful  hours?
---
It turns out you don't need to feel guilty about such feelings. Most of us would like some more rest and what we may find most restful is spending time alone.
This conclusion is the result of a year-long online survey "The Rest Test" that questioned 18,000 people in 134 countries. Its goal was to understand "subjective experiences of rest," and if rest has an effect on overall health and a sense of well-being.
The research was a collaboration between BBC and Hubbub, an interdisciplinary research collective run by Durham University. It includes academics, mental health experts, but also artists and poets.

What the researchers found is that 68% of the surveyed would like more rest. The average amount of rest people estimated to have had the previous day was 3 hours and 6 minutes. The optimal amount of rest linked to a high sense of well-being was found to be 5-6 hours. 
Keep in mind, that the respondents were allowed to define "rest" as what that means to them. So, for close to 40% of the people that meant walking, with 16% choosing exercising, while for almost 60% reading was the most restful activity. This was closely followed (at over 50%) by being in nature.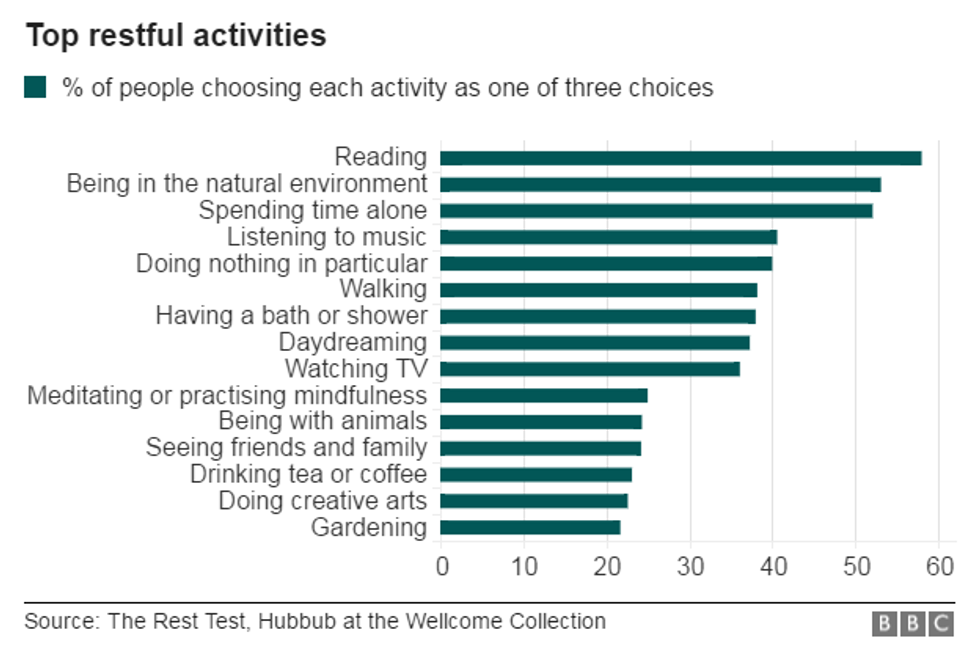 Interestingly, being by yourself while resting was a component of a number of the top choices. In contrast, social activities like hanging out with friends and family was a desired restful activity for just over 20% of the surveyed. It's not hard to conclude that most people ultimately need rest from people. Socializing may be fun but not restful.
The researchers tried to dig deeper into why we might like to be alone.
"People said that when they were on their own mostly they were focused on how they were feeling, so on their body or their emotions," said the survey's co-writer Ben Alderson-Day, a psychologist from the University of Durham.
What's more, it's not that we need to be alone so we could think things over. Chances are, we turn any kind of thinking off the moment we can.
"People said they were only talking to themselves in their head 30% of the time," said Alderson-Day."There is a hint that when you're on your own, as well as switching off from other people, you get the chance to switch off from your own inner monologue as well."
The survey also revealed that perception of rest matters greatly. We need to feel rested to feel good about ourselves. People who didn't feel the need to get more rest scored twice as high on their well-being than those who needed additional rest.
"We really need to challenge the assumption that if you take more rest, you are more lazy. The fact that people who are more rested seem to have better well-being is an endorsement for the need for the rest," said Professor Felicity Callard of Durham University, director of Hubbub. 
Indeed, while our methods for relaxation differ individually, most would agree that the realities of modern life are highly demanding, stressful and anything-but-restful or focused on increasing our sense of well-being. 
Universities claim to prepare students for the world. How many actually do it?
Sponsored by Charles Koch Foundation
Many university mission statements do not live up to their promise, writes Ben Nelson, founder of Minerva, a university designed to develop intellect over content memorization.
The core competencies that students need for success—critical thinking, communication, problem solving, and cross-cultural understanding, for example—should be intentionally taught, not left to chance.
These competencies can be summed up with one word: wisdom. True wisdom is the ability to apply one's knowledge appropriately when faced with novel situations.
This is what the world will look like, 250 million years from now
On Pangaea Proxima, Lagos will be north of New York, and Cape Town close to Mexico City
Surprising Science
To us humans, the shape and location of oceans and continents seems fixed. But that's only because our lives are so short.
A new study may help us better understand how children build social cognition through caregiver interaction.
Personal Growth
Scientists speculate imitation helps develop social cognition in babies.
A new study out of Lund University shows that six-month-olds look and smile more at imitating adults.
Researchers hope the data will spur future studies to discover what role caregiver imitation plays in social cognition development.
Researchers at UT Southwestern noted a 47 percent increase in blood flow to regions associated with memory.
Photo: Johannes Eisele/AFP via Getty Images
Surprising Science
Researchers at UT Southwestern observed a stark improvement in memory after cardiovascular exercise.
The year-long study included 30 seniors who all had some form of memory impairment.
The group of seniors that only stretched for a year did not fair as well in memory tests.
Videos
According to a man that knows more than 20 languages, the key is to start in the middle.
Scroll down to load more…