Artificial Human Wombs Closer As Scientists Grow Lambs in Unique "BioBags"
Scientists successfully test an ingenious system for growing premature fetuses.
25 April, 2017
---
Scientists were successful in creating an artificial womb that grew premature lamb fetuses for four weeks. They hope to develop a similar system for human babies in the next three to five years.
Being born prematurely is the most common cause of death among babies, while even survivors are often plagued by various lifelong disabilities due to underdeveloped organs. About 10% of babies born every year in the U.S. are premature. Scientists hope their unique system of "BioBags," fluid-filled plastic bags that serve as artificial uteruses, can make a major difference in the survival and health of these babies.  
Compared to incubators, the advantage of the new system is that the bags are sealed, protecting fetuses from infections. The BioBags are filled with water and salts to approximate the amniotic fluid inside a uterus. The fetuses grow in a near-sterile, computer-controlled environment.
To replace placenta, which provides fetuses with oxygen and necessary nutrients, the scientists used special oxygenator devices connected to the umbilical cords of the lamb fetuses in the study. A novel technique allowed the heartbeats of the fetuses to pull in the oxygen they needed.
The study's leader Alan Flake of the Children's Hospital of Philadelphia in Pennsylvania said:
"We've developed a system that, as closely as possible, reproduces the environment of the womb and replace the function of the placenta."
Check out this video published by the Children's Hospital of Philadelphia to learn more about the study:
The experiment involved lambs that were 4 to 6 weeks away from completing their normal gestational period of 21 weeks, which is equivalent to 23 or 24 week pregnancy milestone in humans. The physiological similarity of lamb fetuses to human was the reason the lambs were chosen for the experiment.  The lamb fetuses were removed via C-section, placed in the bags and observed for four weeks. All of the lambs developed healthily and normally.
While others were euthanized and studied further, some of the lambs were removed from the bag and bottle-weaned. The oldest of those is now one.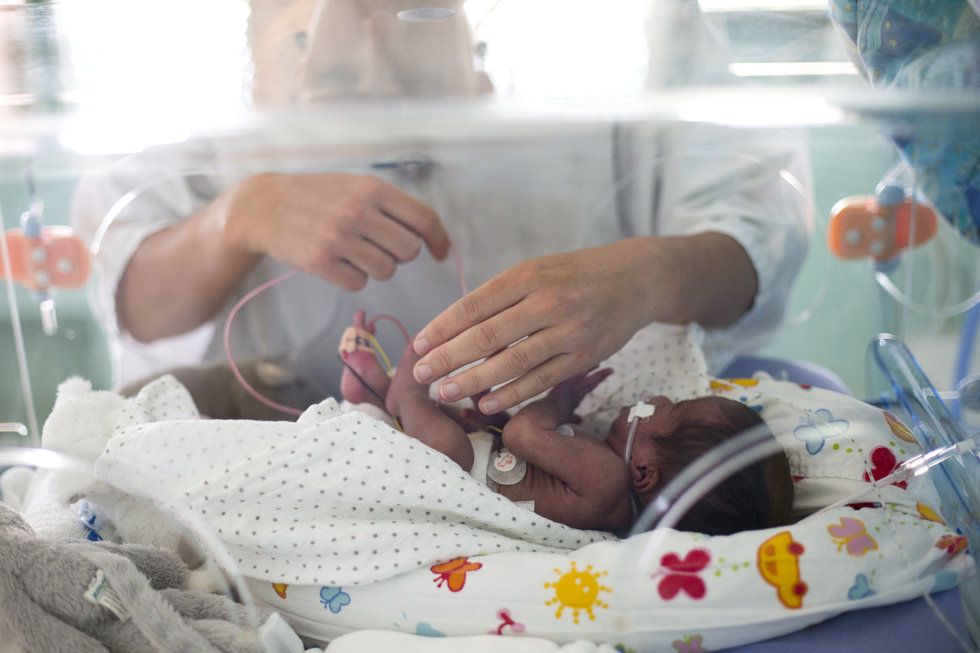 It took the scientists three years and four prototypes to devise the current device. They note that, if successful, their system could also produce economic benefits as the annual medical care cost of premature babies is currently at $43 billion.
Other scientists expressed cautious optimism about the findings, pointing out the need for further testing. The team making the artificial womb hopes to use it for babies born at about 24 weeks, when their chances of survival are better.
What can 3D printing do for medicine? The "sky is the limit," says Northwell Health researcher Dr. Todd Goldstein.
Northwell Health
Sponsored by Northwell Health
Medical professionals are currently using 3D printers to create prosthetics and patient-specific organ models that doctors can use to prepare for surgery.
Eventually, scientists hope to print patient-specific organs that can be transplanted safely into the human body.
Northwell Health, New York State's largest health care provider, is pioneering 3D printing in medicine in three key ways.
An ordained Lama in a Tibetan Buddhist lineage, Lama Rod grew up a queer, black male within the black Christian church in the American south. Navigating all of these intersecting, evolving identities has led him to a life's work based on compassion for self and others.
Think Again Podcasts
"What I'm interested in is deep, systematic change. What I understand now is that real change doesn't happen until change on the inside begins to happen."
"Masculinity is not inherently toxic. Patriarchy is toxic. We have to let that energy go so we can stop forcing other people to do emotional labor for us."
We were gaining three IQ points per decade for many, many years. Now, that's going backward. Could this explain some of our choices lately?
The Flynn effect appears to be in retrograde. (Credit: Shutterstock/Big Think)
popular
There's a new study out of Norway that indicates our—well, technically, their—IQs are shrinking, to the tune of about seven IQ points per generation.
Here's why generalists triumph over specialists in the new era of innovation.
Videos
Since the explosion of the knowledge economy in the 1990s, generalist inventors have been making larger and more important contributions than specialists.
One theory is that the rise of rapid communication technologies allowed the information created by specialists to be rapidly disseminated, meaning generalists can combine information across disciplines to invent something new.
Here, David Epstein explains how Nintendo's Game Boy was a case of "lateral thinking with withered technology." He also relays the findings of a fascinating study that found the common factor of success among comic book authors.
Big think's weekly newsletter.
Get smarter faster from the comfort of your inbox.
See our newsletter privacy policy
here
Most Popular
Most Recent
Big think's weekly newsletter.
Get smarter faster from the comfort of your inbox.
See our newsletter privacy policy
here
© Copyright 2007-2019 & BIG THINK, BIG THINK EDGE,
SMARTER FASTER trademarks owned by The Big Think, Inc. All rights reserved.