Artificial Human Wombs Closer As Scientists Grow Lambs in Unique "BioBags"
Scientists successfully test an ingenious system for growing premature fetuses.
25 April, 2017
---
Scientists were successful in creating an artificial womb that grew premature lamb fetuses for four weeks. They hope to develop a similar system for human babies in the next three to five years.
Being born prematurely is the most common cause of death among babies, while even survivors are often plagued by various lifelong disabilities due to underdeveloped organs. About 10% of babies born every year in the U.S. are premature. Scientists hope their unique system of "BioBags," fluid-filled plastic bags that serve as artificial uteruses, can make a major difference in the survival and health of these babies.  
Compared to incubators, the advantage of the new system is that the bags are sealed, protecting fetuses from infections. The BioBags are filled with water and salts to approximate the amniotic fluid inside a uterus. The fetuses grow in a near-sterile, computer-controlled environment.
To replace placenta, which provides fetuses with oxygen and necessary nutrients, the scientists used special oxygenator devices connected to the umbilical cords of the lamb fetuses in the study. A novel technique allowed the heartbeats of the fetuses to pull in the oxygen they needed.
The study's leader Alan Flake of the Children's Hospital of Philadelphia in Pennsylvania said:
"We've developed a system that, as closely as possible, reproduces the environment of the womb and replace the function of the placenta."
Check out this video published by the Children's Hospital of Philadelphia to learn more about the study:
The experiment involved lambs that were 4 to 6 weeks away from completing their normal gestational period of 21 weeks, which is equivalent to 23 or 24 week pregnancy milestone in humans. The physiological similarity of lamb fetuses to human was the reason the lambs were chosen for the experiment.  The lamb fetuses were removed via C-section, placed in the bags and observed for four weeks. All of the lambs developed healthily and normally.
While others were euthanized and studied further, some of the lambs were removed from the bag and bottle-weaned. The oldest of those is now one.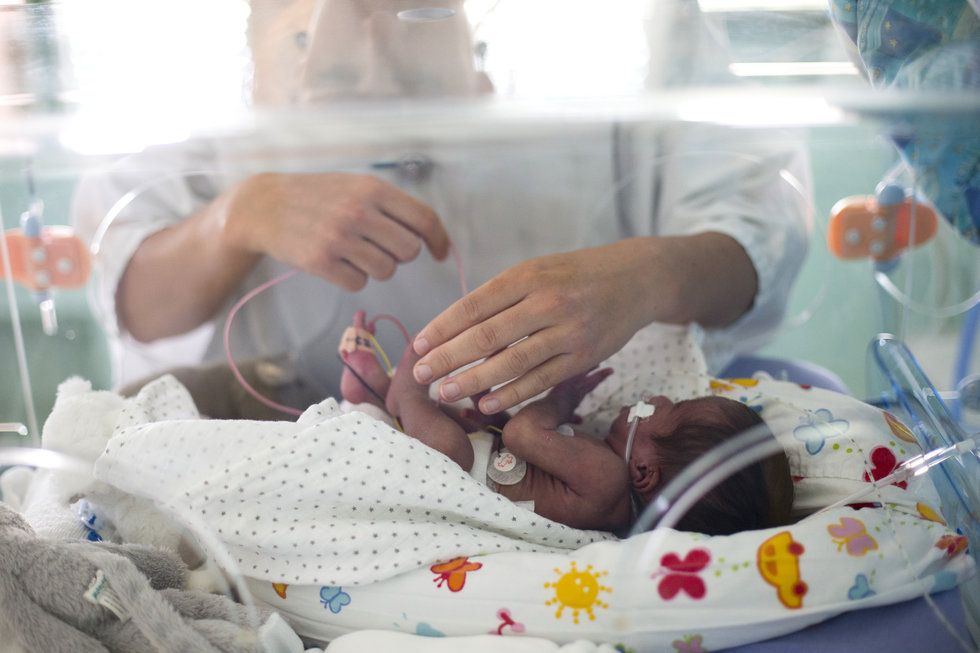 It took the scientists three years and four prototypes to devise the current device. They note that, if successful, their system could also produce economic benefits as the annual medical care cost of premature babies is currently at $43 billion.
Other scientists expressed cautious optimism about the findings, pointing out the need for further testing. The team making the artificial womb hopes to use it for babies born at about 24 weeks, when their chances of survival are better.
Step inside the unlikely friendship of a former ACLU president and an ultra-conservative Supreme Court Justice.

Sponsored by Charles Koch Foundation
Former president of the ACLU Nadine Strossen and Supreme Court Justice Antonin Scalia were unlikely friends. They debated each other at events all over the world, and because of that developed a deep and rewarding friendship – despite their immense differences.
Scalia, a famous conservative, was invited to circles that were not his "home territory", such as the ACLU, to debate his views. Here, Strossen expresses her gratitude and respect for his commitment to the exchange of ideas.
"It's really sad that people seem to think that if you disagree with somebody on some issues you can't be mutually respectful, you can't enjoy each other's company, you can't learn from each other and grow in yourself," says Strossen.
The opinions expressed in this video do not necessarily reflect the views of the Charles Koch Foundation, which encourages the expression of diverse viewpoints within a culture of civil discourse and mutual respect.
Learn how to redesign your job for maximum reward.
Videos
Broaching the question "What is my purpose?" is daunting – it's a grandiose idea, but research can make it a little more approachable if work is where you find your meaning. It turns out you can redesign your job to have maximum purpose.
There are 3 ways people find meaning at work, what Aaron Hurst calls the three elevations of impact. About a third of the population finds meaning at an individual level, from seeing the direct impact of their work on other people. Another third of people find their purpose at an organizational level. And the last third of people find meaning at a social level.
"What's interesting about these three elevations of impact is they enable us to find meaning in any job if we approach it the right way. And it shows how accessible purpose can be when we take responsibility for it in our work," says Hurst.
Erik Verlinde has been compared to Einstein for completely rethinking the nature of gravity.
Photo by Willeke Duijvekam
Surprising Science
The Dutch physicist Erik Verlinde's hypothesis describes gravity as an "emergent" force not fundamental.
The scientist thinks his ideas describe the universe better than existing models, without resorting to "dark matter".
While some question his previous papers, Verlinde is reworking his ideas as a full-fledged theory.
TuSimple, an autonomous trucking company, has also engaged in test programs with the United States Postal Service and Amazon.
Technology & Innovation
This week, UPS announced that it's working with autonomous trucking startup TuSimple on a pilot project to deliver cargo in Arizona using self-driving trucks.
UPS has also acquired a minority stake in TuSimple.
TuSimple hopes its trucks will be fully autonomous — without a human driver — by late 2020, though regulatory questions remain.