Putin Weighs in on Artificial Intelligence and Elon Musk Is Alarmed
Russian President Vladimir Putin's recent remarks about the future with artificial intelligence prompted alarm from Elon Musk.
24 September, 2017
---
Divining what the Russian President Vladimir Putin really thinks has implications not only for his country but for the future of the rest the world. Recently, Putin has been expressing some feelings about artificial intelligence that have both intrigued and puzzled observers. 
AI came up in Putin's September 21st conversation with Arkady Vorozh, the head of the Russian tech giant Yandex, during a tour of the company's headquarters. As Vorozh explained the potential of artificial intelligence, Putin seemed to show ambivalence towards its positive intentions, asking when will AI "eat us"?
After pausing to consider the unexpected remark, Vorozh replied "I hope never", pitching AI as just another tool.
"It's not the first machine to be better than humans at something," remarked Vorozh. An excavator digs better than we do with a shovel. But we don't get eaten by excavators. A car moves faster than we do…"
But Putin did not sound convinced, pointing out - "they don't think," presumably referring to the fact that an excavator is not intelligent while AI would be.
On the other side, Putin has previously acknowledged the importance of AI to the future of humanity and global politics. Speaking to students across the country about science on September 1st, at the start of the Russian school year, Putin said that "the future belongs to artificial intelligence." And whichever nation will be at the forefront of the technology, will rule the world, according to the Russian President.
"Artificial intelligence is the future, not only for Russia, but for all humankind," explained Putin. "It comes with colossal opportunities, but also threats that are difficult to predict. Whoever becomes the leader in this sphere will become the ruler of the world."
In the 45-minute open lesson, attended via satellite links by students and teachers from 16,000 schools for a total audience of over one million, Putin also expressed his desire that no one should "monopolize" the AI field. He also offered that Russia would share what it learned with others in the word.
"If we become leaders in this area, we will share this know-how with entire world, the same way we share our nuclear technologies today," maintained Putin.
Putin's words prompted a reaction from Elon Musk, who famously continues to warn about the dangers posed by future AI. In a tweet, Musk cautioned that competition for "AI superiority' could result in World War 3.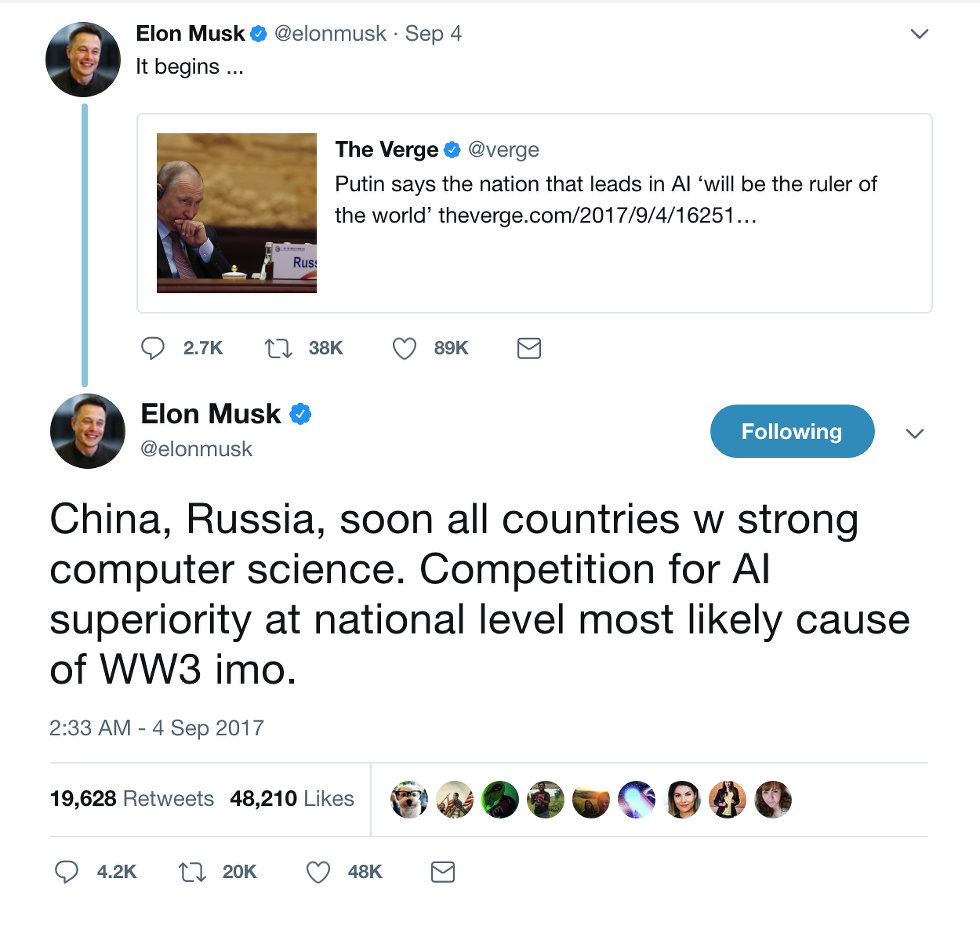 During the visit to the Yandex headquarters, Putin also managed to poke fun at the AI robot designed by the company. Watch that here:
Former president of the ACLU Nadine Strossen discusses whether our society should always defend free speech rights, even for groups who would oppose such rights.
Sponsored by Charles Koch Foundation
Former ACLU president Nadine Strossen understands that protecting free speech rights isn't always a straightforward proposition.
In this video, Strossen describes the reasoning behind why the ACLU defended the free speech rights of neo-Nazis in Skokie, Illinois, 1977.
The opinions expressed in this video do not necessarily reflect the views of the Charles Koch Foundation, which encourages the expression of diverse viewpoints within a culture of civil discourse and mutual respect.
Going back to the moon will give us fresh insights about the creation of our solar system.
Videos
July 2019 marks the 50th anniversary of the moon landing — Apollo 11.
Today, we have a strong scientific case for returning to the moon: the original rock samples that we took from the moon revolutionized our view of how Earth and the solar system formed. We could now glean even more insights with fresh, nonchemically-altered samples.
NASA plans to send humans to a crater in the South Pole of the moon because it's safer there, and would allow for better communications with people back on Earth.
Pugs and bulldogs are incredibly trendy, but experts have massive animal welfare concerns about these genetically manipulated breeds. 
Photo by terriermandotcom.blogspot.com
popular
Pugs, Frenchies, boxers, shih-tzus and other flat-faced dog breeds have been trending for at least the last decade.
Higher visibility (usually in a celebrity's handbag), an increase in city living (smaller dogs for smaller homes), and possibly even the fine acting of Frank the Pug in 1997's Men in Black may be the cause.
These small, specialty pure breeds are seen as the pinnacle of cuteness – they have friendly personalities, endearing odd looks, and are perfect for Stranger Things video montages.
Jokesters and serious Area 51 raiders would be met with military force.
Politics & Current Affairs
Facebook joke event to "raid Area 51" has already gained 1,000,000 "going" attendees.
The U.S. Air Force has issued an official warning to potential "raiders."
If anyone actually tries to storm an American military base, the use of deadly force is authorized.