How the Mediterranean diet can help you live longer and think better
New studies support the benefits of the Mediterrean Diet.
15 January, 2018
---
As diet fads come and go, the Mediterranean diet continues to be a mainstay of recommendations due to a consistent flow of studies that confirm its benefits. A new meta-study just came out that says the diet is a boon for seniors, helping them avoid frailty and lead independent lives.
The new study analyzed previously-published studies and shows how eating a diet that stresses plant-based foods, like fruits and veggies, whole grains, nuts, legumes as well as lots of fish may keep one healthy well into advanced years.
When older adults experience more frailty, their life quality gets worse. They may feel low in energy, lose weight and muscle strength, and be subject to health concerns like falls and fractures, hospitalization, dementia, disability, and even premature death. One way to keep such effects at bay - adopt the right nutrition, says a UK research team led by Kate Walters, PhD and Gotaro Kojima, MD, from the University College London.

The researchers looked at four published studies from France, Spain, Italy and China that link the Mediterranean diet and how older adults develop frailty. These studies included data for 5,789 people over 60. The scientists found that a Mediterranean diet helped people keep muscle strength, weight, as well as activity and energy levels.
"We found the evidence was very consistent that older people who follow a Mediterranean diet had a lower risk of becoming frail," said Dr. Walters. "People who followed a Mediterranean diet the most were overall less than half as likely to become frail over a nearly four-year period compared with those who followed it the least."
The Mediterranean diet is based on the kind of food you would have typically found in Greece and Southern Italy in the 1960s. Focused on plant-based foods, cutting down on saturated fat and sugar, it also emphasizes eating low to moderate amounts of fish and poultry, as well as reasonable consumption of wine. The health benefits can range from lower instances of cardiovascular and neurodegenerative diseases, diabetes, cancers to longer life overall, as was the conclusion of a 2014 study that discovered how adherents to the diet had longer telomeres, which sit at the end of chromosomes and are associated with longer life expectancy
Here's an example of how you can eat on the Mediterranean diet: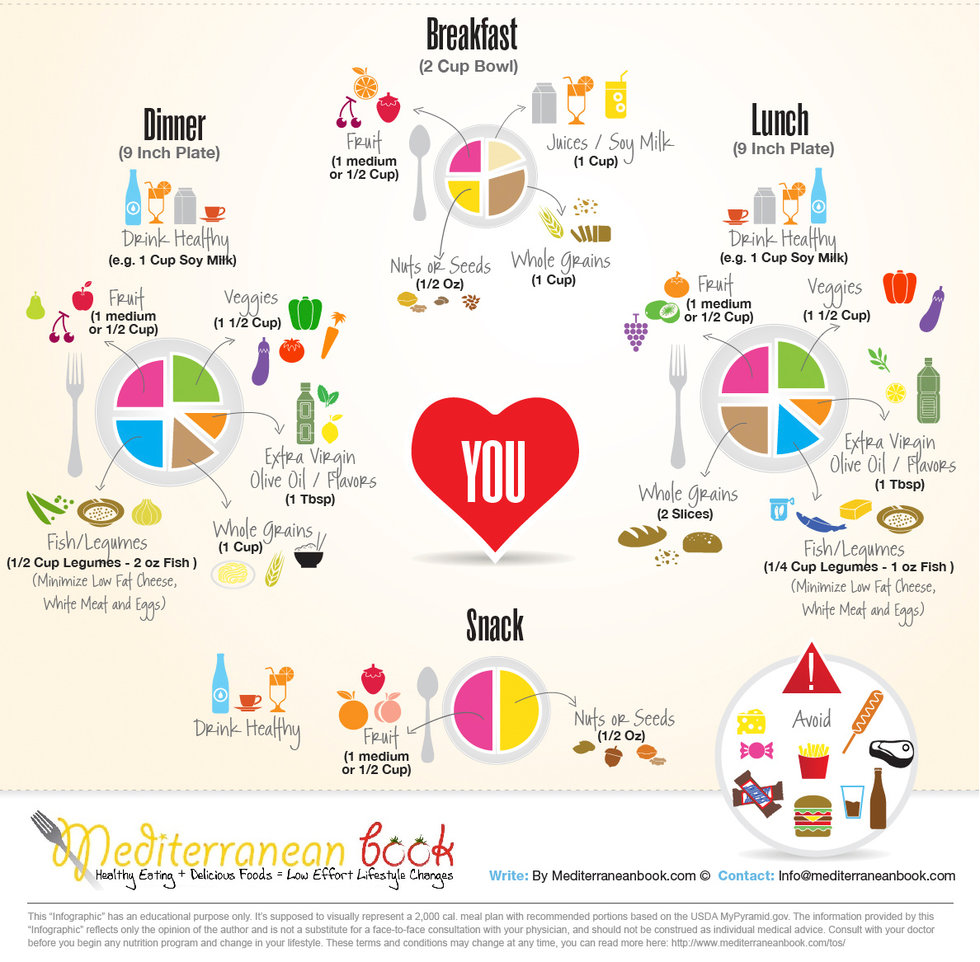 Other recent studies have also touted the advantages of the Mediterranean diet, including research published in 2018 in the Journal of Urology that showed how eating a diet rich in fish, boiled potatoes, as well as whole fruits, vegetables and olive oil, lowered the risk of aggressive prostate cancer for men.

A 2017 study also came out in support of eating like you live in the lands of siesta, saying that a diet rich in virgin olive oil can boost "good" cholesterol, lowering the risk of heart and blood vessel diseases.
Another 2017 meta-study that looked at the cases of 5,907 people demonstrated how a Mediterranean-style diet improved brain function in older adults. In fact, the difference was quite pronounced. People adhering to this diet had a 35% lower risk of scoring badly on cognitive tests.
Lest you think the diet is only good for the elderly, a 2014 study that looked at data from 8 European countries found that following this dietary plan was better for children as well, making them less likely to become overweight.
Related Articles
It's a development that could one day lead to much better treatments for osteoporosis, joint damage, and bone fractures.
Image: Nissim Benvenisty
Surprising Science
Scientists have isolated skeletal stem cells in adult and fetal bones for the first time.
These cells could one day help treat damaged bone and cartilage.
The team was able to grow skeletal stem cells from cells found within liposuctioned fat.
Gut bacteria play an important role in how you feel and think and how well your body fights off disease. New research shows that exercise can give your gut bacteria a boost.
National Institutes of Health
Surprising Science
Two studies from the University of Illinois show that gut bacteria can be changed by exercise alone.
Our understanding of how gut bacteria impacts our overall health is an emerging field, and this research sheds light on the many different ways exercise affects your body.
Exercising to improve your gut bacteria will prevent diseases and encourage brain health.
A groundbreaking new study shows that octopuses seemed to exhibit uncharacteristically social behavior when given MDMA, the psychedelic drug commonly known as ecstasy.
Surprising Science
Octopuses, like humans, have genes that seem to code for serotonin transporters.
Scientists gave MDMA to octopuses to see whether those genes translated into a binding site for serotonin, which regulates emotions and behavior in humans
Octopuses, which are typically asocial creatures, seem to get friendlier while on MDMA, suggesting humans have more in common with the strange invertebrates than previously thought
Big think's weekly newsletter.
Get smarter faster from the comfort of your inbox.
See our newsletter privacy policy
here
Most Popular
Most Recent
Big think's weekly newsletter.
Get smarter faster from the comfort of your inbox.
See our newsletter privacy policy
here
© Copyright 2007-2018 & BIG THINK, BIG THINK EDGE,
SMARTER FASTER trademarks owned by The Big Think, Inc. All rights reserved.