Evidence of Unknown Human Species Found in DNA of Melanesians
Geneticists make a surprising find in the DNA of Melanesians.
02 November, 2016
Scientists found traces of a previously unknown, long-extinct human species hidden in the DNA of today's Melanesians. Melanesia is an area in the South Pacific Ocean to the northeast of Australia that includes the countries of Vanuatu, the Solomon Islands, Fiji, and Papua New Guinea as well as some islands belonging to other nations.
---
The two ancient hominid species whose DNA traces scientists expected to find were the Neanderthals and Denisovians. But the results of the study showed something else. 
"We're missing a population, or we're misunderstanding something about the relationships," said Ryan Bohlender, a statistical geneticist from the University of Texas to Science News.
The goal for the researchers was to investigate how much ancient DNA we carry today. There was a period between 100,000 and 60,000 years ago when several kinds of hominid ancestors intermingled as one group left Africa and met another living in Eurasia. What the scientists realized is that there could have been people other than Neanderthals or Denisovans involved that we have not yet identified.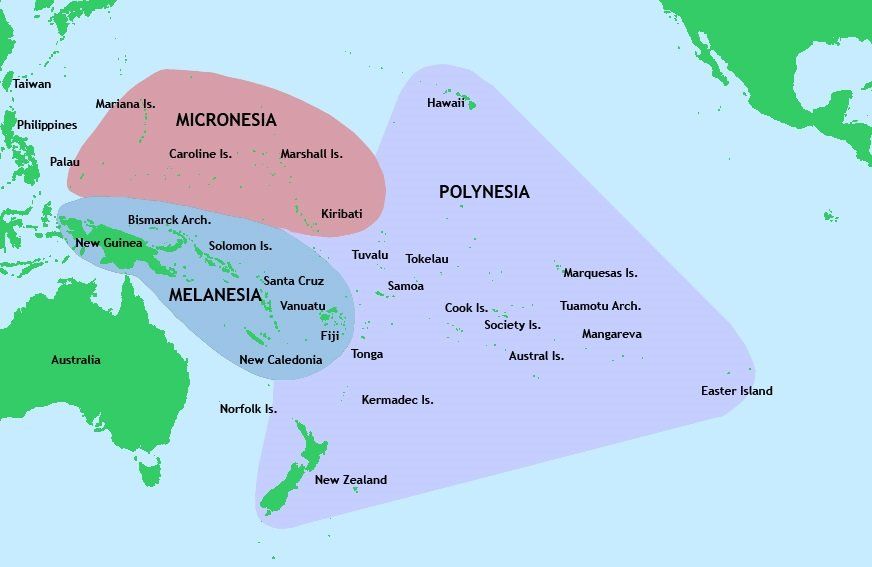 Map of Oceania.
We still carry some percentage of the ancient hominid DNA within us, with Europeans and Asians having about 1.5 to 4% Neanderthal DNA. Some of that heritage has actually resulted in various health issues. What's unusual is that the DNA of the Melanesians has about 1.11% of Denisovian DNA, an amount higher than in other groups. It is also different from the amount of 3% estimated by other studies. Studying this incongruity led the scientists to conclude that another, third group of people, bred with early Melanesians. 
"Human history is a lot more complicated than we thought it was," said Bohlender.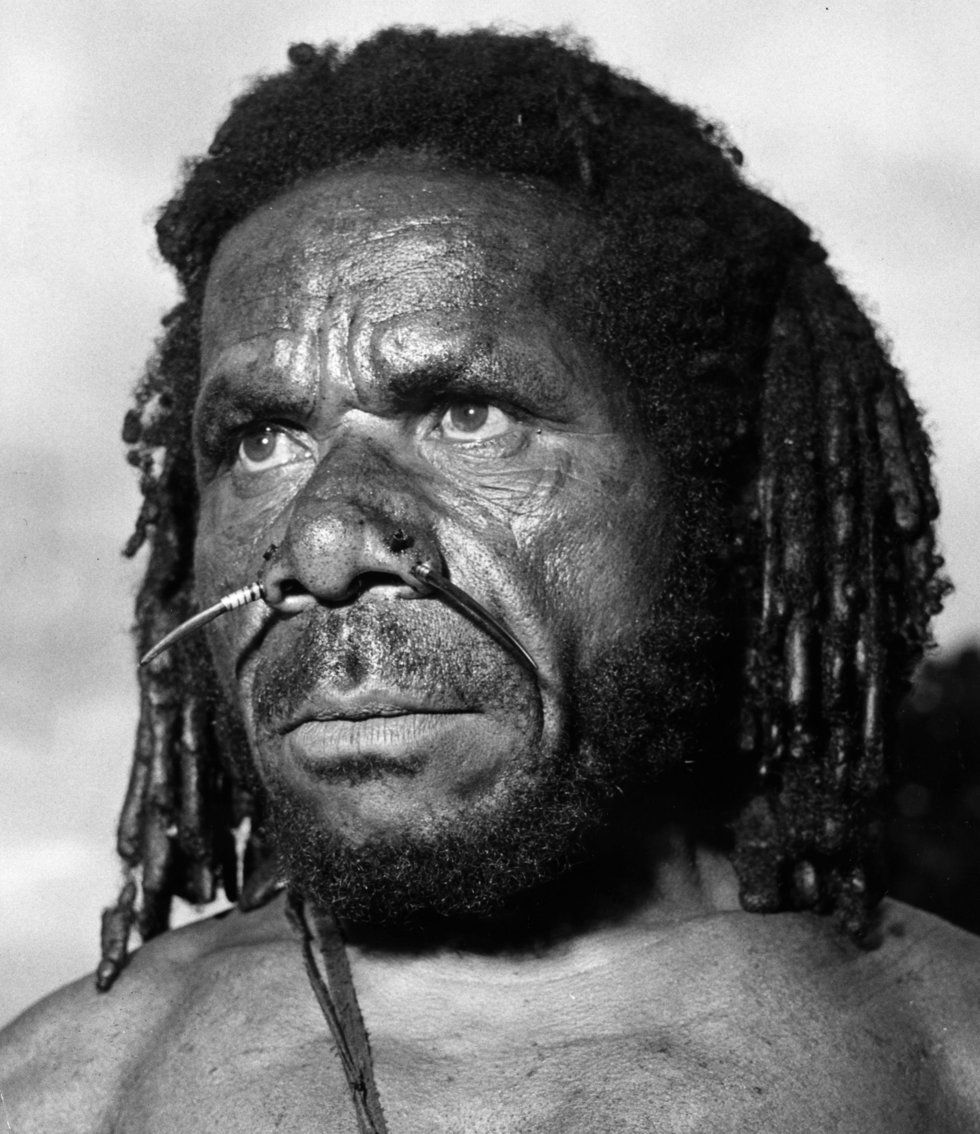 A native of New Guinea with a pierced nose and hair matted with pig grease. circa 1950. (Photo by Richard Harrington/Three Lions/Getty Images)
What's more, Danish researchers recently came to a similar conclusion, that a non-Denisovian DNA from an extinct people was present in Australian aboriginals and native Papua New Guineans.
One possible issue is that we don't have many samples of Denisovian DNA and might just not know all the variations of these people. So far, scientists only found one Denisovian finger bone and some teeth.
The analysis by Bohlender is currently awaiting peer review. Further research into the ancient hominids is necessary to confirm their find.
COVER PHOTO:
Huli wigmen from Lake Kopiago and Tari display their strikingly decorative woven wigs of human hair adorned with bird of paradise feathers during a singsing in Port Moresby, 14 August 2007. The Huli men weave their wigs from their own hair grown while living in isolation before they marry. The designs of the wigs and the patterns of their facial paint are indicative of a wigman's tribe. (Photo credit: TORSION BLACKWOOD/AFP/Getty Images)
Upstreamism advocate Rishi Manchanda calls us to understand health not as a "personal responsibility" but a "common good."
Sponsored by Northwell Health
Upstreamism tasks health care professionals to combat unhealthy social and cultural influences that exist outside — or upstream — of medical facilities.
Patients from low-income neighborhoods are most at risk of negative health impacts.
Thankfully, health care professionals are not alone. Upstreamism is increasingly part of our cultural consciousness.
A plan to forgive almost a trillion dollars in debt would solve the student loan debt crisis, but can it work?
Photo credit: Drew Angerer / Getty Images
Politics & Current Affairs
Sen. Elizabeth Warren has just proposed a bold education reform plan that would forgive billions in student debt.
The plan would forgive the debt held by more than 30 million Americans.
The debt forgiveness program is one part of a larger program to make higher education more accessible.
America isn't immune to attempts to remove books from libraries and schools, here are ten frequent targets and why you ought to go check them out.
Nazis burn books on a huge bonfire of 'anti-German' literature in the Opernplatz, Berlin. (Photo by Keystone/Getty Images)
Culture & Religion
Even in America, books are frequently challenged and removed from schools and public libraries.
Every year, the American Library Association puts on Banned Books Week to draw attention to this fact.
Some of the books they include on their list of most frequently challenged are some of the greatest, most beloved, and entertaining books there are.
In most states, LGBTQ Americans have no legal protections against discrimination in the workplace.
(Photo by Andres Pantoja/SOPA Images/LightRocket via Getty Images)
Politics & Current Affairs
The Supreme Court will decide whether the Civil Rights Act of 1964 also applies to gay and transgender people.
The court, which currently has a probable conservative majority, will likely decide on the cases in 2020.
Only 21 states and the District of Columbia have passed laws effectively extending the Civil Rights of 1964 to gay and transgender people.
Big think's weekly newsletter.
Get smarter faster from the comfort of your inbox.
See our newsletter privacy policy
here
Most Popular
Most Recent
Big think's weekly newsletter.
Get smarter faster from the comfort of your inbox.
See our newsletter privacy policy
here
© Copyright 2007-2019 & BIG THINK, BIG THINK EDGE,
SMARTER FASTER trademarks owned by The Big Think, Inc. All rights reserved.