Evidence of Unknown Human Species Found in DNA of Melanesians
Geneticists make a surprising find in the DNA of Melanesians.
02 November, 2016
Scientists found traces of a previously unknown, long-extinct human species hidden in the DNA of today's Melanesians. Melanesia is an area in the South Pacific Ocean to the northeast of Australia that includes the countries of Vanuatu, the Solomon Islands, Fiji, and Papua New Guinea as well as some islands belonging to other nations.
---
The two ancient hominid species whose DNA traces scientists expected to find were the Neanderthals and Denisovians. But the results of the study showed something else. 
"We're missing a population, or we're misunderstanding something about the relationships," said Ryan Bohlender, a statistical geneticist from the University of Texas to Science News.
The goal for the researchers was to investigate how much ancient DNA we carry today. There was a period between 100,000 and 60,000 years ago when several kinds of hominid ancestors intermingled as one group left Africa and met another living in Eurasia. What the scientists realized is that there could have been people other than Neanderthals or Denisovans involved that we have not yet identified.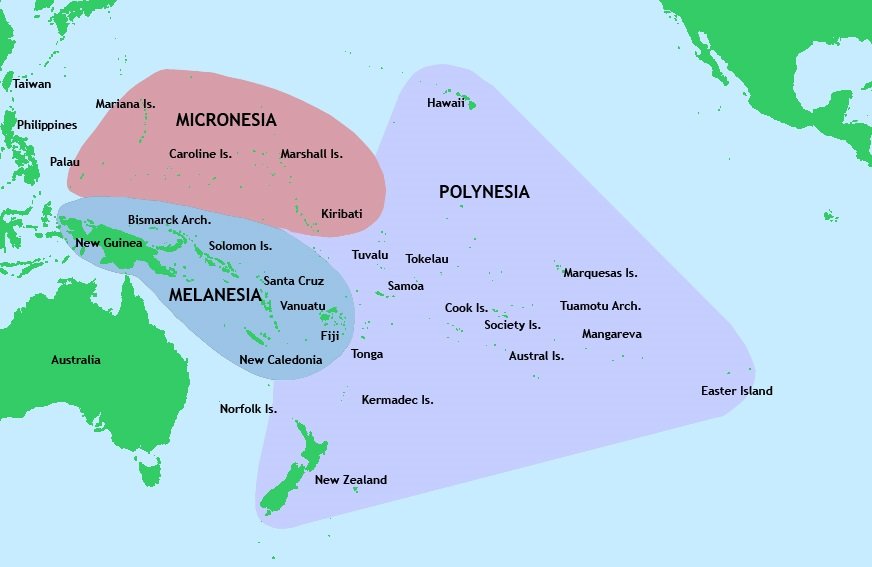 Map of Oceania.
We still carry some percentage of the ancient hominid DNA within us, with Europeans and Asians having about 1.5 to 4% Neanderthal DNA. Some of that heritage has actually resulted in various health issues. What's unusual is that the DNA of the Melanesians has about 1.11% of Denisovian DNA, an amount higher than in other groups. It is also different from the amount of 3% estimated by other studies. Studying this incongruity led the scientists to conclude that another, third group of people, bred with early Melanesians. 
"Human history is a lot more complicated than we thought it was," said Bohlender.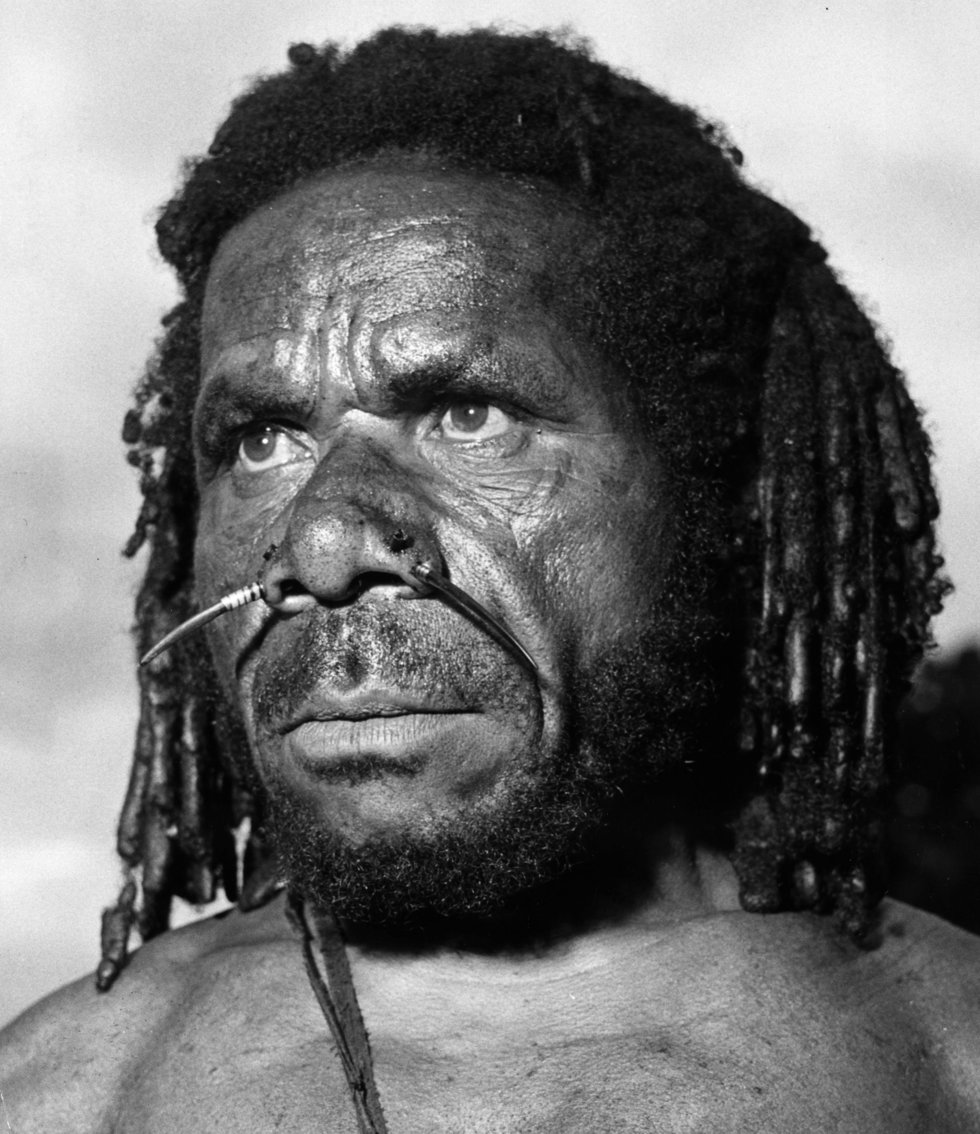 A native of New Guinea with a pierced nose and hair matted with pig grease. circa 1950. (Photo by Richard Harrington/Three Lions/Getty Images)
What's more, Danish researchers recently came to a similar conclusion, that a non-Denisovian DNA from an extinct people was present in Australian aboriginals and native Papua New Guineans.
One possible issue is that we don't have many samples of Denisovian DNA and might just not know all the variations of these people. So far, scientists only found one Denisovian finger bone and some teeth.
The analysis by Bohlender is currently awaiting peer review. Further research into the ancient hominids is necessary to confirm their find.
COVER PHOTO:
Huli wigmen from Lake Kopiago and Tari display their strikingly decorative woven wigs of human hair adorned with bird of paradise feathers during a singsing in Port Moresby, 14 August 2007. The Huli men weave their wigs from their own hair grown while living in isolation before they marry. The designs of the wigs and the patterns of their facial paint are indicative of a wigman's tribe. (Photo credit: TORSION BLACKWOOD/AFP/Getty Images)
A federal judge ruled that the Trump administration likely violated the reporter's Fifth Amendment rights when it stripped his press credentials earlier this month.
WASHINGTON, DC - NOVEMBER 16: CNN chief White House correspondent Jim Acosta (R) returns to the White House with CNN Washington bureau chief Sam Feist after Federal judge Timothy J. Kelly ordered the White House to reinstate his press pass November 16, 2018 in Washington, DC. CNN has filed a lawsuit against the White House after Acosta's press pass was revoked after a dispute involving a news conference last week. (Photo by Alex Wong/Getty Images)
Politics & Current Affairs
Acosta will be allowed to return to the White House on Friday.
The judge described the ruling as narrow, and didn't rule one way or the other on violations of the First Amendment.
The case is still open, and the administration may choose to appeal the ruling.
Progressive America would be half as big, but twice as populated as its conservative twin.
Image: Dicken Schrader
Strange Maps
America's two political tribes have consolidated into 'red' and 'blue' nations, with seemingly irreconcilable differences.
Perhaps the best way to stop the infighting is to go for a divorce and give the two nations a country each
Based on the UN's partition plan for Israel/Palestine, this proposal provides territorial contiguity and sea access to both 'red' and 'blue' America
New research identifies an unexpected source for some of earth's water.
Surprising Science
A lot of Earth's water is asteroidal in origin, but some of it may come from dissolved solar nebula gas.
Our planet hides majority of its water inside: two oceans in the mantle and 4–5 in the core.
New reason to suspect that water is abundant throughout the universe.
Big think's weekly newsletter.
Get smarter faster from the comfort of your inbox.
See our newsletter privacy policy
here
Most Popular
Most Recent
Big think's weekly newsletter.
Get smarter faster from the comfort of your inbox.
See our newsletter privacy policy
here
© Copyright 2007-2018 & BIG THINK, BIG THINK EDGE,
SMARTER FASTER trademarks owned by The Big Think, Inc. All rights reserved.