Big ideas.
Once a week.
Subscribe to our weekly newsletter.
Devastating New Evidence of How Early Native Americans Were Brought to Extinction by Europeans
A new DNA study of ancient mummies shows the complete extinction of first Americans after the arrival of Europeans and provides support for the Bering Strait Theory.
07 April, 2016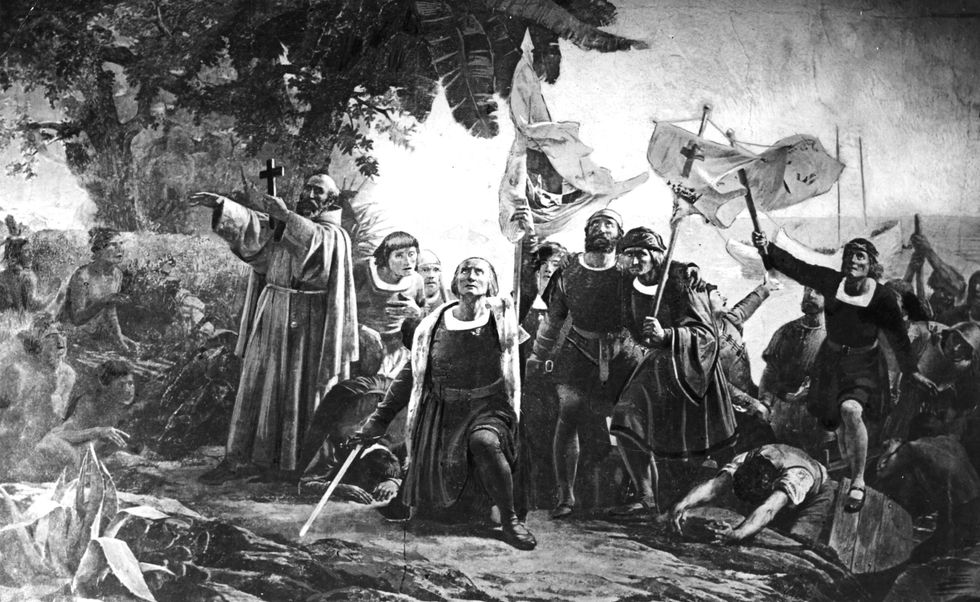 A new DNA study gravely illustrates the extent of the demise Native American populations suffered due to the arrival of Europeans. The large-scale study consisted of researchers reconstructing a genetic history of indigenous populations in the Americas by sequencing whole mitochondrial genomes extracted from bone and teeth samples of 92 pre-Columbian mummies and skeletons, each between 500 and 8600 years old.
---
The study revealed a complete extinction of early American natives after the arrival of the Spanish in late 1400s. "Surprisingly, none of the genetic lineages we found in almost 100 ancient humans were present, or showed evidence of descendants, in today's Indigenous populations," says joint lead author Dr Bastien Llamas, Senior Research Associate at Adelaide's Australian Centre for Ancient DNA (ACAD), which led the study.
He added that "the only scenario that fit our observations was that shortly after the initial colonisation, populations were established that subsequently stayed geographically isolated from one another, and that a major portion of these populations later became extinct following European contact. This closely matches the historical reports of a major demographic collapse immediately after the Spaniards arrived in the late 1400s."
What happened to the first Americans?
The atrocities carried out by the conquistadors and subsequent European arrivals are becoming more well-known. But their war practices and brutal ambitions were not the main reason for the utter decimation of the local populations. While estimates vary, a recent consensus places the figure of Native Americans living at the time near Columbus's arrival at around 54 million. According to previous studies, nearly 95% of them are believed to have been killed by European diseases, like smallpox.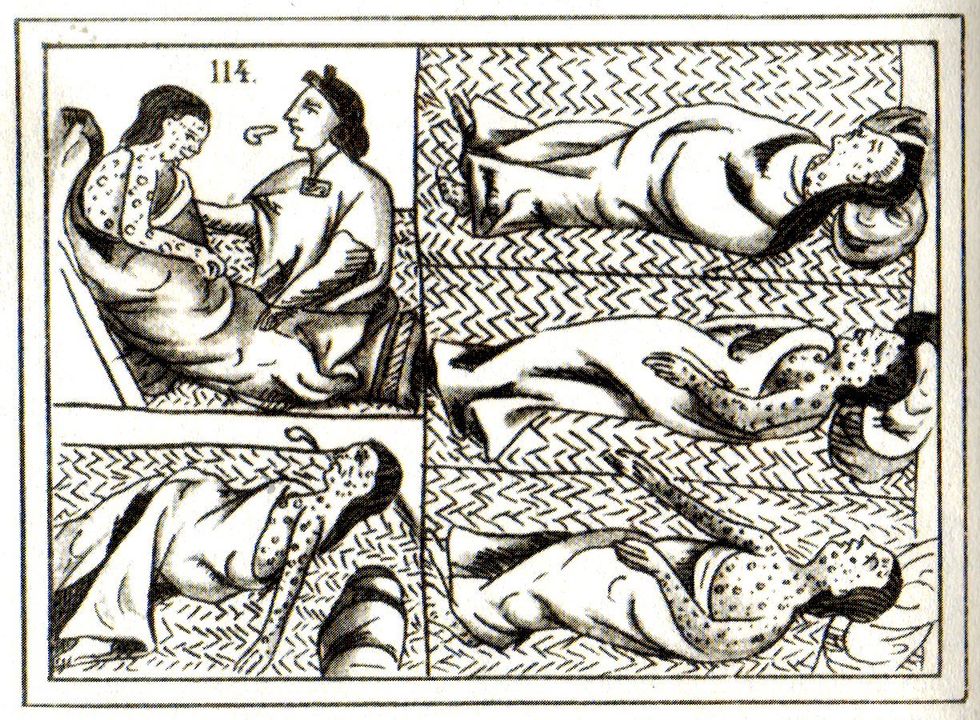 Caption: 16th century Aztec drawing of smallpox victims
While the role diseases played was previously theorized, the new DNA study provides concrete evidence of the extent to which the diseases affected the first people of the Americas. Europeans brought with them domestic animals and thousands of years of building up immunity to all manner of common illnesses due to living in more densely populated areas and extensive travels. Native Americans largely lacked such immunity and quickly spread the diseases in catastrophic numbers. 
On the other side, one of the New World diseases contracted and spread widely by Europeans among themselves was syphilis. 
Support for the Bering Strait Theory
Another noteworthy conclusion of the ACAD study is that it provides additional evidence and an improved timing of how the early people settled Americas. The study supports the "Bering Strait theory" whereby migrants came via the Beringian land bridge that linked Asia and the northwestern tip of North America in the land Ice Age. These people lived for 2400-9000 years on the land bridge in an isolated environment, surrounded by icy deserts. This isolation influenced their unique genetic diversity that was used as a point of comparison in the study.  Eventually, however, they started to move south. 
"Our genetic reconstruction confirms that the first Americans entered around 16,000 years ago via the Pacific coast, skirting around the massive ice sheets that blocked an inland corridor route which only opened much later," explained Professor Alan Cooper, Director of ACAD. "They spread southward remarkably swiftly, reaching southern Chile by 14,600 years ago."  
The study was published in Science Advances. You can read it here.
The idea of 'absolute time' is an illusion. Physics and subjective experience reveal why.
ESA
Surprising Science
Since Einstein posited his theory of general relativity, we've understood that gravity has the power to warp space and time.
This "time dilation" effect occurs even at small levels.
Outside of physics, we experience distortions in how we perceive time — sometimes to a startling extent.
Place one clock at the top of a mountain. Place another on the beach. Eventually, you'll see that each clock tells a different time. Why? Time moves slower as you get closer to Earth, because, as Einstein posited in his theory of general relativity, the gravity of a large mass, like Earth, warps the space and time around it.
Scientists first observed this "time dilation" effect on the cosmic scale, such as when a star passes near a black hole. Then, in 2010, researchers observed the same effect on a much smaller scale, using two extremely precise atomic clocks, one placed 33 centimeters higher than the other. Again, time moved slower for the clock closer to Earth.
The differences were tiny, but the implications were massive: absolute time does not exist. For each clock in the world, and for each of us, time passes slightly differently. But even if time is passing at ever-fluctuating speeds throughout the universe, time is still passing in some kind of objective sense, right? Maybe not.
Physics without time
In his book "The Order of Time," Italian theoretical physicist Carlo Rovelli suggests that our perception of time — our sense that time is forever flowing forward — could be a highly subjective projection. After all, when you look at reality on the smallest scale (using equations of quantum gravity, at least), time vanishes.
"If I observe the microscopic state of things," writes Rovelli, "then the difference between past and future vanishes … in the elementary grammar of things, there is no distinction between 'cause' and 'effect.'"
So, why do we perceive time as flowing forward? Rovelli notes that, although time disappears on extremely small scales, we still obviously perceive events occur sequentially in reality. In other words, we observe entropy: Order changing into disorder; an egg cracking and getting scrambled.
Rovelli says key aspects of time are described by the second law of thermodynamics, which states that heat always passes from hot to cold. This is a one-way street. For example, an ice cube melts into a hot cup of tea, never the reverse. Rovelli suggests a similar phenomenon might explain why we're only able to perceive the past and not the future.
"Any time the future is definitely distinguishable from the past, there is something like heat involved," Rovelli wrote for the Financial Times. "Thermodynamics traces the direction of time to something called the 'low entropy of the past', a still mysterious phenomenon on which discussions rage."
He continues:
"Entropy growth orients time and permits the existence of traces of the past, and these permit the possibility of memories, which hold together our sense of identity. I suspect that what we call the "flowing" of time has to be understood by studying the structure of our brain rather than by studying physics: evolution has shaped our brain into a machine that feeds off memory in order to anticipate the future. This is what we are listening to when we listen to the passing of time. Understanding the "flowing" of time is therefore something that may pertain to neuroscience more than to fundamental physics. Searching for the explanation of the feeling of flow in physics might be a mistake."
Scientists still have much to learn about how we perceive time, and why time operates differently depending on the scale. But what's certain is that, outside of the realm of physics, our individual perception of time is also surprisingly elastic.
​The strange subjectivity of time
Time moves differently atop a mountain than it does on a beach. But you don't need to travel any distance at all to experience strange distortions in your perception of time. In moments of life-or-death fear, for example, your brain would release large amounts of adrenaline, which would speed up your internal clock, causing you to perceive the outside world as moving slowly.

Another common distortion occurs when we focus our attention in particular ways.
"If you're thinking about how time is currently passing by, the biggest factor influencing your time perception is attention," Aaron Sackett, associate professor of marketing at the University of St. Thomas, told Gizmodo. "The more attention you give to the passage of time, the slower it tends to go. As you become distracted from time's passing—perhaps by something interesting happening nearby, or a good daydreaming session—you're more likely to lose track of time, giving you the feeling that it's slipping by more quickly than before. "Time flies when you're having fun," they say, but really, it's more like "time flies when you're thinking about other things." That's why time will also often fly by when you're definitely not having fun—like when you're having a heated argument or are terrified about an upcoming presentation."
One of the most mysterious ways people experience time-perception distortions is through psychedelic drugs. In an interview with The Guardian, Rovelli described a time he experimented with LSD.
"It was an extraordinarily strong experience that touched me also intellectually," he said. "Among the strange phenomena was the sense of time stopping. Things were happening in my mind but the clock was not going ahead; the flow of time was not passing any more. It was a total subversion of the structure of reality."

It seems few scientists or philosophers believe time is completely an illusion.
"What we call time is a rich, stratified concept; it has many layers," Rovelli told Physics Today. "Some of time's layers apply only at limited scales within limited domains. This does not make them illusions."
What
is
an illusion is the idea that time flows at an absolute rate. The river of time might be flowing forever forward, but it moves at different speeds, between people, and even within your own mind.
A new study explores how investors' behavior is affected by participating in online communities, like Reddit's WallStreetBets.
Mind & Brain
The study found evidence that "hype" over assets is psychologically contagious among investors in online communities.
This hype is self-perpetuating: A small group of investors hypes an asset, bringing in new investors, until growth becomes unsteady and a price crash ensues.
The researchers suggested that these new kinds of self-organized, social media-driven investment behaviors are unlikely to disappear anytime soon.
Social media has reshaped human behavior in ways we're only starting to understand. The proliferation of online communities has helped spawn novel strategies for promoting political causes, conducting business, finding sex and love, and transforming culture.
Could online communities also transform behavior in the financial world?
That's one of the key questions explored in a new study published on the preprint server arXiv. Titled "Reddit's self-organised bull runs: Social contagion and asset prices," the study used discussion data from the subreddit WallStreetBets to analyze relationships between the price of stocks and "hype" among online retail investors.
Hype is nothing new in the investing world. But the researchers noted that there seems to be something novel about the short squeeze of GameStop's stock in January, when the price of the stock rose tenfold, thanks largely to self-organized retail investors from WallStreetBets.
"As academics and regulators alike grapple with the implications, many wonder whether large-scale coordination among retail investors is the new 'modus operandi,' or a one-off fluke," the researchers wrote. "We argue that this is a new manifestation of a well-established global phenomenon."
To better understand how online hype is associated with stock prices, the researchers focused on two social components of hype: contagion and consensus. Contagion refers to investors spreading interest in an asset among each other, while consensus refers to their ability to agree on whether to buy or sell an asset.
The analysis found empirical evidence that both contagion and consensus emerge in online communities like WallStreetBets. In other words, investors spread sentiments about future stock performance to other investors, and then they cohere around investment strategies.
Popularity over fundamentals
The findings suggest that an asset's popularity, not its fundamentals, is paramount to many investors.
"Our results consistently show that investors become interested in discussing an asset, not because of fundamentals, but because other users discuss it," the researchers wrote. "Subsequently, this paper tests whether an individual's sentiment about future asset performance [is] affected by those of others. We find that this is the case: people look to their peers to form an opinion about an asset's potential."
To find evidence for social contagion among online investors, the researchers compiled a large dataset of posts and comments submitted to WallStreetBets. The goal was to analyze whether investors' past comments or posts about a given stock, such as Tesla, had a predictable effect on future discussions of that asset within WallStreetBets.
After conducting a regression analysis, the results suggest that hype is socially contagious and cyclical. The cycle usually plays out like this: A small group of investors hypes an asset. This attracts a larger group of investors who join the discussions.
Semenova & Winkler
But eventually, too many investors have joined the discussion, and fewer new investors are buying into the hype. As investors lose interest, they spend less time discussing (or "spreading") the asset on the forum, and they turn to new opportunities. The process is similar to a virus: As enough people become infected, they reach herd immunity, and the virus (hype) dies out.

So, does this process affect the stock price, and if so, how? The researchers said it was difficult to establish causality between hype and actual market activity. After all, they didn't have access to the trading records of subscribers to WallStreetBets.
But their model did show that activity on WallStreetBets was able to explain "significant variance" in trading volumes for the most-discussed assets on the forum. This suggests that when social contagion is strong for a given asset, consensus is strong too.
On the stock chart, consensus may start off bullish (or positively): As hype spreads, there's a slow, steady run-up in price. But the growth eventually becomes unstable and is followed by a crash and a period of volatility.
"The price crash stems from panic selling, as investors turn nervous in the face of volatility," the researchers wrote.
Bad news spreads faster than good news
Interestingly, the analysis found that bearish (or negative) sentiments were significantly more contagious on WallStreetBets.
"The data demonstrates that authors who previously commented on a bearish post are 47.7% more likely to express bearish over neutral sentiments, and 18.1% less likely to express bullish sentiments over neutral sentiments. Similarly, but less markedly, authors who previously commented on at least one bullish submission are 9.4% more likely to write a bullish submission, yet 11.3% less likely to write a bearish one."
The researchers said that the changing investing climate and widely available online data offers "promising opportunities for future research."
"As social media galvanizes a larger pool of retail investors with the potential for exciting stock market gambles, it is crucial to understand how social dynamics can impact asset prices," the researchers wrote. "With the first publicly acclaimed victory of Main Street over Wall Street, in the form of the GameStop short squeeze, it is unlikely that socially-driven asset volatility will simply disappear."
A 19th-century surveying mistake kept lumberjacks away from what is now Minnesota's largest patch of old-growth trees.
Credit
: U.S. Forest Service via Dan Alosso on Substack and licensed under CC-BY-SA
Strange Maps
In 1882, Josias R. King made a mess of mapping Coddington Lake, making it larger than it actually is.
For decades, Minnesota loggers left the local trees alone, thinking they were under water.
Today, the area is one of the last remaining patches of old-growth forest in the state.
Vanishingly rare, but it exists: a patch of Minnesota forest untouched by the logger's axe.Credit: Dan Alosso on Substack and licensed under CC-BY-SA
The trees here tower a hundred feet above the forest floor — a ceiling as high as in prehistory and vanishingly rare today. That's because no logger's axe has ever touched these woods.

Pillars of the green cathedral
As you walk among the giant pillars of this green cathedral, you might think you're among the redwood trees of California. But those are 1,500 miles (2,500 km) away. No, these are the red and white pines of the "Lost Forty" in Minnesota. This is the largest single surviving patch of old-growth forest in the state and a fair stretch beyond. And it's all thanks to a surveying error.
Despite its name, the Lost Forty Scientific and Natural Area (SNA) is actually 144 acres (0.58 km2) in total. Still, it's an easily overlooked part of the Chippewa National Forest, which sprawls across 666,000 acres (2,700 km2) of north-central Minnesota. And that – being easily overlooked – is kind of this area's superpower.
In the 1820s, when European-Americans arrived in what is now Minnesota, they found about 20 million acres (80,000 km2) of prairie and 30 million acres (120,000 km2) of forest. Two centuries on, both ecosystems largely have been depleted. Fewer than 100,000 acres (400 km2) of natural prairie remain, and fewer than 18 million acres (73,000 km2) of forest.
And today's woods are different. They're not just younger; the original pine stands have been harvested and largely replaced with aspen and birch.
Can a place really be "lost" if it has a sign pointing toward it? Credit: Tony Webster via Flickr and licensed under CC BY-SA 2.0
To the moon and back

White pine especially was in heavy demand during the lumbering boom that had Minnesota in its grip by the 1840s — a boom driven by an insatiable demand for building materials and supercharged by the steam that powered the saws and the rails that transported the goods to market.
The two decades flanking the turn of the 20th century were the golden age of lumbering in Minnesota. At any given time, 20,000 lumberjacks were at work in the woods, a further 20,000 in the sawmills, and another 20,000 in other lumber-related industries.
Production peaked in the year 1900, with over 2.3 billion board-feet (5.4 million m3) of lumber harvested from the state's forests. That was enough to build 600,000 two-story houses or a boardwalk nine feet (2.7 m) wide, circling Earth along the equator. From then on, yields declined, albeit slightly at first. By 1910, however, the first lumber operations started packing up and moving on to the Pacific Northwest and elsewhere.
Minnesota's era of Big Timber symbolically came to an end with the closure of the Virginia and Rainy Lake Lumber Company in 1929. At that time, a century's worth of lumbering in Minnesota had produced 68 billion board-feet (160 million m3) of pine — enough to fill a line of boxcars all the way to the moon and halfway back again.
Now spool back a few decades. It's 1882, and the Public Land Survey is measuring, mapping, and quantifying the wilderness of northern Minnesota — and its as yet unharvested north woods. Setting out from the small settlement of Grand Rapids, Josias Redgate King leads a three-man survey team 40 miles north, into the backwoods.
Mapping error becomes cartographic fact
Their job, specifically, is to chart the area between Moose and Coddington Lakes. And they mess up. Perhaps it's the lousy November weather, the desolate swampy terrain, or both. But they make a serious mistake: their survey stretches Coddington Lake half a mile further northwest than it actually exists. As happens surprisingly often with mapping mistakes, the error becomes cartographic fact, undisputed for decades.

The area is marked on all maps as being under water and is therefore excluded from the considerations of logging companies. Only in 1960 is the area re-surveyed and the error corrected. But by then, as we have seen, Big Timber has moved on from the Gopher State.
Map of the "Lost Forty" SNA (top right). Bordering it on the south is the Chippewa National Forest Unique Biological Area. Credit: Minnesota Department of Natural Resources
Incidentally, Josias R. King was more than the mismapper of Coddington Lake. He has another, and rather better, claim to fame. When the Civil War broke out, Minnesota was the first state to offer volunteers to fight for the Union. At Fort Snelling, Mr. King rushed to the front of a line of men waiting to sign up.

So it was said, with some justification, that he was the first volunteer for the Union in all of the country. During the war, he attained the rank of lieutenant colonel. After, he returned to his civilian job, surveying. Because of his credentials as the Union's first volunteer, he was asked to pose for the face of the bronze soldier on the Civil War monument which was unveiled at St. Paul's Summit Park in 1903.
The loggers' loss is nature's gain
But back to the Lost Forty. The loggers' loss — hence the name — is actually nature's gain. The SNA's crowning glory, literally, is nearly 32 acres of designated old-growth red pine and white pine forest, in two stands, partially extending into the Chippewa National Forest proper. (In fact, much of the mismapped area seems to fall within the Chippewa National Forest Unique Biological Area adjacent to the Lost Forty.) Old-growth forests represent less than 2 percent — and designated old-growth forests less than 0.25 percent — of all of Minnesota's forests.
The oldest pine trees in the Lost Forty are between 300 and 400 years old, close to their maximum natural life span, which is up to 500 years. Similar pines in other parts of the National Forest are harvested at between 80 and 150 years for pulp and lumber. As a result, the pines in the Lost Forty are not only higher than most of the surrounding woods but also bigger with a diameter of between 22 and 48 inches (55 to 122 cm). One of the biggest has a circumference of 115 inches (2.9 m).
With their craggy bark, massive trunks, and dizzying height, these trees look like the ancient beings they are. And they exist in a cluster the size of which is unique for the Midwest. There's nothing lost about these trees; in fact, it's rather the reverse. Perhaps the area should more precisely be called the "Last Forty."
At 52 feet, only half as high as an old-growth white pine: Josias R. King's likeness atop the Soldier's Monument in Summit Park, St. Paul.Credit: Library of Congress
Get a good look at the Lost Forty in this video of the local hiking trail.

Strange Maps #1084
Got a strange map? Let me know at strangemaps@gmail.com.
Surprising Science
Seawater is raising salt levels in coastal woodlands along the entire Atlantic Coastal Plain, from Maine to Florida.
Scroll down to load more…