Sudan, world's last male northern white rhino, dies at Kenyan conservancy
Sudan leaves behind only two other northern white rhinos, but artificial reproductive technologies could provide a future for the subspecies.
20 March, 2018
The world's last male northern white rhino has died.
---
The 45-year-old rhino named Sudan was euthanized after veterinarians observed him suffering "a great deal" following treatment for an age-related disorder, according to a statement from Kenya's Ol Pejeta Conservancy.
"We at Ol Pejeta are all saddened by Sudan's death," said Richard Vigne, Ol Pejeta's CEO. "He was a great ambassador for his species and will be remembered for the work he did to raise awareness globally of the plight facing not only rhinos, but also the many thousands of other species facing extinction as a result of unsustainable human activity."
Sudan became somewhat famous in 2017 after Tinder dubbed him "the most eligible bachelor in the world" as part of an effort to raise funds and awareness for the endangered subspecies. He was adored by those who cared for him, stealing "the hearts of many with his dignity and strength," according to the conservancy's statement.
"He was a gentle giant, his personality was just amazing and given his size, a lot of people were afraid of him," Elodie Sampere, a representative for Ol Pejeta, told CNN. "But there was nothing mean about him."
The planet now has only two northern white rhinos: Sudan's daughter Najin, and her daughter Fatu.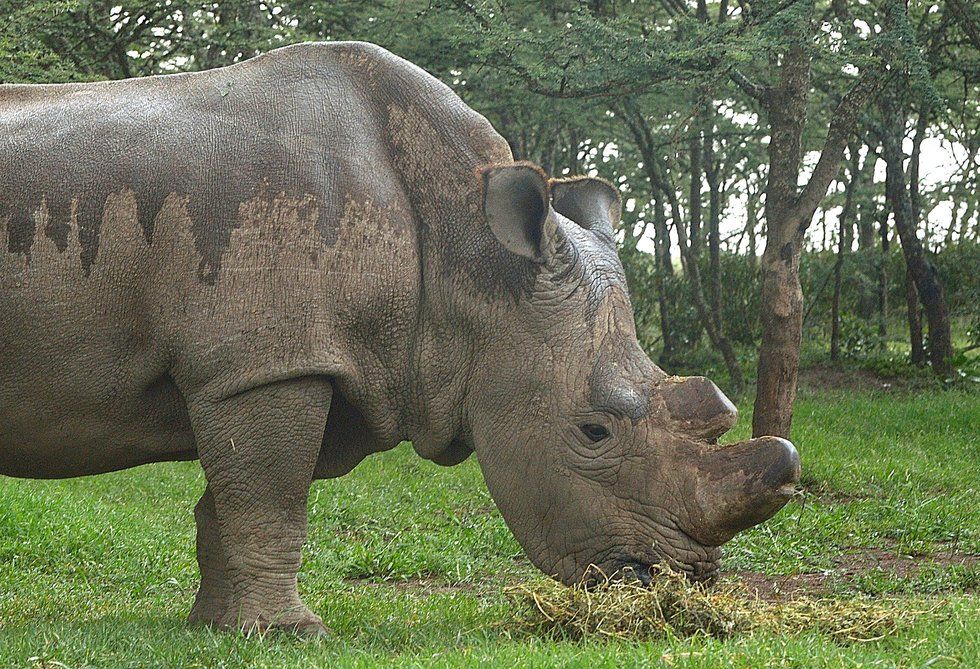 Photo: Getty/Tony Karumba
Poaching and northern white rhinos
In the 1970s and 1980s, poachers reduced the wild northern white rhino population from hundreds to just 15. The subspecies made a modest comeback in the 1990s and early 2000s, but poachers again drove them to near extinction.
The high demand for rhino horns in Asian countries like Vietnam, Taiwan, and Japan, where they're used as part of traditional Chinese medicine, has been catastrophic for rhino populations. The horn of the northern white rhino used to sell for more than $22,000 per pound, making it more valuable than gold or cocaine.
In 2009, the last four fertile northern white rhinos—two males and two females—were moved from Dvůr Králové Zoo in the Czech Republic to Kenya's 90,000-acre Ol Pejeta Conservancy. The hope was for the rhinos to breed and save the species, but all attempts—including those to breed hybrid offspring with a southern white rhino, a similar and more populous subspecies—failed.
But northern white rhinos might still have a future. On Monday, researchers collected Sudan's genetic material with hopes that technology could one day revive or resurrect the subspecies.  
"There is a possibility that it could be saved through artificial reproductive techniques—in particular, in vitro fertilization," Vigne told The Independent.
He added that the fate of the northern white rhino could portend worse things to come if humanity doesn't change course.
"The northern white rhino stands as a symbol to that, and a sign that if the way we consume doesn't change, then sooner or later we are going to destroy the planet and the ecological processes on which we as humans depend. For me, that is the key message."
Setting a simple intention and coming prepared can help you — and those around you — win big.
Videos
Setting an intention doesn't have to be complicated, and it can make a great difference when you're hoping for a specific outcome.
When comedian Pete Holmes is preparing to record an episode of his podcast, "You Made it Weird with Pete Holmes," he takes 15 seconds to check in with himself. This way, he's primed with his own material and can help guests feel safe and comfortable to share theirs, as well.
Taking time to visualize your goal for whatever you've set out to do can help you, your colleagues, and your projects succeed.
The Amazon Rainforest is often called "the planet's lungs."
NASA
Politics & Current Affairs
For weeks, fires have been burning in the Amazon rainforest in Brazil, likely started by farmers and ranchers.
Brazil's president, Jair Bolsonaro, has blamed NGOs for starting the flames, offering no evidence to support the claim.
There are small steps you can take to help curb deforestation in the Amazon rainforest, which produces about 20 percent of the world's oxygen.
How do we combat the roots of these hateful forces?
Politics & Current Affairs
American Psychological Association sees a dubious and weak link between mental illness and mass shootings.
Center for the study of Hate and Extremism has found preliminary evidence that political discourse is tied to hate crimes.
Access to guns and violent history is still the number one statistically significant figure that predicts gun violence.