Elon Musk at SXSW: SpaceX able to do 'short trips' to Mars by 2019
In 2017, SpaceX announced plans to send a cargo mission to Mars by 2022. But Elon Musk said the company's BFR could be ready to make the journey sooner.
12 March, 2018
Elon Musk at SXSW 2018. (Photo: SXSW)
---
Elon Musk told a crowd at South by Southwest on Sunday that SpaceX could be embarking on its first mission to Mars by as early as next year.
"We are building the first Mars, or interplanetary ship, and I think we'll be able to do short trips, flights by first half of next year," Musk said during his surprise talk in Austin, before cautioning: "Although sometimes, my timelines are a little, you know…"
In September 2017, SpaceX announced plans to send a cargo mission to the Red Planet by 2022, which would confirm water sources and install "initial power, mining, and life support infrastructure." The company eventually wants to set up a long-term human colony on Mars.
SpaceX's "Big Fucking Rocket" (BFR) would be the spacecraft for the journey. The nearly 350-foot rocket is reusable and would only cost the privately funded company about $7 million per launch.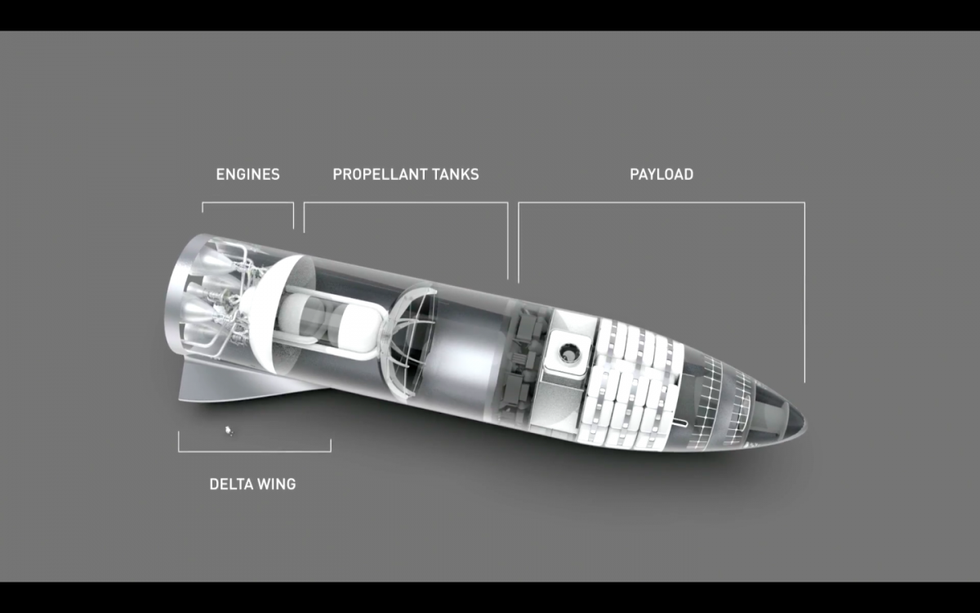 Musk hopes SpaceX's ambition will prove contagious.
"The biggest thing that would be helpful is just general support and encouragement and goodwill. I think once we build it we'll have a point of proof, something that other companies and countries can go and do. They certainly don't think it's possible, but if we do they'll up their game."
The focus of the first mission would be to set up basic infrastructure for a colony. But after that?
"... then really the explosion of entrepreneurial opportunity [will begin], because Mars will need everything from iron foundries to pizza joints," Musk said.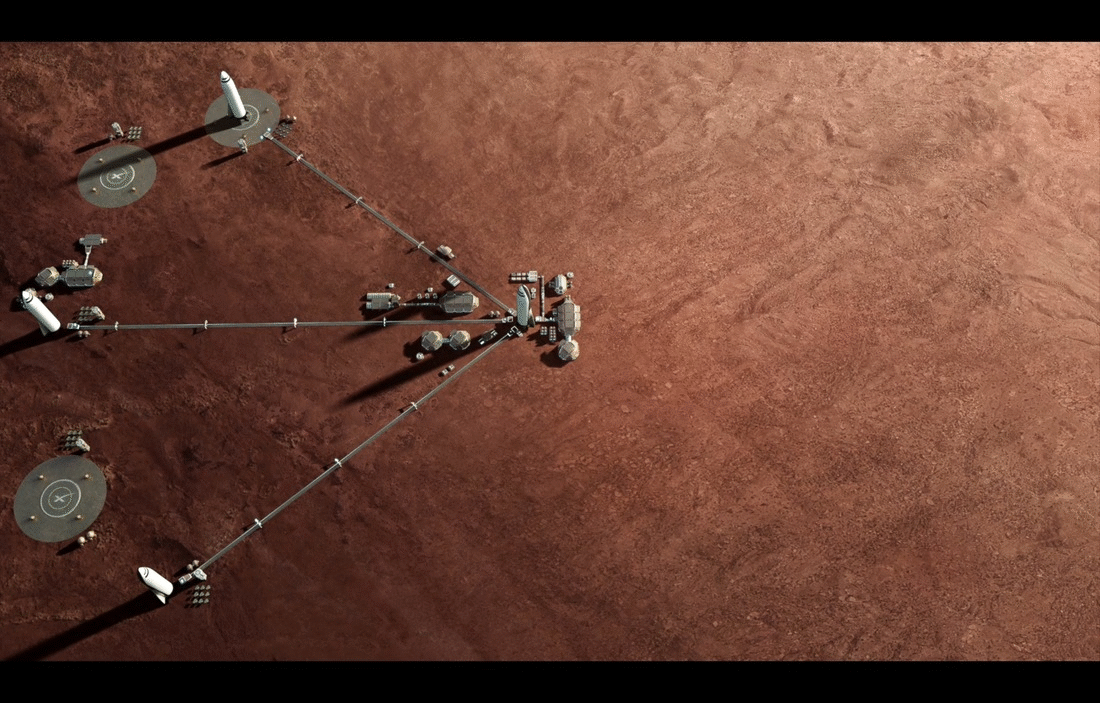 Artist's rendering of Mars colony for SpaceX.
But Musk's talk wasn't marked only by interstellar optimism. He spent much of the morning in Austin warning about the existential threats facing humanity.
"There's likely to be another dark ages... particularly if there's a third world war," he said, adding how human settlements on other planets could basically serve as an insurance plan when catastrophe strikes on earth.
Musk also posed questions over the lack of A.I. regulation. 
 "Mark my words: A.I. is far more dangerous than nukes. So why do we have no regulatory oversight?"
He said A.I. experts aren't worried enough. 
 "The biggest issue I see with so-called A.I. experts is they think they know more than they do. They think they're smarter than they are. This plagues smart people… they don't like the idea that a machine could be smarter than them, so they discount the idea."
To be sure, there were some lighter notes in his talk. Musk said he expects self-driving cars to be 200 percent safer than the ones we careen around in today. He also revealed that Kanye West was a source of inspiration for his ventures. Finally, Musk and his brother, who joined the space entrepreneur onstage near the end of the talk, capped things off by donning cowboy hats and dancing on stage.
They're now going to sing along to the song from Three Amigos that Musk promised would happen on Twitter. "This is going to be terrible." I don't know what more to say! pic.twitter.com/9lCzopKb3r
— Sean O'Kane (@sokane1) March 11, 2018
Here's Engadget's 12-minute cut of Elon Musk's SXSW Q&A, and you can watch the full stream here:
Young people could even end up less anxiety-ridden, thanks to newfound confidence
Photos: Courtesy of Let Grow
Sponsored by Charles Koch Foundation
The coronavirus pandemic may have a silver lining: It shows how insanely resourceful kids really are.
Let Grow, a non-profit promoting independence as a critical part of childhood, ran an "Independence Challenge" essay contest for kids. Here are a few of the amazing essays that came in.
Download Let Grow's free Independence Kit with ideas for kids.
Edward Snowden lists services that will protect your privacy with just a few downloads.
We must rethink the "chemical imbalance" theory of mental health.
Photo Illustration by Joe Raedle/Getty Images
Surprising Science
A new review found that withdrawal symptoms from antidepressants and antipsychotics can last for over a year.
Side effects from SSRIs, SNRIs, and antipsychotics last longer than benzodiazepines like Valium or Prozac.
The global antidepressant market is expected to reach $28.6 billion this year.
Or is doubt a self-fulfilling prophecy?
Future of Learning
The future of learning will be different, and now is the time to lay the groundwork.
Scroll down to load more…