Big ideas.
Once a week.
Subscribe to our weekly newsletter.
We Might Be Able to Survive on Mars—But Can We Live There Peacefully?
27 October, 2017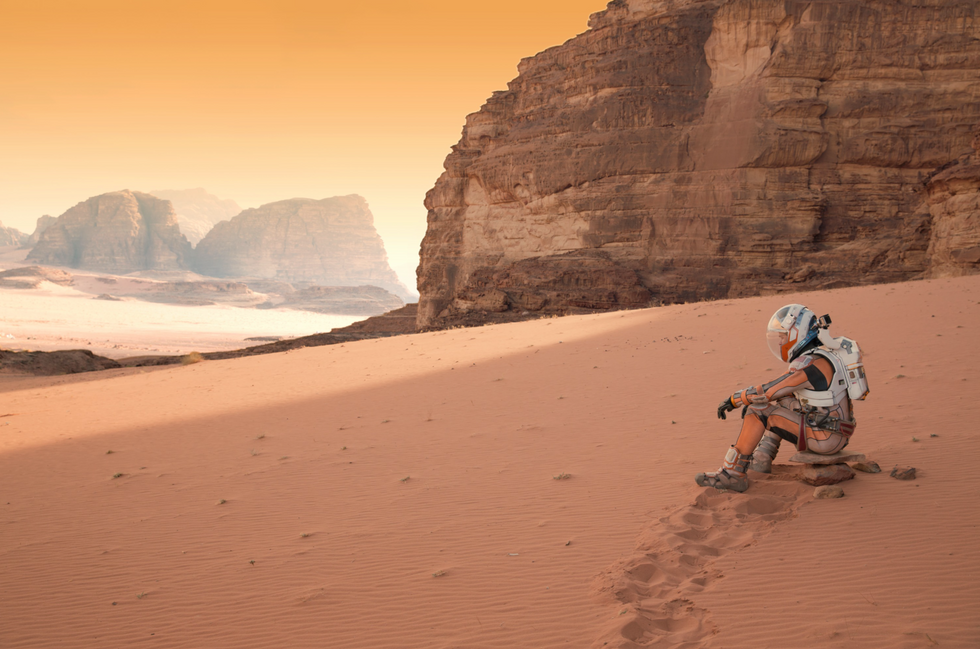 ---
The establishment of a colony on Mars seems inevitable given just how many groups are drawing up plans for the red planet. NASA intends on sending manned expeditions in the 2030s. SpaceX has an "aspirational" deadline of reaching Mars by 2022, while Lockheed Martin hopes to establish a base camp in 2028. And outside the U.S., China claims to have developed an "EmDrive" propulsion system that would send humans to Mars in just weeks.
Still, there's a big question that remains unanswered: What laws will ultimately rule Mars?
The answer will probably be significantly informed by current space law, which was created with the United Nation's Outer Space Treaty in 1967.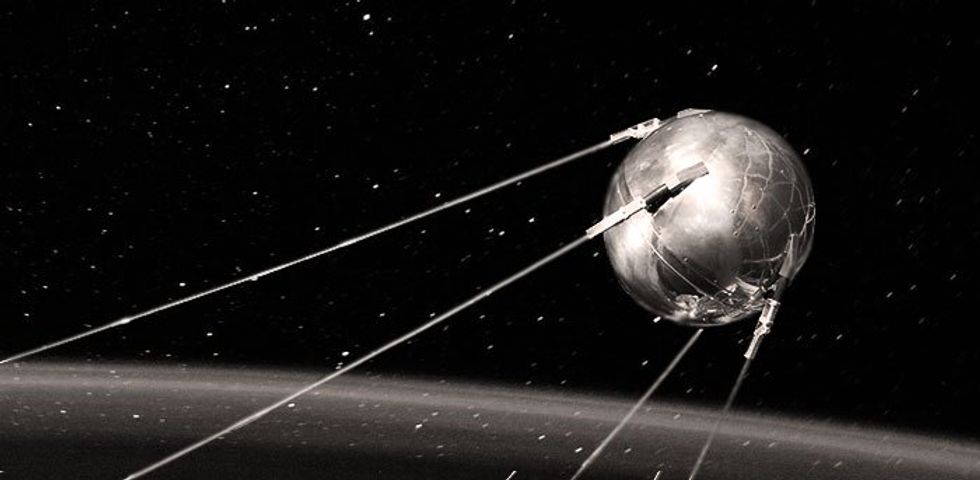 The Outer Space Treaty was largely a response to the Soviet Union's launch of Sputnik in 1957, and its key components reflect the anxieties of the Cold War era – namely the prohibition of orbital weapons or establishing military bases on the moon. The treaty made it so the moon is under the same jurisdiction as international waters, and that any nation may use the moon for peaceful purposes. And it even says that states party to the treaty must provide all possible assistance to astronauts in the event of emergency or accident – no matter who they are.
(Strangely enough, the treaty essentially killed the development of Project A119 – a U.S. plan to detonate an atomic bomb on the moon in a spectacular display of military superiority.)
As of July 2017, 107 countries are parties to the treaty. Here's a few more of its key parts:
Outer space is not subject to national appropriation by claim of sovereignty, by means of use or occupation, or by any other means;
States shall be responsible for national space activities whether carried out by governmental or non-governmental entities;
States shall be liable for damage caused by their space objects; and
States shall avoid harmful contamination of space and celestial bodies.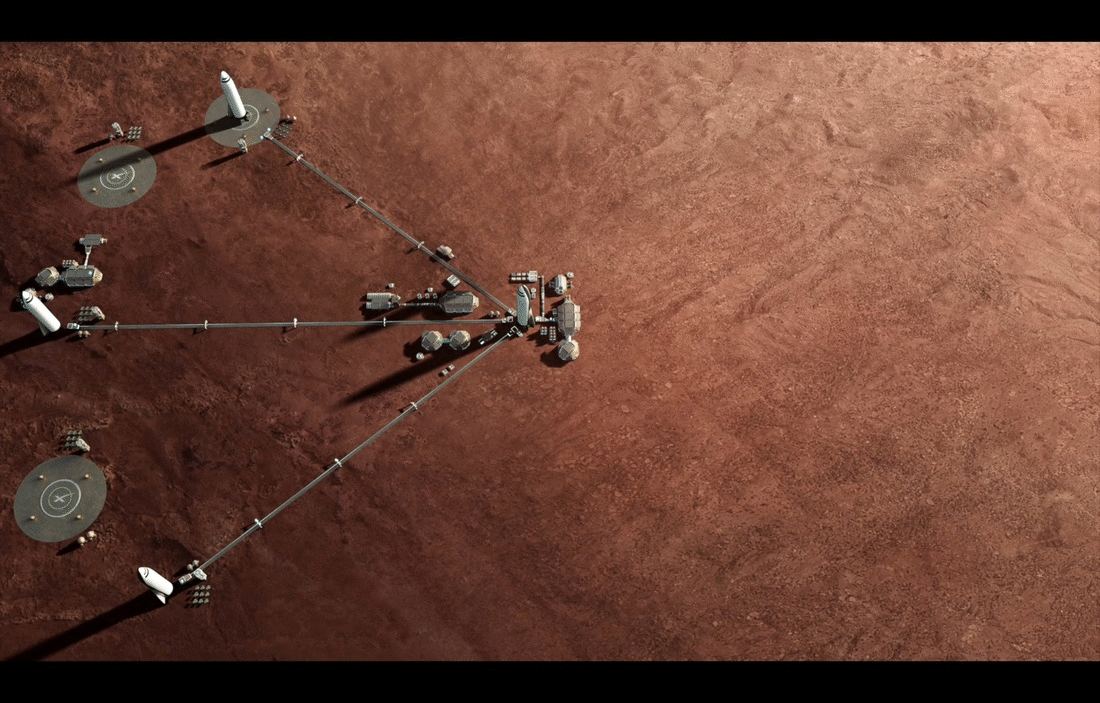 Artist's rendering of Mars colony for SpaceX
According to current space laws, space stations or objects placed on celestial bodies are subject to the laws of their country of origin. The same applies to the land that surrounds, say, a country's base on Mars. It's similar to how the international community views Antarctica through the Antarctic Treaty System – any nation can operate on the continent for peaceful purposes; no land can officially be claimed; and citizens and bases established on the land are subject to the laws of their country of origin.
But despite the treaty, Antarctica is effectively governed by the scientific community because there is no regulatory body present to enforce laws. This would seem to be a key parallel to a multinational settlement on Mars. However, one major difference is that, in addition to scientists, there will likely be commercial mining operations on the red planet. 
Mining celestial bodies for commercial purposes is currently prohibited by space law. However, the U.S. and Luxemburg have already passed legislation regarding commercial space mining that basically says: you mine it, you own it. Several U.S. companies – Deep Space Industries, Planetary Resources, and Moon Express – are drawing up plans to do just that. It's hard to tell how the international community will react, or if new international agreements will need to be reached, if or when commercial space mining begins.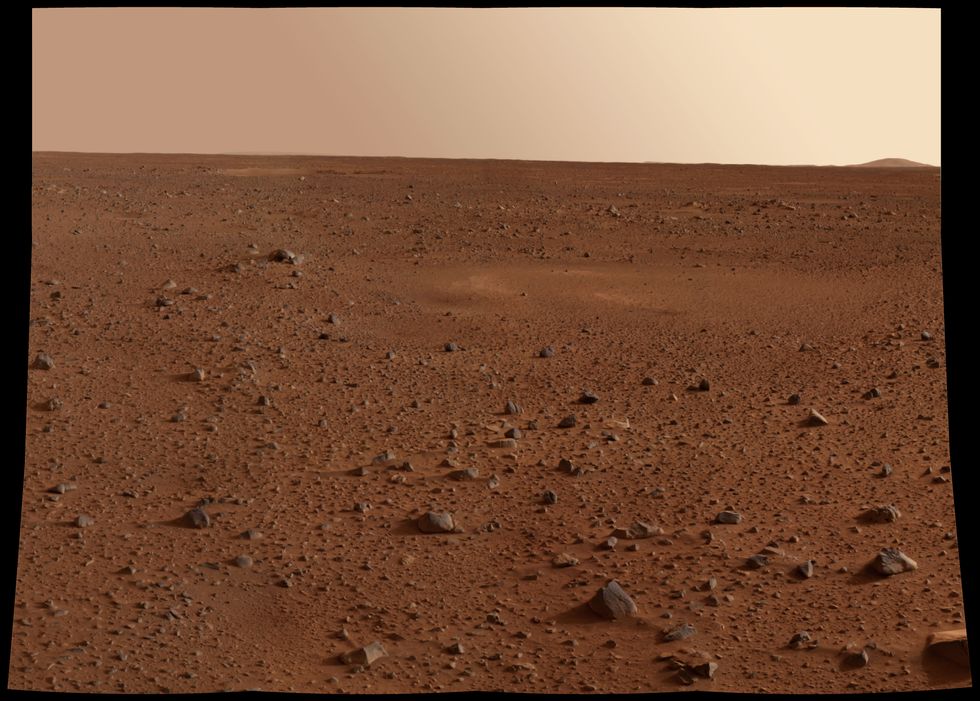 As far as civil and criminal jurisdiction on Mars, the only legal precedent comes from the Intergovernmental Agreements of 1988 and 1999 that govern the Columbus Space Station Project and the ISS. The agreements allow for the punishment of crimes, registration of space objects, safety of nationals and repatriation of offenders to Earth.
However, those agreements don't seem to be very analogous in practice. On the ISS, a strict hierarchy places power in the hands of one commander, much like older bodies of law regarding ship captains. There's no indication this kind of strict hierarchy of power would exist on Mars. Moreover, there's really no telling how Martian colonists will handle conflicts and crime on the red planet. It raises many questions: Will there be courts? Prisons? The death penalty?
What laws should be in play if, say, a ship belonging to a French mining company damages a base belonging to the Russians? And even if the international community back on Earth were to agree on a Martian legal system, what's it going to do if the colonists decide they want to form their own laws? 
This has led some to predict Mars settlements will be similar to those of the Wild West, as Stephen Petranek, author of "How We'll Live on Mars," told National Geographic:
"Who's going to stop somebody if there's a private company that wants to go on the opposite side of Mars and they want to just drill into the side of Mars and see what they can find. Who's going to stop them? There's not going to be anyone to stop them. It was the same way in the American West. Law was the last thing to arrive. Rules were the last thing to arrive. Justice was the last thing to arrive. Mars is likely to become very much an unruly place."
Who will enforce laws, settle disputes and punish offender remains the biggest unanswered question regarding the rule of law on Mars. 
"The people who ultimately end up owning the territory on Mars will not be countries on Earth," Andy Weir, author of "The Martian," told National Geographic. "It will be the people who live there."
Why mega-eruptions like the ones that covered North America in ash are the least of your worries.
Image: USGS - public domain
Strange Maps
The supervolcano under Yellowstone produced three massive eruptions over the past few million years.
Each eruption covered much of what is now the western United States in an ash layer several feet deep.
The last eruption was 640,000 years ago, but that doesn't mean the next eruption is overdue.
The end of the world as we know it
Panoramic view of Yellowstone National Park
Image: Heinrich Berann for the National Park Service – public domain
Of the many freak ways to shuffle off this mortal coil – lightning strikes, shark bites, falling pianos – here's one you can safely scratch off your worry list: an outbreak of the Yellowstone supervolcano.
As the map below shows, previous eruptions at Yellowstone were so massive that the ash fall covered most of what is now the western United States. A similar event today would not only claim countless lives directly, but also create enough subsidiary disruption to kill off global civilisation as we know it. A relatively recent eruption of the Toba supervolcano in Indonesia may have come close to killing off the human species (see further below).
However, just because a scenario is grim does not mean that it is likely (insert topical political joke here). In this case, the doom mongers claiming an eruption is 'overdue' are wrong. Yellowstone is not a library book or an oil change. Just because the previous mega-eruption happened long ago doesn't mean the next one is imminent.
Ash beds of North America
Ash beds deposited by major volcanic eruptions in North America.
Image: USGS – public domain
This map shows the location of the Yellowstone plateau and the ash beds deposited by its three most recent major outbreaks, plus two other eruptions – one similarly massive, the other the most recent one in North America.
Huckleberry Ridge
The Huckleberry Ridge eruption occurred 2.1 million years ago. It ejected 2,450 km3 (588 cubic miles) of material, making it the largest known eruption in Yellowstone's history and in fact the largest eruption in North America in the past few million years.
This is the oldest of the three most recent caldera-forming eruptions of the Yellowstone hotspot. It created the Island Park Caldera, which lies partially in Yellowstone National Park, Wyoming and westward into Idaho. Ash from this eruption covered an area from southern California to North Dakota, and southern Idaho to northern Texas.
Mesa Falls
About 1.3 million years ago, the Mesa Falls eruption ejected 280 km3 (67 cubic miles) of material and created the Henry's Fork Caldera, located in Idaho, west of Yellowstone.
It was the smallest of the three major Yellowstone eruptions, both in terms of material ejected and area covered: 'only' most of present-day Wyoming, Colorado, Kansas and Nebraska, and about half of South Dakota.
Lava Creek
The Lava Creek eruption was the most recent major eruption of Yellowstone: about 640,000 years ago. It was the second-largest eruption in North America in the past few million years, creating the Yellowstone Caldera.
It ejected only about 1,000 km3 (240 cubic miles) of material, i.e. less than half of the Huckleberry Ridge eruption. However, its debris is spread out over a significantly wider area: basically, Huckleberry Ridge plus larger slices of both Canada and Mexico, plus most of Texas, Louisiana, Arkansas, and Missouri.
Long Valley
This eruption occurred about 760,000 years ago. It was centered on southern California, where it created the Long Valley Caldera, and spewed out 580 km3 (139 cubic miles) of material. This makes it North America's third-largest eruption of the past few million years.
The material ejected by this eruption is known as the Bishop ash bed, and covers the central and western parts of the Lava Creek ash bed.
Mount St Helens
The eruption of Mount St Helens in 1980 was the deadliest and most destructive volcanic event in U.S. history: it created a mile-wide crater, killed 57 people and created economic damage in the neighborhood of $1 billion.
Yet by Yellowstone standards, it was tiny: Mount St Helens only ejected 0.25 km3 (0.06 cubic miles) of material, most of the ash settling in a relatively narrow band across Washington State and Idaho. By comparison, the Lava Creek eruption left a large swathe of North America in up to two metres of debris.

The difference between quakes and faults
The volume of dense rock equivalent (DRE) ejected by the Huckleberry Ridge event dwarfs all other North American eruptions. It is itself overshadowed by the DRE ejected at the most recent eruption at Toba (present-day Indonesia). This was one of the largest known eruptions ever and a relatively recent one: only 75,000 years ago. It is thought to have caused a global volcanic winter which lasted up to a decade and may be responsible for the bottleneck in human evolution: around that time, the total human population suddenly and drastically plummeted to between 1,000 and 10,000 breeding pairs.
Image: USGS – public domain
So, what are the chances of something that massive happening anytime soon? The aforementioned mongers of doom often claim that major eruptions occur at intervals of 600,000 years and point out that the last one was 640,000 years ago. Except that (a) the first interval was about 200,000 years longer, (b) two intervals is not a lot to base a prediction on, and (c) those intervals don't really mean anything anyway. Not in the case of volcanic eruptions, at least.
Earthquakes can be 'overdue' because the stress on fault lines is built up consistently over long periods, which means quakes can be predicted with a relative degree of accuracy. But this is not how volcanoes behave. They do not accumulate magma at constant rates. And the subterranean pressure that causes the magma to erupt does not follow a schedule.
What's more, previous super-eruptions do not necessarily imply future ones. Scientists are not convinced that there ever will be another big eruption at Yellowstone. Smaller eruptions, however, are much likelier. Since the Lava Creek eruption, there have been about 30 smaller outbreaks at Yellowstone, the last lava flow being about 70,000 years ago.
As for the immediate future (give or take a century): the magma chamber beneath Yellowstone is only 5 percent to 15 percent molten. Most scientists agree that is as un-alarming as it sounds. And that its statistically more relevant to worry about death by lightning, shark, or piano.
Strange Maps #1041
Got a strange map? Let me know at strangemaps@gmail.com.

The potential of CRISPR technology is incredible, but the threats are too serious to ignore.
Videos
CRISPR (Clustered Regularly Interspaced Short Palindromic Repeats) is a revolutionary technology that gives scientists the ability to alter DNA. On the one hand, this tool could mean the elimination of certain diseases. On the other, there are concerns (both ethical and practical) about its misuse and the yet-unknown consequences of such experimentation.
"The technique could be misused in horrible ways," says counter-terrorism expert Richard A. Clarke. Clarke lists biological weapons as one of the potential threats, "Threats for which we don't have any known antidote." CRISPR co-inventor, biochemist Jennifer Doudna, echos the concern, recounting a nightmare involving the technology, eugenics, and a meeting with Adolf Hitler.
Should this kind of tool even exist? Do the positives outweigh the potential dangers? How could something like this ever be regulated, and should it be? These questions and more are considered by Doudna, Clarke, evolutionary biologist Richard Dawkins, psychologist Steven Pinker, and physician Siddhartha Mukherjee.
Measuring a person's movements and poses, smart clothes could be used for athletic training, rehabilitation, or health-monitoring.
Technology & Innovation
In recent years there have been exciting breakthroughs in wearable technologies, like smartwatches that can monitor your breathing and blood oxygen levels.
But what about a wearable that can detect how you move as you do a physical activity or play a sport, and could potentially even offer feedback on how to improve your technique?
And, as a major bonus, what if the wearable were something you'd actually already be wearing, like a shirt of a pair of socks?
That's the idea behind a new set of MIT-designed clothing that use special fibers to sense a person's movement via touch. Among other things, the researchers showed that their clothes can actually determine things like if someone is sitting, walking, or doing particular poses.
The group from MIT's Computer Science and Artificial Intelligence Lab (CSAIL) says that their clothes could be used for athletic training and rehabilitation. With patients' permission, they could even help passively monitor the health of residents in assisted-care facilities and determine if, for example, someone has fallen or is unconscious.
The researchers have developed a range of prototypes, from socks and gloves to a full vest. The team's "tactile electronics" use a mix of more typical textile fibers alongside a small amount of custom-made functional fibers that sense pressure from the person wearing the garment.
According to CSAIL graduate student Yiyue Luo, a key advantage of the team's design is that, unlike many existing wearable electronics, theirs can be incorporated into traditional large-scale clothing production. The machine-knitted tactile textiles are soft, stretchable, breathable, and can take a wide range of forms.
"Traditionally it's been hard to develop a mass-production wearable that provides high-accuracy data across a large number of sensors," says Luo, lead author on a new paper about the project that is appearing in this month's edition of Nature Electronics. "When you manufacture lots of sensor arrays, some of them will not work and some of them will work worse than others, so we developed a self-correcting mechanism that uses a self-supervised machine learning algorithm to recognize and adjust when certain sensors in the design are off-base."
The team's clothes have a range of capabilities. Their socks predict motion by looking at how different sequences of tactile footprints correlate to different poses as the user transitions from one pose to another. The full-sized vest can also detect the wearers' pose, activity, and the texture of the contacted surfaces.
The authors imagine a coach using the sensor to analyze people's postures and give suggestions on improvement. It could also be used by an experienced athlete to record their posture so that beginners can learn from them. In the long term, they even imagine that robots could be trained to learn how to do different activities using data from the wearables.
"Imagine robots that are no longer tactilely blind, and that have 'skins' that can provide tactile sensing just like we have as humans," says corresponding author Wan Shou, a postdoc at CSAIL. "Clothing with high-resolution tactile sensing opens up a lot of exciting new application areas for researchers to explore in the years to come."
The paper was co-written by MIT professors Antonio Torralba, Wojciech Matusik, and Tomás Palacios, alongside PhD students Yunzhu Li, Pratyusha Sharma, and Beichen Li; postdoc Kui Wu; and research engineer Michael Foshey.
The work was partially funded by Toyota Research Institute.
Reprinted with permission of MIT News. Read the original article.

Personal Growth
How imagining the worst case scenario can help calm anxiety.
Scroll down to load more…