One man, a media circus and an epidemic
Simon Oxenham
Simon Oxenham covers the best and the worst from the world of psychology and neuroscience. Formerly writing with the pseudonym "Neurobonkers", Simon has a history of debunking dodgy scientific research and tearing apart questionable science journalism in an irreverent style. Simon has written and blogged for publishers including: The Psychologist, Nature, Scientific American and The Guardian. His work has been praised in the New York Times and The Guardian and described in Pearson's Textbook of Psychology as "excoriating reviews of bad science/studies".
Follow Simon on Twitter
Like Simon on Facebook
Follow Simon on Google+
Subscribe via Email
Subscribe via RSS
Contact Simon directly by Email
01 June, 2013
With the Welsh measles epidemic only now beginning to slow I thought now would be a good time to repost Daryl Cunningham's fantastic explainer (below) on how we came to be in this mess.
---
Interestingly, a report by Margaret McCartney published in the British Medical Journal has stated that it seems that based on research published in Journal of Epidemiology and Community Health that prolonged and extremely biased local news coverage bears even more responsibility for the Welsh outbreak than the furore in the British national press - something that should stand as a reminder of the importance of good reporting right down to the local level. Unfortunately, Andrew Wakefield the man who launched the campaign against the MMR vaccine has begun making a show on American reality TV which is likely to be championed by America's growing resident anti-vaxxer brigade. Let's hope awareness of what happened in the UK crosses the pond so we don't see yet more epidemics helped along by anti-vaccine hysteria.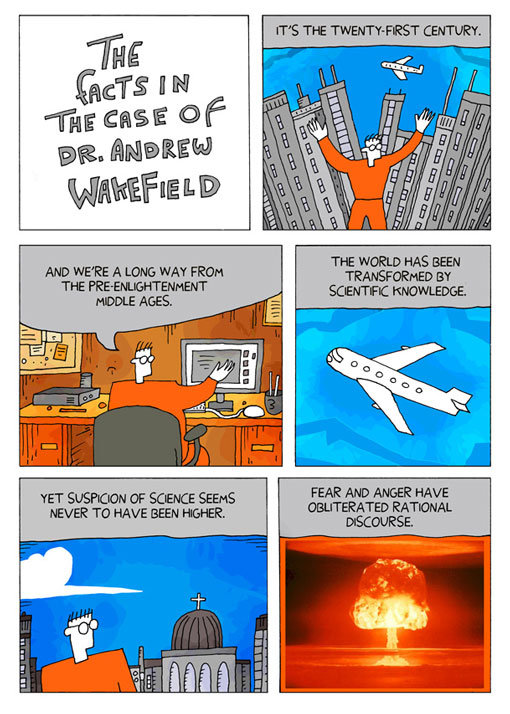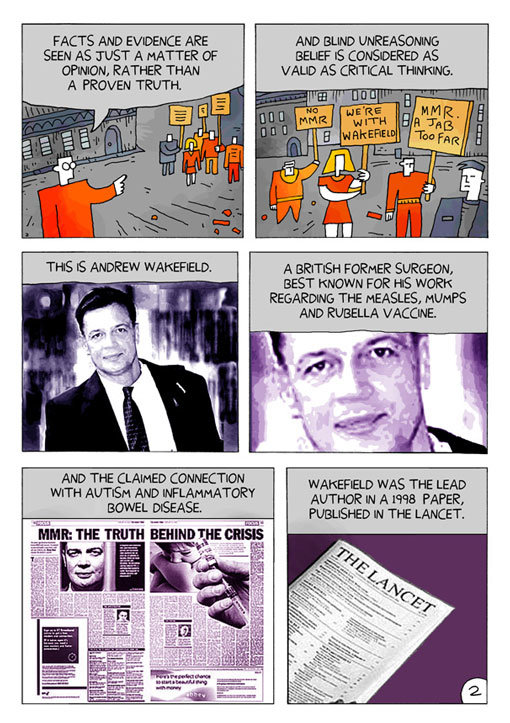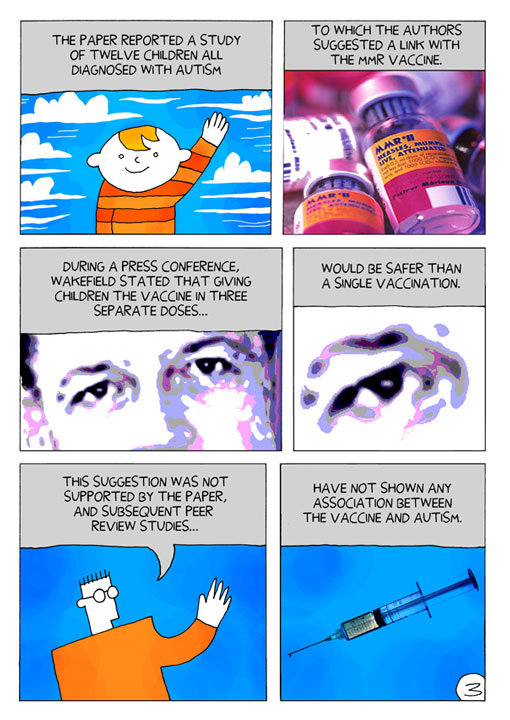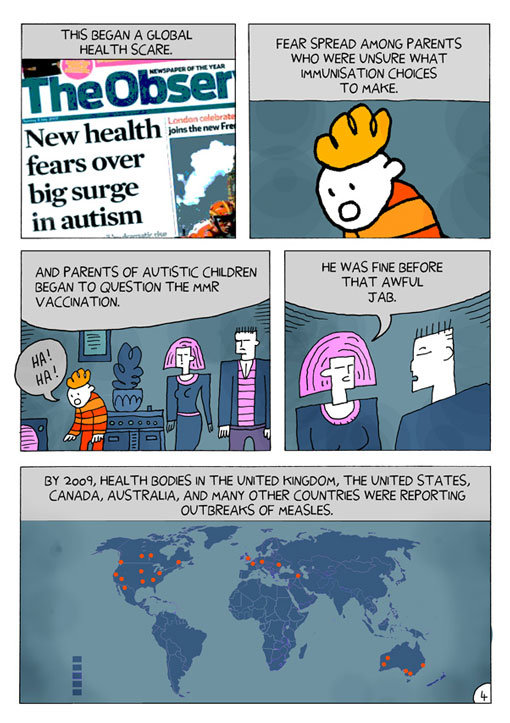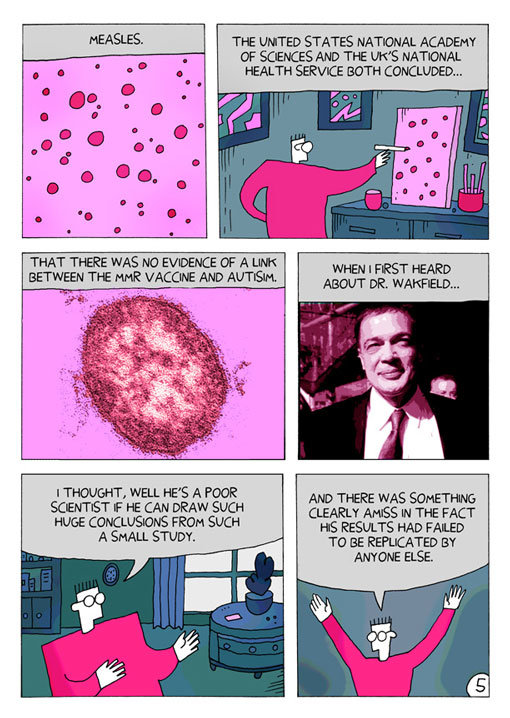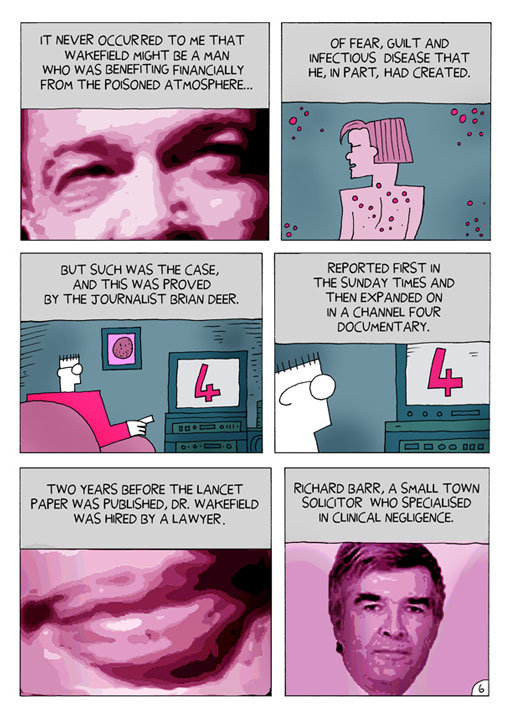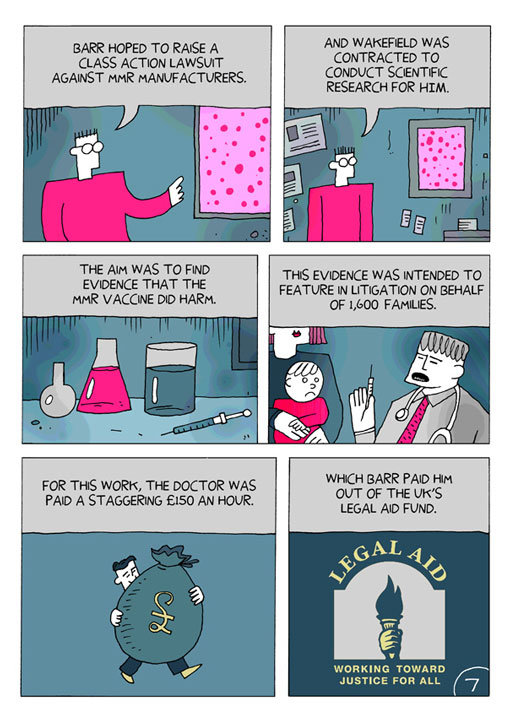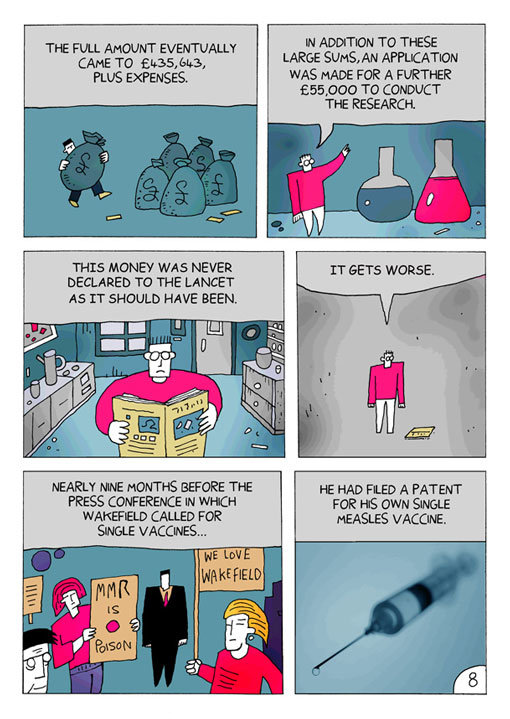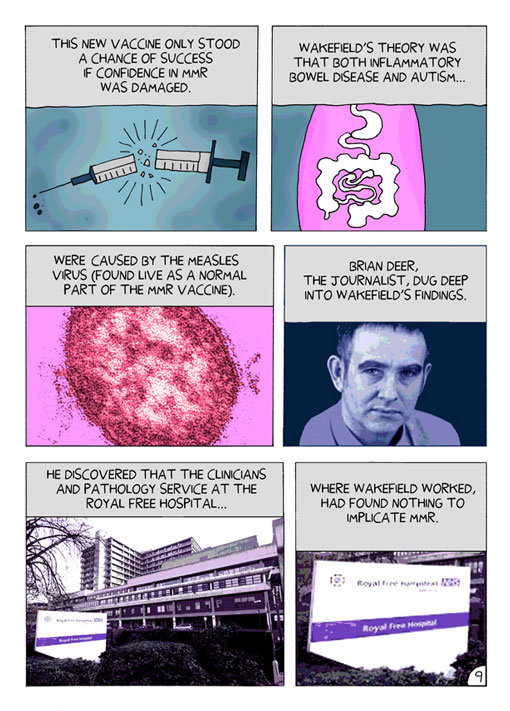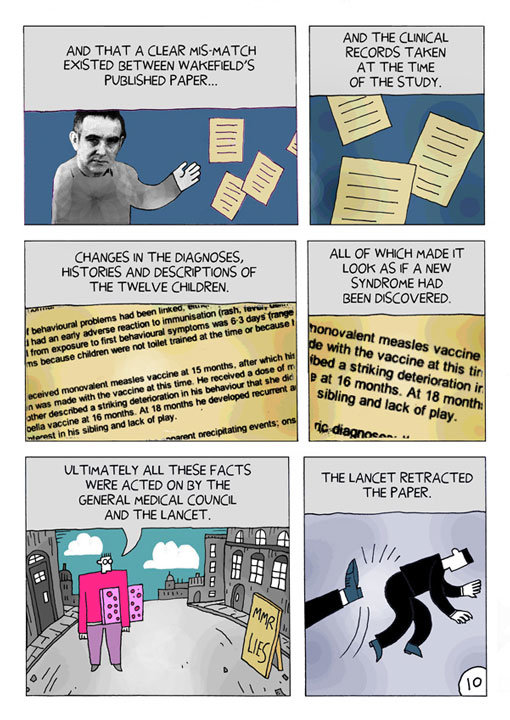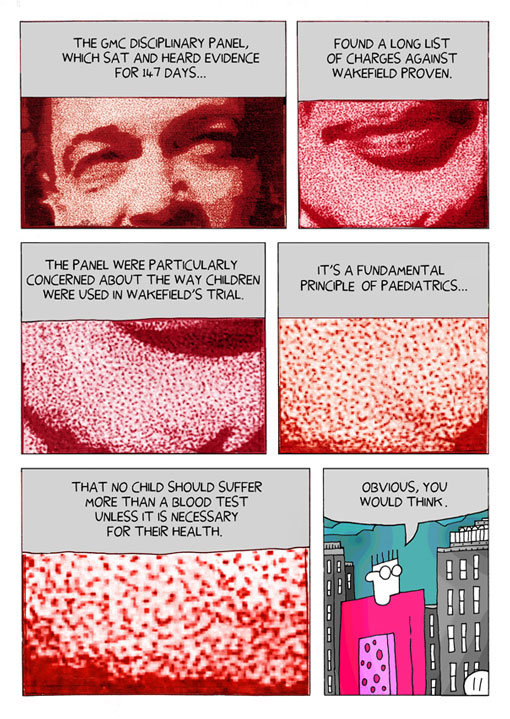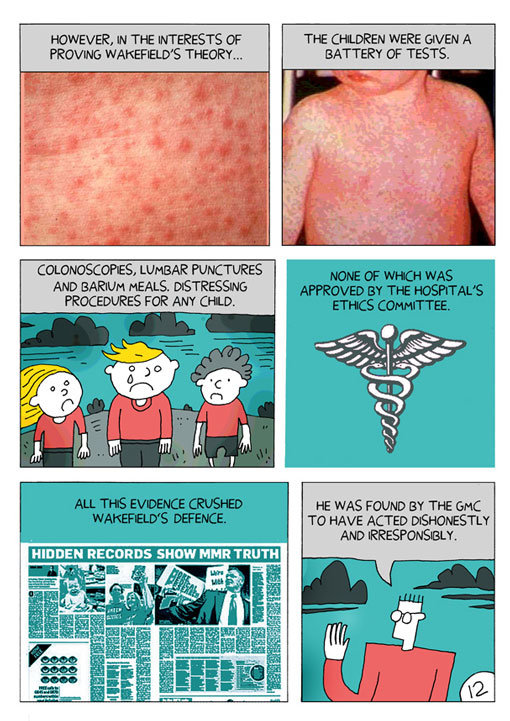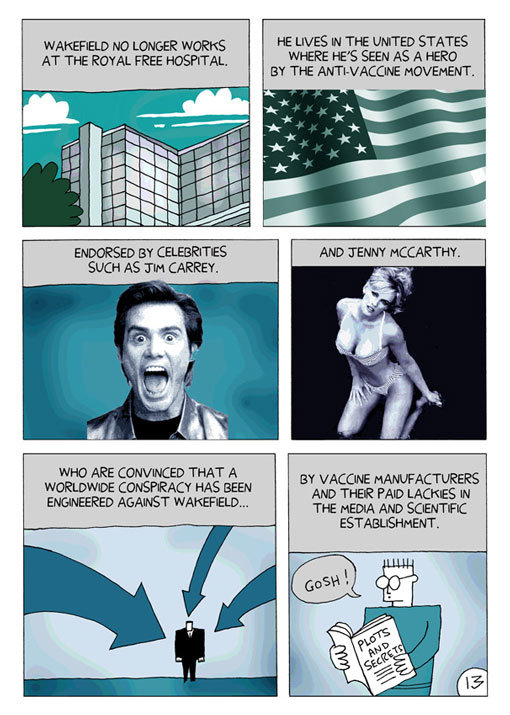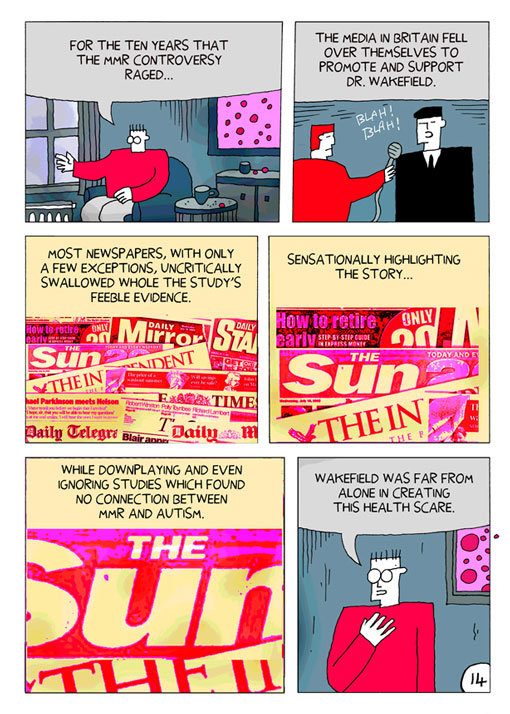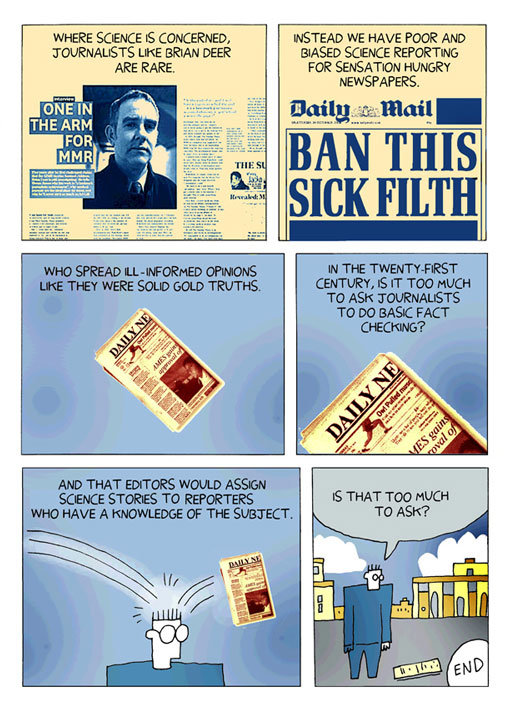 Cunningham is a rare breed of cartoonist focusing on science and psychiatry, check out his awesome comic books: Science Tales and Psychiatric Tales on Amazon. 
References and links
McCartney M (2013). MMR, measles, and the South Wales Evening Post. BMJ, 346 PMID: 23610382
Mason, B. (2000). Impact of a local newspaper campaign on the uptake of the measles mumps and rubella vaccine Journal of Epidemiology & Community Health, 54 (6), 473-474 DOI: 10.1136/jech.54.6.473
Ben Goldacre. The media's MMR hoax.
The MMR-autism fraud. An investigation by Brian Deer.
David Gorski. The Fall of Andrew Wakefield.
Andrew Wakefield. From Wikipedia.
Profile: BBC on Dr Andrew Wakefield.
Brian Deer Dateline documentary.
Image Credit: Cover image by Wellcome Library, London. Wellcome Images. ;The Diagnosis of Smallpox", Ricketts,T. F, Casell and Company, 1908Plate XCIII
Cartoon Copyright: Daryl Cunningham
Delay, deny and deflect were the strategies Facebook has used to navigate scandals it's faced in recent years, according to the New York Times.
(Photo by Chip Somodevilla/Getty Images)
Politics & Current Affairs
The exhaustive report is based on interviews with more than 50 people with ties to the company.
It outlines how senior executives misled the public and lawmakers in regards to what it had discovered about privacy breaches and Russian interference in U.S. politics.
On Thursday, Facebook cut ties with one of the companies, Definers Public Relations, listed in the report.
Protected animals are feared to be headed for the black market.
(VL.ru)
Politics & Current Affairs
Russian news network discovers 101 black-market whales.
Orcas and belugas are seen crammed into tiny pens.
Marine parks continue to create a high-price demand for illegal captures.
Dogs' floppy ears may be part of why they and other domesticated animals love humans so much.
Surprising Science
Nearly all domestic animals share several key traits in addition to friendliness to humans, traits such as floppy ears, a spotted coat, a shorter snout, and so on.
Researchers have been puzzled as to why these traits keep showing up in disparate species, even when they aren't being bred for those qualities. This is known as "domestication syndrome."
Now, researchers are pointing to a group of a cells called neural crest cells as the key to understanding domestication syndrome.
Big think's weekly newsletter.
Get smarter faster from the comfort of your inbox.
See our newsletter privacy policy
here
Most Popular
Most Recent
Big think's weekly newsletter.
Get smarter faster from the comfort of your inbox.
See our newsletter privacy policy
here
© Copyright 2007-2018 & BIG THINK, BIG THINK EDGE,
SMARTER FASTER trademarks owned by The Big Think, Inc. All rights reserved.