The Funnier You Are, the Sooner You May Die?
Stand up comedians are twice as likely to die younger than dramatic actors. And according to at least one published medical study, the funnier you are the earlier you could die young.
15 March, 2017
Comedians use a lot of death-related terminology both on-stage and off. Terms like "I died up there" (bad performance) or "I murdered the crowd" (good performance) are pretty commonplace. But according to a recently published study by the International Journal of Cardiology and the the Australian Catholic University, the funnier you are, the more likely you are to die.
---
The study compared the median ages of death of three groups — dramatic actors, comedic actors, and stand up comedians — and found that, on average, stand up comedians are two times more likely to die younger than their thespian counterparts. Stand up comedians die on average 2.5 to 3 years before dramatic actors, and 2 years before comedic actors. 
The real kicker is that the higher ranked comedian you were (according to the crowd-based ranking over at Ranker) the more likely you are to die: for each 10 points higher you were (towards the number 1 ranked comedian) there was a 7% increased risk of you dying. For example, compared to the 150th ranked stand-up comedian, the 50th was 70% more likely to die.*
It should be noted that many stand up comedians tend to be solitary performers who travel alone a lot, and that depression in comedic performers is hardly a new phenomenon. And while crowd-sourced ranking sites might not exactly be the most scientifically or editorially sound, the study itself lends truth to the age-old adage / Billy Joel lyric that "only the good die young."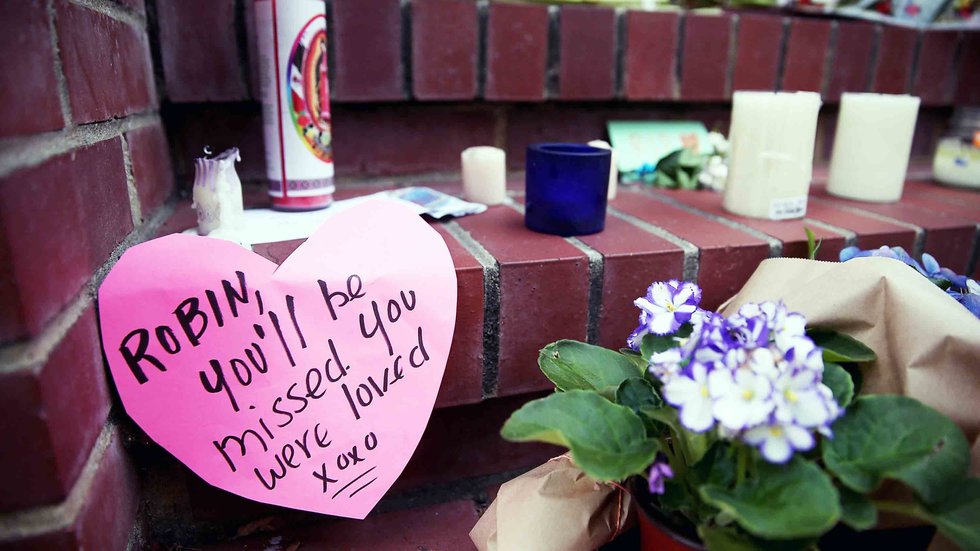 Flowers and pictures that are part of a growing memorial sit on the steps in front of the home where actor and comedian Robin Williams filmed the movie Mrs. Doubtfire on August 12, 2014 in San Francisco, California. Academy Award winning actor and comedian Robin Williams was found dead in his Marin County home on Monday of an apparent suicide. He was 63 years old. (Photo by Justin Sullivan/Getty Images)
--
* The researchers developed a hazard ratio similar to the ones insurance companies use to figure this out. For anyone interested, the hazard ratio for this case is (hazard ratio 0.938, 95% CI 0.880 to 0.999 for a 10-rank difference; p = 0.045.)
Related Articles
How a cataclysm worse than what killed the dinosaurs destroyed 90 percent of all life on Earth.
Credit: Ron Miller
Surprising Science
While the demise of the dinosaurs gets more attention as far as mass extinctions go, an even more disastrous event called "the Great Dying" or the "End-Permian Extinction" happened on Earth prior to that. Now scientists discovered how this cataclysm, which took place about 250 million years ago, managed to kill off more than 90 percent of all life on the planet.
A new study discovers the "liking gap" — the difference between how we view others we're meeting for the first time, and the way we think they're seeing us.
New acquaintances probably like you more than you think. (Photo by Simone Joyner/Getty Images)
Surprising Science
We tend to be defensive socially. When we meet new people, we're often concerned with how we're coming off. Our anxiety causes us to be so concerned with the impression we're creating that we fail to notice that the same is true of the other person as well. A new study led by Erica J. Boothby, published on September 5 in Psychological Science, reveals how people tend to like us more in first encounters than we'd ever suspect.
Using advanced laser technology, scientists at NASA will track global changes in ice with greater accuracy.
Firing three pairs of laser beams 10,000 times per second, the ICESat-2 satellite will measure how long it takes for faint reflections to bounce back from ground and sea ice, allowing scientists to measure the thickness, elevation and extent of global ice
popular
Leaving from Vandenberg Air Force base in California this coming Saturday, at 8:46 a.m. ET, the Ice, Cloud, and Land Elevation Satellite-2 — or, the "ICESat-2" — is perched atop a United Launch Alliance Delta II rocket, and when it assumes its orbit, it will study ice layers at Earth's poles, using its only payload, the Advance Topographic Laser Altimeter System (ATLAS).
Big think's weekly newsletter.
Get smarter faster from the comfort of your inbox.
See our newsletter privacy policy
here
Most Popular
Most Recent
Big think's weekly newsletter.
Get smarter faster from the comfort of your inbox.
See our newsletter privacy policy
here
© Copyright 2007-2018 & BIG THINK, BIG THINK EDGE,
SMARTER FASTER trademarks owned by The Big Think, Inc. All rights reserved.